Gothenburg, Sweden—April 4
Steve Guerdat entered the Scandinavium today wearing the armband that signifies the current leader of the Longines FEI Show Jumping Ranking List. He left the ring sitting No. 1 in this Longines FEI World Cup Show Jumping Final too, after a clear and fast round on Alamo in the first phase of competition.
Belgium's Pieter Devos is right behind him with Apart, and Olivier Philippaerts slotted into third on H&M Legend Of Love.
Last year's World Cup winner Beezie Madden is the highest-placed U.S. rider in 10th with Breitling LS after having the last rail down. (Having a rail in today's speed class earned riders 3 seconds per rail added to their overall time.)
The rest of the U.S. riders are sitting 19th (Kelli Cruciotti on Hadja van Orshof), 25th (Devin Ryan on Cooper), 27th (Eve Jobs on Venue d'Fees Des Hazalles) and 29th (Georgina Bloomberg on Chameur 137).
Check out what the top riders and some of the U.S. competitors had to say about their rounds.
Steve Guerdat and Alamo: First Place, 61.28 seconds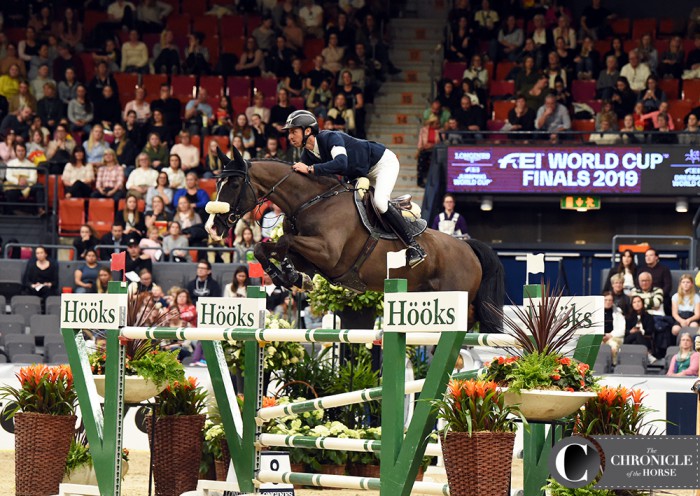 "I thought that I could have a fast round without taking too much out of the horse. I don't know that horse going fast as well as some of my other horses, but I just tried to stay focused on my plan, and what I wanted to do, and I did not look too much at what the others were doing. There were a few options I just could not do with him, and the strides, I knew what I wanted to do, so I didn't think too much about what the others do. I just stayed focused on my plan, and it worked out quite well. So I'm very happy."
---
Pieter Devos and Apart, Second Place, 61.31 seconds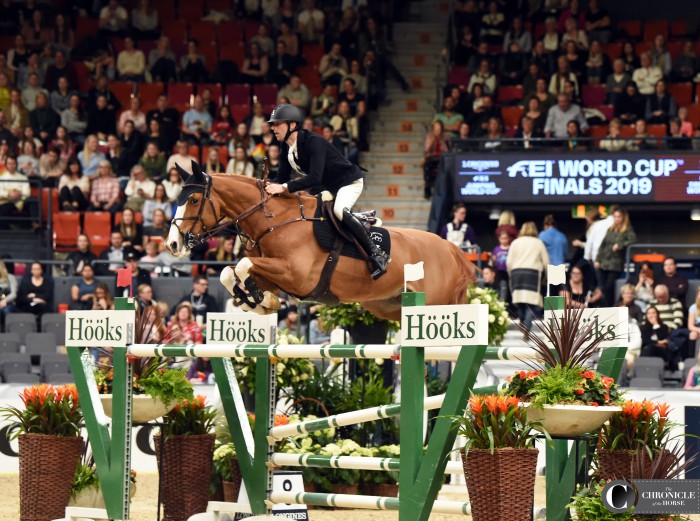 "My horse jumped really good, and for me, it was a bit—the first day, I didn't know what to expect because I'm not always very fast with him on the first day. I was happy he jumped well and really with me into the game. It gives a lot of confidence for the next days, I think."
---
Olivier Philippaerts and H&M Legend Of Love, Third Place, 61.43 seconds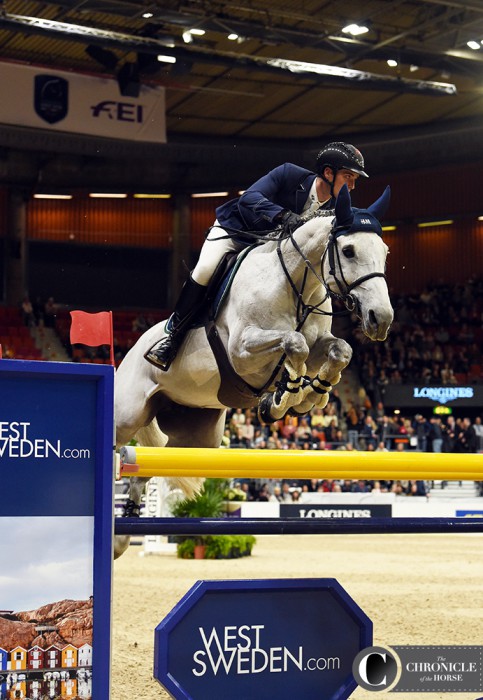 "I had to go third, so it was a bit all or nothing for me. I thought I'd give it a go and do my own round, and it worked very well. I lost my stirrup, and the last four jumps were not too focused like the others. But I was very happy with third place and happy to go tomorrow."
---
Beezie Madden and Breitling LS, 10th Place, 63.47 seconds (one rail down, converted)
"I thought my horse jumped excellent. I thought the whole thing really went according to plan. I thought I was able to calm down a little bit around that [last] turn and then tried to really set up the last line the way I wanted it. I think I got to the double the way I wanted and then maybe just rushed the last fence a little bit too much. I needed maybe a little more room, a little wider on my approach and with a little more room at the front rail. But I thought he was great. We finished in the top 10 with one down, so I'm still in it. We'll see what happens, but there is a chance to catch up this week."
---
Kelli Cruciotti on Hadja van Orshof, 19th place, 68.76 seconds (one rail down, converted)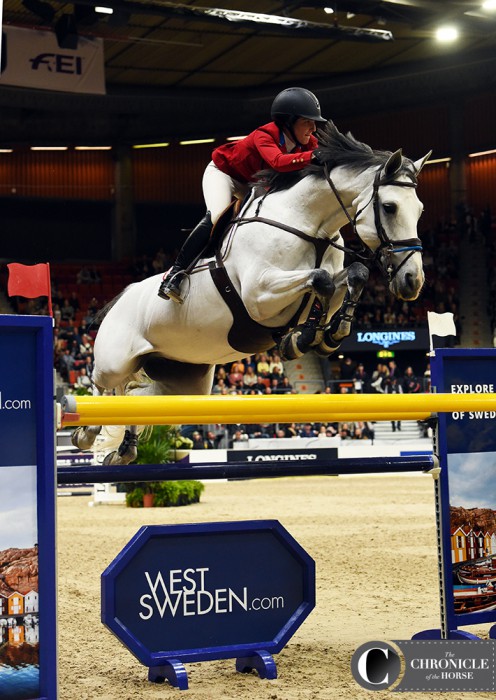 "It's still a little bit of a blur right now. But it felt great. I thought my horse jumped amazing. The crowd is definitely very intimidating when you come up the ramp. I thought our plan—we pretty much did exactly what we talked about, and my horse jumped fantastic. My first World Cup Finals, I can't ask for anything more. She's a little green at this level. I'm very green, so the combination and the result—it makes me really happy."
---
Devin Ryan on Cooper, 25th place, 74.10 seconds (three rails down, converted)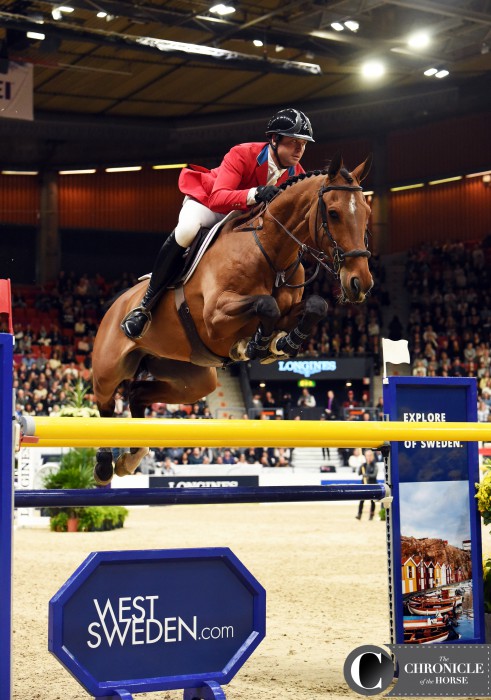 "[For the triple combination] I just wanted to make sure I was straight coming in, getting his eye on it. I felt like my distance was where I needed to be, but I didn't have enough pace—I found myself steadying too much for that. He just ran out of scope there at B, and he was a trooper to keep going there. He did three in the two-stride. It wasn't pretty, wasn't my best day of show jumping, but I thought he finished up great. He jumped everything very easily and felt good and confident—just that one hiccup in the middle. It wasn't where I wanted to be, but he stayed brave and confident and finished up strong. Tomorrow is another day. It's not going to put me in contention in the end, but if I can get a few solid rounds out of him, I'll be happy."
---
Eve Jobs on Venue d'Fees Des Hazalles, 27th place, 75.41 seconds (three rails down, converted)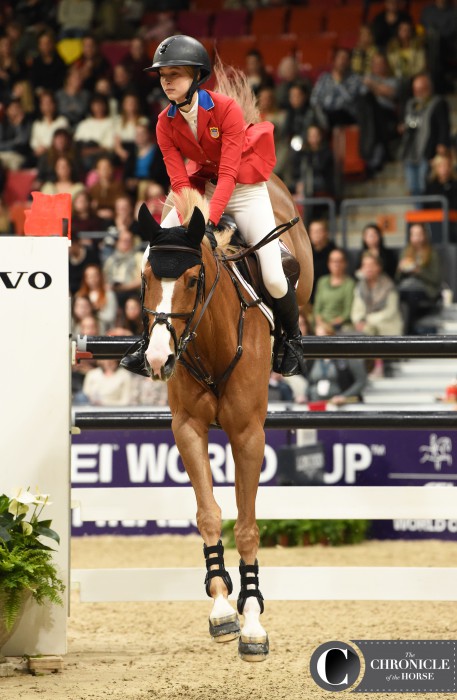 ---
Georgina Bloomberg on Chameur 137, 29th place, 76.06 seconds (four rails down, converted)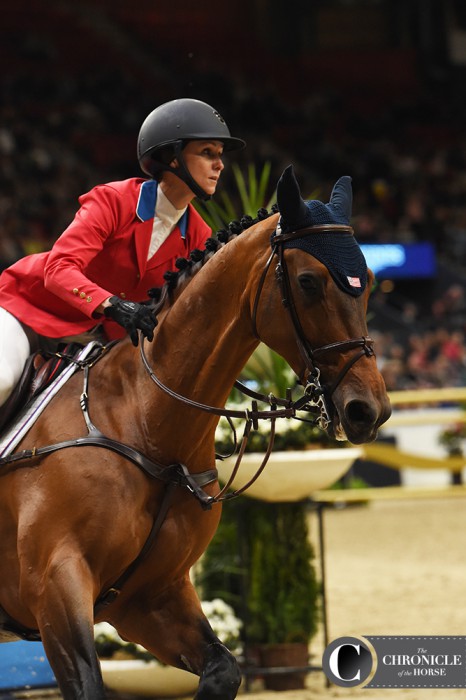 See full results from today's class. Riders start tomorrow's second round of show jumping competition with new scores, and you can see their rankings here. Tomorrow's class will be run as a traditional grand prix with jump-off if needed.
You can also read more information about this year's World Cup schedule and see all of the Chronicle's coverage.