Paris—April 15
A collective intake of breath echoed through the AccorHotels Arena as Breitling LS tipped his first rail of the week midway through the final course of the Longines FEI World Cup Jumping Final. After leading from the beginning, another rail would cost Beezie Madden the World Cup title.
Anyone watching would have thought she was unfazed by the fault, and while on the outside Madden is always cool under pressure, she admitted to feeling some nerves in that moment.
"A little nervous, but I still felt my horse was jumping well, and all you can do at that point is say, 'Pull it together and finish on 4 and try to get it done," said Madden.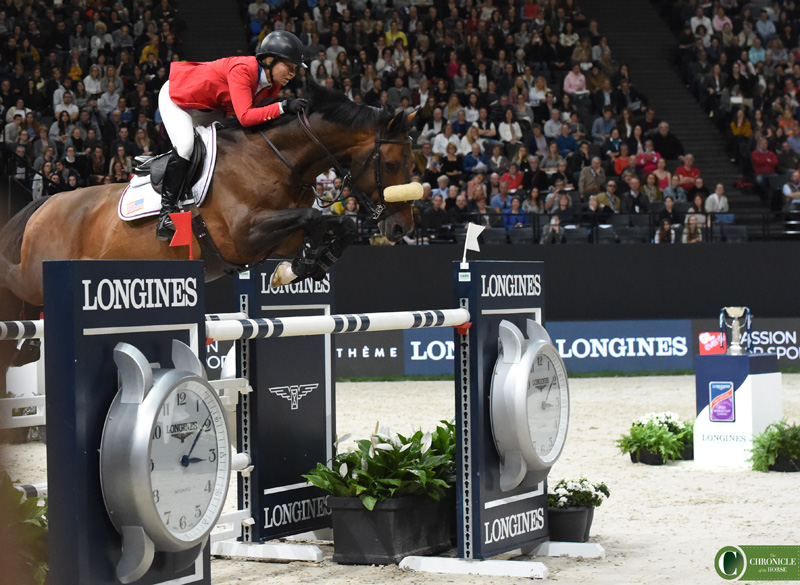 And get it done indeed; the pair finished the course clean to clinch the win. And while Madden is a pretty stoic competitor, rewarding her mounts with a few quiet pats and a quick grin at the crowd, as soon as Breitling's front feet crossed through the timers cementing her win she pumped her fist in celebration, a wide grin breaking out over her face as she claimed her second World Cup title.
"It always exciting to win a championship, and to have two of these is pretty amazing," said Madden. "I'm so happy my owner Abigail Wexner was here to see; I'm so happy for her and for the whole rest of the team, my husband John [Madden], and the horse especially. What a fantastic week for the Americans with three in the top four. It's really exciting especially with Devin having a new horse coming up, and McLain [Ward] always is good."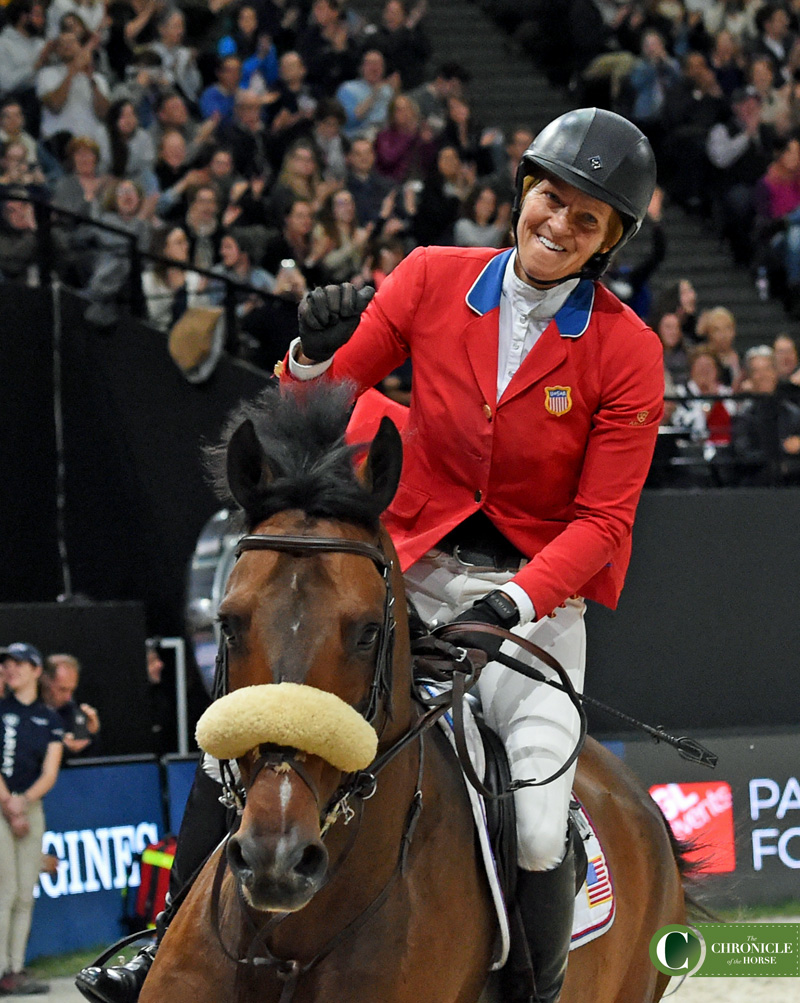 The World Cup Final served as a sort of test for Madden's 12-year-old mount. It was his first time competing in a championship, and he proved himself beyond a shadow of a doubt.
"At this stage in my career, I come here hoping I can win because that's kind of what I would really like to do is win," she said. "But I wasn't really expecting. I thought top-five finish was realistic, and anything better than that would be amazing. He's been so good; he's only showed three times; he was fresh; he was confident and set up well for it."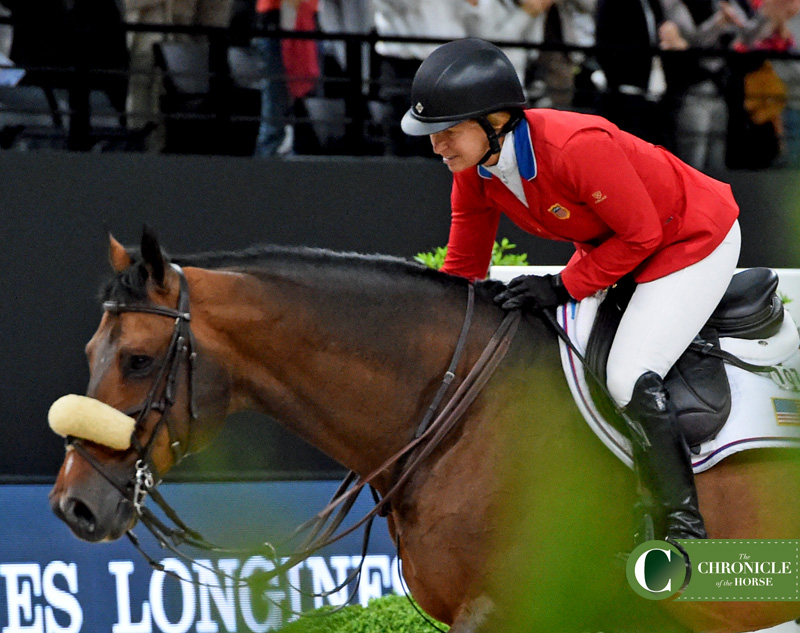 In many ways Breitling mirrors Madden's former World Cup winner Simon. They were both produced as young horses by Dutch show jumper Jeroen Dubbeldam before Wexner purchased them for Madden. Madden said Breitling, a La Silla stallion (Quintero—Armonia, Acord II) was slower to come along than others, but over the past year he cemented himself as her current top horse.
"When we bought him we were very excited about him," said Madden. "He did really well in the young horse classes coming up, and he did some good things along the way, but the consistency was lacking for the first few years. He's just become consistent and kind of my go-to horse to win some grand prix, and like I said, this is his first championship, so he's stepping his way up the ladder in my string for sure."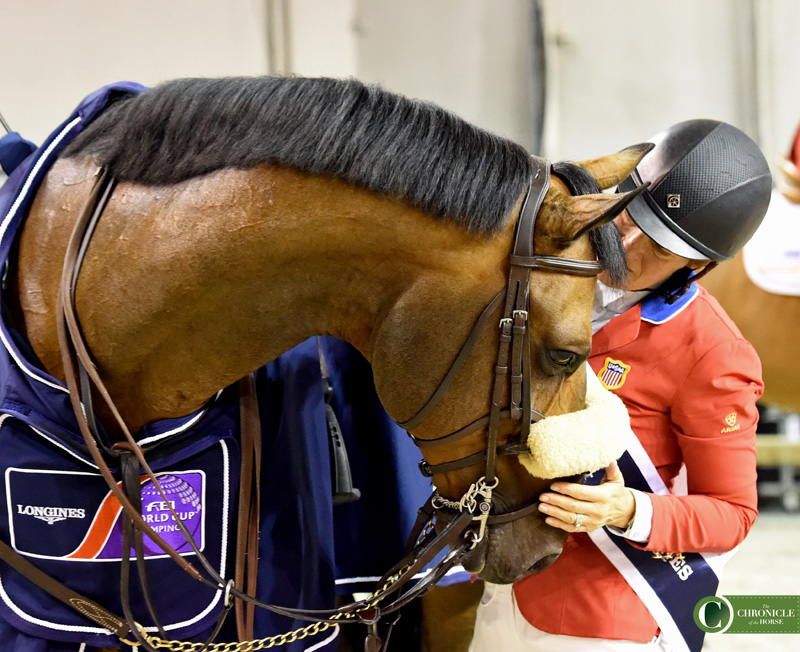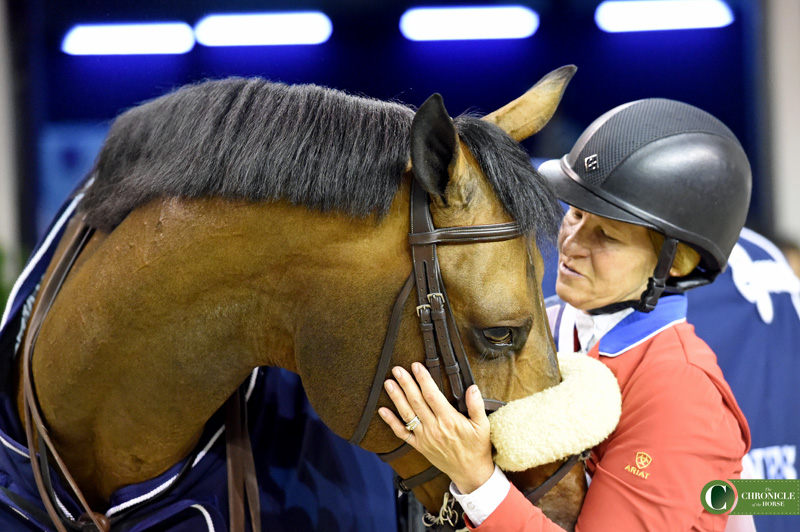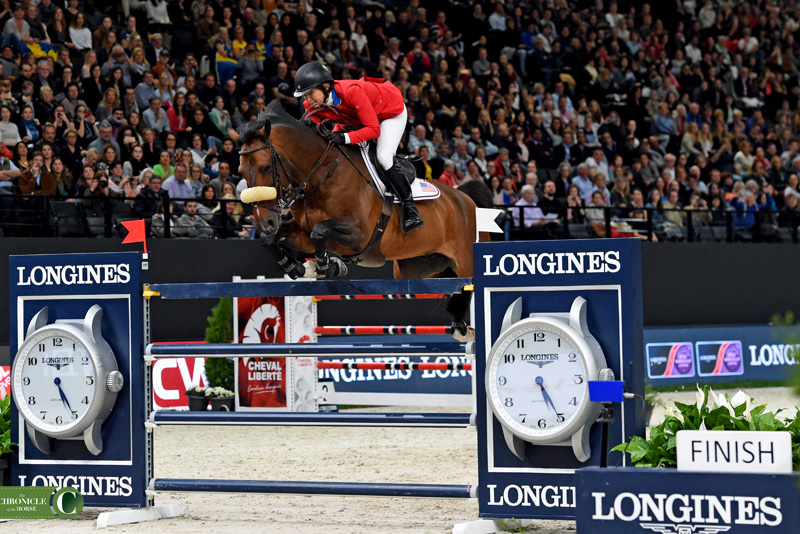 Devin Ryan was the dark horse of the competition and shocked the crowd when he and Eddie Blue were the only pair not to touch a rail all week to take second.
"To be second behind Beezie, who is a legend in our country—Beezie, McLain—is always a good place to be," said Ryan. "I'm up and coming; I'm learning. This is my first championship; it's been fantastic, and I'm proud to be an American today. I'm proud to be right alongside Beezie."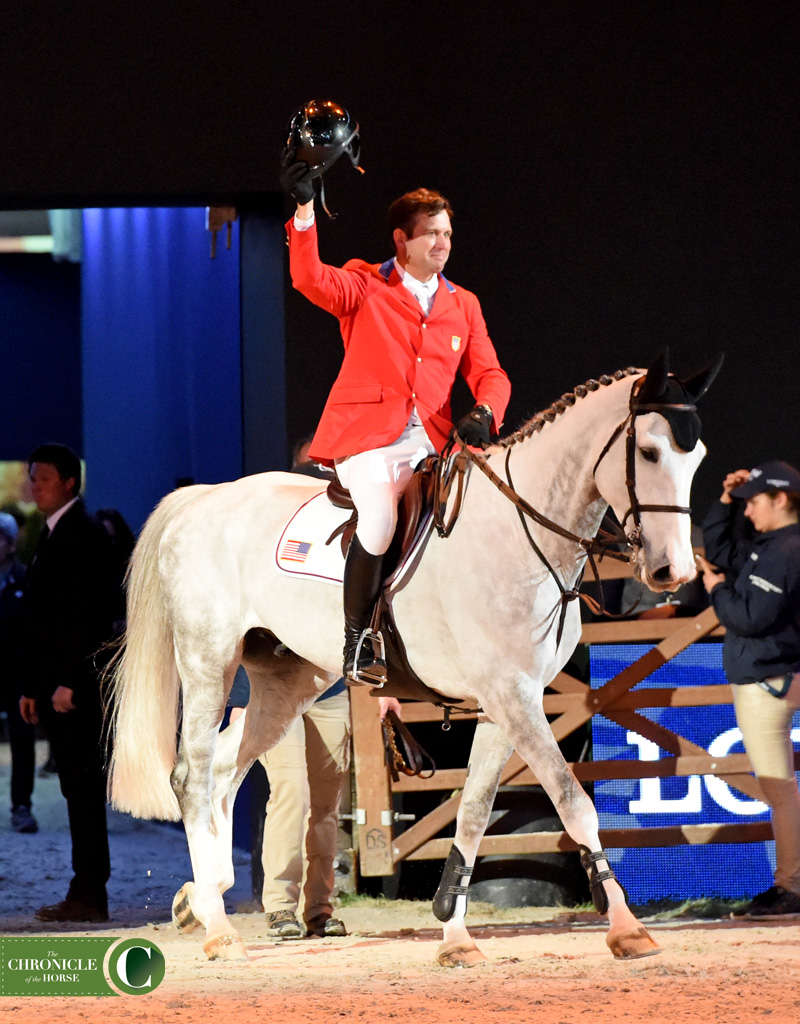 And despite being a newcomer to the international scene, Ryan came to compete.
"I said I wouldn't go to the World Cup Finals if I couldn't qualify out of our league on the East Coast," said Ryan, "because I know when we get here we're going to be jumping against the best riders in the world and the best horses, so if I can't do it there I'm not going. I don't want to enter a class thinking I'm going to have 4 faults; I want to enter knowing I have a shot at winning or being in the top, so we did it."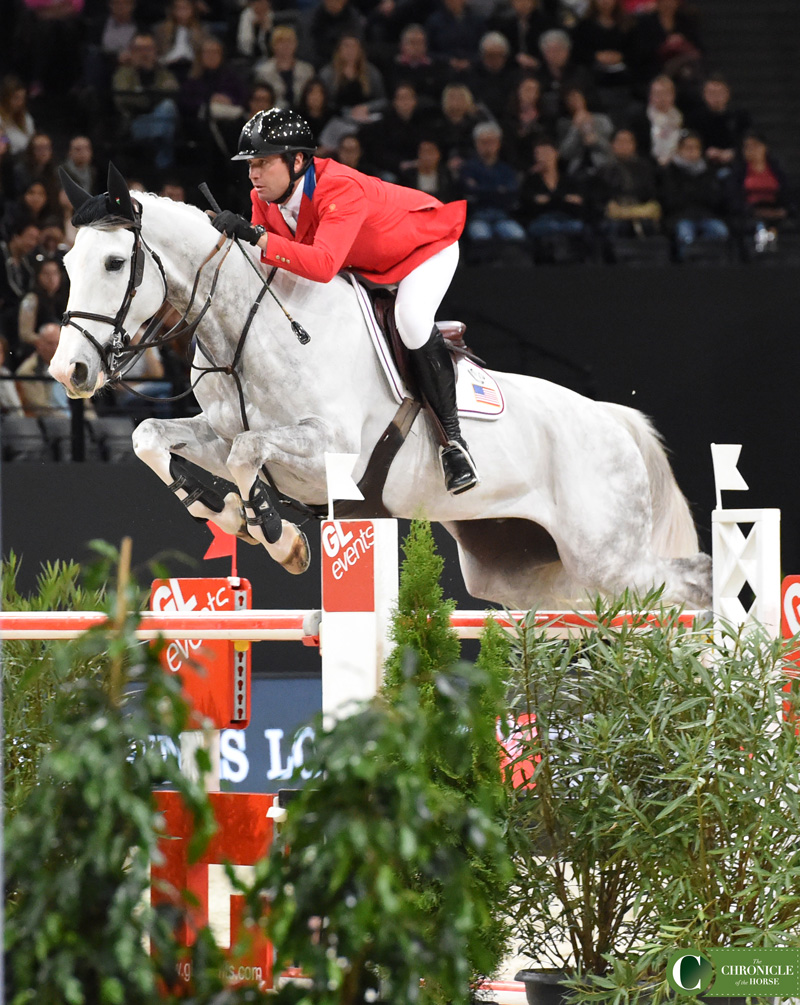 Sweden's Henrik Von Eckermann found himself in a familiar position, finishing third for the second year in a row aboard Toveks Mary Lou, after he had a rail in the final round.
"I would have actually, for my own feeling, wished that Beezie was double clear, but of course, if I would not have had that fault there would have been a jump-off," said Von Eckermann. "But Beezie was fantastic for the whole weekend with this horse. It was my mistake in the end; my horse jumped fantastic as always. I was a little close up to the seven on No. 2, tried a little bit too much, gave her a pull a little bit too much, and she broke up behind. I should have just trusted the quality, and it wouldn't have happened."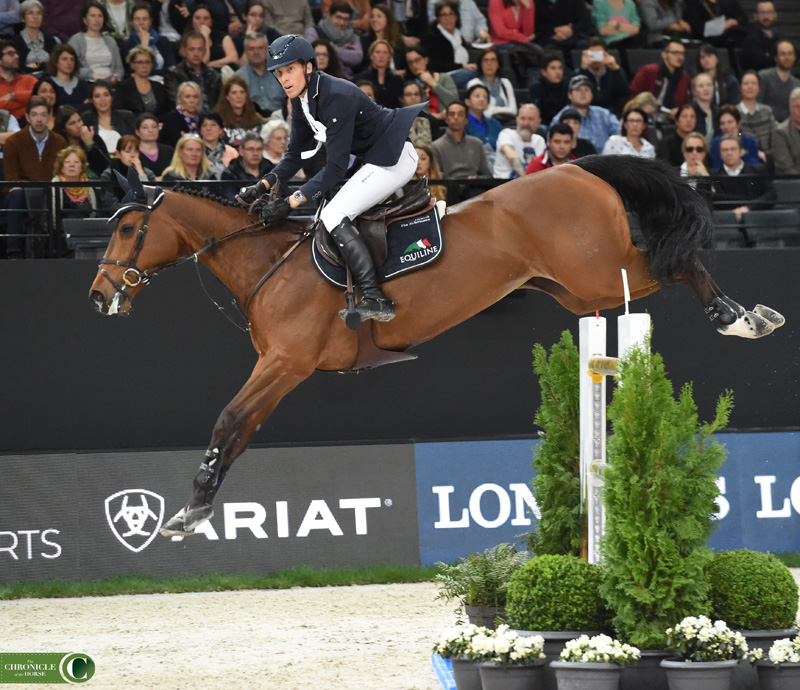 Defending champions Ward and HH Azur were eager for a repeat title, but this year it wasn't meant to be.
"Azur feels great, she's jumping well—I don't know—we've just had a little bit of a 4-fault monkey on our back all week," Ward said. "She jumped brilliant Thursday night; I thought she was great in the jump-off and just had one rub, and it came down, and same in the first round here."
Ward had one rail down in each of Sunday's two final jumping rounds to finish on a score of 16. Three other riders also finished on 16, but Ward was the fastest at that score to take fourth place.
"I thought I rode well, other than the last fence," Ward said with a laugh. He had thought about leaving a stride out and added late in the line to a vertical. "I was trying to be very fast, and I caught a big oxer into the line, and I thought I'd go for it. It was a little bit probably a foolish move, but it made her pay attention."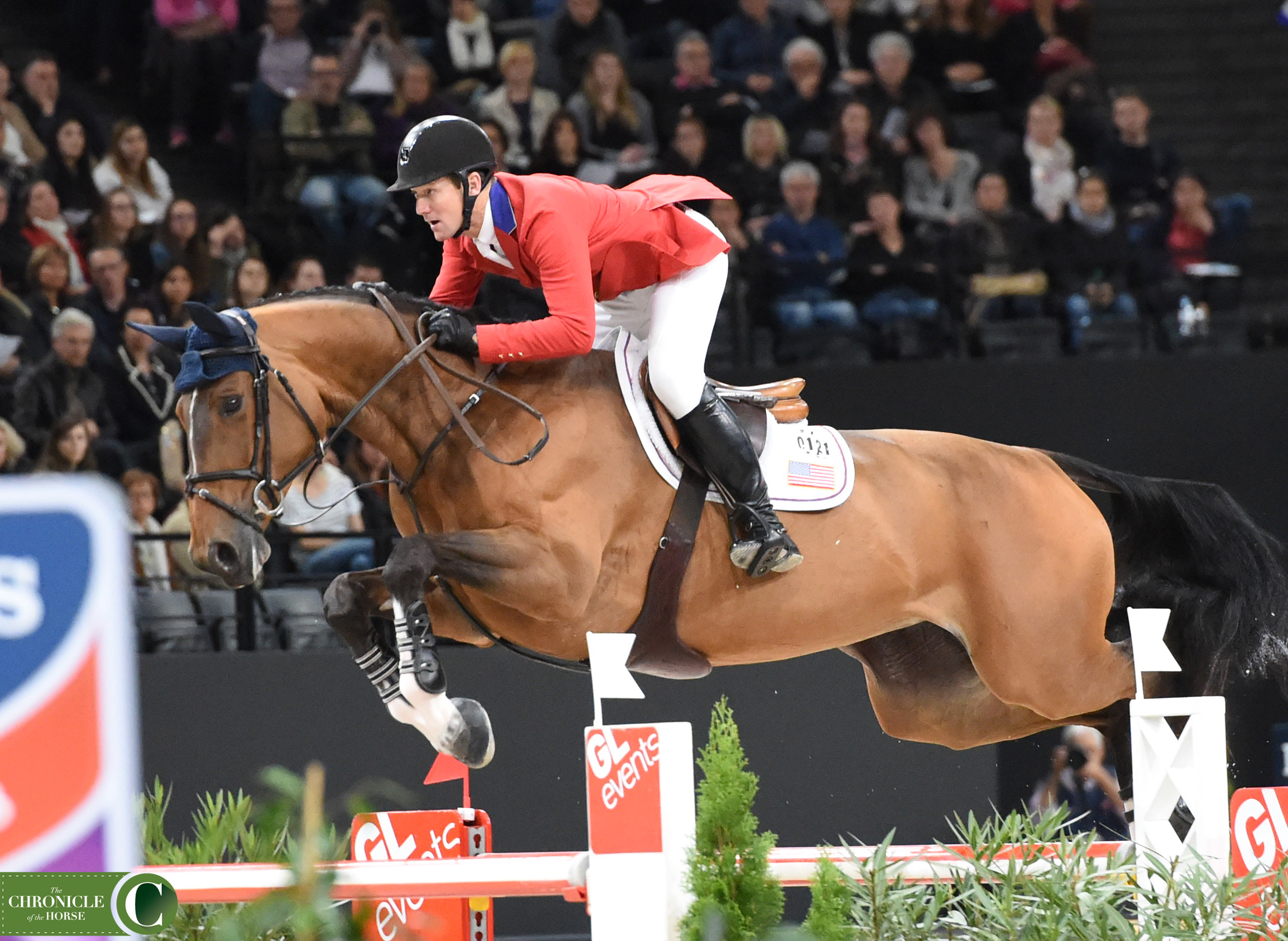 Ward was waiting in the wings and was one of the first to congratulate Madden as she came through the tunnel with Breitling after their winning ride.
"Sometimes you have those rubs, and they stay up, and you don't think twice about them, and sometimes you have them, and they fall down, and you think about them day and night," Ward said. "It's a good final for the Americans, obviously three in the top five, and the mare feels good—it just wasn't our week to win."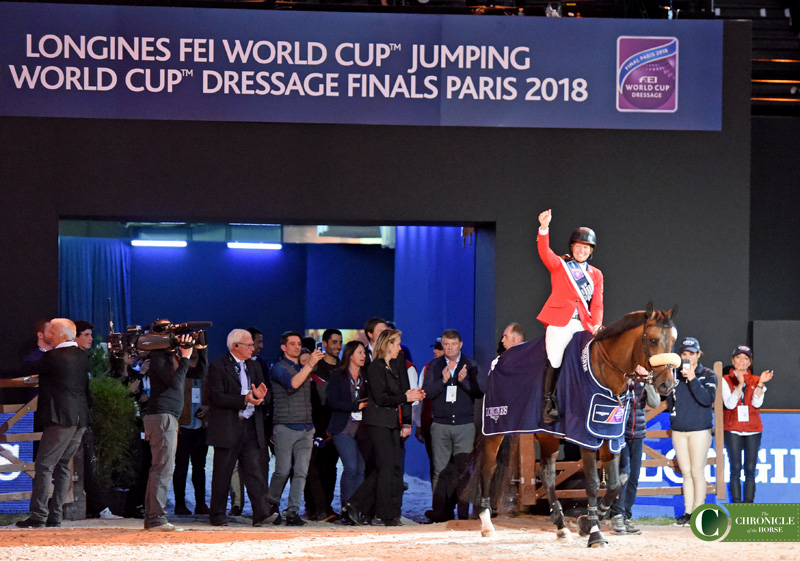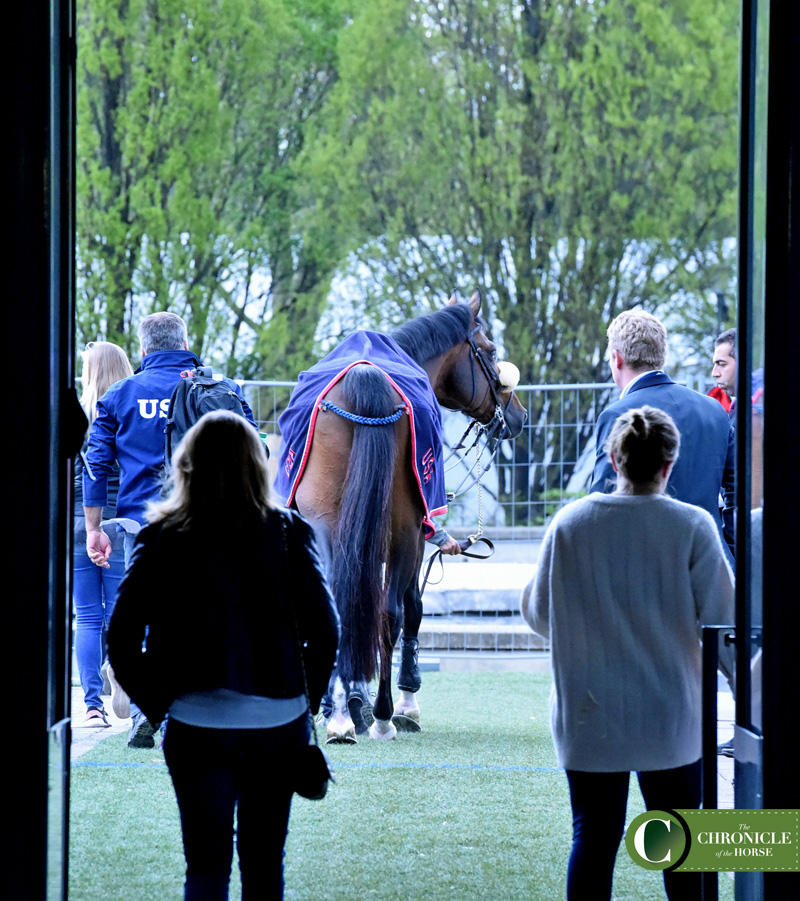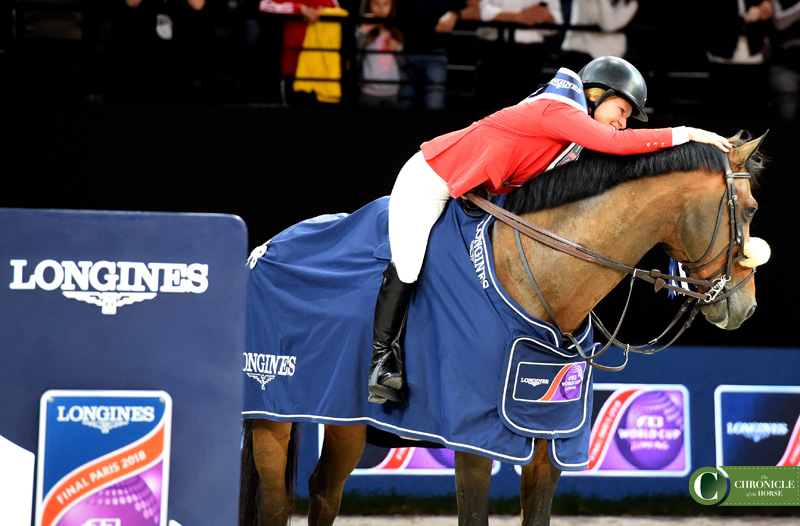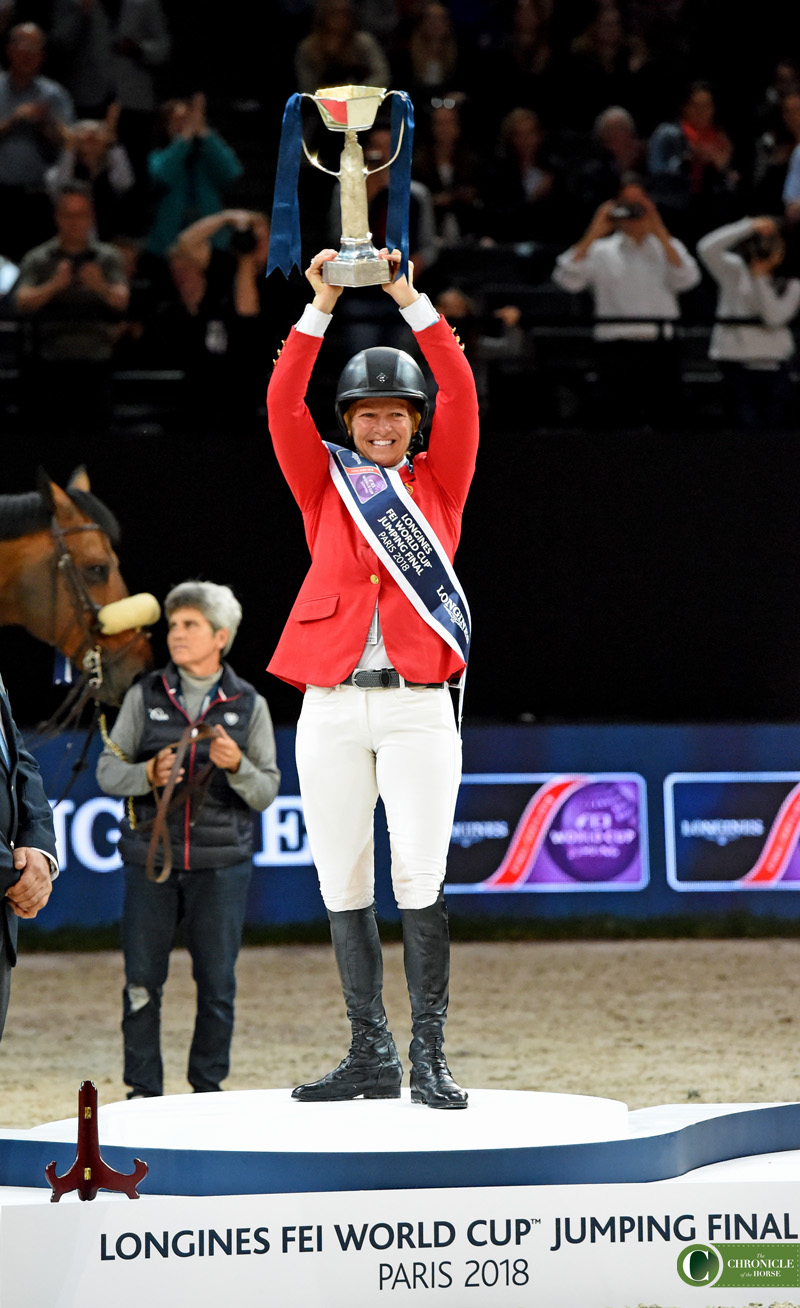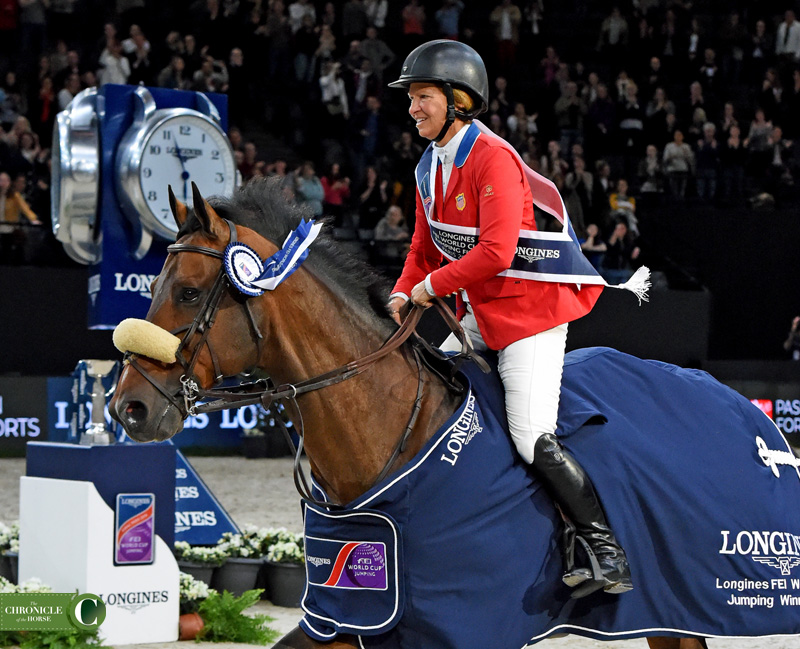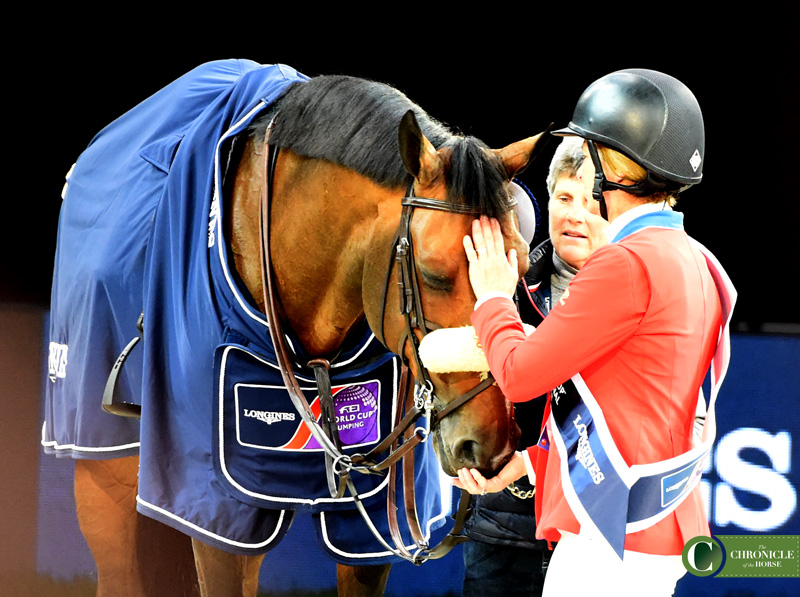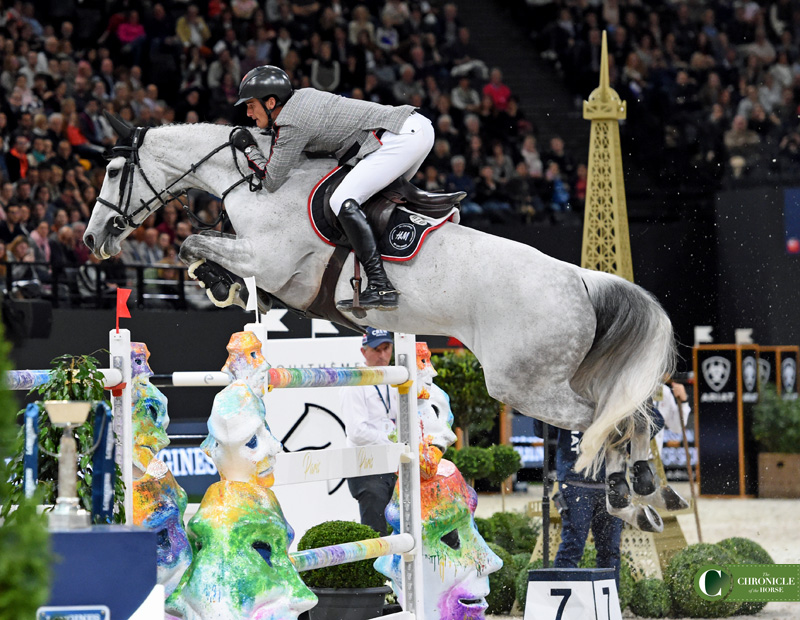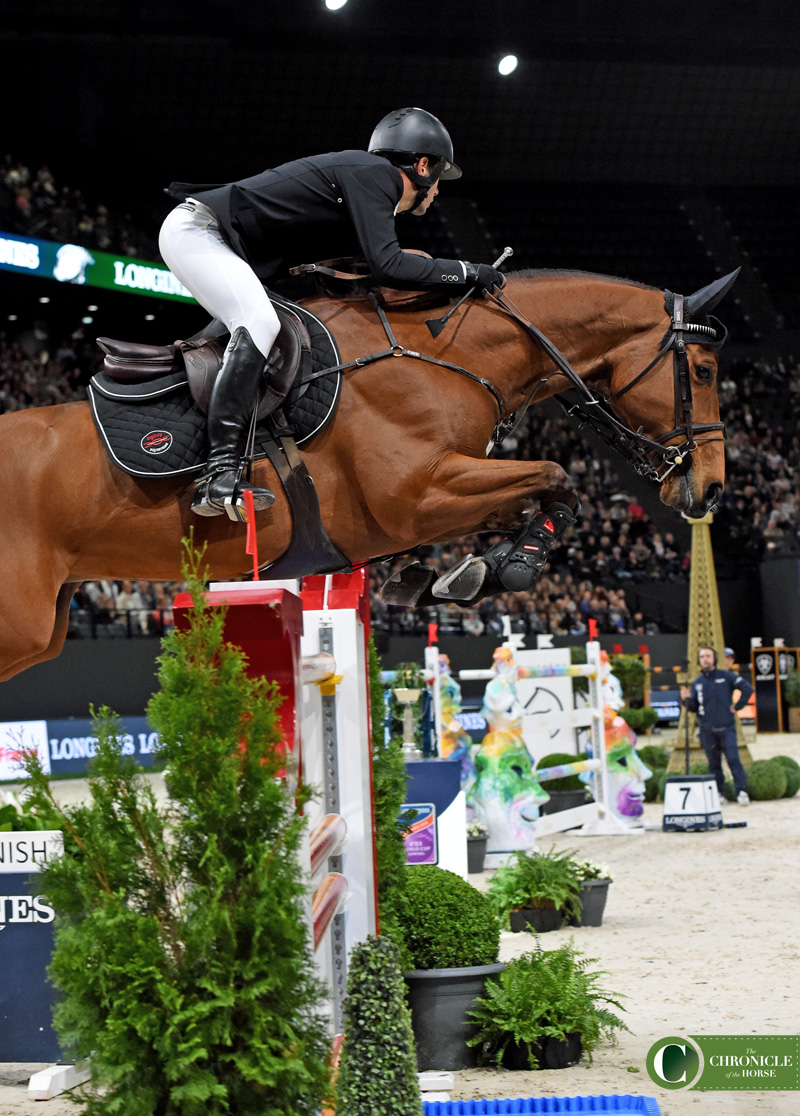 The Chronicle of the Horse is onsite at the 2018 FEI World Cup Final. Keep an eye out at coth.com for all our coverage of the event in both show jumping and dressage.
Important Links: Paris World Cup website  ⁄  Orders of go and results /  Live streaming/ All of the Chronicle's coverage
Make sure to follow along on the Chronicle's social media outlets: Facebook, Twitter and Instagram.