Virginie Casterman was only 18 months old when her parents introduced her to horses for the first time. They put her on a pony, and she burst into tears. But make no mistake, these were no tears of joy: She wanted off immediately.
Nine years later, Casterman's feelings towards horses had done a complete 180. After spending a few summers with her uncle's pony in Monaco she had become thoroughly obsessed with horses, so her parents sent her to riding school.
"[They thought,] 'She's going to quit in six months and do something else,' "  Casterman said, "and it didn't happen."
With her horse obsession cemented, her dad built a stable in their backyard in France, and Casterman did barn chores before school and rode in the afternoon.
Now 42, Casterman works for McLain Ward, and she's living out her childhood dreams. Though Casterman intially thought she'd become a professional rider, she soon recognized her true passion was in the everyday care of horses.
"You get to know them more when you're on the ground and seeing them every day—getting to know how they are and how they handle things. You feel how they actually are," she said.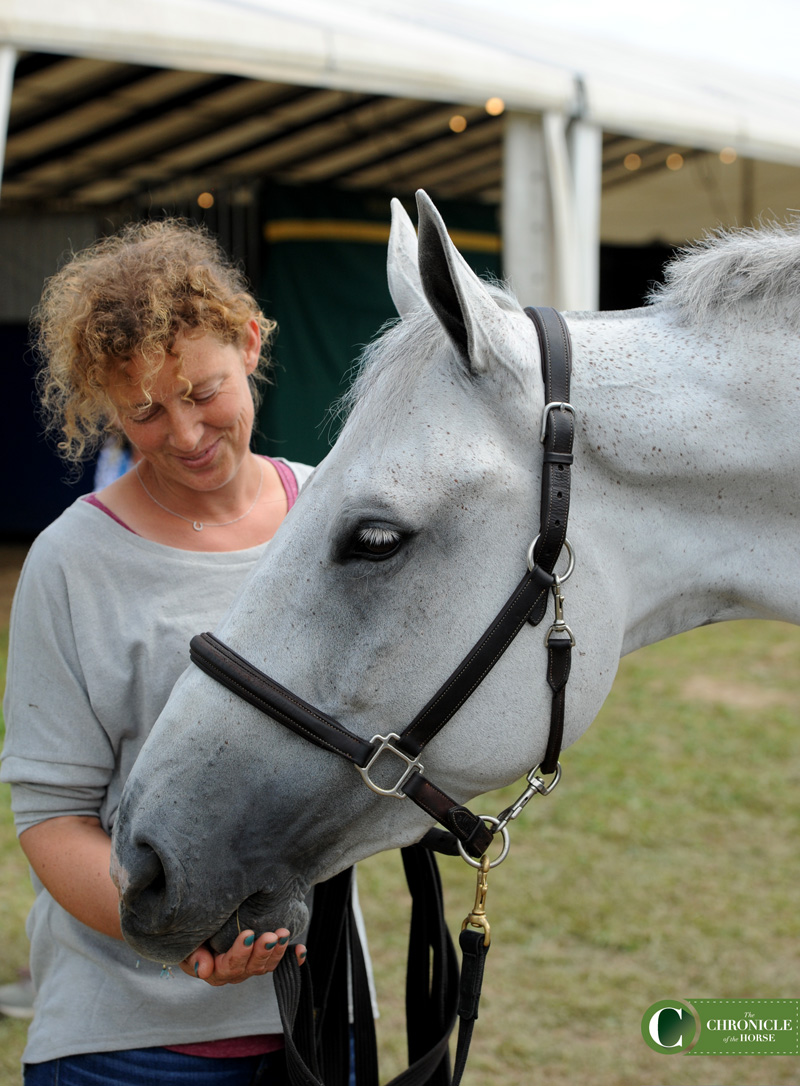 Despite her parents' reservations about their daughter becoming a horse professional, Casterman was committed. She got her first grooming job when she was 20, caring for the stallions at the Haras de Hayettes stud in Namur, Belgium.
"My first job, I had nine stallions by myself," Casterman said. "I loved their personalities, but I wanted to do more show jumping, like, a higher level than that."
Casterman then returned home to France and worked for Stephanie Dumartin for seven years. She loved working at the top of the European show jumping scene, but Casterman had a secret unfulfilled longing. "Every year some of my friends used to go do the circuit in Florida for the winter," she said, "And I was like, 'Come on, I really want to go to Florida one time!' "
With that goal in mind, Casterman began working for Kate Levy, an American expat in Europe. A few months later Levy moved back to Florida for the winter season and brought Casterman along. That led to a job with Canadian Olympian Yann Candele 1½ years later, and Casterman's North American residence became more permanent.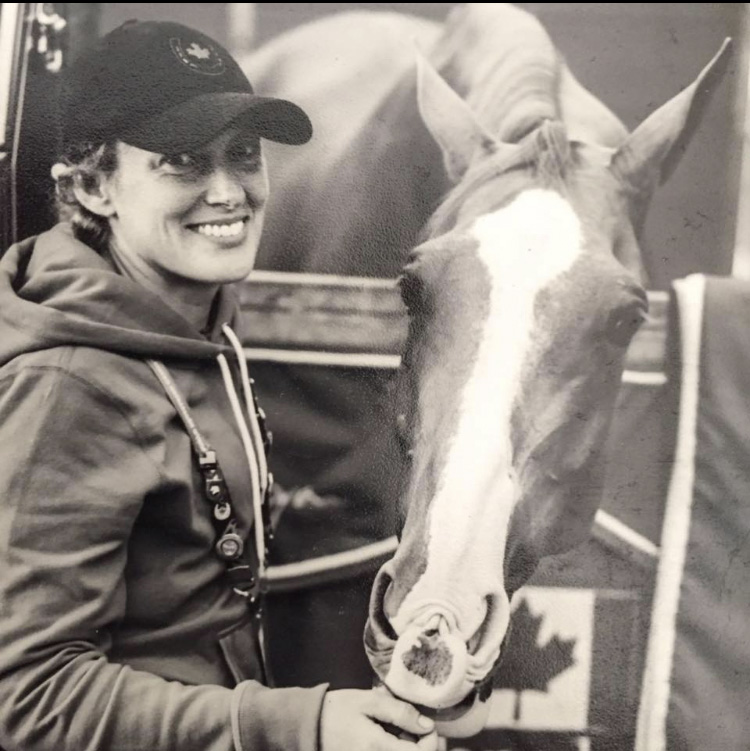 "Yann is an amazing rider but mostly an amazing person," Casterman said. "We did the Pan American Games, the World Equestrian Games and the Olympics, and I was totally considered a member of the family. And they still are family for me."
When Candele returned to Eric Lamaze's Torrey Pines Stable at the end of 2016, Casterman's grooming position disappeared, but she was only out of a job briefly. "I asked [McLain Ward's barn manager] Lee McKeever—because he knows everyone, and I have known him for a long time—if he knew of any jobs," said Casterman. "He was like, 'OK, listen, we need someone. Would you be interested?' "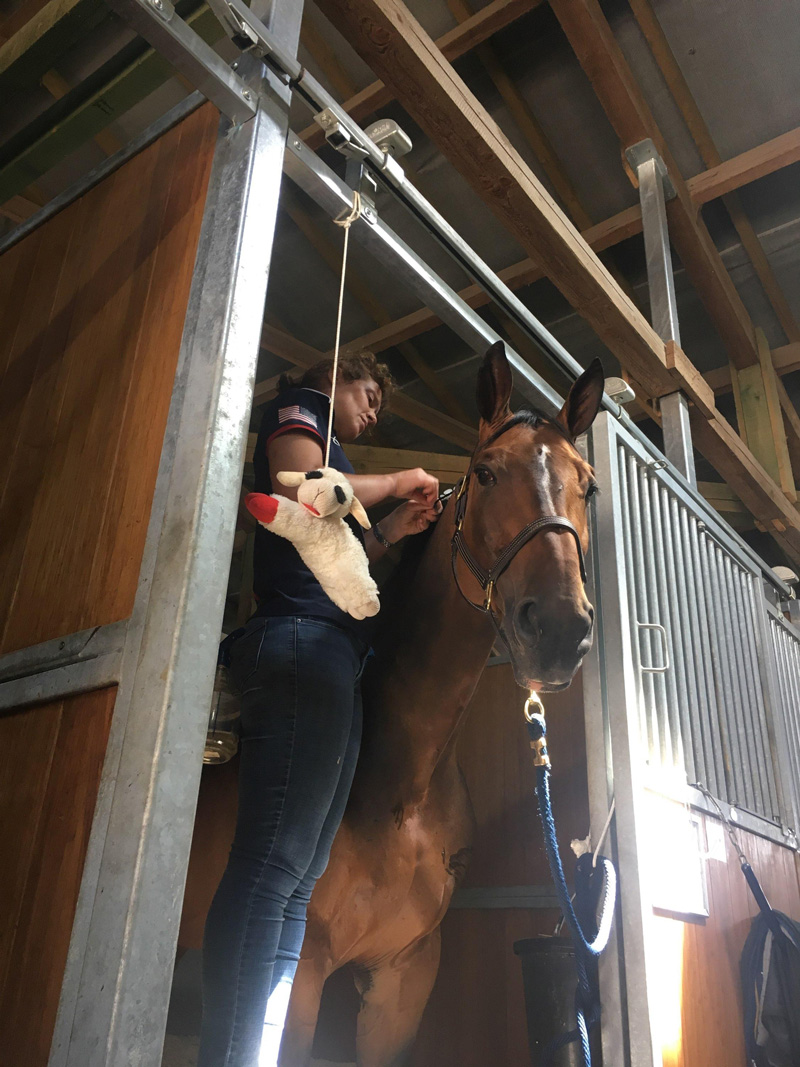 Casterman admits she was a little scared by the prospect but decided to give it a shot, and she found herself in a familiar environment at Ward's Castle Hill Farm in Brewster, New York, and Wellington, Florida.
"You really are a part of a team. When a horse wins, no matter whose horse it is, we all win too," she said. "[Ward] wins a lot and is always really thankful for everything you do. That keeps you motivated and makes you forget about long days. You feel like it is paying for all the hard work."
As one of the three more seasoned grooms at Castle Hill, Casterman is responsible for the care of McLain's top horses, Clinta and HH Azur. "They are both really smart horses, but they both have a different way of doing things," she said.
Though Azur is "not the most cuddly horse," Casterman said "Annie" has come around over time. "A year ago she would not like kisses, but now you can't get her off you; she'd put her face on you to get some," Casterman said. "She's a lady, and she knows she's good. She knows she's pretty, so sometimes she looks down at you a little bit, but [she's] not arrogant. The way she walks, everyone notices her because she has that majesty. She's just showing off how pretty she is."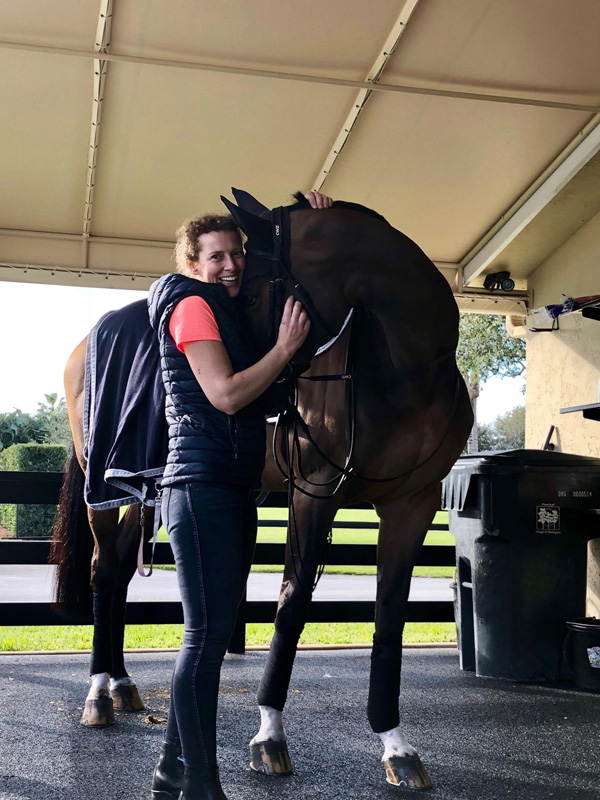 Clinta is more unassuming. "Just looking at her, people would not expect her to be the machine she is," Casterman said. "She's not going to show us everything of herself; [she keeps] it in, but when it's time to show us, it's like, 'Pow!' They are both amazing animals."
Casterman considers watching Ward and Clinta anchor the United States for team gold at the 2018 FEI World Equestrian Games in Tryon, North Carolina, to be a highlight of her time at Castle Hill, but she stressed that it is the sophistication of the entire operation that makes Ward's victories happen.
"It's a whole system at work," she said. "There's McLain riding, and then there's Lee managing all the training of the horses and the care they need. You always go to him to say, 'What are we going to do about that?' He gives you an idea of the path you have to take to fix it. We just keep them happy and healthy.
"I like McLain, and we're always happy when the horses do [well]. I'll say that, but I like the relationship with my horses the best," she continued. "It's special, I think, when you have a special soul connection with a horse, and everything you give them they give it back to you in the ring by being great. It's nice."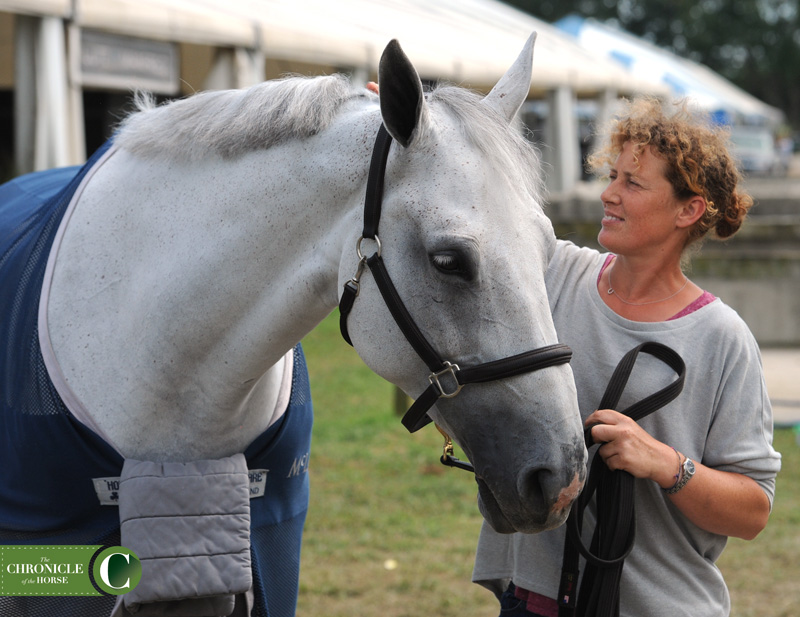 In 2017, her first season working for Ward, Casterman was recognized twice for her excellence in grooming, once at the Winter Equestrian Festival (Florida) with HH Callas, and then at Devon (Pennsylvania) with Rothchild. "I always found that chestnut horses are the easiest because they always look gold," she said.
That being said, it still requires a lot of elbow grease, and her secret is simple. "Brushing is better than bathing," she said. "A really nice grooming for the horse with a good curry is still the best. There's a French expression saying, 'A good curry is like a scoop of oats.' "
Despite the long hours, Casterman's love for horses never waivers. "I've been doing that for 22 years now," she said. "I don't see myself retiring anytime soon because I really do love it."
So no one was surprised when she came home from an auction with a rescue she purchased with her co-worker Corey Gallais.
"I was on Facebook, on one of those pages with horses going [to] slaughter or auction," she remembered, "and I said to Corey, 'Look at this one, how cute it is, how sad he looks.' The horse did look, in the picture, so sorry for himself. I was like, 'OK, let's go to auction and let's see.' And we ended up buying the horse and taking him back home."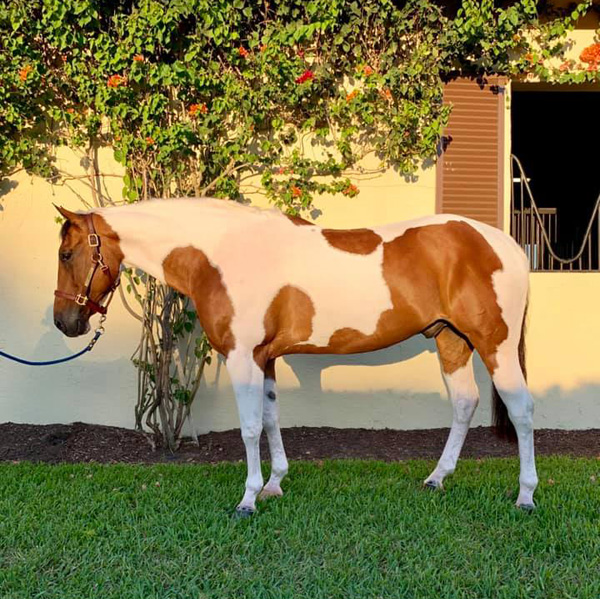 She and Gallais nursed Max back to health and set to work training him under saddle.
"It's been a great adventure because the horse is just lovely," said Casterman. "He's amazing now. He was a western horse, and we turned him into English riding, and [now] he jumps around [courses]. He's really cute, and he's really thankful for what his life is now."