Wellington, Fla.—Feb. 11
Laura Graves earned her first 80 percent score in the Fédération Equestre Internationale Grand Prix test on Thursday at the Adequan Global Dressage Festival, and last night she experienced another first in her career with Verdades—winning a five-star Grand Prix freestyle.
The pair earned an 82.00 percent ahead of Tinne Vilhelmson Silfven on Paridon Magi (77.45%) and Steffen Peters on Rosamunde (77.32%).
With the FEI World Cup Dressage Final (Neb.) as a season goal, Graves, 29, Apopka, Fla., was happy to have a packed crowd around the main stadium.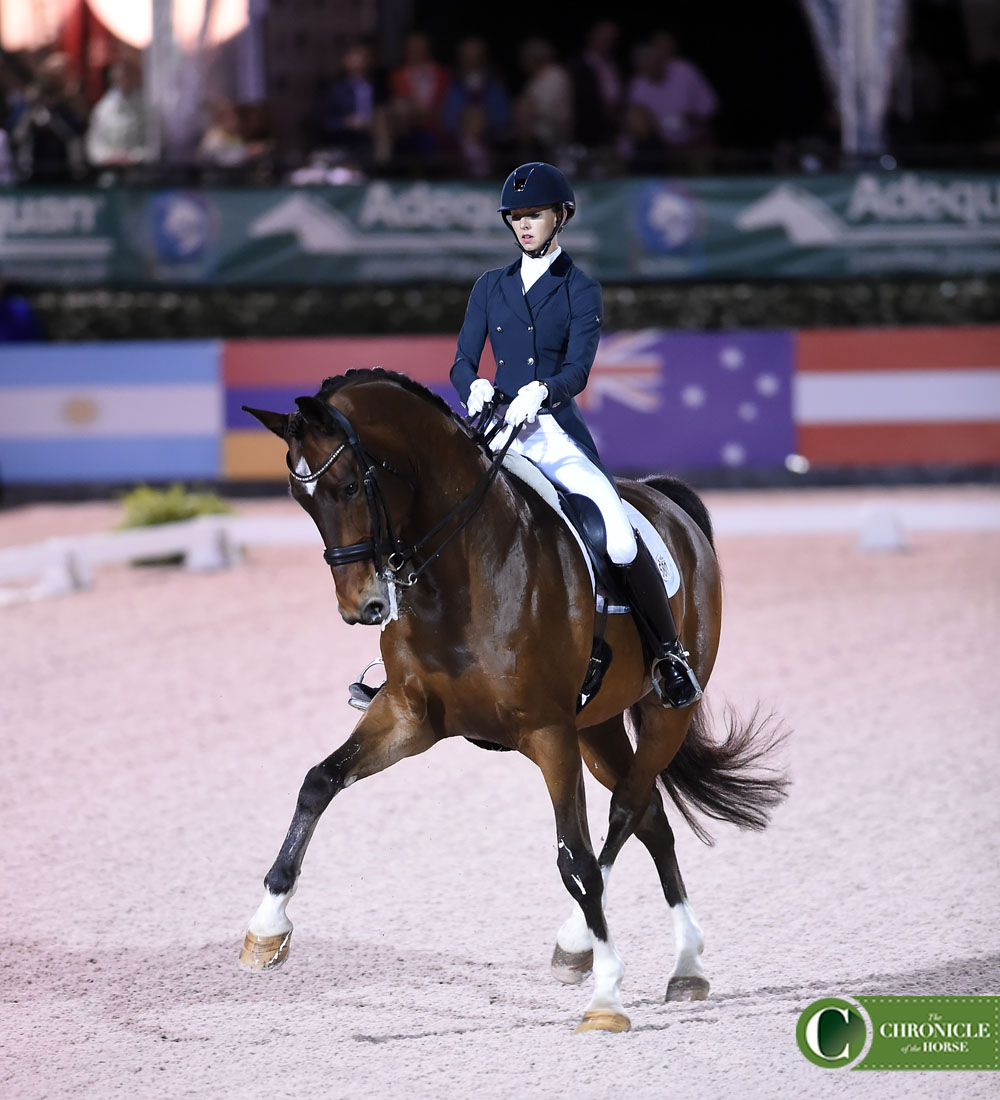 Laura Graves and Verdades. Photo by Lindsay Berreth.
"We're preparing for World Cup, and even though we don't have an indoor environment to do that, we have this awesome Global Dressage Festival that we can pack on Friday nights and still have a huge atmosphere for our horses to practice in, and that's a very lucky thing to have," she said.
"It's pretty difficult to recall sometimes after your experience in there. The adrenaline is definitely high, and you're so in the moment that when it's over you're kind of like, 'What just happened?' He was great. He really feeds off the atmosphere. He's a high sensitivity horse and he never lets me down," she said of the 15-year-old Dutch Warmblood gelding. "We tried a couple of new things. We had a stumble in the twos, which was unfortunate going in, but we tried a new piaffe fan at the end. It's just about getting comfortable, and as many times as we can to practice our freestyle before World Cup, hopefully if that's in the schedule for us."
Vilhelmson Silfven was thrilled with Paridon Magi, a 14-year-old Swedish Warmblood gelding owned by Lövsta Stuteri.
"I was much more pleased today than yesterday with the feeling. My horse had a super warm up—I've never had that great a feeling on him. I think when you get into this arena with the atmosphere, it's just fun to ride," she said. "It brings everybody up. He was super in the feeling. I had a small mistake in the ones and once in the extended canter when he swapped, but it was a very nice feeling."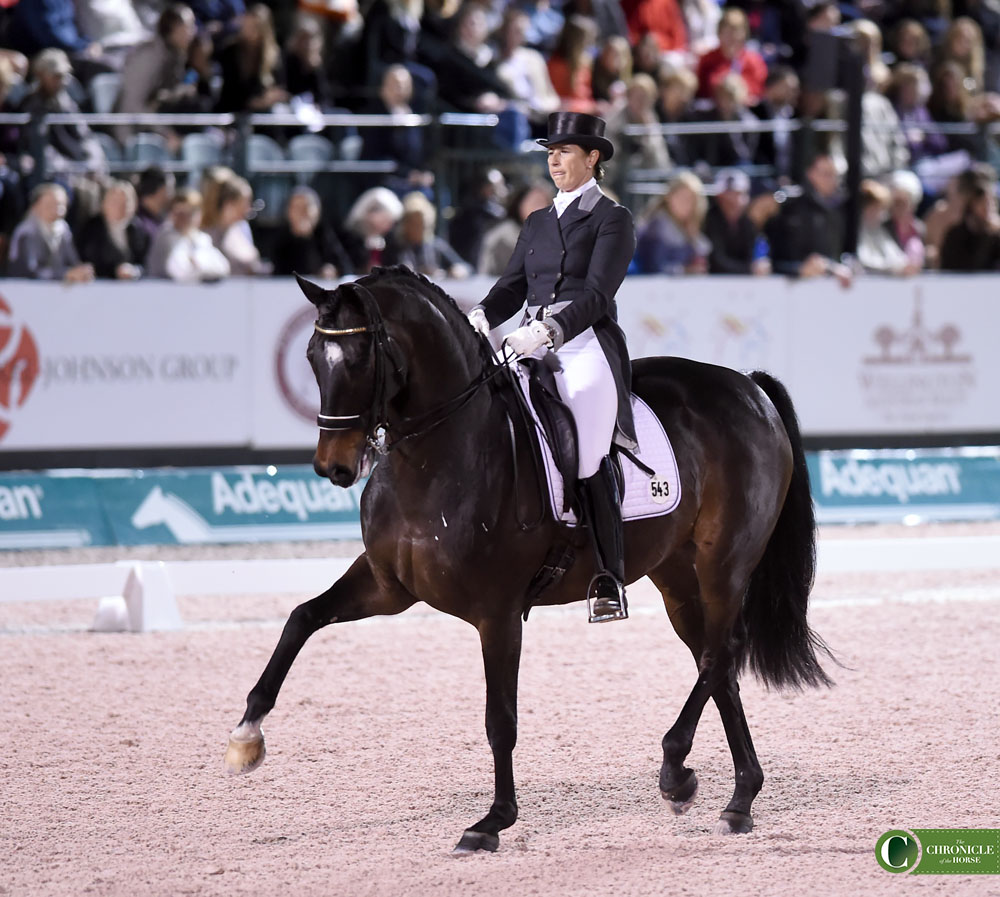 Tinne Vilhelmson Silfven and Paridon Magi. Photo by Lindsay Berreth.
Peters traveled from his San Diego, Calif., base with "Rosie," a 10-year-old Rheinlander mare owned by Four Winds Farm. It was her first five-star Grand Prix freestyle, and Peters borrowed some music from his former top horse Ravel.
"We actually used Ravel's old music that we used at the 2009 World Cup and 2010 World Equestrian Games and adjusted it to Rosie's tempo. One night we got done at 3:30 in the morning, and it paid off. I didn't even tell [owner Akiko Yamazaki.] I paid for it and said, 'just watch the freestyle and see what you think,' and she sent me a picture of Ravel and said that Ravel approved!" he said.
Peters went for a different strategy today since Rosie was a bit tense in her Grand Prix on Thursday, where she finished second.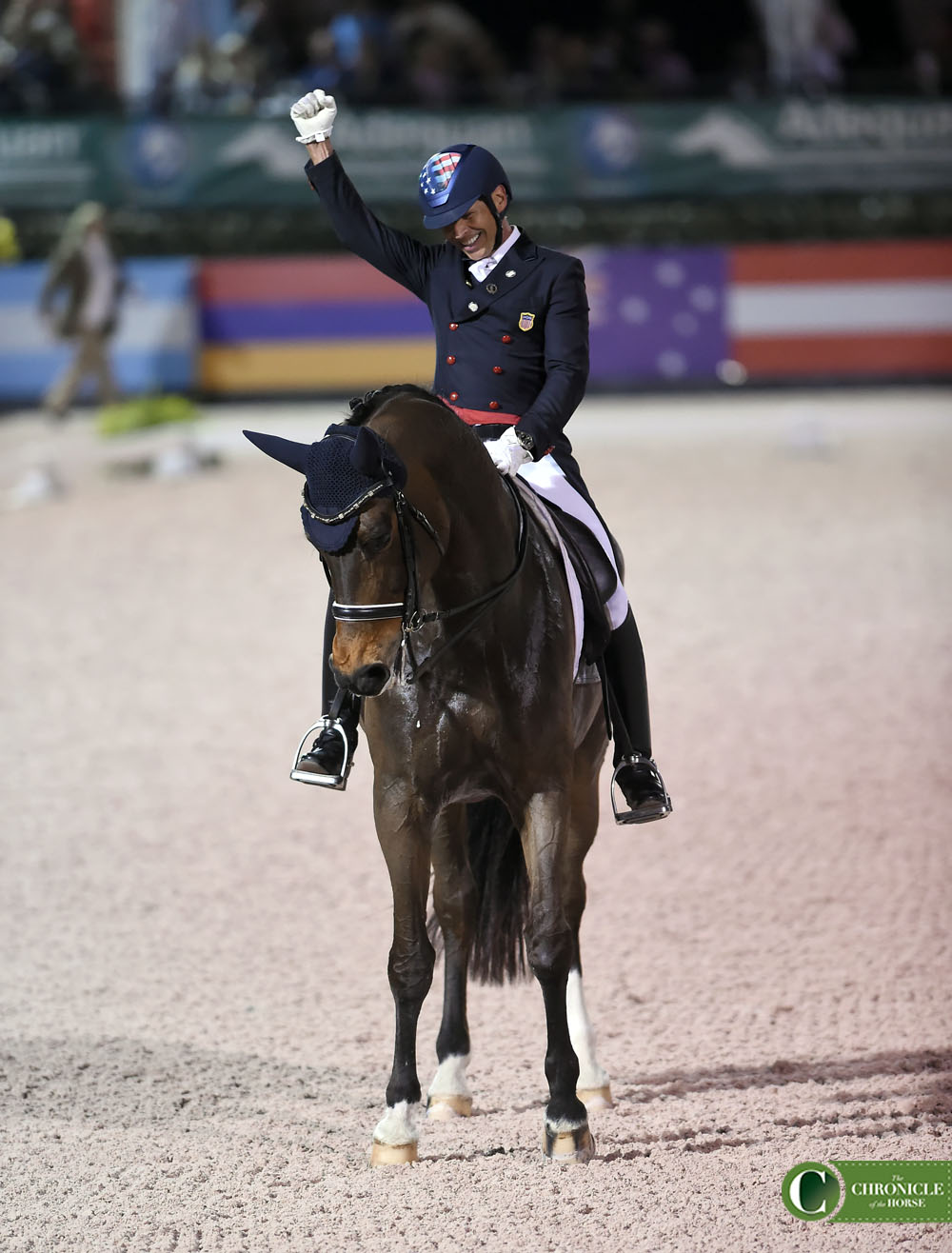 Steffen Peters and Rosamunde. Photo by Lindsay Berreth.
"This morning I worked her for about 45 minutes, and then anytime there was an honor round going on I walked her around. All day long she was basically walking, working a little bit this morning. It worked out great," said Paters. "I had my doubts that she could handle the atmosphere like she would have to at the World Cup, and she really proved that she might be ready if she qualifies. So I'm super happy. She did a clean test, much more relaxed than the Grand Prix, in this atmosphere, so I'm stoked."
For full results, click here.
Check out more from the AGDF CDI***** in the Feb. 27 issue of the Chronicle.