Wellington, Fla.—Feb. 9
While only a handful of combinations in the world have reached the elusive 80 percent mark in the Fédération Equestre Internationale Grand Prix test, Laura Graves knew from the time she started competing at the level that Verdades was capable, it was just a matter of time.
With her eye on the prize for the last three years, Graves has slowly raised her average score with the 15-year-old Dutch Warmblood gelding.
They've scored 80 percent and above in a few musical freestyles, including an all-time best score of 85.19 percent at the Olympics in Rio De Janeiro, Brazil, last summer. They also scored an 80.64 percent in the Grand Prix Special at the Olympics.
And today they completed the trifecta at the Adequan Global Dressage Festival when they earned an 80.08 percent in the CDI***** Grand Prix, taking home the win in the process. Steffen Peters and Rosamunde came second, scoring a 73.82 percent, and Sweden's Tinne Vilhelmson-Silfven and Paridon Magi were third on 73.70 percent.
"This is pretty monumental for us. We've been working at 80 percent at every test for awhile now, probably since our first year at Grand Prix," said Graves. "Knowing what was possible with this horse and to be rewarded today while still feeling like he and I maybe have some improvements left still is encouraging. It's encouraging to have the judging panel be generous and my horse be so generous and for us to have such a great show to come out and compete."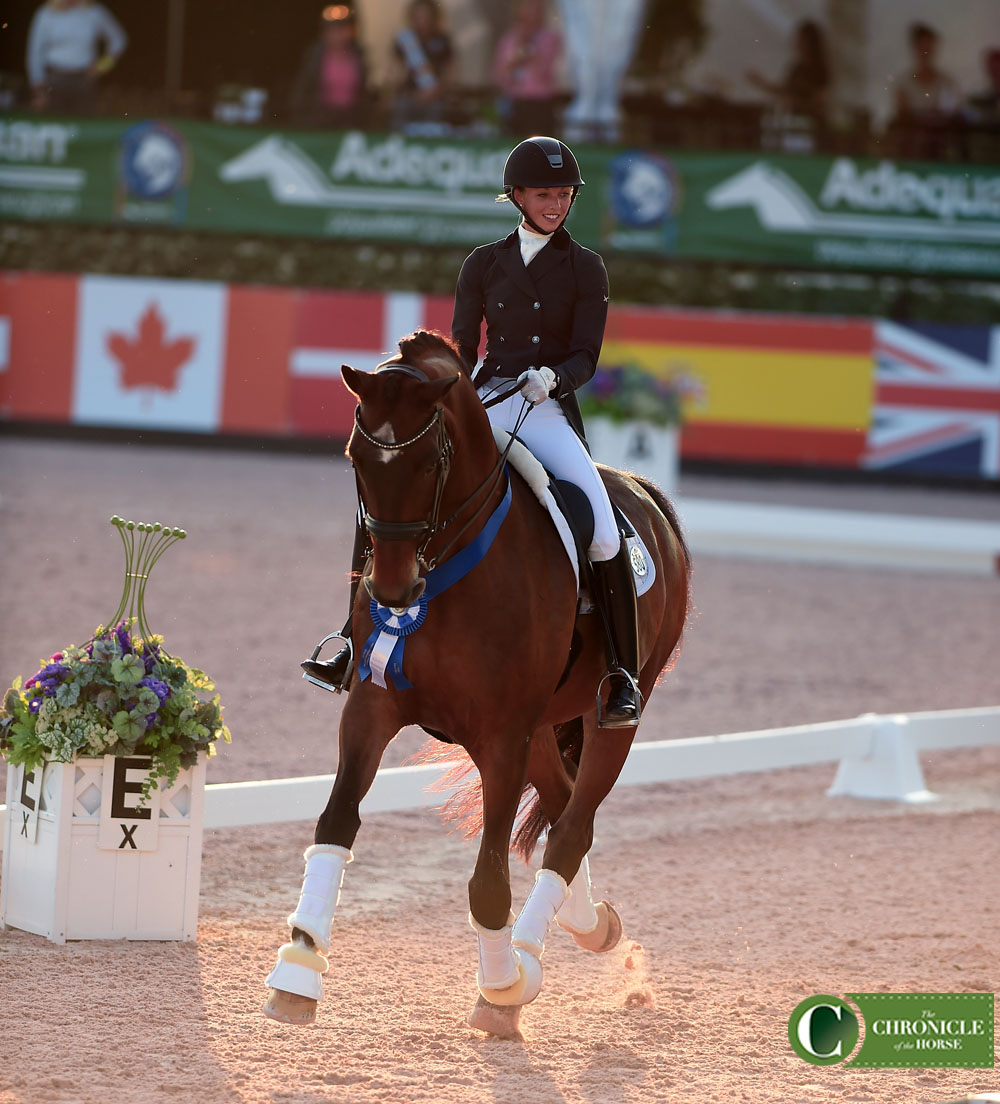 Laura Graves and Verdades. Photo by Lindsay Berreth.
Graves and "Diddy" are coming off two wins at the AGDF CDI-W two weeks ago. When asked what made this test better, Graves said her work on transitions is finally paying off.
"On a trained horse that's where I spend the bulk of my time. It's not what happens in between—the horse's know their job, and if you've done your job that part's going to happen, but it's setting them up properly, riding my corners, coming in at an appropriate tempo and frame and all these things," she said. "The first one always feels a bit sloppy but I'm lucky I have such a great team around me, and we know where to pay attention, and we work just those points. We don't work him too hard, riding a million extended trots or what not.
"Sometimes to get these horses through a clean test you have to sacrifice a little something, and that might be the feeling in your hand or the feeling to your leg, so I'm hoping to soon get through a test with that perfect feeling on top of these nice scores," she added.
Peters admitted he had a very electric horse underneath him today, and a few mistakes, including an unsteady first halt and a stumble out of a pirouette, kept his score with "Rosie," a 10-year-old Rheinlander mare owned by Four Winds Farm, a little lower than he'd hoped for.
"Overall I have to say that there were lots of things that felt wonderful. Sometimes she can be a bit unsteady in the bridle, and she was just perfect in the connection. I was able to make the neck a little bit longer and unfortunately a little tension in the collected walk and a stumble in the pirouette, so overall I'm happy with her," he said. "It's usually how she is the first day here with this atmosphere. If we think about being a contender for the World Cup then she has to deal with this atmosphere, and we'll see about that tomorrow night."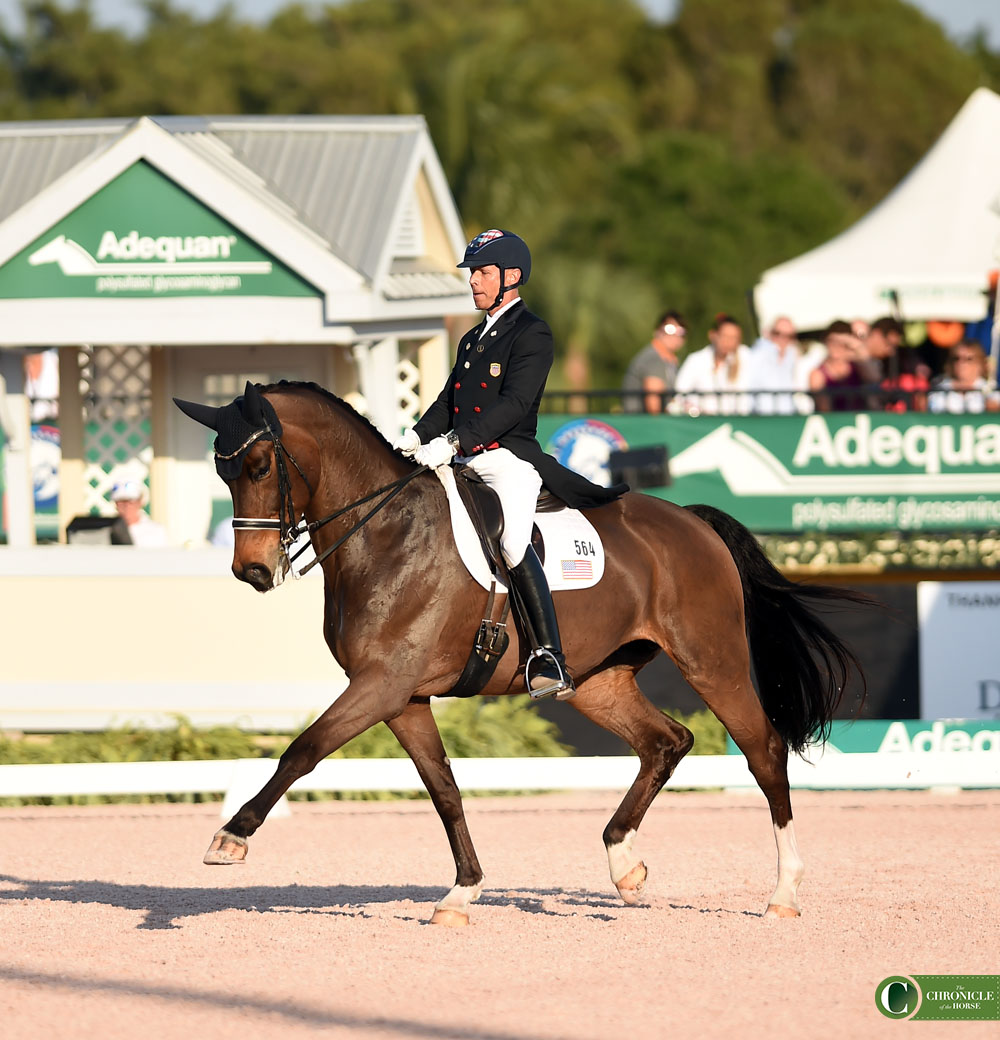 Steffen Peters and Rosamunde. Photo by Lindsay Berreth.
It was the first five-star for Rosie, who's recently stepped into her stablemate Legolas' shoes as Peters' top horse.
His assistant Dawn White-O'Connor will now campaign Legolas, and she's competing in the CDI*** this weekend.
"I honestly get a kick out of watching Dawn and Legolas. I have to say, he did such an amazing job in Rio, better than I expected. It was such a wonderful memory for me, to finish with that and have that horse do a 77 percent at the Olympic Games. That was incredible and it felt really good to be that supportive for the team. Dawn does a wonderful job with Legolas," he said. "I'm being super picky with her. The other day we practiced the freestyle, and she went from the canter pirouette to the piaffe, and she piaffed one second too long and I was yelling at her, 'Dawn, that was one second too long!' It was one step of piaffe. But we're being picky, and she's great. She's worked her butt of for the last 12 years, and she deserves a horse like Legolas, and I get a kick out of watching those two."
Because of her age, Peters knows he'll have to take his time with Rosie, because she's still a "firecracker," at her age, similar to the way Legolas was.
"Horses at that age they need to have the spark to be brilliant later. She's super honest and a little bit of an over achiever. Right now it's still more the exposure for her. She needs to do the five-star like Legolas did and the major championships like Legolas did. That's the only way to get them to settle down eventually," he said.
Peters also took home the win in the CDI*** Prix St. Georges on Four Winds Farm's Bailarino, a 9-year-old Oldenburg stallion that he's riding for Akiko Yamazaki. They scored a 72.71 percent.
"He's a very, very laidback little guy. He goes in there every single time, he does his job, he doesn't give you 100 percent, but he always gives you 90 percent!" he said with a laugh. "It's a lot of work! He's not the most motivated horse, but I appreciate that he does it every single time. He's never had a second place ribbon so far!"
Peters was sporting a helmet in his CDI rides today, a different look for him since he's always worn a top hat.
"That's it, 2017. My teammates were hinting at that direction—never gave me trouble about it, but they were hinting about it. I almost stand out with the top hat, so it's the helmet from now on," he said of his New Years Resolution.
In the CDI*** Grand Prix Special, Chase Hickok earned a personal best of 71.66 percent with Hyperion Farm's Sagacious HF to win.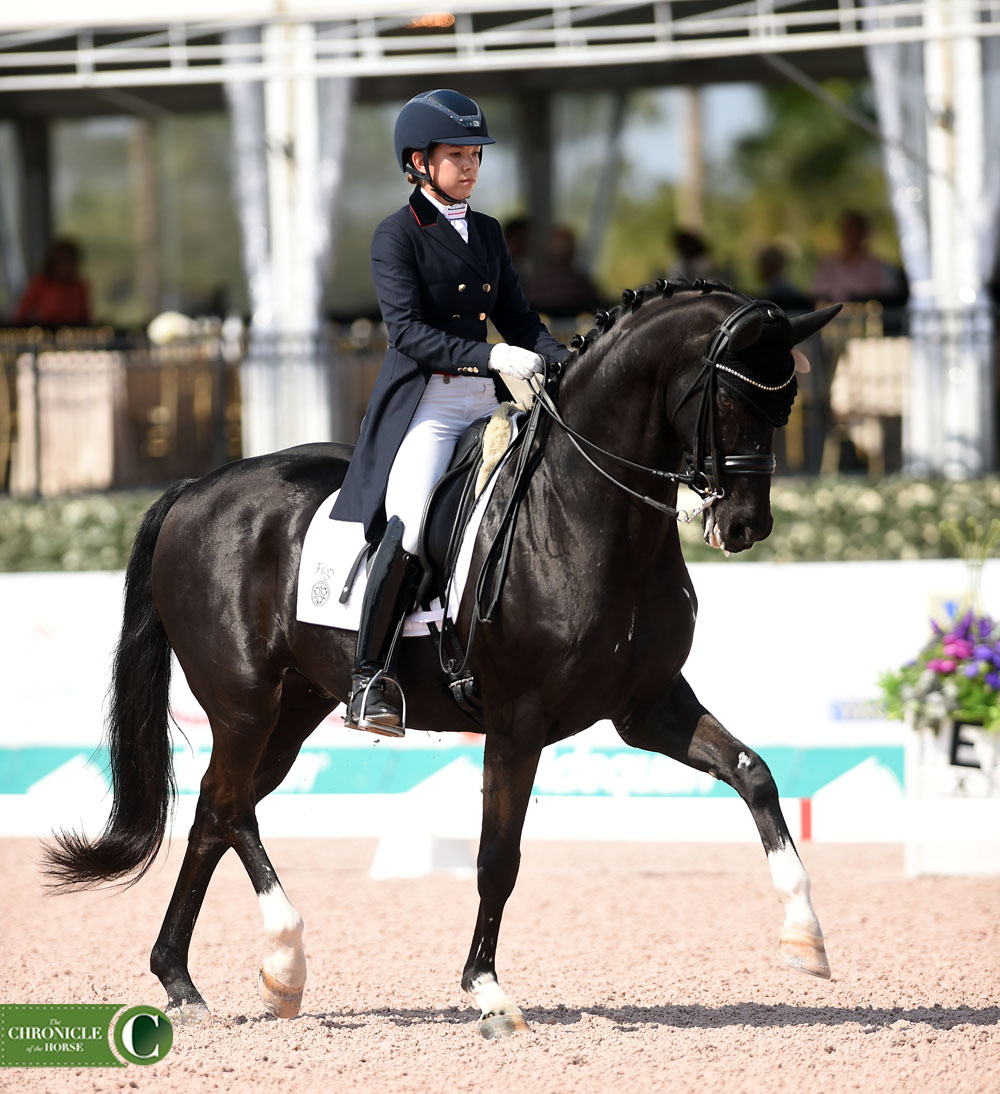 Chase Hickok and Sagacious HF. Photo by Lindsay Berreth.
Hickok is in her first year of open Grand Prix competition after showing in the Under-25 division in 2015 and spending most of last year working on things at home with trainer Endel Ots.
"We were really trying to make sure he stayed nice and calm and relaxed and added a little bit more jazz and a little bit more excitement. I think the score really reflected that," she said. "Every time he comes out he's better and better, and I'm stepping up to the plate a little bit. It's wonderful to have a horse like that who can show you the ropes through the U25 and now the open Grand Prix. He's just the best competitor you could hope for."
"Kitty," is 18 this year, but you wouldn't know it. The Dutch Warmblood gelding loves his work and his routine at home, according to Hickok.
"He's a horse that enjoys the challenge and enjoys the mental game of it. He's definitely a competitor at heart. He sees an amazing chiropractor and acupuncturist every two weeks. He's not really on any regular injections or anything, it's just good, nice, happy work, lots of trail rides, lots of handwalking. That's about it! He's a war horse. I keep saying he'll go until he's 35, fingers crossed."
Full results can be found here.