Lexington, Ky.—Nov. 5  
Trainer Stacia Madden smiled a bit when she heard the song playing as background music as Madison Goetzmann trotted into the ring for Round 1 of the ASPCA Maclay Final.
"Sometimes karma plays a part in these things; you cannot force these things," Madden said. "One of my favorite songs was playing, Go Big Or Go Home. I thought, 'This could possibly come together.' It was a beautiful thing to watch it all come together for her."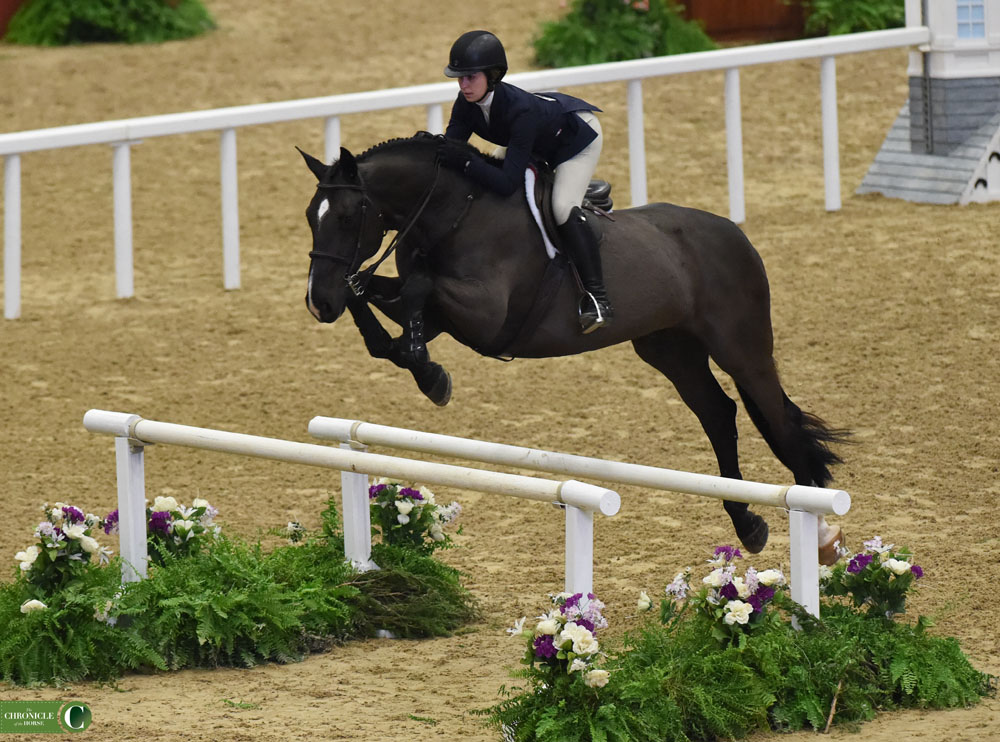 And come together it did, as Goetzmann turned in a Round 1 trip aboard San Remo VDL that put her in second place going into the flat phase, behind one of her good friends, Jordyn Rose Freedman. Then Goetzmann really shone in the flat phase, according to judges Ralph Caristo and Bernie Traurig, and they moved her up into the lead going into the second jumping round.
It was a lot of pressure for a 17-year-old, but Goetzmann is used to handling pressure. She's chosen to focus most of her junior career on jumpers. She rides with Beezie and John Madden in the jumper ring (though they were also helping her prepare for the Maclay alongside Stacia), and she's a cool customer in a jump-off. Just a few hours before claiming the Maclay win, Goetzmann placed second in the USEF Under-25 Grand Prix Final aboard her Prestigious. "I was feeling a little anxious last night being second in the standings for the Maclay and the U-25," Goetzmann said. "Beezie has helped me a lot with the pressure. Everyone helped me slow things down and focus."
And Goetzmann turned in another flawless trip in Round 2 to clinch the title. The Round 2 course was quite demanding, with a hand-gallop to a narrow, airy oxer, two counter-canter fences and a trot jump.
Want to know more about how Round 2 played out? Check out the Chronicle's round-by-round blog of the action.
"There are no words," Goetzmann said of her win. "It really takes a village to do something like this."
"I think we both felt as soon as she picked up the canter, from the first jump to the last jump, nothing changed," Caristo said. "She rode very confidently. We just watched her. We didn't even mark the card."
"I knew she had the ability to have the composure and the focus to do it," said Stacia. "She's been in so many clinch situations in jump-offs and team competitions, so I knew she could pull from that experience. Beezie has been able to give her an example in how to deal with the pressure; you can't say enough about how much of a benefit that is."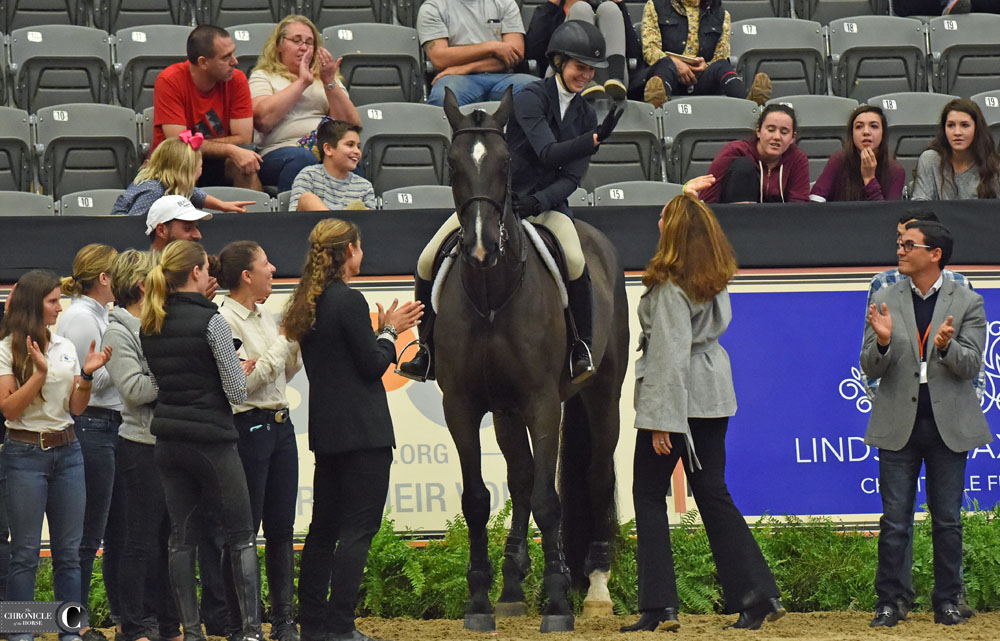 Goetzmann may have been focusing on the jumpers over the years, but she has another equitation accolade in her past. She claimed the blue in the USEF Pony Medal Final (Ky.) in 2011.
Another major benefit Goetzmann had was the ride on San Remo VDL, a horse who's become a bit legendary in the equitation ring. The 17-year-old won the Washington International Equitation Classic Final in 2012 with his owner, Elizabeth Benson. That same year, they placed fourth in the ASPCA Maclay Final. He was fourth again in the Maclay Final in 2013 with Gabrielle Basuano. San Remo took most of 2017 off after competing in the 2016 Maclay with Katherine Strauss.
"San Remo is a very special horse. It's hard for me to take credit for this final because he's the one who helped me get where I am right now," Goetzmann said. "I first started riding him in late August; my first show on him was the Hampton Classic [(N.Y.) in early September] and we started off our partnership with a win there. For me, riding this horse has been a big deal because he's part of the family at Beacon Hill. He's a championship horse and I'm glad I could give him the win he deserves."
Want to know more about San Remo VDL? Make sure to read the Dec. 11 issue of The Chronicle of the Horse magazine, where there will be a Horse Of A Lifetime story about him. 
Goetzmann and Freedman have become good friends over the years, as they've competed alongside each other since their pony days. Goetzmann claimed she would have been just as happy if Freedman had ended up the winner, and Freedman was obviously thrilled to have been second. "I actually came out of the ring crying because I was just so happy I'd kept it together," Freedman said. "My plan was to do what my trainers told me. I knew Maddy was going to kill it."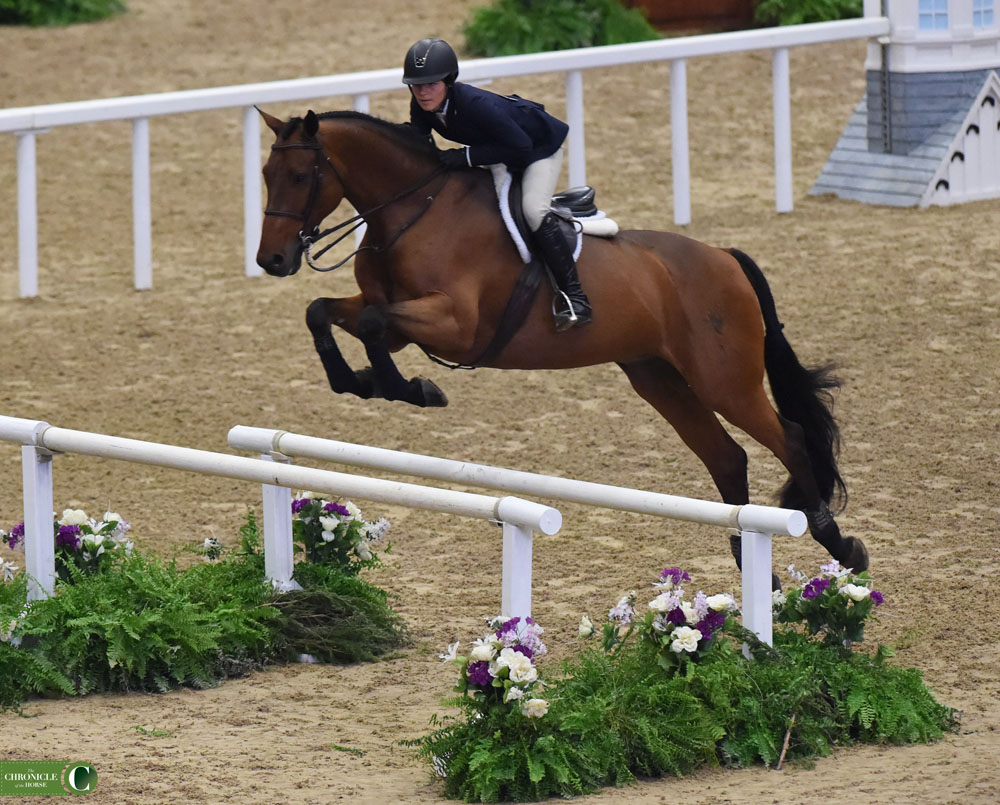 Freedman, from Longmeadow, Mass., has trained with former Maclay winner Linda Langmeier for eight years. "I'm super happy she kept her lid on. Early on in career, she battled her nerves, so I'm happy she did it," said Langmeier of Freedman's performance.
Grady Lyman of Rancho Santa Fe, Calif., came in third, moving up from seventh to third with her flatwork and then keeping the spot with her Round 2 trip.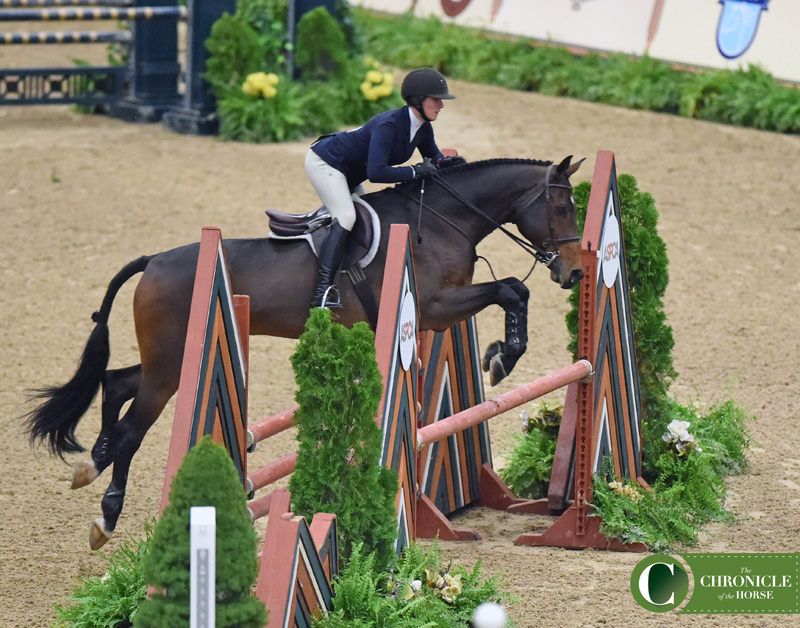 See full results of the ASPCA Maclay Final. For more in-depth coverage, including how Madison Goetzmann prepared for an equitation win by using it as a springboard along with a high-level jumper career, make sure to read the Nov. 27 issue of The Chronicle of the Horse magazine.
IMPORTANT LINKS:  All the COTH CP National Horse Show coverage  | What You Need To Know  |  live results/order of go  | live streaming  | show website
2017 Maclay Final
Molly Sorge / Nov 5, 2017 5:27 pm