After a two-year hiatus from his nine years as president of the U.S. Dressage Federation, George Williams will be back at the helm in 2022.
Williams was elected president again during the USDF's annual convention, which was held virtually Dec. 1-4 in lieu of the originally planned in-person meeting in Houston. The federation's nearly 27,000 members could use Zoom to watch committee meetings, educational seminars and participate in a question-and-answer session with members of the U.S. Olympic and Paralympic dressage teams.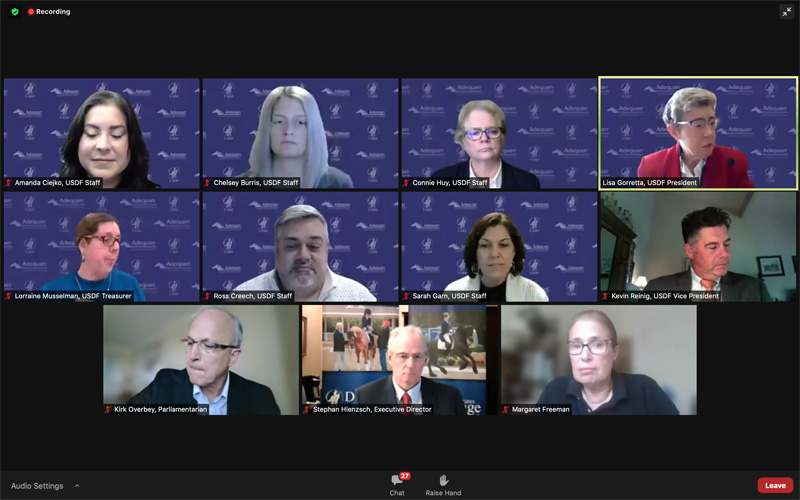 Williams was elected over Steve Schubert to replace Lisa Gorretta, whose two-year term was up, after being nominated from the floor during the USDF board of governors' meeting.
The presidential election initially was between Schubert and USDF Vice President Kevin Reining. However, as is permitted by USDF bylaws, Iris Berdrow of Region 8 nominated Williams for the position of president for a new term. Upon Williams accepting the nomination, Reining chose to rescind his candidacy in favor of supporting Williams. He will remain in his role as vice president for the remainder of his current term.
Williams said he'll continue working to grow membership, increase volunteerism, maintain a strong relationship with the U.S. Equestrian Federation and focus on the education of judges.
"I still really care about the USDF," he said. "Having been with it for the nine years as president and then being away from it, I still watched everything that was going on and still wanted to see it move forward. I think that overall the programs have a lot of room for improvement, and there are a lot of areas we can do that, and I'm very interested in doing that."
Under Gorretta's leadership, the USDF weathered the COVID-19 pandemic by slashing expenditures, securing two Payroll Protection loans and closing its office temporarily. The organization was able to adapt by creating online educational opportunities for members, holding last year's meeting virtually and developing a successful hybrid model for the U.S. Dressage Finals that led to a record numbers of entries in 2021.
"This has not been, by any stretch of the imagination, an easy three years, but I am proud of the work of the board, the USDF staff and the entire membership of this federation and the manner in which we have handled and responded to these challenges," Gorretta said.
Here are four other takeaways from the annual convention: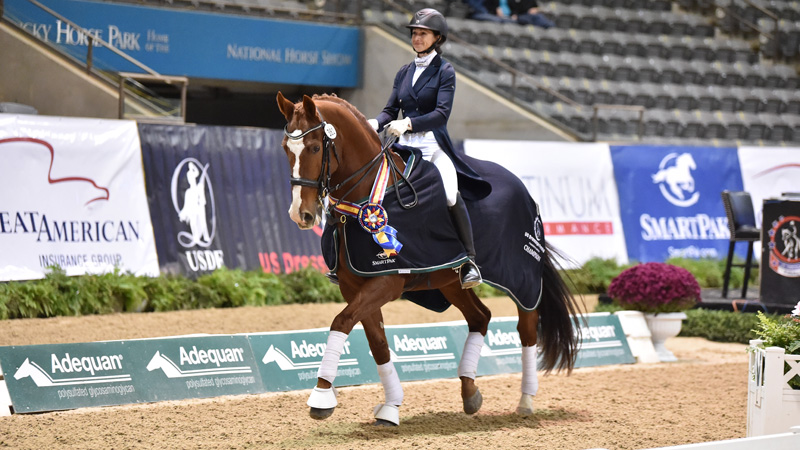 1. The U.S. Equestrian Federation is working to find a technical advisor to replace Debbie McDonald.
"As many of you have seen in the news this week, we are now evaluating our options for how to move forward with the technical advisor position," Hallye Griffin, USEF's managing director of dressage, said during an update on the high-performance program. "A detailed review was conducted after the Tokyo Games, and we developed a plan based on the feedback received. Now we're moving forward with the balance of that plan and then exploring out options for the best way forward. With that, we have to be cognizant that we have a World Championships upon us. Normally after an Olympic year you have a building year with no major championships, but that's not the case with the Tokyo postponement."
Griffin also celebrated the historic team silver medal the U.S. team won at the Tokyo Olympics Games, its first silver medal in 73 years.
"We not only shattered records, but we showed our strength and our depth," she said. "None of this would have been possible without the leadership of our coaching staff, the amazing riding of our athletes and with the support of their trainers, the enormous dedication of our owners and sponsors and the long days put in by the staff, and of course the incredible horses representing our country."
2. The U.S. Dressage Finals had record numbers of entries in November at the Kentucky Horse Park, in part because new junior divisions were added from training to fourth level and riders who qualified in for the canceled 2020 finals were allowed to compete this year instead.
There were 955 entries this year, compared to 541 in 2019 and 544 in 2018. Twenty-three eligible riders from the western-most states were given between $900 and $1,200 in the $36,000 of available travel grants.
Next year's finals will be held at the Kentucky Horse Park again. More youth classes through Grand Prix might be added in the future, Goretta said, and adding an adult dressage equitation championship has been considered. The junior equitation championship is owned by USEF and held at the U.S. Dressage Festival of Champions each August.
3. The dress rule for dressage has been extensively overhauled to allow more colors and embellishments on coats, shirts and breeches. The new rule took effect Dec. 1.
"Any single color jacket or tailcoat is permitted and may have subtle pin striping, checks or tweeds. Striped or multi-colored jackets or coats are not permitted," the DR120 rule reads, in part. "Tasteful and discreet accents, such as a collar of a different hue, modest piping, or crystal decorations, are acceptable. White, light or dark colored breeches or jodhpurs are permitted in competition. Bright colors or patterns are not permitted. Contrast piping is allowed."
For fourth level and below, riders may wear tall boots or paddock/jodhpur boots with half chaps matching the color of their boots and made of smooth leather or leather-like material. Tall boots are required for fourth level and above.
A change to DR124 means a judge must now eliminate a competitor for a dress code violation. Previously elimination was at their discretion.
Click here to read the full DR120 rule change and see more rule changes.
4. The Awards Committee presented a proposal for gold, silver and bronze rider medals of distinction. The USDF Rider Awards Program was created in 1973, and to date, the requirement to earn a medal had been 60%.
Average statistics from 2015-2019 show that a 60% is considered below average in today's current dressage world, likely due to increased educational opportunities and better horses, so the committee chose 67% as the mark for a medal of distinction.
That would give about 25% of current gold, silver and bronze recipients an additional chance for recognition. It would not alter the established requirements for a medal, and riders would apply for a medal of distinction as they would for any medal.