Though 2020 has been difficult for all, the U.S. Dressage Federation has weathered the storm of COVID-19 disruption by adapting to more virtual learning opportunities and keeping a close eye on its budget.
The annual meeting and convention took place online this year, held Nov. 30-Dec. 5, with a higher participation rate than usual, much to the delight of organizers.
USDF President Lisa Gorretta said the organization is in better financial shape than some of the other equestrian associations, with a balanced budget even during lean times. While various educational programs and instructor certifications were put on hold, she's hoping to get back on track in 2021.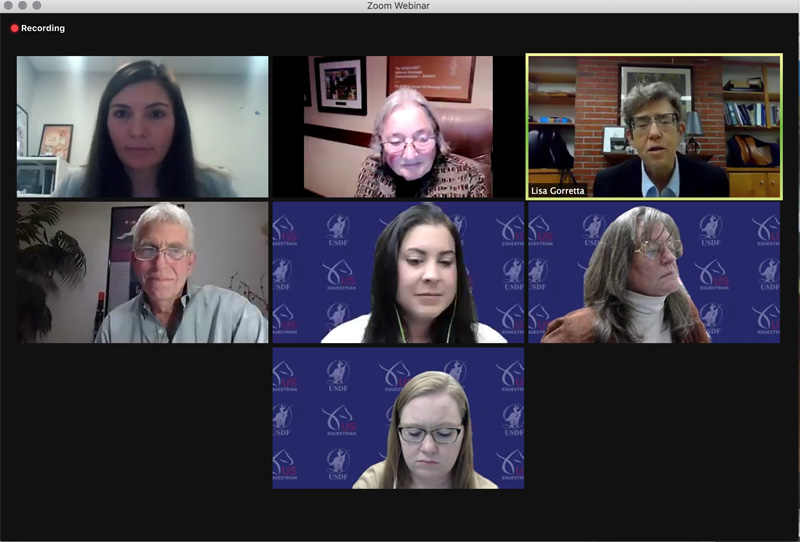 "Without question, the COVID-19 pandemic has forced us to deal with many challenges," said Gorretta. "Through my letters and [executive director] Stephan [Hienzsch's] letters, we have tried to convey the conservative and honest report of decision making to the membership of USDF's position. None of our decisions have been taken lightly, nor made without a great deal of discussion and examination of each issue. We have tried to keep everyone involved in USDF governance apprised of each situation. Your board, our committees and councils and staff have worked through each new problem thrown our way with appropriate, incremental changes to make the best, most reasonably fair decisions for the membership nationally, and in keeping with our core mission of a dedication to education, recognition of achievement and promotion of dressage."
Dressage competitions were down by nearly 50%, with 409 licensed shows, compared to 810 in 2019. The total number of rides in 2020 was 46,000, compared to 85,000 in 2019.
Memberships were down 11%, with total participating memberships down 10%, and Group Member Organizations down 14%. Horse registrations were down 24%.
Even so, it's not all bad news.
"My real job [as an independent consultant for equestrian trade] has me in the retail environment a lot, and one thing I've noticed is there are a lot of people interested in riding because they have technology all around them, and they want to get back into an actual relationship with an animal," said Gorretta. "Some are coming back from juniors. I've come across a lot of people who are getting into horses for the first time, they want their kids to have a relationship with an animal, or they want the release of having an animal, and many of them do not want to jump. I see this as a great opportunity because they all come in, and when I ask them what they do, they all say dressage. I think this is perhaps one of our biggest potential opportunities if we can capitalize on it."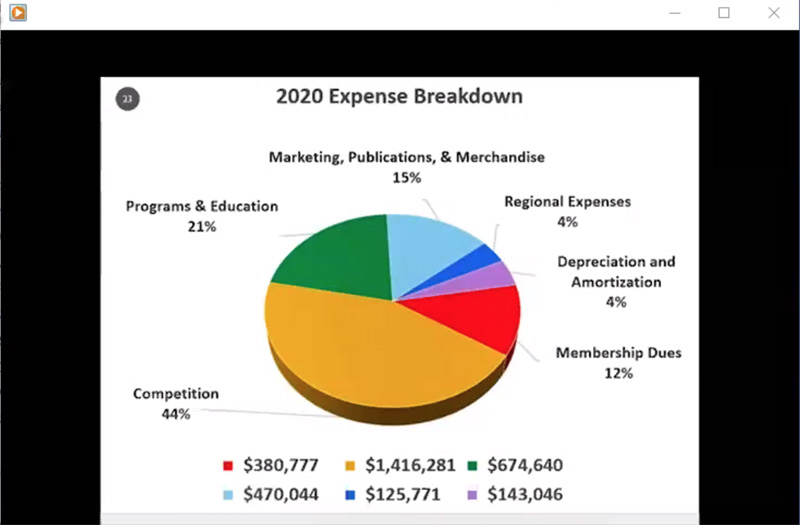 Here are more key points from the convention.
• USDF officials are continuing to explore ways to do things virtually. For now, in-person events will likely be limited to licensed officials education and training programs, "L" judge participants who need to complete the second half of their program, and junior/young rider clinics.
Technical delegate clinics, dressage seat equitation, training for judges and sport horse education will take place virtually. The Trainer's Conference will be tabled for 2021.
• Eight regional championships took place this year. Region 5 couldn't hold theirs due to difficulty finding a facility and a state with appropriate COVID-19 regulatory plans.
• There's a new and improved membership dashboard on USDF.org.
• In the first year of the USDF Regional Schooling Show awards program, 308 shows signed up, and 161 horse/rider combinations nominated to participate. This program offers awards to riders who are members of a GMO and are competing in non-U.S. Equestrian Federation-sanctioned/non USDF-recognized competition.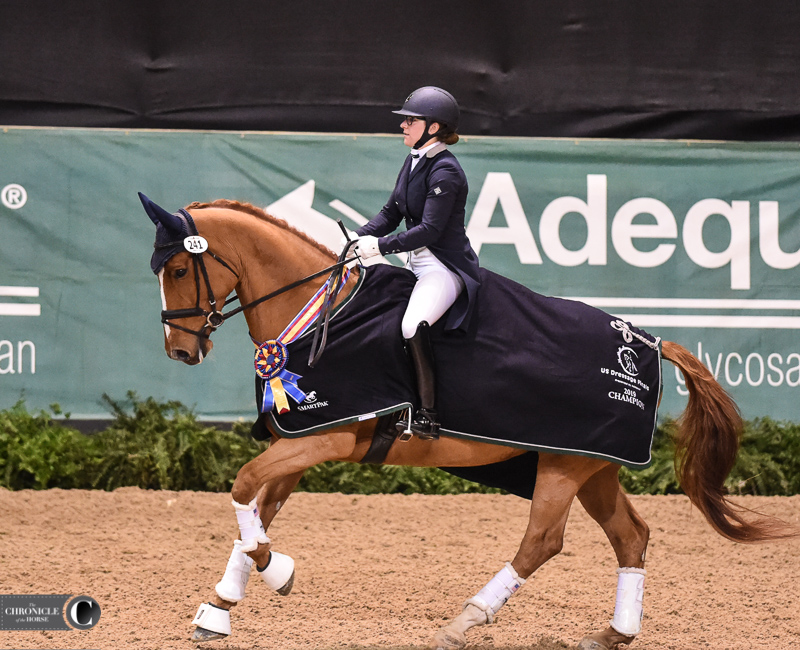 • In the USDF Finals open meeting, organizers spoke about the plan for next year's finals, to be held at the Kentucky Horse Park. The KHP has a seven-year contract to host the finals through 2022.
The 2020 show was canceled due to concerns about bringing competitors together from across the country during the COVID-19 pandemic. With indoor stabling and the extensive use of the indoor Alltech Arena, organizers felt the risk was too great.
For 2021, anyone qualified for the 2020 Finals will be invited to compete. In addition, junior divisions have been added from training through fourth level. At this time, FEI levels for juniors won't be included because organizers felt juniors competing above fourth level have good opportunities to compete at the North American Youth Championships or the USEF Dressage Festival Of Champions, but FEI divisions won't be ruled out for the future.
Gorretta said right now they don't have any serious bids from other venues wishing to host. She encouraged members to reach out to their GMOs and local organizers if they had ideas for new venues.
• Next year's in-person meeting is planned for Houston, Dec. 1-4 at the JW Marriott Houston by the Galleria.
• USEF managing director of dressage Hallye Griffin gave an update on the high performance program and said the pandemic has forced everyone to embrace technology. Some developing riders were coached remotely by George Williams.
The USEF Dressage Festival of Champions (Illinois) was one of the only major competitions that took place this year. Next year riders are looking forward to more than 20 CDIs in the U.S., with an eye on the FEI World Cup Final (Sweden).
With the Tokyo Olympics now taking place in 2021, it will be a "year of dual vision" as the high performance program prepares for Tokyo and looks toward the 2022 World Cup and qualifying for the 2024 Olympics, as well as focusing on the 2023 World Cup in Omaha, Nebraska.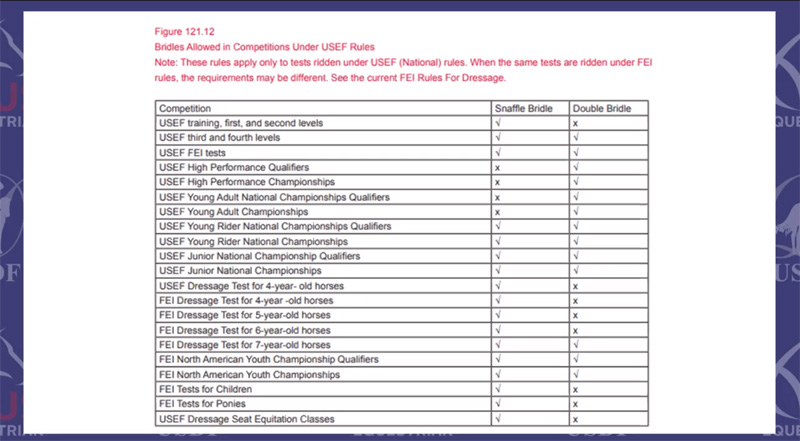 • Rule Changes Of Note
DR203 adds a new sport horse division for 4-year-old prospects (mares, geldings and stallions).
DR121 adds a more precise definition of a snaffle bit with several pictures depicting legal snaffles, as well as bridoons, and offers more information on permitted bridles and nosebands. A chart of permitted bridles for each level makes it easier to reference.
DR120 regarding dress rules is getting an overhaul, and USDF wants members' opinions. They are currently drafting a rule change proposal that would allow more colors of breeches (dark brown, navy blue or burgundy) and would allow more options for shirts/neckware (no bold patterns) and coats (any single non-neon color). The possibility of more flexibility for boots and half chaps and clarifying what kind of sponsor logos are allowed are also being discussed.
For now, USEF and USDF will not follow the FEI's new rule that prohibits the removal of whiskers from a horse's nose, but Gorretta said since USEF typically follows most FEI rules, that may change in the future.
For a list of rule changes and rule change proposals, click here.
For more information on the convention, click here.