He adds a grand prix win in Texas to his resume with his reliable chestnut mare.
If Wilhelm Genn ever wanted to give up grand prix jumping, he might take up rodeo. Genn demonstrated his alternative talent when Happy Z celebrated with some airs above the ground after winning the $30,000 Pin Oak Charity II Grand Prix.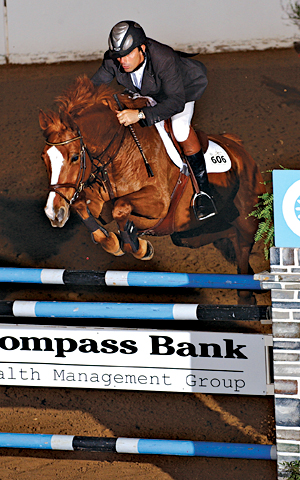 "Happy loves to win!" Genn said after the victory, during the Pin Oak Charity Horse Show II, March 25-30 in Houston, Texas.
"She's so sweet and so smart, but she's got the heart of a football player. She gets so pumped up, then she bucks and kicks and does her thing. I just try to stay with her as best I can, and stay out of her way. But she needs to give that 110 percent, because she's a small horse [just over 16 hands], and this is a big effort for her. So I allow her to do the bucking, because if I take that away from her, I'm afraid I'd be taking away her heart and her competitive nature, too.
"Even when we ride her every day she bucks and kicks out," Genn said of the 10-year-old Dutch Warmblood mare. "She can be totally lazy for the first 20 minutes, then all of a sudden she'll turn around and give you the biggest buck ever. So we try to control that energy as best we can—we do a lot of flatwork. And we let her play a bit on the longe line, too—she likes that."
Genn, of Lebanon, Ohio, has won seven of the nine grand prix classes at the $25,000 level he's contested this year.
At Pin Oak, Genn needed that consistency to battle Tracy Fenney, who had won the week before in the $30,000 Pin Oak Charity Horse Show I Grand Prix, where Genn finished third on Happy.
"My biggest competition is always Tracy!" Genn admitted. "I've known her for a long time. She's a great rider, a tough competitor and a good horsewoman. We've often competed neck-and-neck. You can never count anybody out [as a rival], but Tracy is always a factor."
Genn and Fenney traded places for the lead during the seven-horse jump-off. By the time Fenney cantered in on S&L Willie as the last to jump off, Genn led the class with a clear round on Happy in 37.56 seconds. Fenney and "Willie" finished in 37.70 seconds for second, and Fenney also nabbed third place with MTM Centano.
Revving The Engine
Brooke Morrison is from the nearby town of Spring, Texas, so she was able to bring her horse, Harley, to Pin Oak on the morning of her first class. The relatively late arrival didn't seem to affect the outcome of their performance in the children's hunter, 15-17 division, where they claimed the tricolor.
"That's one of the great things about Harley," Morrison, 15, said of the 14-year-old German Warmblood that she's owned for six years. "He never spooks, never cares about the jumps, so we can load him on the trailer for a show practically at the last minute, and he's fine—he just goes around."
Pletcher Reigns Over Hunter Derby After the $10,000 ASG Software Solutions USHJA International Hunter Derby at Pin Oak on March 28, the congratulatory ensemble back at Peter Pletcher's barn aisle was calling him "Handy Man." Pletcher not only won the Hunter Derby, but he also claimed third, fourth and ninth place.

Pletcher rode Argentum, owned by Alta Basaldua of Kingwood, Texas, to the blue.
Round 1 offered four option jumps with 3'6″ or 4'0″ jumps. Alan Lohman's creatively designed course included numerous thought-provoking elements.

"The four-foot straw-bale jump heading away from the in-gate on a sudden sharp turn definitely was difficult," Pletcher said. "It was early on in the course, and the horses jumped it well. It rode a lot better than I thought it would, but I still think it was a challenge."

Everyone admired the beautiful sampling of natural obstacles, including wooden coops, gates, and brush boxes, designed to simulate traditional jumps found in the hunt field. Round 2, the handy class, included a trot fence, a walk fence and other contemplative elements.

"The angle to the vertical after the walk jump was a really, really tight turn," Pletcher said. "But each horse I rode handled it all really well. I was surprised, because when I first did one of these classes in California, things didn't go this smoothly! But I think the more you do these derbies, the better they become. The walk jump is so different for us that it was a good test for everyone."

Pletcher didn't just win the class—he had a hand in most of the top ribbons. He trains junior rider Victoria McNaughton, 17, who finished in second with Studio 54. Pletcher rode Tuscan Sun to third and MacArthur Park to fourth. Pletcher's amateur student, Becky Gochman, claimed fifth on her Godiva.

Pletcher was "thrilled" with the overall win on "Gem," a 7-year-old Oldenburg gelding recently purchased by Basaldua while she was showing with Pletcher on the HITS Thermal Horse Show circuit in California. Alison Baileys sold the horse to Basaldua during the third week of the circuit, where Gem had been doing the first-year green hunters.

"I'd already found another good horse for Alta out there," Pletcher explained. "But then I saw this horse go and asked if it was for sale. I jumped it over three fences and said: 'It's perfect. We'll vet it tomorrow.' We bought him right away, showed him three times in California, and he's just gotten better and better every time out.

"Gem has such an unbelievable jump," Pletcher added. "Sometimes that gets in the way, because he jumps so hard over the fence, then he lands and wants to play. Just getting him to take a deep breath has been one of the biggest factors in his training. But this afternoon, he proved that he's going to be a very nice horse. Even though he's green, I knew he could be the winner if he could just use the jump that he has, stay calm and hold it all together."
That element of calm was one of the biggest reasons why the horse was chosen for Morrison in 2002, when she traveled to Germany on a horse-hunting trip with her mother and her trainer, Dennis Henderson. Only 9 at the time, Morrison wasn't at all a match for the succession of green horses initially shown to their group. But when she climbed aboard Harley and he quietly packed her around a course of jumps, everyone knew this was the one. So across the ocean he came, to Henderson's barn in Texas.
Choosing a name was easy. Morrison's father Patrick used the money from selling his Harley-Davidson motorcycle to buy the horse. But Morrison admits that their partnership took some time to fully develop.
"I was tiny and he's 16.2 hands with a really big jump," the high school freshman recalled. "It was pretty hard for about the first two years." As Morrison grew, however, the two started clicking.
One of Harley's personality quirks never fails to amuse Morrison. "Harley has this incredibly deep, deep whinny," she said with a laugh, "and it's really loud, too! He whinnies a lot, and you can always tell it's him from a long way off."
Morrison, who will soon be shifting gears to start showing a 5-year-old children's jumper she recently acquired, said she's pleased Harley will be staying in the family. He'll be passed down to Morrison's 12-year-old sister next year.

Happy Faces
Eleanor Lorton also is in transition, looking ahead to next season when she'll ease out of the children's hunter division to try her hand in the large juniors on her Extra Extra. But for now, Lorton's primary focus remains on Woodlands Silver Creek, on whom she won the large pony hunter championship. Lorton also earned the Leading Pony Hunter Rider title at Pin Oak.
Seventh-grader Lorton lives in Tulsa, Okla., and trains with Libby Barrow. She's owned "Happi" for nearly three years, and she's still trying to figure out why the Welsh Cross pony came with that particular barn name.
"He always kicks up when you go into the ring," Lorton, 13, explained. "He can be a little grumpy, so I'm not sure if they chose that name to be sarcastic!"
Still, the 17-year-old veteran campaigner knows his job, and he managed to win in the model and the hack, as he did at Pin Oak.
Lorton said her favorite Happi trick is when the pony is begging for treats. "He'll slide his upper lip way up over his teeth," she said. "So it looks like he's smiling. He'll hold that face for a really long time, too, until you give him a peppermint or something!"
She said she'd like to go to Devon (Pa.) and USEF Pony Finals on Happi this season, before they retire him next year. Lorton credits Barrow for much of her success on Happi, and on her horse.
"Libby is really nice," Lorton stated. "She doesn't get angry if you don't do well. She likes to try different things, and she likes you to have fun."
Anne Lang