"The harder you work, the luckier you get," is a favorite motto for Mavis Spencer, 30, who's spent the past 12 years building her career in show jumping.
When Spencer decided in 2009 to make a profession out of her childhood passion, her parents, actress Alfre Woodard and screenwriter Roderick Spencer, said she would need to pave her own way in the industry. So after aging out of the junior division, Mavis landed a working student position with Kent Farrington, where she worked her way up to groom and rider over three years. When she left Farrington's stable in 2012, Mavis spent the next two years with Ireland's Darragh Kenny before undergoing a four-year tenure with Neil Jones. In March 2020, she got the opportunity to carve out a program of her own at Whitethorne LLC in Somis, California.
"I get a lot of phone calls from people who want a riding job, or they only want to ride," she says. "At the end of the day, there are so few of those that I think you have to be willing to work your way into that position rather than just trying to find your ideal job. I think that loyalty and hard work get noticed, and they're the things that get you far in this sport. Through that, you end up creating opportunities for yourself."
After a two-year hiatus from competition, Mavis won the first grand prix after her return on Georgy Maskrey-Segesman's Con Calle, an 11-year-old Holsteiner (Contendro—Velonia, Cassini II), in July's $25,000 Jet Pets Grand Prix, held during the Nilforushan Equisport Events' Temecula Valley National Summer Series in California. She broke her leg in October and had to sit out for another three months, but she once again came back on form, riding Belladonna 42 to the win in the $25,000 FarmVet Grand Prix, held Jan. 21 during the first week of the Desert Circuit at the Desert International Horse Park in Thermal, California.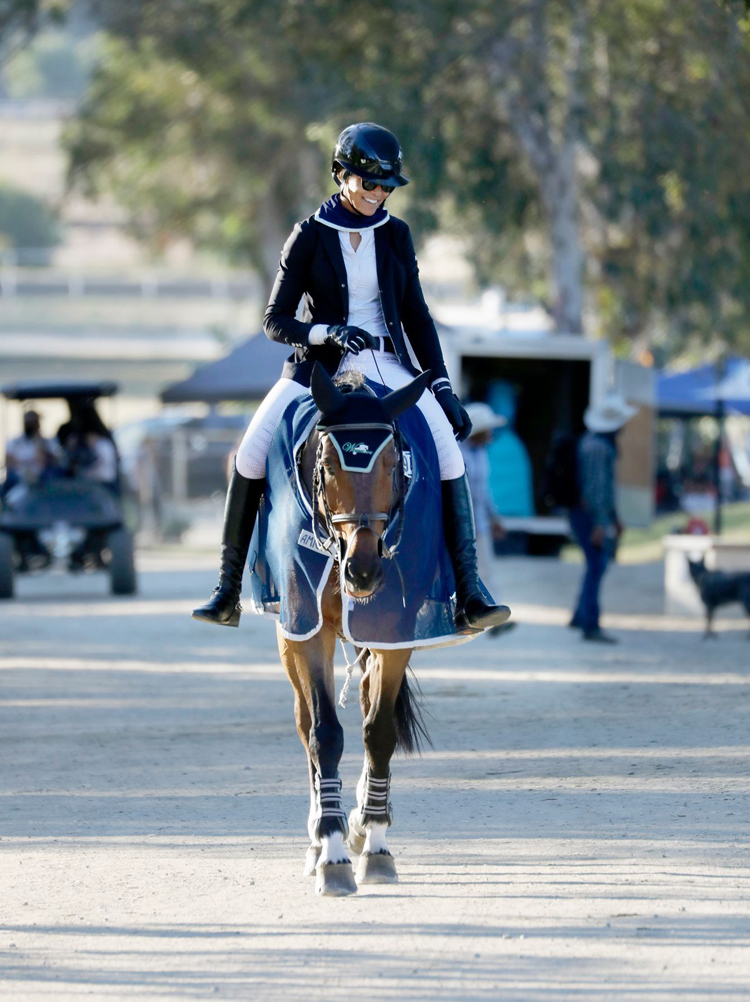 1. Where is your dream vacation?
I have been obsessed with the van life movement, which is something [rider Bethany Unwin] and I have talked about. At one point, we were looking at Sprinter vans to go away and spend a week in Yosemite [California]. I'd love to be able to drive up the coast, to somewhere like Seattle, and go park in a national park, explore and go hiking. I'm a very active, outdoor person, so I think that would be an amazing experience. Going to Yosemite or something like that and camping out is very high up on my bucket list.
2. Talk about what it was like growing up in the Hollywood limelight.
Honestly, I didn't really, compared to a lot of my friends whose parents were also actors. My mom is super down-to-earth and really wanted us to not feel like the paparazzi were chasing us around all the time. At the end of the day, the way we grew up, it was just her job. If she were a lawyer or a plumber, it would've been her job, so we never really treated it like it was overly special.
Not that she isn't amazing, that being said, but it was just kind of, "Mom's going to go to work. Mom's going to New York to do a play on Broadway for six months," and we'd fly out to visit her every month. We got to travel a lot, which was amazing, but it definitely wasn't something I felt took away from other aspects of life.
3. What do you love most about developing a horse?
I love to show—the competitive part of me does—but I really enjoy working with one, watching them get better, especially the young horses. I just enjoy the whole process behind working with them. In the ring you get to showcase all the work you put in, but I really do enjoy the time at home and doing a lot of different exercises and flatwork.
4. What's your guilty pleasure?
I would say my guilty pleasure is sleep. I feel like sleeping in means you're losing hours and wasting part of your day, but every few weeks I'll sleep 16-odd hours and spend the rest of the day on the couch. Every once in a while, I feel like I need a mental reset day like that—a mental and physical reset day.
5. What item can't you live without?
I'm sure a lot of people would say this, but I'd be lost without my phone. I try to not look at it while I'm riding, so I set certain tones for people I know I need to respond to. But beyond that, I make notes of everything I need to do; I use my calendar for appointments, and I'm constantly in contact with clients who are looking for horses.
---
This article originally ran in the November/December 2020 issue of The Chronicle of the Horse Untacked.
If you're just following COTH online, you're missing so much great unique content. Each print issue of the Chronicle is full of in-depth competition news, fascinating features, probing looks at issues within the sports of hunter/jumper, eventing and dressage, and stunning photography.
You can subscribe and get online access to a digital version as well as the print magazine, and a subscription comes with our lifestyle publication, Untacked. Or you can purchase a single issue or subscribe on a mobile device through our app The Chronicle of the Horse LLC.
What are you missing if you don't subscribe?