Mavis Spencer has been out of the show ring since October, but you wouldn't know it from watching her ride Belladonna 42 to the top of the leaderboard in the $25,000 FarmVet Grand Prix, held Jan. 21 during the first week of the Desert Circuit at the Desert International Horse Park in Thermal, California.
The pair crossed the jump-off timers at 37.00 seconds to take the top spot over Kyle King and Christine Maclean's Etalon. King rounded out the top three on his second mount Coffee To Go, owned by Spruce Meadows Ltd.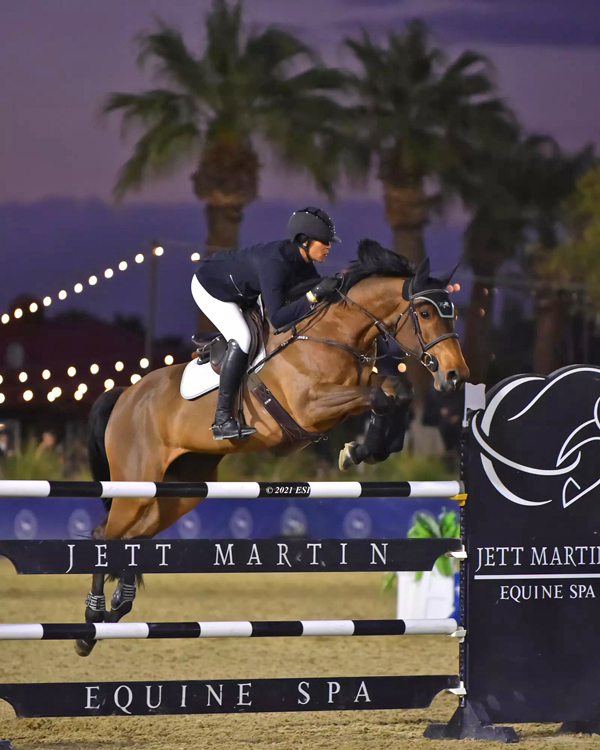 "I only started riding her just recently," stated Spencer. "She is a weapon, an absolute machine. She is a mare, and she just wants it so badly. She goes in and gives you 110 percent. As a rider you dream of having a horse like her, one that goes in, and—bar you messing it up—they are going to go clear and do what she has done two nights in a row now. It is a very exciting new horse I get to ride."
The 12-year-old Holsteiner mare (Clearway—Vita 24, Carinjo) has been owned by Georgy Maskrey-Segesman for roughly two years now. Spencer has only ridden the mare a handful of times, but the pair also claimed the $5,000 Welcome Speed class as well at Desert Circuit 1.
"For me, last year was a bit of an odd year," said Spencer. "With the pandemic and everything, and then I broke my leg back in October. So I am three months off of that. It is great to be back at a horse show.
"I have to thank Georgy for the incredible group of horses that I have, which makes life a lot easier," Spencer continued. "I think coming home with the win yesterday gave me a lot of confidence going into tonight. Even though it is a new horse for me, she has an incredible resume already and is just a weapon for these classes, so I knew I could go in and have a shot at it."
Final Results: $25,000 FarmVet Grand Prix
Rider, Horse – R1 F & T  | R2 F & T
Mavis Spencer and Belladonna 42 – 0 & 82.481 | 0 & 37.003
Kyle King and Etalon – 0 & 79.395 | 0 & 37.396
Kyle King and Coffee To Go – 0 & 82.912 | 0 & 37.750
Darrin Dlin and Buddy Bounce – 0 & 80.675 | 0 & 39.024
Emily Esau Williams and Dandy – 0 & 82.347 | 0 & 40.769
Jaclyn Duff and Camilla M 4 – 0 & 83.810 | 0 & 41.492
Susan Artes and California Sunshine – 0 & 83.313 | 4 & 43.017
Mavis Spencer and Con Calle – 0 & 80.550 | 10 & 58.464
Lisa Carlsen and Livestream 2 – 1 & 85.686
Tali De Jong and Vaillant De Belle Vue – 3 & 87.442
William Simpson and Chacco P – 4 & 77.911
Kristin Hardin and Dexter R – 4 & 83.067