Jim Wofford grew up on a farm in Milford, Kansas, the youngest son of a storied equestrian family: His father, Col. John W. Wofford, was a member of the 1932 Los Angeles Olympic show jumping team and later the founding president of the U.S. Equestrian Team, and his brothers, J.E.B. and Warren, were both USET riders. After graduating from the Culver Military Academy (Indiana) and the University of Colorado, Jim set out to affirm his family heritage, bringing home a team silver medal from the Mexico City Olympics aboard Kilkenny in 1968.
Over the course of his illustrious career, Jim won medals of every variety, including team silver at the 1972 Munich Olympics, individual silver at the 1980 Fontainebleau Alternate Olympics, individual bronze at the 1970 World Championships and team bronze at the 1978 World Championships.
Since his retirement from competition in 1986, he's served as president of the American Horse Shows Association and vice president of the USET and been inducted into the U.S. Eventing Hall of Fame. Today, he travels the country as a fervently sought after clinician and coach, having fielded students for every U.S. eventing team since 1978.
Jim's all-encompassing expertise and sardonic sense of humor are familiar to readers of his blogs, columns and several books, including "Training The Three-Day Event Horse And Rider," "Take A Good Look Around" and the newly published "Cross-Country With Jim Wofford."  He's been married to Gail W. Wofford, ex-MFH, for more than 45 years.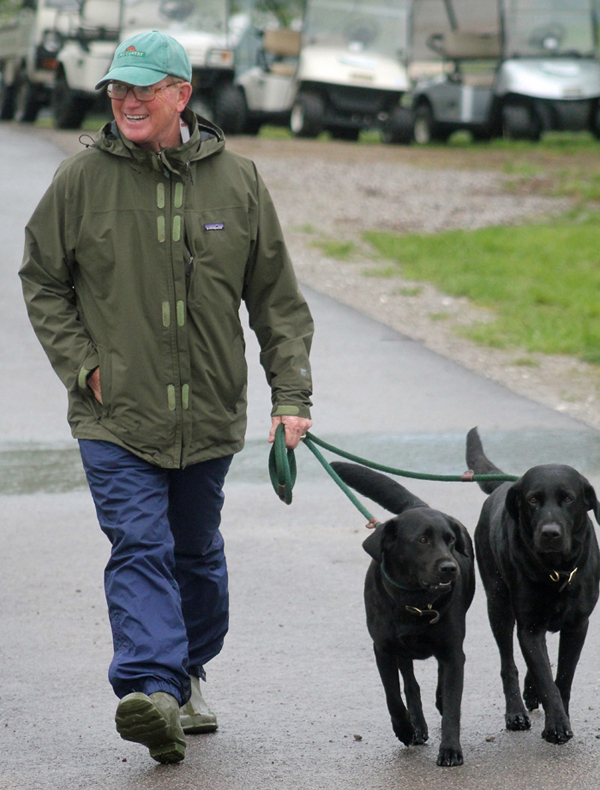 Name: James "Jimmy" Cunningham Wofford
Age: 66
Home Base: Upperville, Virginia
What is a typical day for you?
I wake up between 4 and 5 o'clock, write and do email, and check my schedule for the next week. I read a couple of papers on the Internet. Then I usually start teaching at about 8 o'clock in the morning at various locations. I've rented my own facility out, since I'm supposed to be semi-retired, but I end up teaching at least three days per week at facilities in the area. By Friday, I'm usually headed to an airport to do a clinic somewhere over the weekend.
What's playing on your stereo?
'60s and '70s rock. Fleetwood Mac, Jackson Browne, Bonnie Raitt, and a little mixture of the Beach Boys thrown in there, too.
What has been your biggest accomplishment?
Personally, my four wonderful grandsons.
Professionally, I've got to separate it into two things: I'm probably the proudest of my individual silver medal at Fontainebleau. I've won every medal except the individual gold, so I'm proud of that, but I'm also the proudest of the fact that basically, Carawich ran away with me at Fontainebleau, and I had enough sense to let him do it.
I went out first for the team, and that is not the master plan for the first rider on the team in the classic format. But I had enough sense to trust him and know that he knew what he was doing, which indeed he did.
He had the fastest round of the day there. Besides competitive skill, I'd like to think I showed a little horsemanship there also, in terms of knowing my horse and reacting to the situation that the horse was presenting and not just riding the mechanical plan that I'd worked out very carefully.
In your Olympic experience, which moment was sweeter: cantering down the centerline or standing on the medal podium?
The first time you turn down the centerline of the Olympics, you definitely get a tingle. I quote Ginny Leng all of the time. She was never a fan of the Olympics back in the '70s and early '80s. Then she rode on the team in 1984 in Los Angeles, and she brought it up because she and I had argued about it.
I said that despite all of her concerns about the problems of having eventing on the Olympic calendar, the importance of the world stage in my view outweighed them, and I still feel that way 20 years later.
So she came to me and said, "Jimmy, I must tell you that when I turned to enter the centerline in that stadium, I felt such a sense of occasion."
That's a very English way of putting it, but I knew exactly what she was talking about. That's the way you feel.
But probably, my happiest professional moment is the victory lap on Carawich at Fontainebleau wearing an individual medal. For just a second, you're not going to worry about anything, you're just going to enjoy the moment, because you know how lucky you are to be there and how many things had to come together at the same time for you to be able to do that.
Looking back on your career, what advice are you glad you didn't take?
In [the Munich Olympics] 1972, I rode too carefully to orders. I did not ride my horse to the best of his ability because I tried to ride him the way someone else told me to ride him rather than the way I knew he needed to be ridden.
After that, I didn't take advice that didn't suit my horse and my plan. Usually, I could predict very accurately what my placing would be. I could look at the competition and the way my horse was going and what dressage score I could reasonably hope to obtain, and I could tell you how it was going to turn out. Sometimes, it would have been bragging, because I would have said, "Yeah, I'm gonna win this one," and I was accurate.
Other times, I would have said, "I'll be lucky to be sixth," and I was right about that, too. After '72, I didn't take advice against what I knew my horse needed to do. It wasn't a question of being a hammerhead, it was a question of knowing my horse better than anyone else in the world.
What characteristic do you value most in a horse?
Intelligent athleticism. They have to be smart, and they have to be superbly balanced and athletic. Twenty or 30 years ago, you could find a horse that was a freight train and be very successful with him, but these modern horses have to have lightning-like reflexes and assess combinations and complexes at a high rate of speed. You watch the experienced horses, and you get the sensation that the horse has walked the course also.
[Karen O'Connor's] Prince Panache was a stitch to watch, because he'd come galloping down to a combination, and he had slightly floppy ears, and suddenly they'd start to flicker. At six or eight strides you'd see him go, "Huh, that's funny. That looks just like the barnyard complex from Luhmühlen two years ago." Then, "OK, here we go," click, click, click, and he was gone. He knew what it was going to be.
What characteristic do you value most in a rider?
Hard work. George Morris has just shared a book with me called "Talent Is Overrated," by Geoff Colvin, which is next on my to-read list. I will not tell you how many of my very, very successful students about whom I've at one time or another thought, "Gosh, I wonder if this kid is going to make it?" Then they would show up in the morning ready to work, ready to learn one more little thing.
The coach has to say, "Yep, I'll come up with one more tiny thing that they can do, because it's not my job to define the limits of their ability." I've stuck to that for a lifetime, and it's a good thing, too, because if I'd acted on some of my doubts, there would be a lot of riders who wouldn't have reached their full potential. I've certainly learned over the years to never define people's limits for them.
If they're willing to work, I don't really view my time in the arena, working with them, as work. How can you say that's work? Work is standing in the security line at the airport getting frisked. But dealing with these wonderful creatures and people, are you kidding? That's pleasure.
Which horse from your past do you wish you had the chance to ride again?
My first answer to that, always, is Carawich. He was my soul mate, he was my most successful horse, he suited me. I bought him untried. My stable manager gave me a leg-up that first morning, and I slipped down into the saddle, and rarely have I had that sensation: That horse fit me like a glove. My legs just seemed to fall in the right place.
Recently, though, I was thinking of a horse that I wish I could ride again: A homebred named Très Puissant who no one's ever heard of, a half-brother to my brother J.E.B.'s Olympic horse. When Très Puissant was a 4-year-old, our stable manager told me to take the horse and longe him over some jumps.
Of course, being 14 at the time, I took him out in the big field and longed him over the jumps, but no one said how high. So I thought, "Well, he's doing that easy, let's just see how high he can jump."
So on a rope longe line, he was just cantering over 6-foot jumps, just playing over them. He thought it was funny. Two years later, as a 6-year-old, he competed at Pebble Beach. I was going to college for my first year, and the deal was that if I made my grades, then I could have the horse. He was becoming very successful, and it was obvious how talented he was. And then he dropped dead of a cancerous carotid artery, so we'll never know just how good that horse would be. He never came close to realizing his potential. He was a horse who would have been equally successful then as now.
If you could take your pick of any of the upper-level event horses currently competing, who would you choose and why?
I would've chosen [Tina Cook's] Miner's Frolic, but now you have your fingers crossed for him that he's going to be OK, which it seems now that he is. Failing that, I'd also say Jakata, Piggy French's horse. I was so impressed with that horse last year at the World Equestrian Games.
What was the most important lesson you learned the hard way?
Patience. Horses and riders develop on their own time schedule, and you can't jam it, you can't force it, you just have to let them develop at their own speed. When they do, the results are better. If you try to force things, you wind up breaking them.
As the author of countless columns and several books, how often do you find yourself writing?
I write two or three days per week for one reason or another. I'm always tinkering with my next column. I've just finished my latest book, "Cross-Country With Jim Wofford," which is out now. At some point, I'll write one more serious horse book, which I hope will follow on "Training The Three-Day Horse And Rider" in the same way that Bill [Steinkraus]'s book, "Reflections On Riding And Jumping," followed on "Riding And Jumping." You read "Riding And Jumping," and you developed expertise. Then you came back and you read Reflections "On Riding And Jumping," and it was a much deeper, much more nuanced, much more valuable book to the elite rider.
I haven't started to put that in a rough draft yet. That may be my last book, unless I decide to do something autobiographical.
Do you have plans in the works for a full-scale autobiography?
None yet. I've got to wait until too many people die before I can publish that!
[Editor's Note: Wofford went on to write "Modern Gymnastics: Systematic Training for Jumping Horses," published in 2013, and his autobiography, "Still Horse Crazy After All These Years," published in 2021.]
What was the last book you read?
The last book I read was "The Life Of General Walter Bedell Smith," who was Eisenhower's chief of staff, and I'm currently reading a book called "The Storm Of War" by Andrew Roberts, who writes very well about military history.
The last fun book I read was "Fire And Rain" about the Beatles, Crosby, Stills, Nash and Young and some of the other super groups—how they formed, what experiences they went through. It was a very interesting sociological study.
What makes you laugh?
Anything. I have to keep a grip on my sense of humor, because it's over-developed. Not everyone has a sense of humor, and some people are offended by things that I find funny, so I try to keep a lid on it.
When you're teaching a clinic, what's your biggest pet peeve?
My biggest pet peeve is people entering the wrong level and not having an accurate view of where they are. I don't mind someone being a novice at all. There's no pressure on me with novices, because anything I say is beneficial to them because they've never heard it before. You know you're going to improve that novice's riding.
But I hate to have people who think it's beneath them to go novice, so they get in the training group and hold things up. I don't encounter many behavioral problems these days. My reputation precedes me that I don't have any problem airmailing people out of groups they're not ready for, so very rarely do I have to do that. Maybe once a year.
What's your drink of choice?
Warm tea in the morning instead of coffee and iced tea during the day. After dark, scotch on the rocks.
You're an avid fisherman and have traveled to far-ranging fishing destinations. Which has been your favorite and why?
There have been so many. I used to come to my wife, Gail, with an idea for a trip and say, "It's the trip of a lifetime!" Finally, she shook her head and said, "Honey, you only get one trip of a lifetime per year."
I've floated through the wilds of Alaska, and Alaska really is wild when you get off the coast and get in there. I went with three close friends, and we were alone in wilderness for a week, just fishing, camping, pitching tents and cooking our own food. No cell phones, no electronics. That was a pretty good trip.
Name one fact people wouldn't know about you.  
I've mostly lived my life in the public gaze, but people may not know that I'm badly off to one side of the political spectrum. We'll just leave it at that. You can deduce from my writings which side I'm towards.
What's your favorite thing about being a grandfather to your four grandsons?
It gives me an excuse to go fishing and shooting. We get to go do guy adventures. They're a little backed off by me, because I'm not a very kind, paternal grandfather; I'm a little bit gruff. They call me Big Jim, and when they're doing something that their mother told them not to do, I'll say, "Don't forget that Big Jim still spanks!" They know the threat is real, so I've never actually done it.
But they're funny. They run in a herd, just like watching a flock of wild birds out on the back lawn. They all change directions together.
What do you envision for yourself in the next 10 years?
To continue doing what I'm doing. I can't imagine not teaching and training horses. I never turn down an opportunity. If I can make the date, I will accept the contract.
Describe yourself in three words.
Born a horseman.
---
This article appeared in the Aug. 8, 2011, issue of The Chronicle of the Horse. You can subscribe and get online access to a digital version of the Chronicle and our lifestyle publication, Untacked. If you're just following COTH online, you're missing so much great unique content. Each print issue of the Chronicle is full of in-depth competition news, fascinating features, probing looks at issues within the sports of hunter/jumper, eventing and dressage, and stunning photography.
What are you missing if you don't subscribe?