Washington, D.C.—Oct. 25  
Championships during the fall indoor circuit are hard to come by, so any win is meaningful, but for Virginia Fout, winning the grand champion low amateur-owner hunter title at the Washington International Horse Show with Carma was more than just adding another accolade to her collection.
This year the trophy was given a new name—the Bucky Reynolds Memorial Award.
"Betty and Ernie Oare were really good friends of my parents—who have since passed—so I've known them my entire life, and Betty's brother Bucky, who recently passed away, was a big fan of mine," said Fout, who grew up in Middleburg, Va. "He was really a nice and lovely man. We've all known each other forever, so it was really fun to win that the first time it was being presented for Bucky. It meant something other than just a name.  And it's fun to have them present it. I've known them since before I could walk."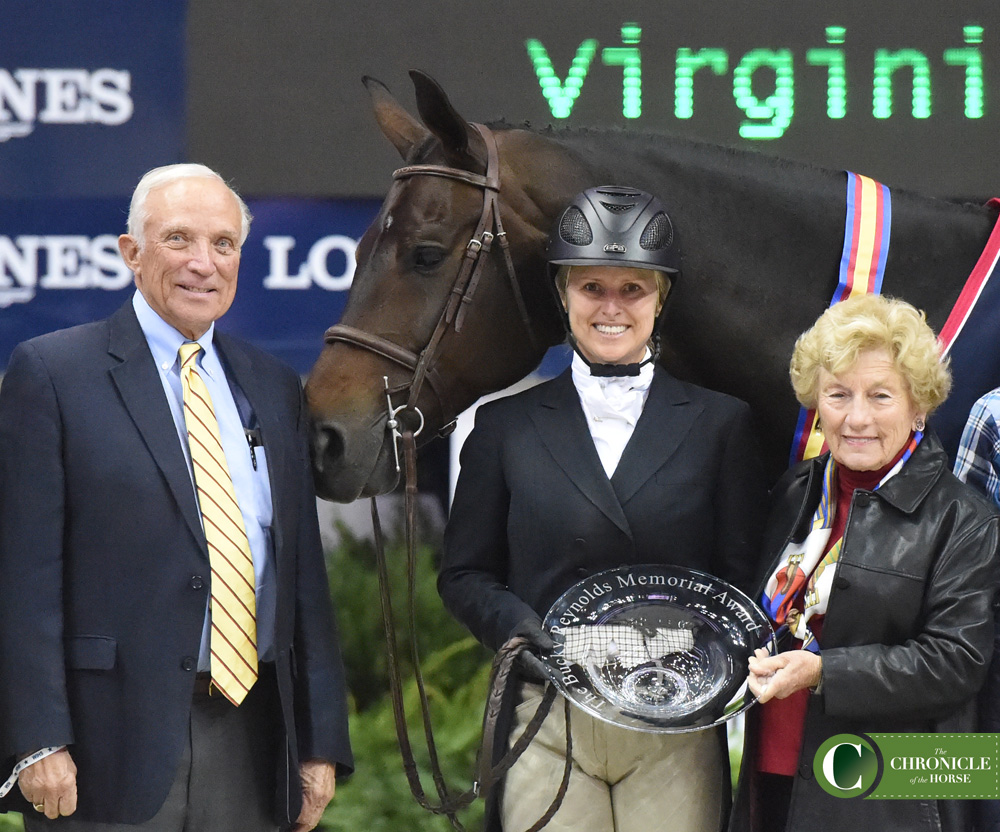 This is the second consecutive year Fout has won the grand title along with the low amateur-owner, 36 and over, championship, but she didn't get much time to enjoy her win. As the owner of her own event productions company V Productions LLC, she had to hop on a plane shortly after her victory so that she'd be back home in Los Angeles in time to take her 6-year-old daughter Logan Whetstone to school and make a 1 p.m. meeting on Thursday.
She'll head back across the county again next Monday to compete in the National Horse Show (Ky.) to finish out her season.
Fout, who's trained with Archie Cox for 11 years, purchased the 13-year-old warmblood (Rhodium—Pascha) in December 2015.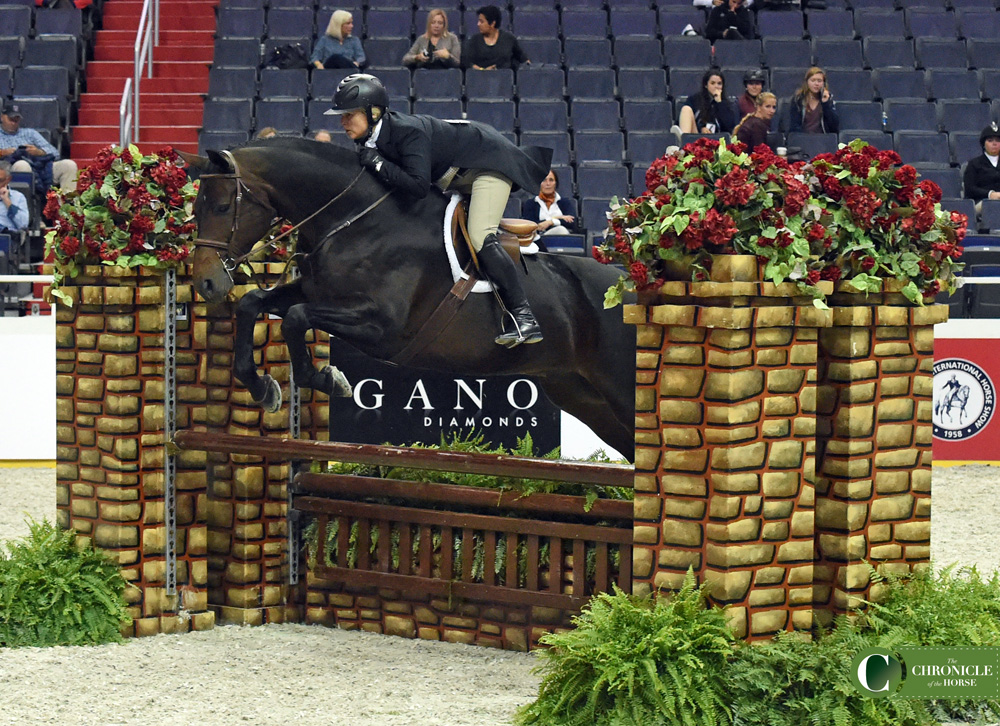 "I'm just so fortunate to have him and have a partnership with him," she said. "He's tricky obviously by signs of the last class. If it gets off kilter he changes gears a little bit, but he was good in the first three classes, so it kept us there.
"[His ride is] very, very quiet," she continued. "You have to be extra, extra, quieter than you think and he's got a stride a mile long, so usually if you're just quiet jumping in and just relax then you'll get down the lines no problem." 
The Dream Horse
Much of Kaitlin Porath's riding career has been defined by a grey gelding by the name of O.C. They started together in the children's hunters, taking the win in the $10,000 WIHS Children's Hunter Championship in 2007, and competed up through the amateur-owner classes. But at 18, it was time for O.C. to take things a bit easier, so Porath started looking for a new partner.
It was a long search for the right horse to fill O.C.'s big shoes, but she found it 1½ years ago with a horse named Breaux.
"A few nights before we met him my mom told me, 'Oh I had a dream that we found a horse. It's a bay with a star and a snip,' " Porath recalled. "I tried him in Florida. He was the only horse I sat on before circuit started, and she was like that's the one, so we call him 'The Dream Horse.' He's so beautiful. He has the best canter. He's kind of everything you'd ever want in a hunter, so he's the dream horse pretty much."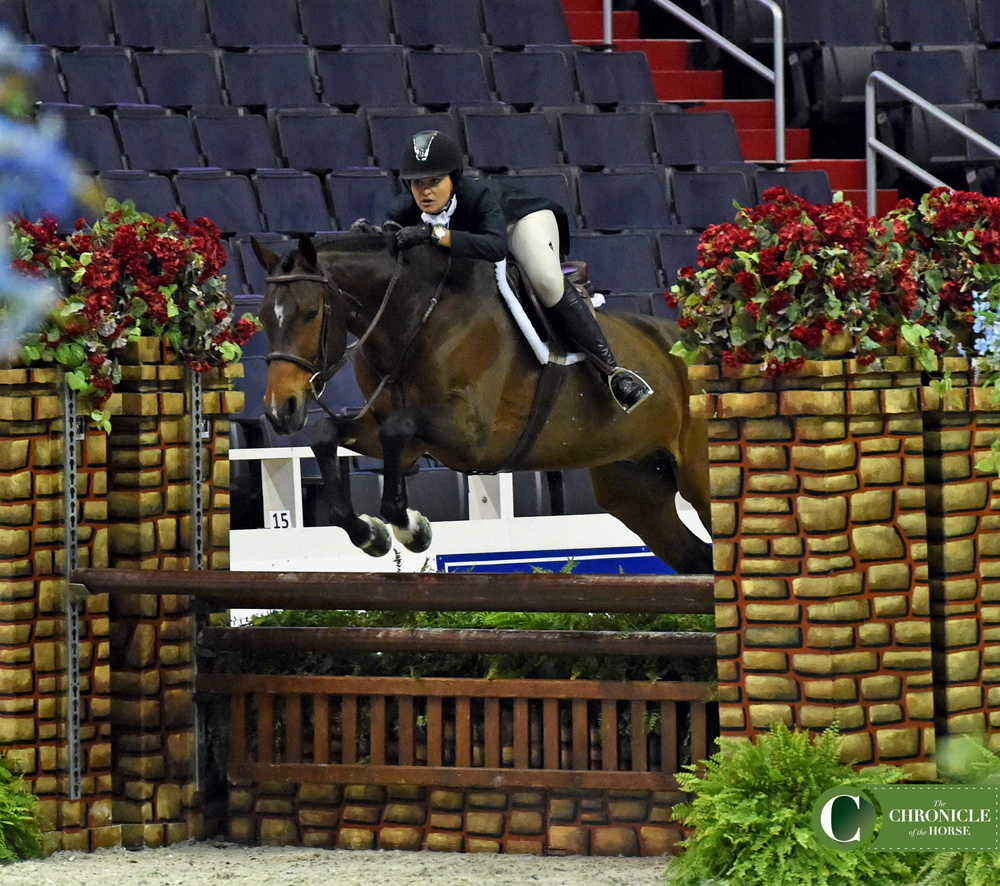 The 10-year-old Dutch Warmblood (Verdi—Leonie) proved he was up to the challenge, earning the low amateur-owner, 18-35, championship exactly 10 years after Porath won in Washington aboard O.C.
"We had big expectations for him, but he's exceeded all of them," said Porath. "He's an amazing horse."
Porath, 25, is getting her MBA at Queens University in Charlotte, N.C. She balances her studies with her riding, though she admitted that it's not always an easy schedule to juggle.
"It's been a little stressful," she said. "I actually started a group of classes this week. It's a lot, but I did it in high school, so it kind of comes naturally now."
A Triumphant Swan Song
Ace Of Spades has been Emily Morin's faithful mount for four years, and they finished what was likely their last show together on a high point by winning the  amateur-owner, 36 and over, division.
"This win is really special because I think this was the last time I'll show him," Morin said. "He's just done so much for me; it's amazing to finish like this."
Kim Prince found Ace Of Spades for Morin, who bought the now 13-year-old Selle Francais gelding as a 5-year-old. They had a consistent career together and at the end of last season, Morin shared him with her 12-year-old daughter as a children's hunter. Gabrielle Morin placed 17th with Ace Of Spades in the WIHS Children's Hunter Championship the night before her mom won. And now Emily plans to hand the reins fully to her daughter.
"It's really fun that we both got to show him this week," Emily said. "He's been doing a little bit of everything this summer, but mostly teaching my daughter to ride. It's been nice to see them bonding and starting their partnership."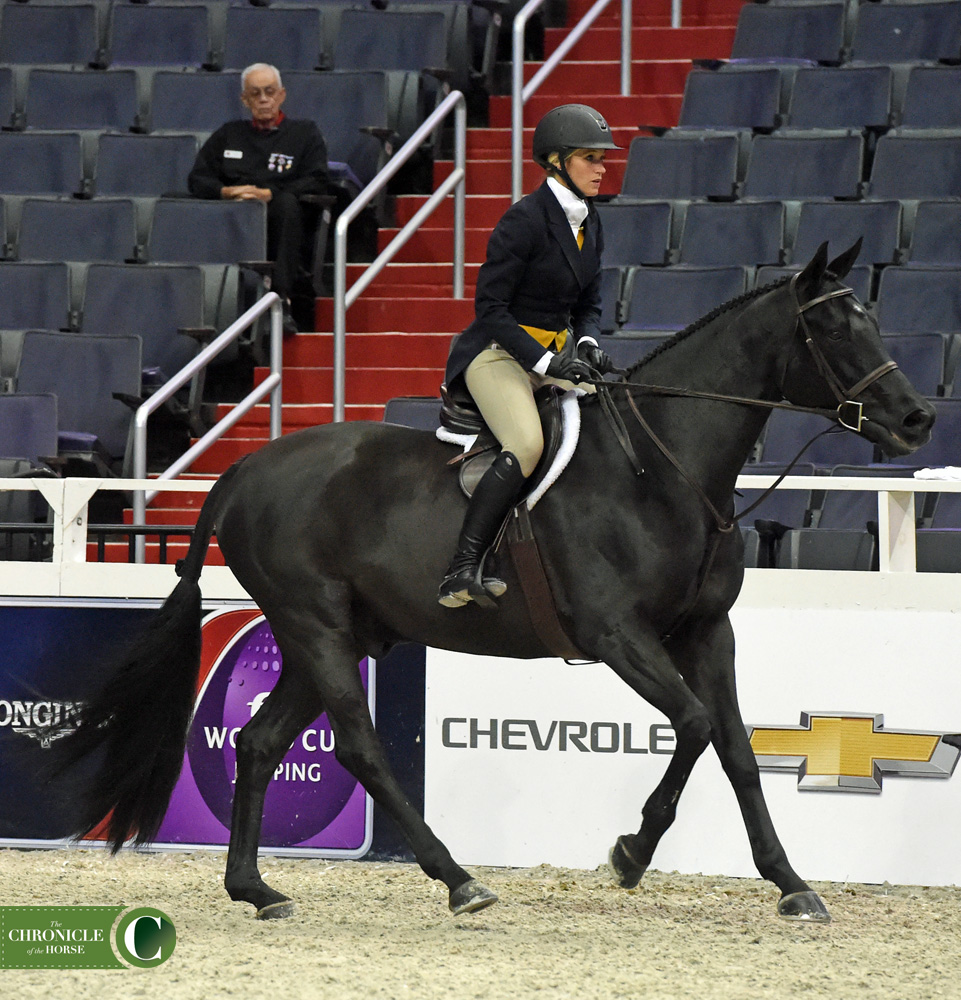 The Morin household also includes Emily's husband and 15-year-old son, who doesn't ride, but sings in a rock and roll band and plays lacrosse.
"It can be a loud house but it's a good house," Emily said. "[My kids are] happy for me; they wanted to be here today to watch but I told them they had to go to school."
Emily might be temporarily horse-less, but she's been riding since she was 5 years old and with experience in the equitation, jumper, and hunter rings she doesn't plan on stopping soon.
"I really enjoyed the equitation when I was a junior, then I did the amateur jumpers a little in college," she said. "I would still love to have a jumper but haven't found the right one. Right this minute I want to focus on the horses that are best for my kid. I want her to have as many opportunities as she can."
Emily, 45, is from McLean, Va. She grew up in Indiana but moved to the D.C. area to attend medical school at Georgetown University. Her father was a doctor, and her mother was a veterinarian, so it isn't much of a surprise that she pursued a medical career and now owns a private ophthalmology practice.
"I love medicine, and I particularly love the surgery because it's really fine and delicate," Emily said. "We're operating on things that are half the thickness of a red blood cell and transparent. I actually find being in the ring very similar to being in the OR; every step has to be perfect and calculated and exactly what you wanted it to be. Mentally it's the same exercise even though [riding and surgery] are two very different activities."
Technicolor Is Golden
With the glitz and glamour of showing in the city, the Washington International becomes a big goal for many riders. Last year, Lindsay Maxwell made her first trip to the historic horse show, and this year, she got to see her name light up the scoreboard.
"I've always wanted to be champion at this show so it means a lot," Maxwell said. "It's an incredible venue. We came by on Sunday and there was nothing here, it transformed from a hockey rink to an arena."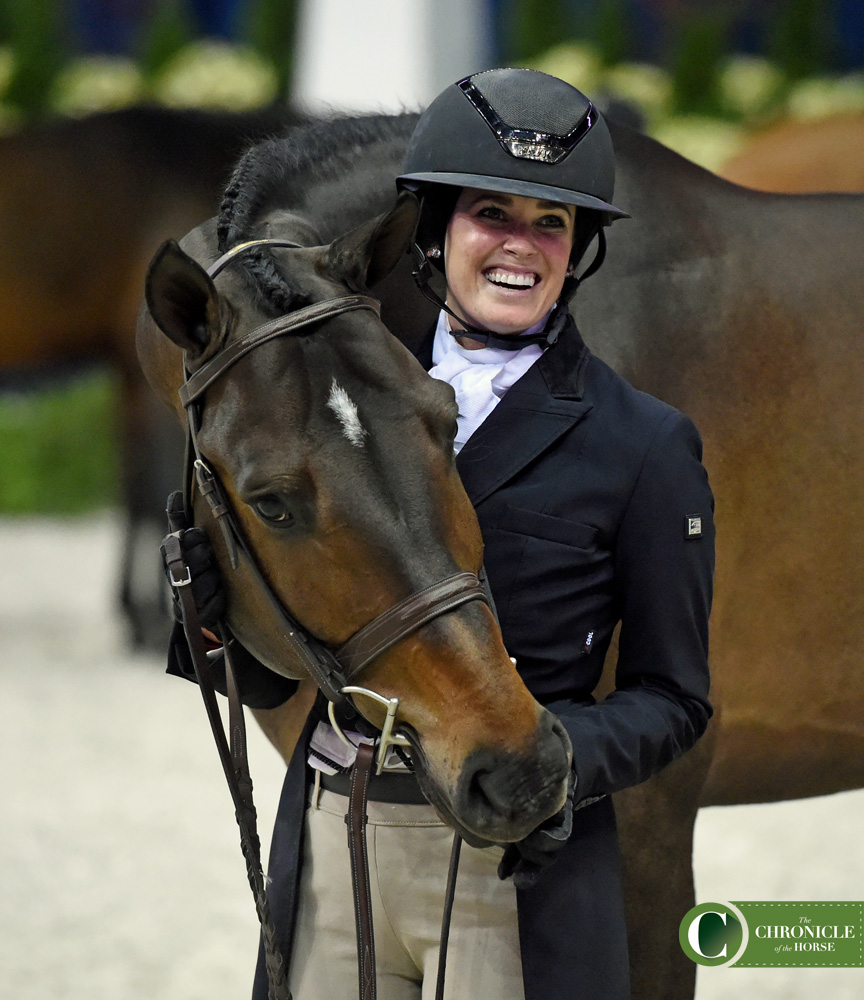 Maxwell partnered with Technicolor (Sandro Boy — Cartellona) for their second run at the WIHS. The 7-year-old Oldenburg gelding started his show career with Nick Haness in the saddle and impressed with big wins at the Pennsylvania National and Devon (Pa.).
"He had a great first year career with the professionals, so it was really exciting to win with him," Maxwell said. "It was finally my turn to be champion with him at an indoor show. He came in and just went around like he's been here a million times even though he's so young.
"I could tell when I hacked him in the ring on Monday he understood it was  big deal and he really stepped up. It's nice to be on a horse who you know can do that for you."
IMPORTANT LINKS:  All the COTH Washington International  coverage  |  What You Need To Know  |  live results/order of go  |  live streaming  |  show website
2017 Washington International—Amateur-Owner Hunters
Kimberly Loushin / Oct 25, 2017 9:03 pm