Welcome to U.S. Pony Finals: land of the adorable, and for a week every summer, home of the top ponies in the entire United States. You may not be able to attend this cuteness overload in person, but if you've ever been to a horse show, just picture that, but in miniature. Teeny tiny shadbellies, on teeny tiny riders, on teeny tiny ponies. Did I mention how teeny tiny everything is?
Pony Finals truly is a unique event in terms of the competitors it attracts—rescued ponies (did you see our article about the mustang?), local superstars, proven indoor champions—they're all there, and they're all competing for the same tricolor.
You'll hear all about the winners in our regular coverage, but this post is dedicated to what we won't have a chance to tell you about in those articles—the sights and sounds from a walk around the Kentucky Horse Park on the hunt for four Pony Finals first timers. Some have already won a class at the finals, others are just here to have fun. These are their stories. (duh-DUH!)
Sorry, I've been watching WAY too much Law and Order.
First timer #1: Olivia Markman and Benlea Mizzou
We had hardly been on site at Pony Finals for an hour when I glanced up at the board and saw a pony borrowing my college's name—I had to talk to this girl! Luckily, I didn't have to work very hard to track her down, because the beautiful black pony won the under saddle in the small regular pony division.
Olivia was bright eyed and grinning as she slid off "Mazzy" at the in-gate for an interview about her win with a couple media outlets. Something you learn very quickly interviewing young children about their ponies is how very different it is from interviewing older riders—Beezie Madden is going to analyze her ride and tell you where on course she faced technical challenges. Olivia Markman wants to tell you about Mazzy's favorite snacks and tricks.
"I feed him Gatorade and he smiles," Olivia said with a grin. With a little prodding from her trainer asking 'what's the cutest thing your pony does,' Olivia remembers, 'Oh, he screams when he sees me.' " Whenever you come in the barn? "Yeah!"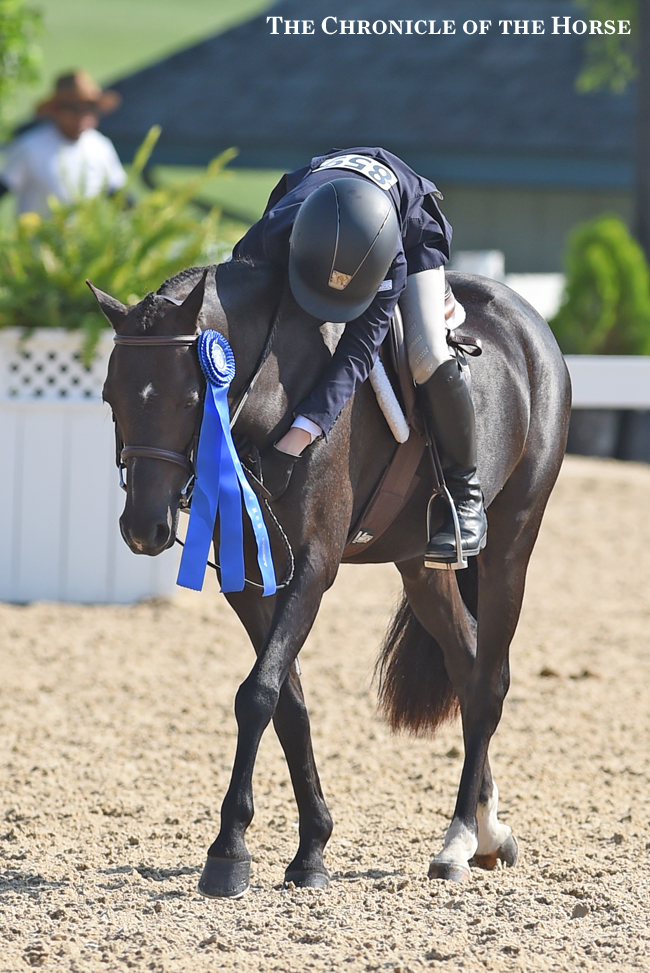 Olivia Markman gives Benlea Mizzou a big ol' hug for his excellent hack performance. Photo by Kimberly Loushin.
The very vocal Mazzy was a birthday present to 10-year-old Olivia, a Chicago, Ill., native training with Littlewood Farm, after last years indoor show season. He got his show name that caught my eye from his sire, Pennbrook Missouri, a Welsh pony stallion from the Benlea Welsh pony breeders in Ashland, Va.
Hey Olivia, why do you think you won the hack?
"I really don't know. I know he's really cute!"
First timer #2: Avery Griffin and Rising Phoenix
After snagging Olivia for an interview, I hopped on a bike and headed around the Walnut ring (all the Pony Finals classes are held there, it's literally a one-ring show). I ride past the inflatable bouncey castles and slides that look like they're keeping little brothers entertained.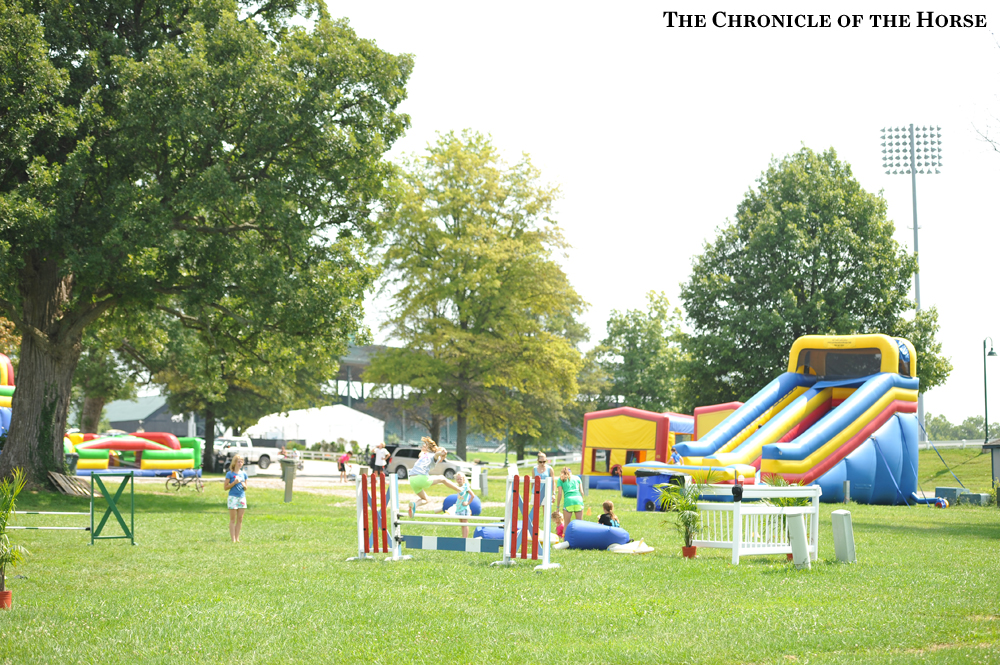 There is all kinds of fun to be had behind the ring at Pony Finals. Photo by Ann Glavan.
I stop my bike to take a picture of the course walk from the top of the hill, and when I turn around I see a girl and her brother walking a small roan pony in the bridle path around the steeplechase course at the Kentucky Horse Park. I was about to take a cute picture of the trio when the pony started doing what sassy ponies do best—misbehaving. A very lively spin-spook-stare dance ensued, and I hopped the fence to lend my size advantage in subduing the pony before he took a solo foxtrot around the horse park.
I offered to help walk the pony, whose name was Scooby, back to his barn, and his owner Avery Griffin happily agreed. I've known some kids to get upset with their mounts when they have mischievous moments, but Avery wasn't the least bit bothered. She talked about the division she was competing in, where she was from, and how it was both her and Scooby's first time coming to Pony Finals.
What good reporter luck, just the kind of kid I was looking for!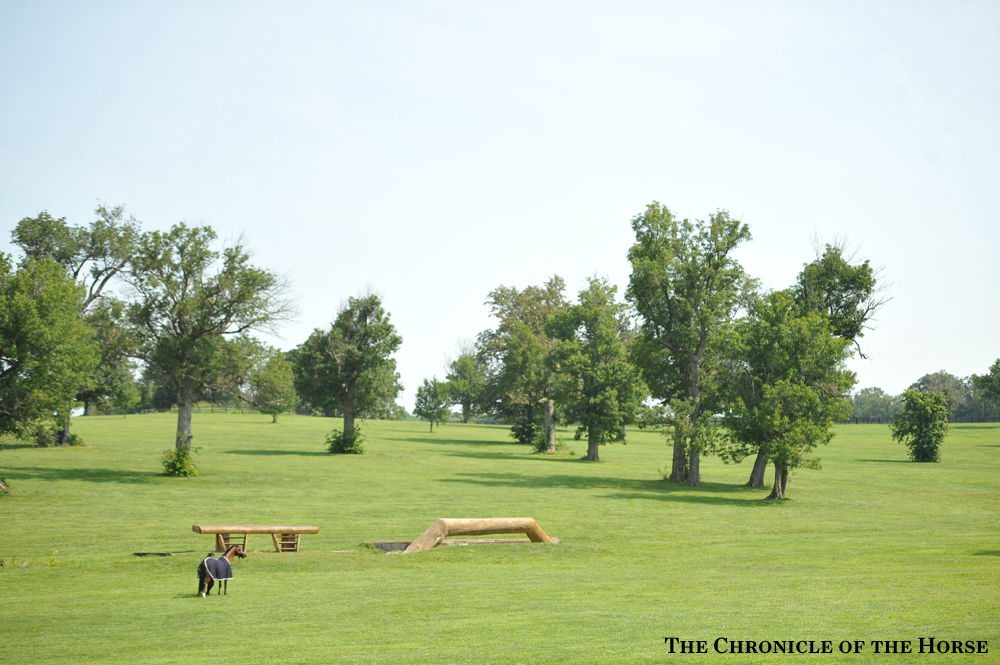 Some ponies were a little more appreciative than Scooby of the wide open spaces at the Kentucky Horse Park. Photo by Ann Glavan.
We put Scooby, ("Rising Phoenix") back in his stall and I asked Avery if she wanted to do an interview about her little trouble-maker. She dutifully listed off her age (8) and her hometown (Austin, Texas) before talking about her pony.
"He doesn't have good ground manners, and he likes to bite sometimes, and he refuses sometimes," Avery said, starting to laugh. "But I still love him."
You can cheer Avery and Scooby on in their debut Pony Finals performance in the small green division.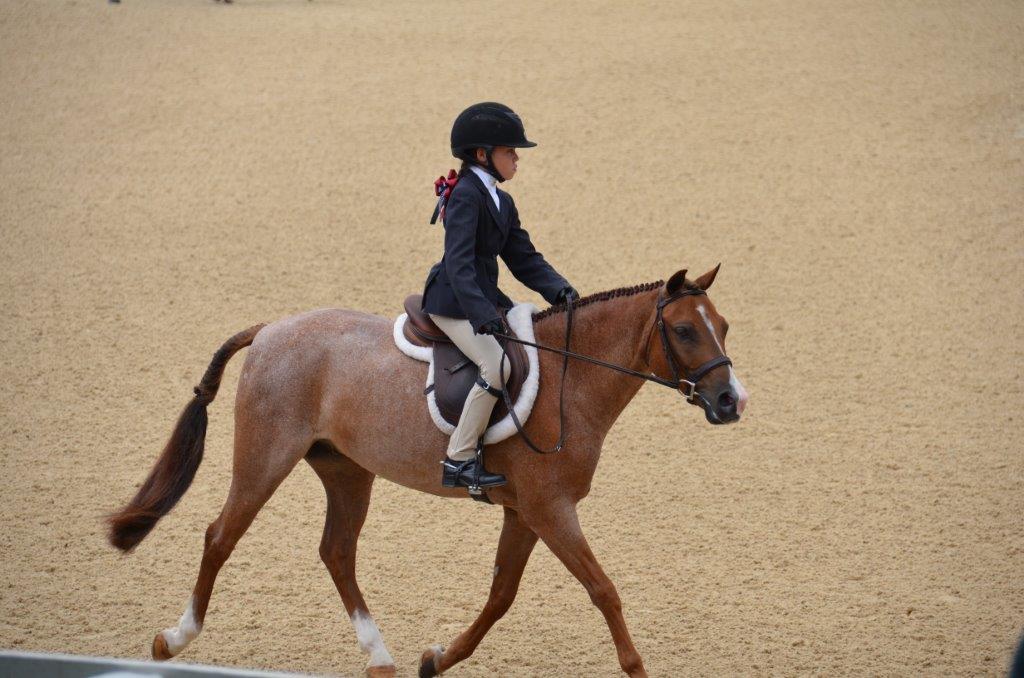 First Timer #3: Sara Murphy and ponies Royal Tuscany and Paris
While I was talking with my good friend Kendall Bierer from Phelps Sports, she told me she knew of another first-timer for my story, a girl she had interviewed previously who was so excited about her win in the model she burst into happy tears. I wrote down her name and farm and set off to her farm's stalls to find her (I ran into Scooby on the way back to the barns).
Camera slung over a shoulder, I was about to leave the ringside VIP tent (it's packed full of spectators watching kids from their barn and friends competing) and was taking a final glance at the course walking riders when a pony mom struck up a conversation about the crowd of cuties. I learned that her daughter, Sara Murphy, was also a Pony Finals first timer, and had come all the way from California to compete here. Lets talk to her!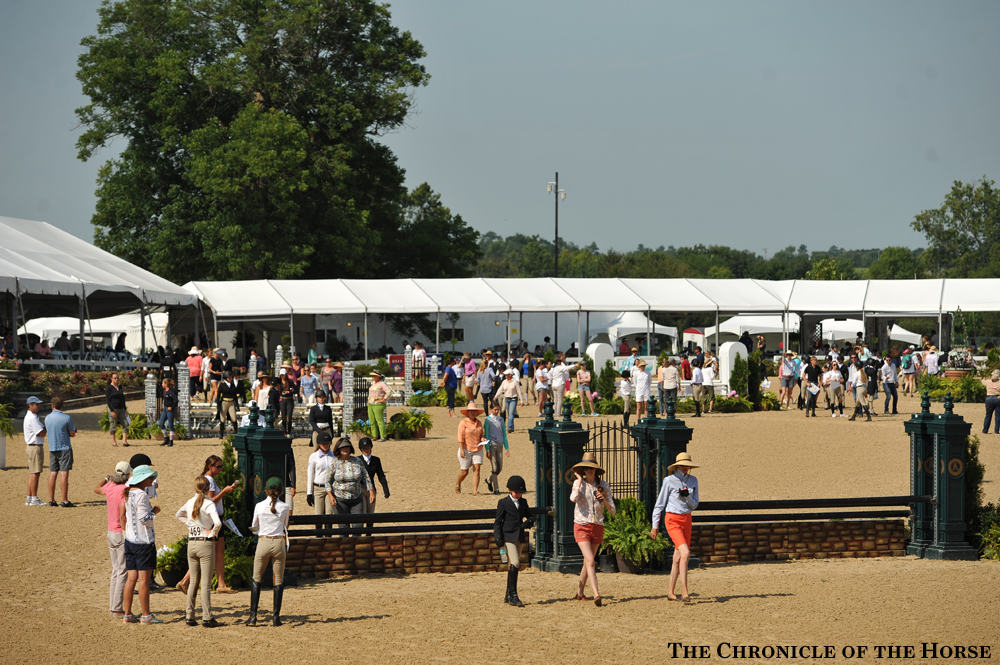 Release the hounds! I mean course walkers. Photo by Ann Glavan.
"I've had this goal since I was 8," Sara, 13, said. She described the feeling of competing at her first finals as a "nervous excitement, if you know what I mean," and her favorite experience at the finals so far has been "being able to be the one who sets my pony up in the morning, and being the one that gets to bond with my pony, if it's grazing or just getting him ready in the morning."
Sara and her trainer Marci Mosconi said they are stabled with a group from Texas, and have loved the camaraderie back in the barn.
"You don't get that at every show," Marci said. "Everybody's like, 'When are you going? We'll be watching!'"
Murphy has a regular medium pony, Paris, and a regular large, Royal Tuscany. Wrapping up Sara's interview, I asked if she had any big goals set for her riding future, and she looked at Marci and laughed.
"We haven't really thought past Pony Finals," Sara admitted. "My goal was to get here and have fun, and I've already achieved that goal, so we're just going to try and see it through Saturday, and once the mediums finish, we'll go from there."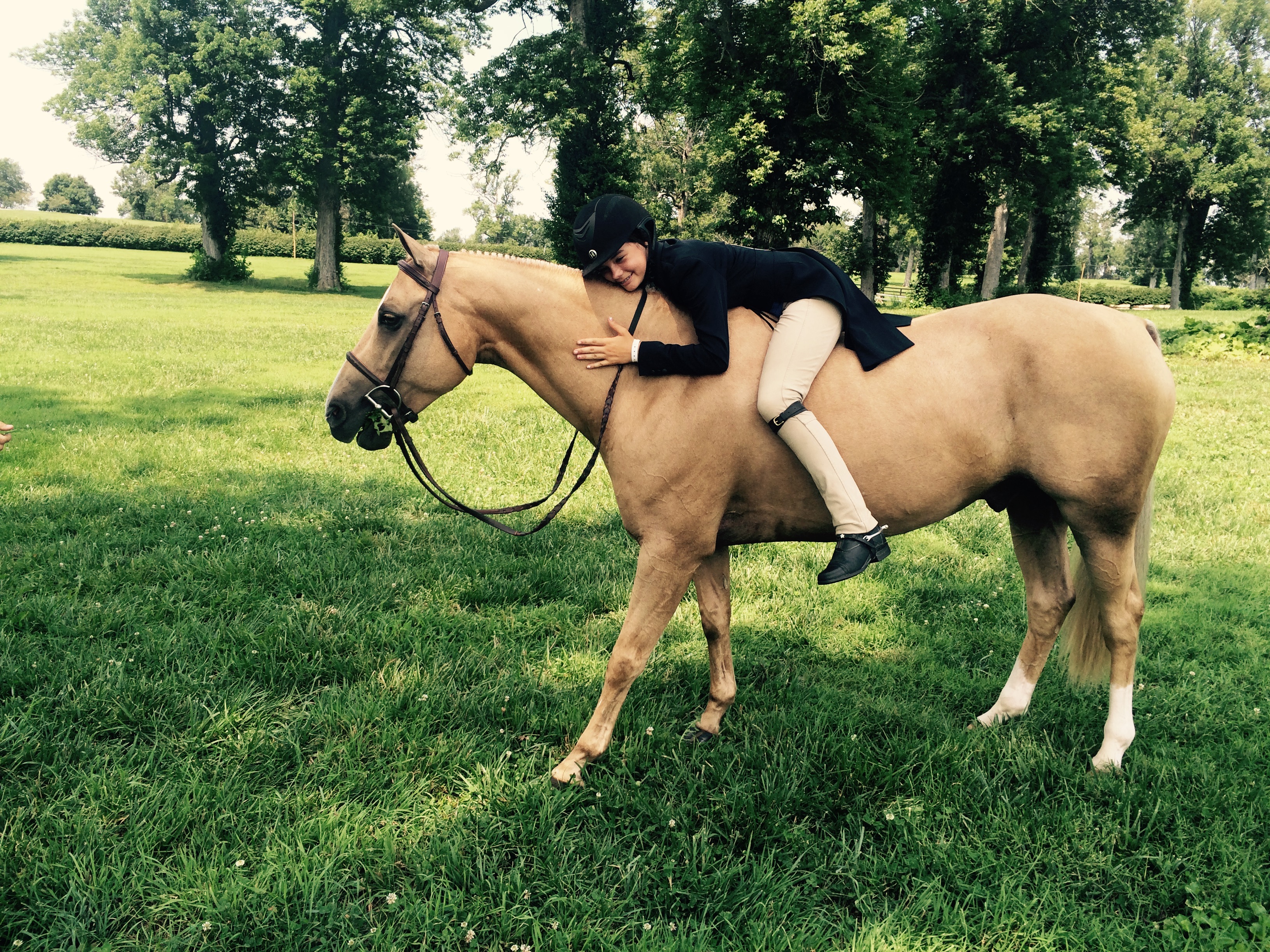 Sara Murphy gives Royal Tuscany a hug at the Kentucky Horse Park. Photo courtesy of rider.
First timer #4: Ashley Schnieder and Falling Moon Huckleberry
I finally tracked down the girl who started all my searching for first timers—Ashley Schneider and her trainer, Katie Petronelli, met me at the shopping row behind the Walnut ring.
All I can say about those shops is holy bows. If I ever have a daughter, it doesn't matter if she has an interest in riding or not—she will have a matching set of those bows for every outfit! There's also a whole slew of miniature riding necessities—if I had more time I would probably just stand around cooing at bridles that look like they were made for large toy horses and saddles so small they seem like very expensive toys.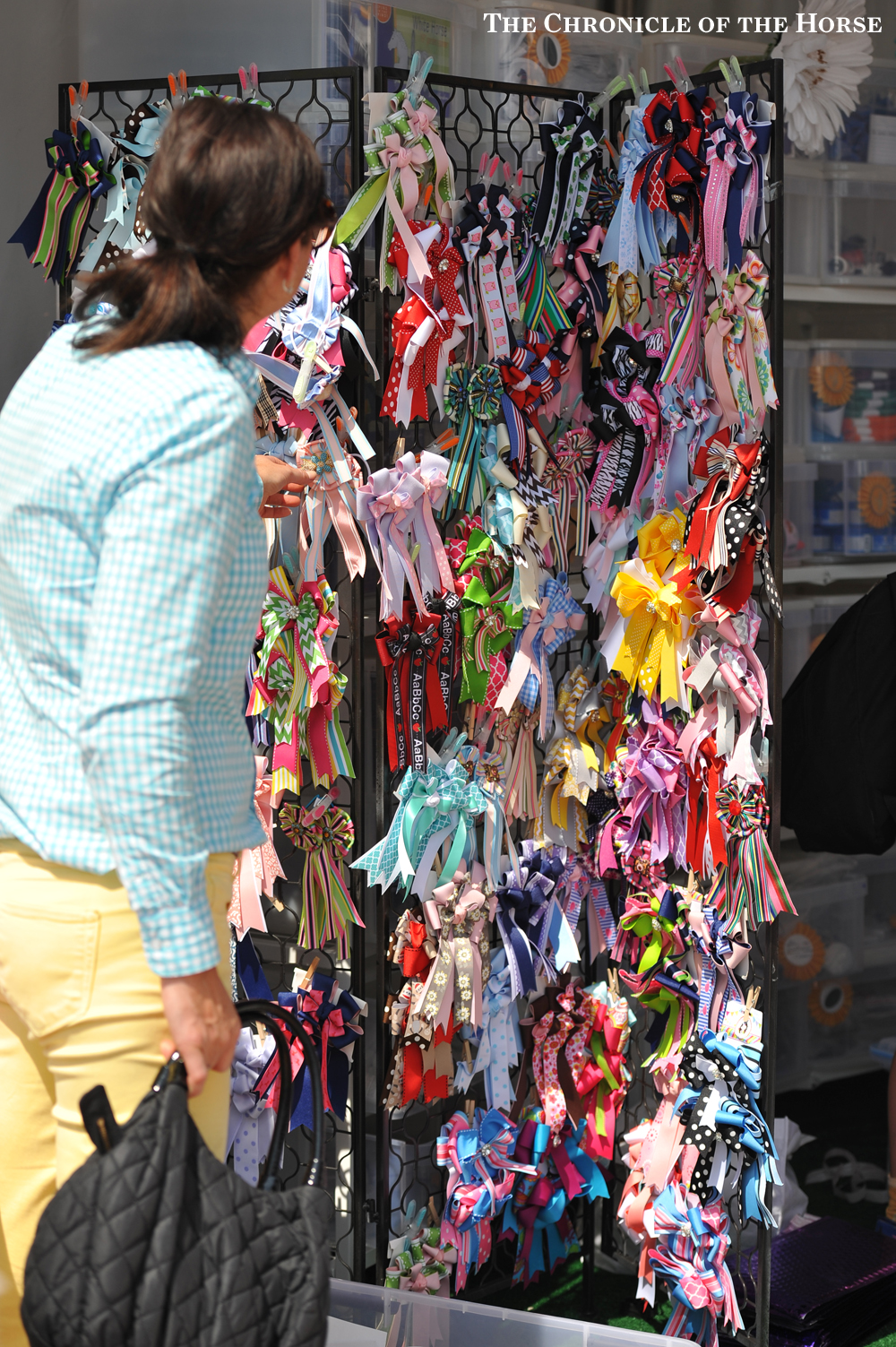 Bows on bow on bows. Located at Giddy-Up Goodies. Photo by Ann Glavan.
But I'm getting distracted by all the fabulous wares—back to Ashley! Well past her heat-of-the-moment interview about her win in the model, the 11-year-old was much more businesslike in her answers this time around. One of my favorite things about interviewing pony riders is their honesty—there are days I would kill for a straight answer about a show or a horse from an older rider, and most of these kids are to the point, no nonsense all day long!
How long has coming to Pony Finals been a goal?
"Long time."
What's your favorite thing about Pony Finals so far?
"I don't know. Everything. Hanging out with friends."
Have you made any new friends?
"No."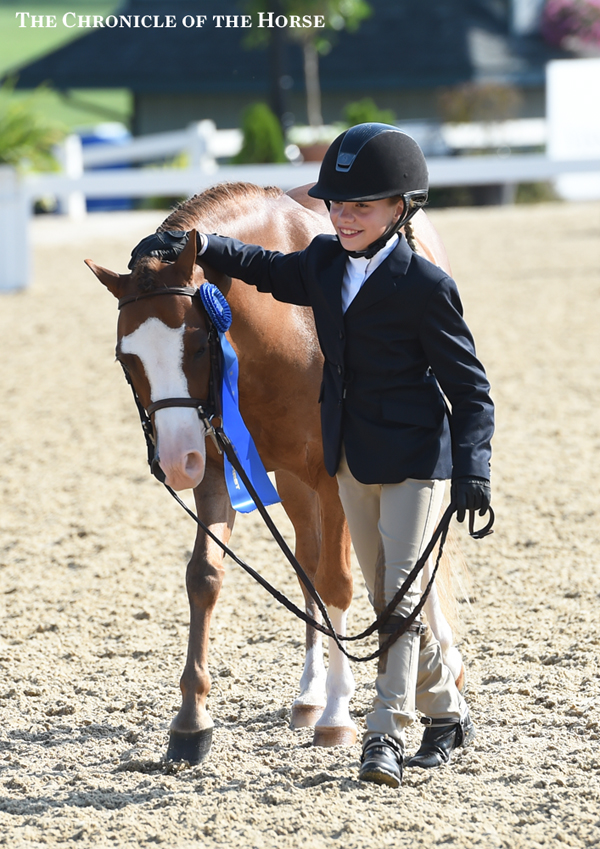 Ashley Schnieder and Falling Moon Huckleberry all smiles after their win in the regular small pony model. Photo by Kimberly Loushin.
And there you have it, how to do an interview in under 30 seconds! Ashley was very sweet (and very shy, according to Petronelli) but her ear-to-ear smile while answering questions about her pony's win said it all.
In fact, the smiles might be my favorite part of Pony Finals. Its one of the only shows we cover that the kids smile even if they didn't have a very good round, because for most of them, just making it to Pony Finals is a reward in and of itself.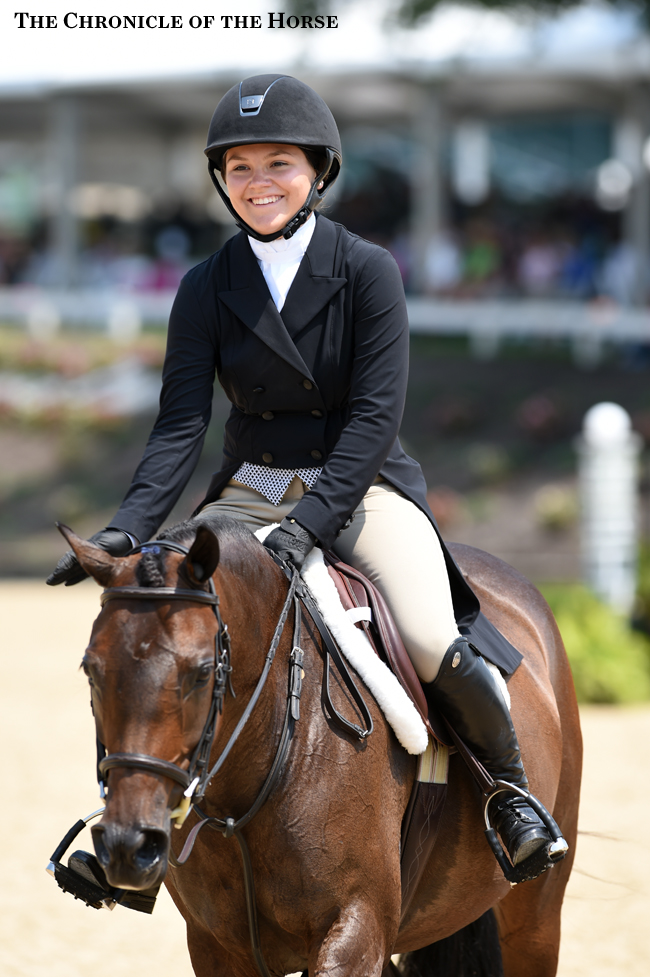 Emma Pigman gives a big smile after her round with Greystokes Summertime. Photo by Kimberly Loushin.
Check back with the Chronicle for more coverage from Pony Finals!