Madison Gentry is taking riding an "American-bred" pony to the next level—she's competing a 6-year-old Mustang, Mr. Popper, in the large green division at U.S. Equestrian Federation Pony Finals.
While almost every pony at the top level of sport is the result of carefully considered breeding, Mr. Popper (formerly known as Grey Goose) was born in the wilds of Wyoming and rounded up by the Bureau of Land Management, which handles wild horse conservation for the state, in 2009. "Goose" eventually found his way to being in training with professional horse-starter Colby Tucker before the Gentrys purchased the gray gelding.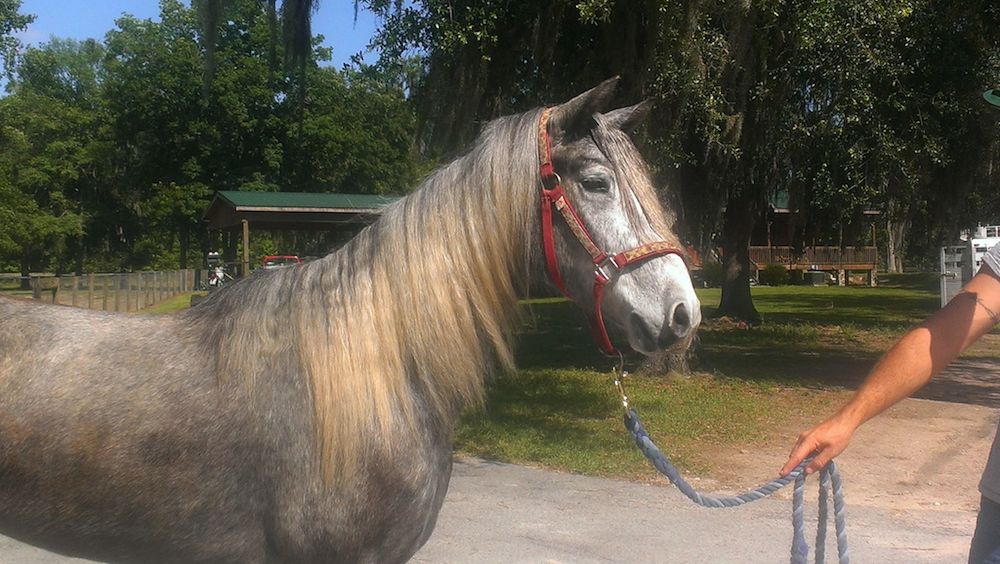 Mr. Popper as he looked pre-show career, after Tucker bought him at auction.
"I got him at an auction in Tennessee, I think I paid $250 for him," Tucker recalled of Goose.
Tucker specializes in starting and retraining horses at BrokeWell Farm in Reddick, Fla., and purchased Goose through the Mustang Million program. The Mustang Million is a competition similar to the Retired Racehorse Project Thoroughbred makeover—contestants are issued an unbroken mustang (or in this particular competition, buy an unbroke Mustang through an auction, and the purchase price was then put into the prize money pot), and have 120 days to train the horse for a number of different disciplines and classes at the competition.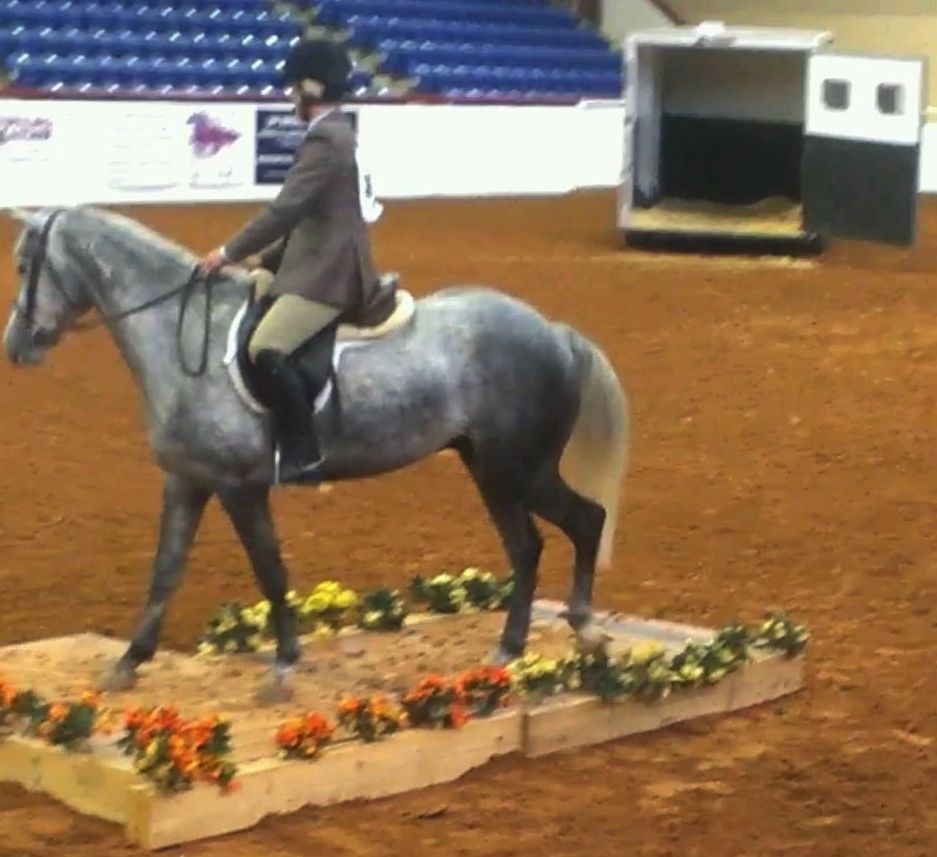 Colby Tucker riding Goose at the Mustang Million.
In September of 2013, Goose and Tucker competed in the Mustang Million in Fort Worth, Texas. The pair participated in all kinds of different classes, where they did things like pull a log, jump through a large hoop, and work cattle, some of which Tucker did bridleless.
"He did great there; we won $3,700," Tucker said. Goose and Tucker's bridleless freestyle performance, where they could show off any chosen skills, earned them third place out of 75 entries.
It was after Goose's introduction to the show world via the Mustang Million that 15-year-old Gentry first met the pony, after being referred to Tucker through family friend, Ocala, Fla. breeder Arnold Dobber.
"He said, 'You need to look at this pony,'" Mary Beth Gentry, Madison's mother, said. "He knew there was something special about Goose."
Some may have been skeptical looking at a Mustang as a green hunter pony prospect, but not Madison and her mother. (Fun fact: Madison's mother, Mary Beth Gentry, owns the popular ribbons company Bows To The Shows.)
"Honestly, he was so cute and so sweet when we went to try him, we didn't care what [breed] he was, we wanted him," Mary Beth said.
The Gentrys purchased Goose and changed his show name to Mr. Popper (they weren't sure the alcohol reference was entirely appropriate for the pony divisions). They spent time smoothing out the pony's flying changes and practicing the 2'9" large green pony jump height before competing him in his first rated show in May of 2015.
"He actually qualified for Finals his very first time out, it was great," said Madison, who trains with Terry Gonzales at TM Hill Farm International in Ocala, Fla.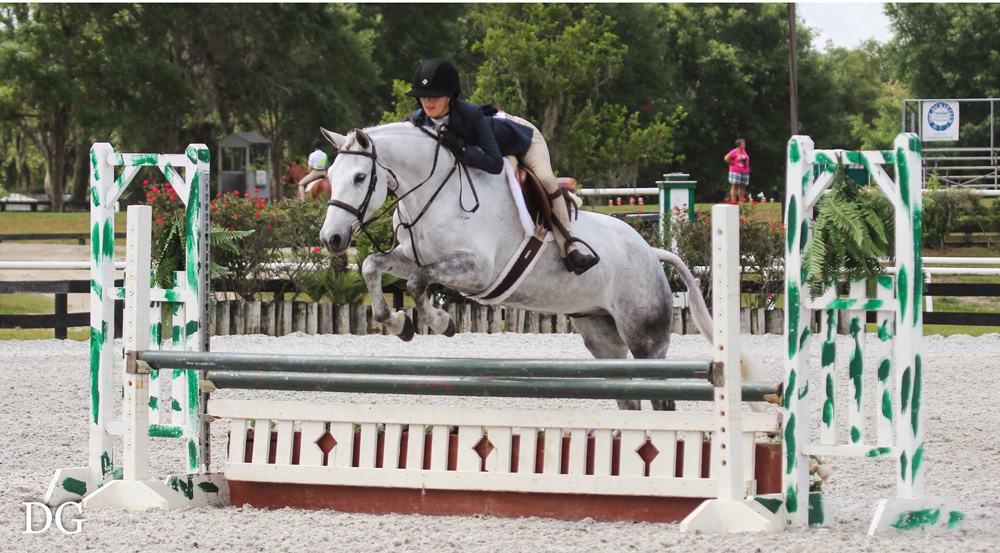 Madison Gentry showing Goose. Photo by Dominique Gonzales
When the Gentrys originally purchased Goose, Pony Finals was nowhere on their radar. Madison has traveled to Kentucky for Pony Finals, but was unable to show in the over fences class due to her previous pony colicking. With any luck, her first trip around the Walnut ring at Pony Finals will be aboard her Mustang.
"When we purchased Goose, it was only a thought that maybe he would do well at the rated shows," Mary Beth said. "The goal [to go to Pony Finals] started a few months after she started riding and showing him at some local horse shows and did super well, and had really wonderful feedback from everyone who saw him."
The Chronicle will be on site at the Kentucky Horse Park on Aug. 5-9 to follow Madison and Goose's progress at U.S. Pony Finals in the large green division, along with all the other pony divisions at the championships—stay with us at www.coth.com and on Facebook for complete coverage, cuteness and candid moments from the show scene's smallest competitors.