Reddick, Fla.—Nov. 18
If you wanted a clear round over Chris Barnard's CIC*** show jumping course today at the Ocala Jockey Club International, you needed to motor.
Time faults were plentiful and marred several otherwise clear rounds, but dressage leaders Liz Halliday-Sharp and Fernhill By Night had no trouble, keeping all the jumps in the cups and crossing through the finish under the time allowed.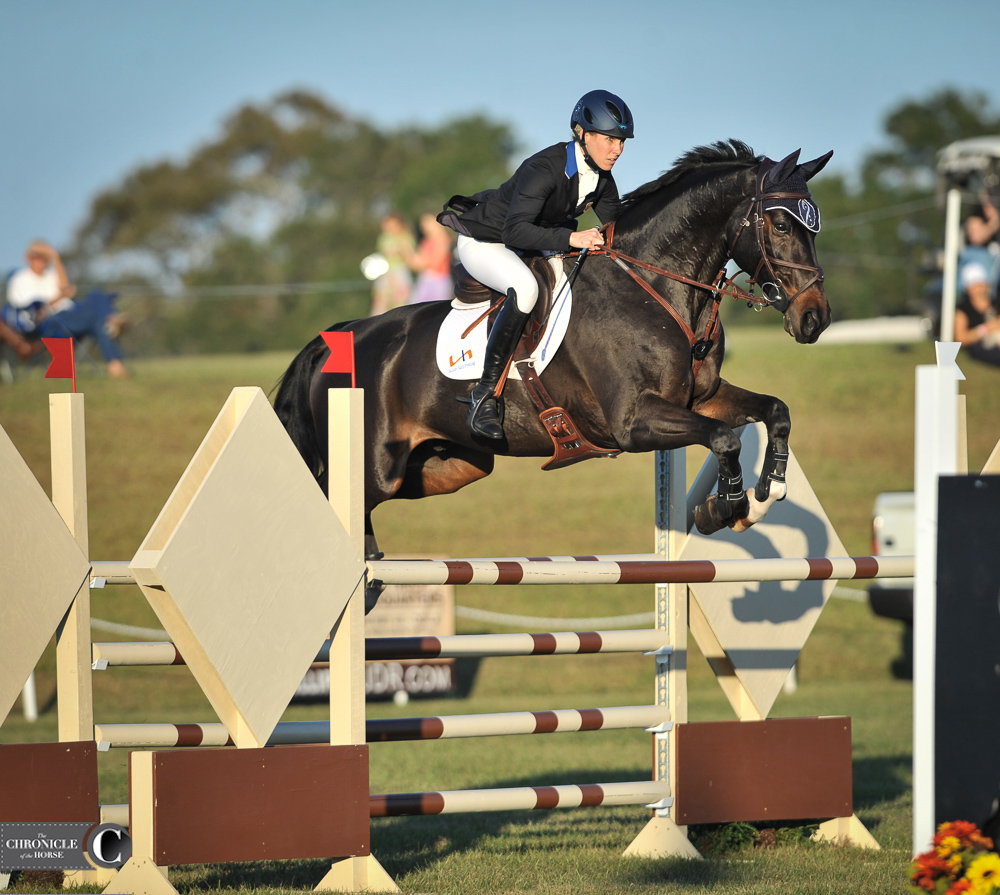 "I'm thrilled with him. He jumped really super and did everything he needed to do. I thought I might have been in the cusp of having time faults because I was a little bit 'addy' early on," she said. "I was a little bit of a backward ride to a couple of the early fences, which wasn't his fault. I had to sort of pick the pace up and bit and get around my corners. I couldn't have asked for him to jump any better. He gave me everything."
Hannah Sue Burnett jumped two double clears on Cooley Dream and Harbour Pilot, who stayed in their same placings, second and third, respectively. Only four other pairs managed double-clears, while seven pairs jumped clear but picked up one or more time faults.
Halliday-Sharp credited recent lessons and a good warm-up today with Richard Picken to her success. She joked that she hadn't had a lesson all summer while at her base in England, so she was happy for some help, especially some reminders on her position, which is always a focus for Picken.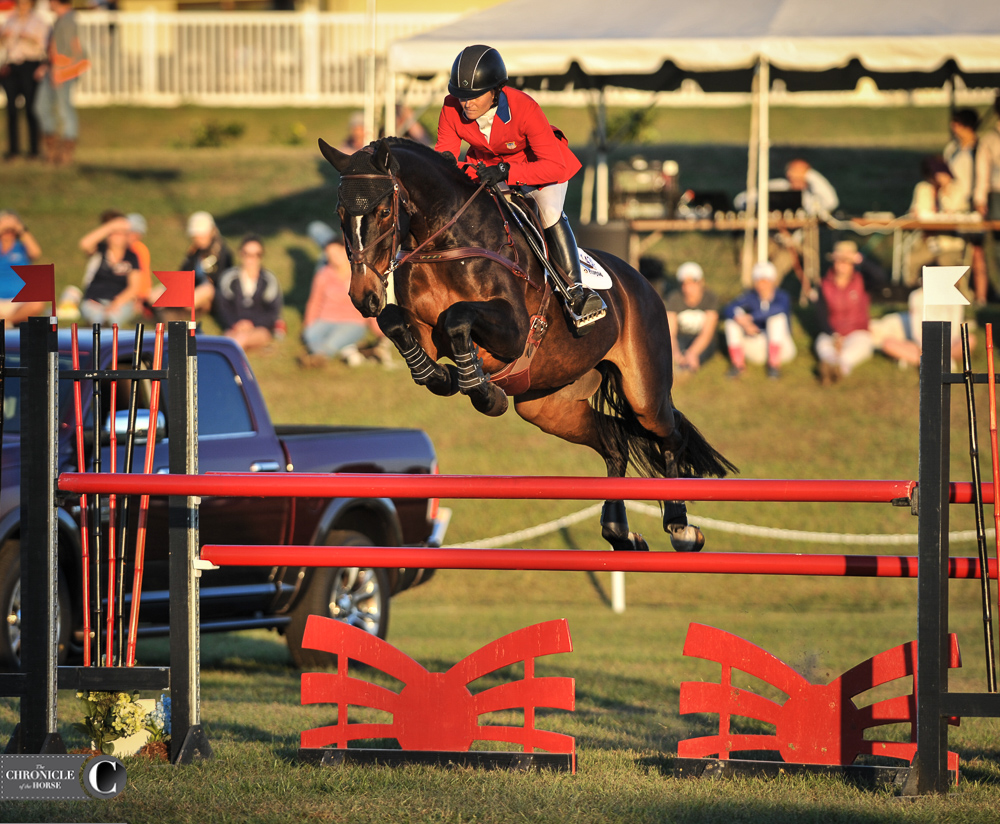 "I think the trainers I had before were thinking so hard about the horse that I maybe got a few bad habits. Richard's been awesome for that. He's had me working on keeping my lower leg strong and sitting up a lot more. I think that's helped the horse's jump," she said. "He doesn't try to reinvent the wheel."
In addition to the tight time allowed, Barnard had an option at Fence 4, either a narrow vertical on a line from Fence 2 and 3, or an oxer to the right. Most riders chose to do the vertical.
"It's something we don't see that often in Europe, but for me, there was only one route if you were going to make the time," said Halliday-Sharp. "Sometimes in the Event Rider Masters they'll give you a trickier option where you jump a plank and it's a risk for the time fault, but for me you would have time faults [today.] There wasn't a way to make it up. I didn't even walk the line to the oxer. I think the people that did go that way had 4 or 5 time faults. I thought the time was a little tighter than it was, but it was tight enough that it made you ride. I think it was good course designing. It was clever."
For tomorrow's cross-country, Halliday-Sharp is ready to go for the win on "Blackie," a 14-year-old Irish Sport Horse gelding (Radolin—Argentina XII, Argentinus).
"Tomorrow the plan is to get it done! The horse feels super and on the job and enjoying himself, so I'm just going to do the best I can by him and give him a great ride and hopefully come out on top," she said.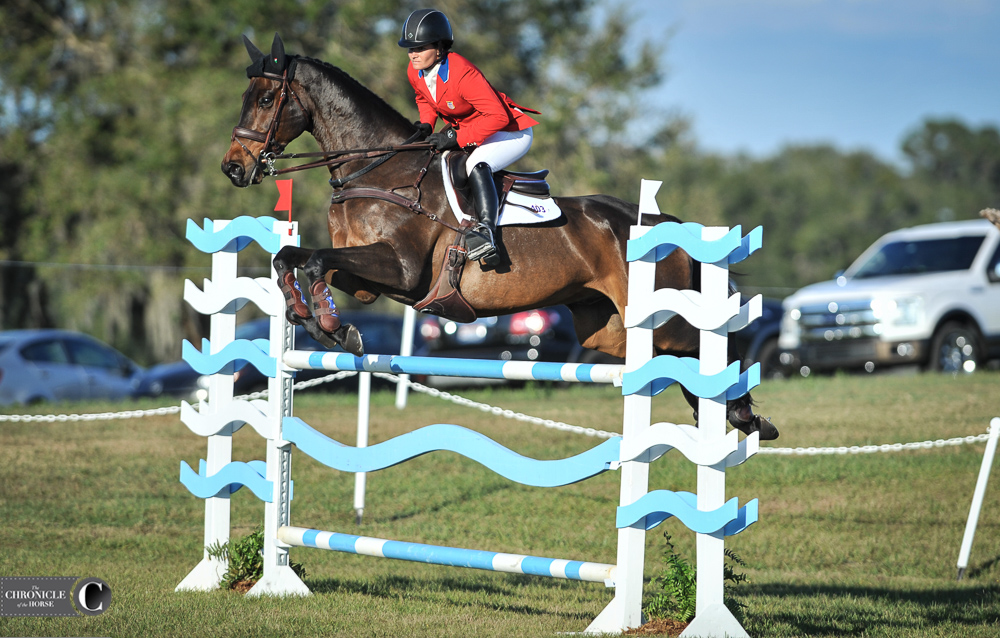 Burnett was thrilled with her rides today, and is also hoping to go for it tomorrow to put pressure on Halliday-Sharp.
"[Harbour Pilot] was awesome. We changed the bit and Karen [O'Connor] helped me this week. I'm trying to learn to fight for it a little bit more in the show jumping, especially on him, and just try to make it more smooth because he needs a little bit more help. I grew up doing hunters, so I'm used to trying to be really quiet, and that does not work with him! That was the goal for today, and it paid off," she said.
As a result of riding "William" first, Burnett said she didn't change her style quickly enough on Cooley Dream, but he handled it well.
"He's so fun in there. I was a little bit crazy in there on him! I felt like, 'Ahh! I'm doing stuff!' and he was like, 'What are you doing?' I have to switch mindsets for each one. He can handle it. It will be good for him tomorrow; for me to go for it on him!" she said.
Cross-country for the CIC*** starts tomorrow at 1:30 p.m.
Watch Halliday-Sharp's round via EQSportsNet.
Want more from the Ocala Jockey Club International? COTH staff reporter Lindsay Berreth will be on site bringing you news and photos of the event starting Friday at coth.com. Look for a full report in the Dec. 11 issue of The Chronicle of the Horse.
IMPORTANT LINKS: All the COTH coverage  |  full event schedule  |  live scoring  |  event website  |  live streaming via EqSportsNetwork (paid subscription required)
2017 Ocala Jockey Club International - CIC*** Show Jumping
Lindsay Berreth / Nov 18, 2017 8:25 pm