Reddick, Fla.—Nov. 17
After a successful summer at her home base in England, Liz Halliday-Sharp thinks she's found the key to success with Fernhill By Night.
"Blackie" has only run twice since August, once in an intermediate horse trial and once at the Ssang Yong Blenheim Palace Interntional CIC*** in the Event Rider Masters division where they finished sixth.
Now Halliday-Sharp and the 14-year-old Irish Sport Horse gelding (Radolin—Argentina XII, Argentinus) have come to Ocala, Fla., for the winter with a fresher attitude.
And today they earned a personal best three-star score of 34.0 to take a commanding lead in the CIC*** at the Ocala Jockey Club International. Hannah Sue Burnett is in second with Cooley Dream on 40.5 and also holds third place with Harbour Pilot on 41.4.
Watch Halliday-Sharp's test via EQSportsNet.
"There's always a couple little things that can improve, but Blackie tried really hard today," said Halliday-Sharp. "It was one of the best tests he's ever done, especially in the heat he can get pretty lazy, but he stayed with me. I think he really enjoyed himself."
By changing Blackie's schedule this year, Halliday-Sharp's been rewarded with a fresher horse each time out.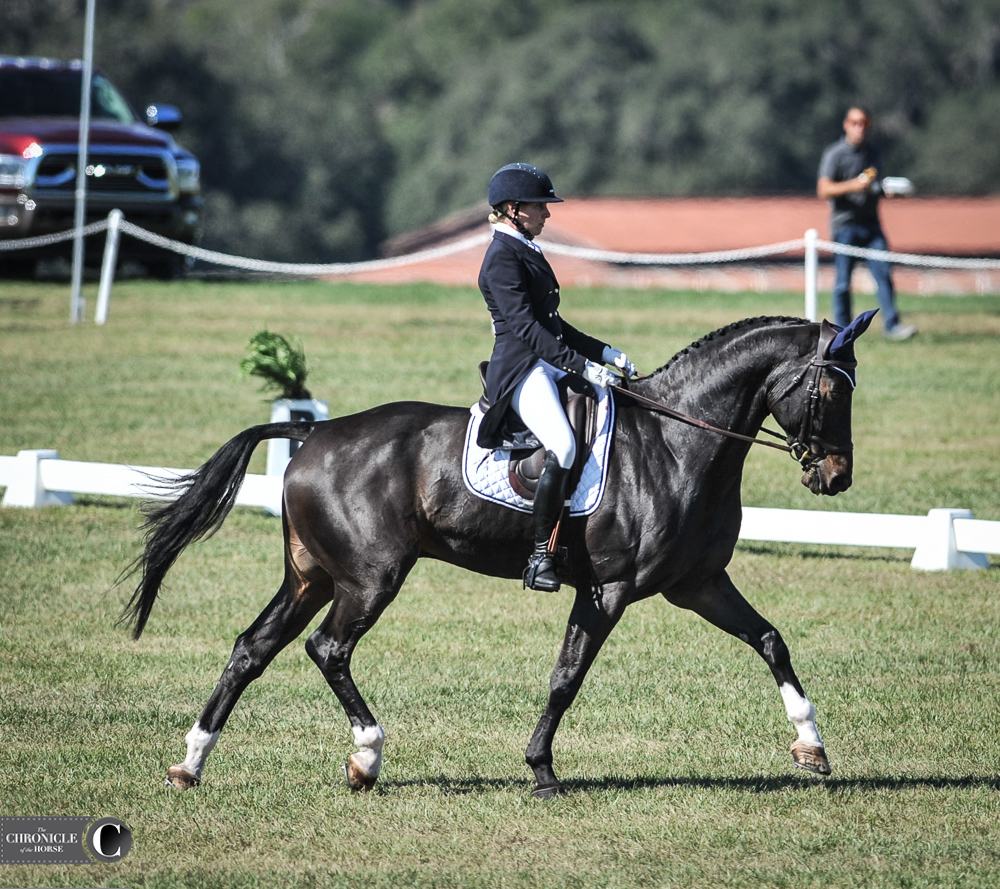 "We try and keep him as fresh as possible. He was the best he's ever gone at Blenheim. We've not run since then. I've just been schooling him," she said. "Hopefully he's going to be in that really good fighting spirit like he was there. He's been feeling good, he's jumping great. It's a good start for him to be feeling this fresh because that's when he performs his best."
Burnett spent the summer in England with five horses, and it showed in her polished performances today. While she usually gets help from David O'Connor, she worked with his wife Karen this week while he was out of town.
Cooley Dream, a 9-year-old Irish Sport Horse gelding (Cruising—The Dreamseeker, Ramiro B) owned by Cooley Dream LLC, has been bouncing around the levels recently to gain confidence.
"He really warmed up well. He's always better in a big atmosphere because he can be a bit quiet and he enjoys a little bit more of a party atmosphere," she said. "I knew all the flags and the people would help me get more out of him. We did fix-a-tests last week on all three of mine. [Karen] always makes a big difference—she's good with the details and makes me ride really accurately. That definitely showed up today and yesterday."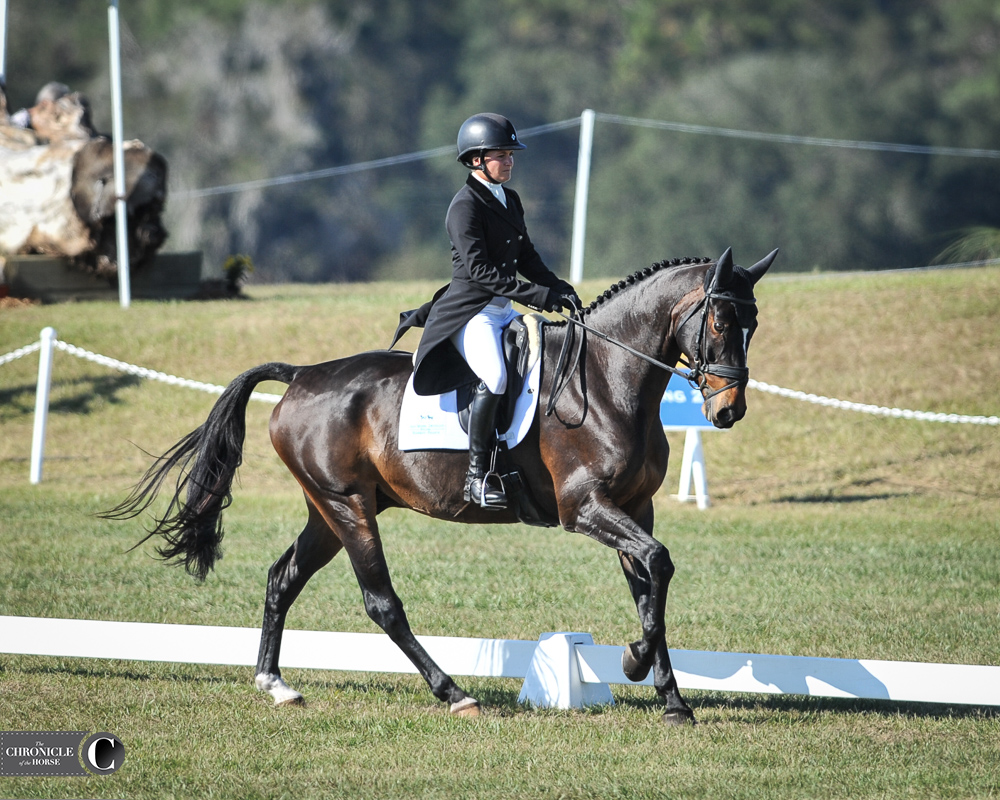 Unfortunately "McDreamy" didn't get to compete much in England due to some body soreness, but Burnett thinks he's feeling more himself now.
"I feel a lot better. This summer we took him to England, but unfortunately we had a little bit of downtime figuring some stuff out with his body. Now he feels better than ever," she said. "Every time I cross-country school him he's really forward. He's always been a good jumper, but in the show jumping he's jumping through his body really good. I'm excited to see how he wants to run. I think he'll be better in this roped, tighter course because he gets a bit wandering. [RF Demeter is] very similar. She's kind of a fish out of water, that's what [former rider] Marilyn [Little] always says. I'm hoping the ropes and my aggressive riding will encourage a quick round on Sunday!"
Harbour Pilot, a 14-year-old Irish Sport Horse gelding (Cruising—Shannon) owned by Jacqueline Mars, had a successful summer completing the Luhmühlen CCI**** (Germany) and finishing 10th at the Houghton Hall CICO*** (England) and the Millstreet CIC*** (Ireland).
"He was more nervous than I anticipated," Burnett said of her ride today. "I went early so I didn't ride him twice. He got a little bit hot, but I know him so well, and I can kind of work through it in the test. I've gotten a lot of confidence in the last couple of years and when things start to get a little bit tense I can convince him that he wants to be quiet again, which is kind of exciting. Unfortunately he broke in that extended trot, which is totally my fault. I just pushed, and he wasn't ready, but otherwise I thought it was a really good test."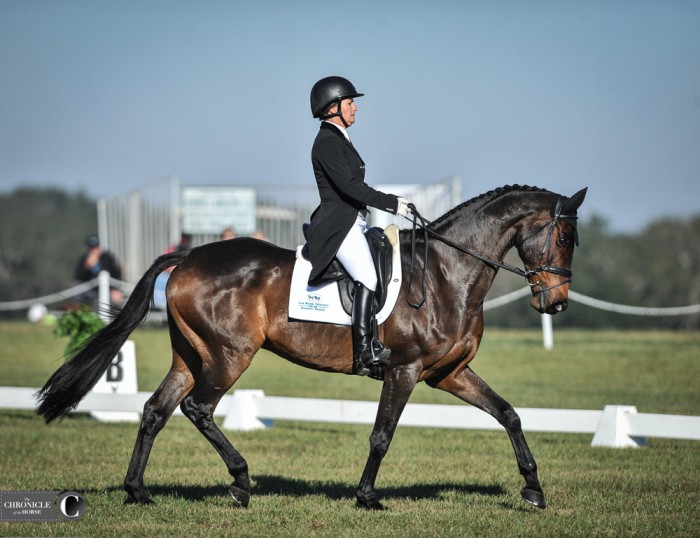 Burnett hadn't spent any extended time in England, so the opportunity to live there for several months was something she couldn't pass up. She said her goal was to practice putting herself under pressure against the best of the best at every event.
"I think it's really hard for Americans—we're given these grants, and I don't like making excuses for anything, but we're given grants and given these expectations to go overseas to these events that we've never seen before and do better than we've ever done before. It's pressure that we put on ourselves. People are excited, and there's momentum, but I think we as a country need to get used to that pressure all the time," she said. "At home it's different because we don't get to run at speed at the time because the footing's usually hard most of the time, so having that opportunity this summer, I would walk the course, and I would find myself weighing, oh should I run for time or not? Maybe my dressage wasn't good. But I was like, no, I'm going to try to be competitive at every event, even at the lower levels.
"It was hard for me to do, but there was no reason to not. I think that was the biggest thing that I learned this summer. Having that opportunity, a lot of people don't have that opportunity," she continued. "I have multiple horses at the high level, which I'm so grateful for. I tried to really put myself under pressure, and if I didn't get it right, try again, and don't back off rather than having the ground be too hard and well, I didn't get in the 40s and being like, 'I'm going to go slow.' Now it feels more comfortable."
Cross-country for the CCI* starts tomorrow at 8:45 a.m. followed by CCI** cross-country at 1:05 p.m. Show jumping for the CIC*** starts at 4 p.m.
Want more from the Ocala Jockey Club International? COTH staff reporter Lindsay Berreth will be on site bringing you news and photos of the event starting Friday at coth.com. Look for a full report in the Dec. 11 issue of The Chronicle of the Horse.
IMPORTANT LINKS: All the COTH coverage  |  full event schedule  |  live scoring  |  event website  |  live streaming via EqSportsNetwork (paid subscription required)
2017 Ocala Jockey Club International - Friday
Lindsay Berreth / Nov 17, 2017 4:03 pm