Fédération Equestre Internationale officials announced on Oct. 29 that they have opened disciplinary proceedings against Andy Kocher following an investigation into allegations made in June that he used electrified spurs on several FEI-registered and national horses in training and sanctioned competition.
"The disciplinary proceedings against Andrew Kocher are in accordance with Article 30 of the Internal Regulations of the FEI Tribunal for multiple alleged breaches of the FEI General Regulations, including Article 142, which prohibits horse abuse," an FEI spokesperson said in a statement.
Kocher has been provisionally suspended since Oct. 28, the date of his notification by the FEI, and he is ineligible to participate in any FEI Events. "The provisional suspension is mirrored by the Athlete's National Federation, so he is also ineligible to participate in any national events," read the statement.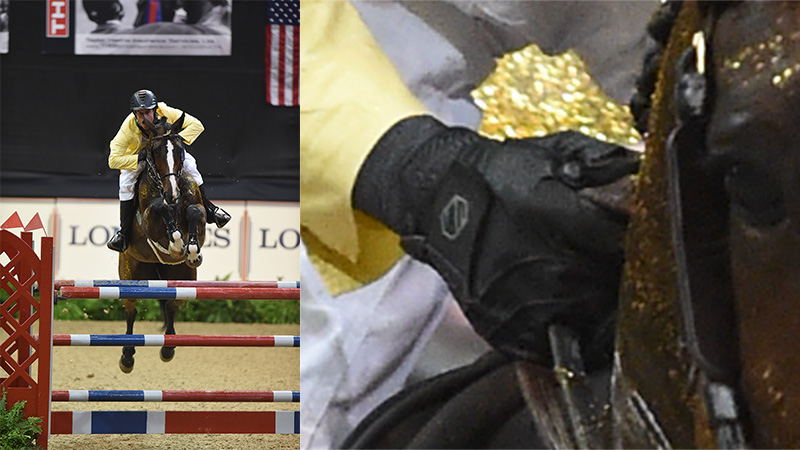 U.S. Equestrian Federation CEO Bill Moroney also issued a statement to the Chronicle: "USEF takes allegations of animal abuse seriously and is committed to protecting horse welfare and safety. The FEI has jurisdiction over this matter and has opened disciplinary proceedings against Andy Kocher following allegations that he has used electric spurs on horses in international and national events, and during training. He has been provisionally suspended by the FEI, and therefore, is suspended by the USEF and is ineligible to participate in any USEF events until further notice."
Allegations of horse abuse were first raised in June when an unnamed source sent photos of Kocher appearing to hold a device with a button in his right hand  to the website Grandprix.info. Chronicle staff members discovered similar images in their photo archives.
The source provided Grandprix.info with a video, which was forwarded to the Chronicle, that depicts how the device works: The hand-held button device connects to a wire that runs up the rider's shirt sleeve, down his back to a box, which provides a charge, and then the wires continue down the rider's breeches and out through holes in his boots to the spurs.
Kocher, 37, issued a statement to the Chronicle on July 1 in response to the open investigation.
"I can confirm that I received a notification from the FEI yesterday that someone has asked the Equestrian Community Integrity Unit to investigate allegations of horse abuse against me," he said. "I was devastated to receive this letter from the FEI. I know who has brought these allegations against me, and sadly that person is improperly using these important horse welfare protections to gain an advantage over me in a private dispute. I love my horses and would never do anything to sacrifice their welfare. However, I will participate in the FEI process and defend against these allegations, so that the real story behind them ultimately emerges."
Kocher will remain suspended pending a decision from the FEI Tribunal, the result of which will be open to an appeal.
"The FEI General Regulations state that subjecting a horse to any kind of electric shock device is considered as horse abuse," an FEI spokesperson said in a statement published in July. "Article 142 of the GRs state: No person may abuse a Horse during an Event or at any other time. 'Abuse' means an action or omission which causes or is likely to cause pain or unnecessary discomfort to a Horse, including, but not limited to: (ii) To subject a Horse to any kind of electric shock device."
The statement continued, "We understand that in some quarters there may be a perception that things are going too slowly, but the judicial process is something that cannot be hurried, as due process—including the right to be heard—has to be upheld. The FEI is thoroughly investigating these allegations and will always prosecute a case to the fullest extent possible provided sufficient irrefutable evidence is forthcoming."
Based out of Wellington, Florida, Kocher represented the United States in his first FEI Nations Cup appearance this winter. In July 2019, he earned his first five-star win in the $500,000 ATCO Queen Elizabeth II Cup at Spruce Meadows (Alberta). Controversy arose the following day when he accumulated 28 faults in the 'Reach for the Sun' Derby aboard his ATCO Cup contender Carollo.
The Chronicle reached out to Kocher for a statement, and he declined to comment.