The Fédération Equestre Internationale is investigating accusations made by an unnamed source to the website Grandprix.info that allege show jumper Andy Kocher has used electrified spurs in sanctioned competition.
"The FEI is aware of these allegations and is looking into the matter," an FEI spokesperson told the Chronicle on June 26. "We are already in touch with the athlete's National Federation."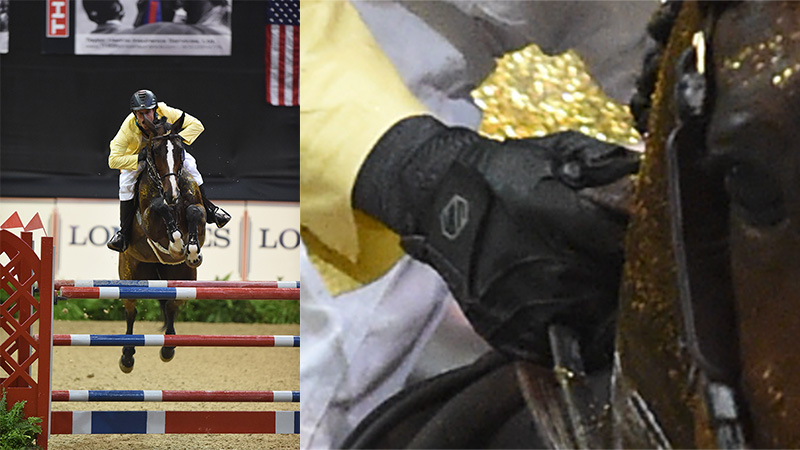 In multiple photos on Grandprix.info, Kocher, 37, appears to be holding a device in his right hand with a button. Chronicle staff members also discovered similar images in their photo archives.
The source provided Grandprix.info with a video, which has since been forwarded to the Chronicle, that depicts how the device works: The hand-held button connects to a wire that runs up the rider's shirt sleeve, down his back to a box, which provides a charge, and then the wires continue down the rider's breeches and out through holes in his boots to the spurs.
Kocher, who bases in Wellington, Florida, represented the United States in an FEI Nations Cup this winter. In July 2019, he earned his first five-star win in the $500,000 ATCO Queen Elizabeth II Cup at Spruce Meadows (Alberta). Controversy arose the following day when he accumulated 28 faults in the 'Reach for the Sun' Derby aboard his ATCO Cup contender Carollo.
Kocher has yet to respond to the Chronicle's request for an interview regarding the electrified spurs.
"It doesn't mean anything to me," Kocher told Grandprix.info. "I belong to three generations of horsemen; I have spent my life in stables; I am a breeder, and I have retired horses. I regularly participate in actions with associations saving equines so, I don't like what you say, but what you have to say interests me, keep going."
After seeing the photos, Kocher opted not to continue the conversation, although he later followed up in writing with this statement: "I love my horses and I take great care of them," Kocher wrote to Grandprix.info in a follow-up conversation. "I refuse to speak to anyone who claims otherwise. My horses represent my whole life. Do you know where I come from?"
The U.S. Equestrian Federation joins the FEI in investigating the accusations against Kocher.
"USEF takes allegations of this nature very seriously and is firmly committed to protecting horse safety and welfare," a USEF spokesperson told the Chronicle. "We are working closely with the FEI and are fully supporting the investigation into these serious accusations.
"Consequential action will be based on the details and facts uncovered through the investigation," the spokesperson added. "The USEF Hearing Committee Horse and Welfare Guidelines were updated and approved in 2017 to increase penalties and can be viewed at the following link."