Rio de Janeiro—Aug 19
Team USA's Kent Farrington laid down a clear round over this morning's individual final Round A to tie with a dozen other riders for the lead heading into round B of the final.
Find out what happened to the field with our round-by-round live blog here.
The top 35 riders after the team competition qualified for today's two-round final, and they started over with a clean slate. The top 20 horse and rider combinations, including those tied for 20th, come back to jump in Round B. That means that 27 pairs will return, as two are tied on 1 time fault, and another 12 riders—including McLain Ward on Azur—picked up 4 faults. Here's the order of go for Round B.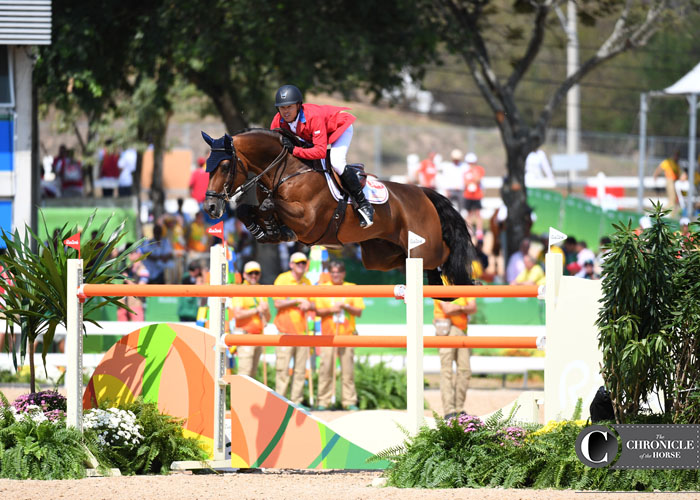 Kent Farrington and Voyeur. Photo by Lindsay Berreth
Course designer Guilherme Jorge upped the jumps and laid down technical lines that offered striding options and required a very adjustable horse. Farrington's Voyeur bounded around the track leaving all the poles up.
"I'm happy that it's over!" said Farrington. "I'm happy that I'm clear, and on to the next one. I'm thrilled with my horse; I thought he tried very hard. You can see a lot of the horses are getting tired. It's very hot, and it's been big jumping all week and now another round still to go in the sun. I think you're going to see some horses running out of energy. That's probably going to cause some rails that they wouldn't normally have."
Farrington chose to add a stride in the first two elements of the last line, in which many riders came to grief.
"For me, [the leave-out is] not an option," he said. "I always add toward the end of the course. He gets very aggressive, and as the horses start to tire toward the end of a course, they start to jump a vertical better off an adding stride. At least my horse does, so that was my option there."
Azur had a rail in the final element of the triple combination, a vertical, mid-course.
"The mare jumped brilliantly again," said Ward. "I was a little worried about the back rail of B [of the triple combination] which is really the only kind of rail she's had down all year. Maybe I over-rode her there a bit, and the two [strides to the C element] got very short.
"The course is very repetitively testing a big-strided horse," he continued. "It's everything short, short. That's a bit of challenge for us, and it was one mistake too many."
Fellow U.S. combination Lucy Davis and Barron didn't have the day she was looking for, pulling rails at 3 and 7B, and Barron had a foot in the water as well, which has been causing problems all week.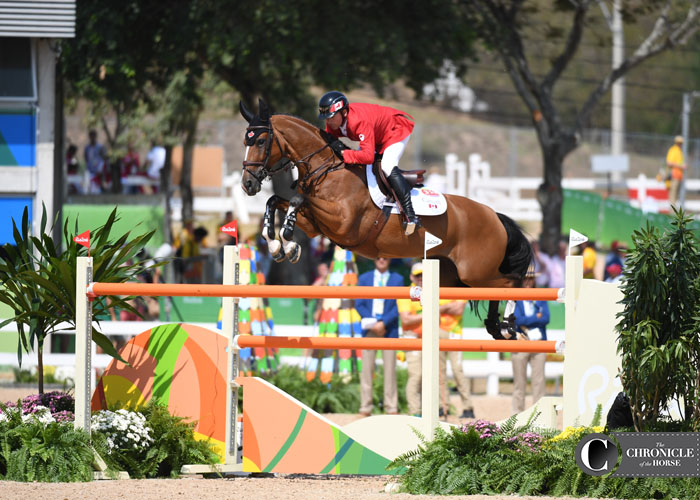 Eric Lamaze and Fine Lady 5. Photo by Lindsay Berreth
"Definitely not the round I was hoping for," Davis said. "I think it's a culmination of things. It's the fourth round under pressure and big jumps. I think all-over fatigue played a part. My horse is very sensitive, and I think he feels not only the physical fatigue but also the stress gets to him as well. He needed my help today a bit more than I gave. So, I definitely take responsibility for those rails.
"I was a little frazzled after the first rail, not having him totally connected with me today," she continued. "I tried to do one less [stride], he tried to do one more, it happens."
One big surprise came when Meredith Michaels-Beerbaum and Fibonacci, whose last minute substitution onto the German team helped them earn bronze, crashed through fence 1. She jumped the second fence then tipped her hats to the judges.
"Definitely not our day today," said Michaels-Beerbaum. "Looking back on it, I wanted it too much, and I was thinking about all the things. There was no room for a fault here today, no room for a time fault. My mind was maybe going too quickly, and I no longer was looking where I was to the first fence. Unfortunately, I realized this too late before I could correct the fact that I didn't have a good distance. You can see how quickly something like this goes. It's quite a disappointment because the horse was in fantastic form, and he did nothing wrong. But thank God he was OK. I didn't want to jump the whole course for fear that there was something wrong, that he'd hurt himself. I just jumped one more fence to feel how he did that, and he come out and was totally fine. I'm happy for that. This is part of our sport. You can see how difficult the Olympics is. Even for someone like me, who's been in these pressure situations many times."
Last to go in the ring, Canada's Eric Lamaze has been jumping brilliantly all week, without incurring a single penalty, and considered today Fine Lady's best day so far. He pointed out that the horses have jumped a lot all week and will still need more left in the tank for yet another jumping round. He didn't hesitate to affirm that she still has plenty of energy for Round 2.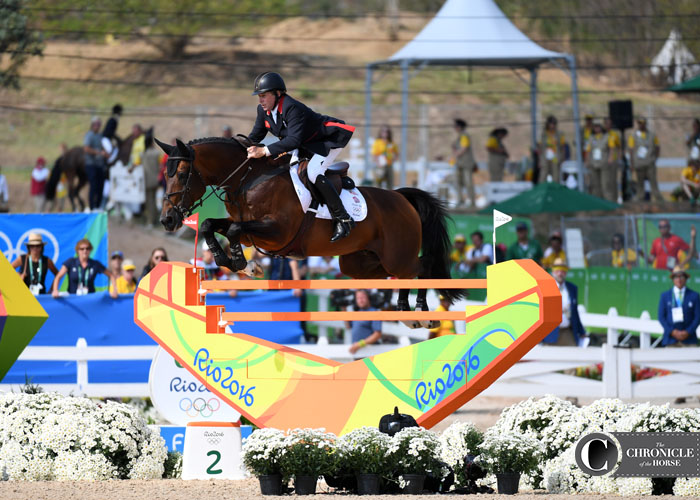 Nick Skelton and Big Star. Photo by Lindsay Berreth
"She's jumped well all week, but this felt just that much better," he said. "Going last like that, you know there are already 12 clear, so there as no room for a little mistake at this point, if I have a chance at a medal."
The top three riders after those two rounds earn the gold, silver and bronze medals—any ties in penalties for medals result in a jump-off. (In the 2008 Olympic Games in Hong Kong, two riders jumped off for gold and seven jumped off for bronze.)
Great Britain's Nick Skelton was thrilled to manage his first double-clear round of the Games on Big Star.
"I was really pleased—he jumped amazing. I think the course is riding a lot bigger than it walked," he said. "When I walked it, it didn't seem so bad, but now, having ridden it, it rides pretty big."
Switzerland's Martin Fuchs also looks in top form with Clooney, who has been jumping well all week and logged another double clear today.
"I was very confident to do the clear today," said the 24-year-old. "He progressed every day—he gets relaxed and calmer. He jumps every course better. So it was today I had a godo warm-up. He felt good in the practice arena. And on course, from the first to the last jump I was sure that he would jump clear. He wasn't going to let me down; it was just up to me to pilot him over the course and I'm happy that it turned out like this."
The top three riders after those two rounds earn the gold, silver and bronze medals—any ties in penalties for medals result in a jump-off. (In the 2008 Olympic Games in Hong Kong, two riders jumped off for gold and seven jumped off for bronze.)
Round B kicks off at 1:30 local time, 12:30 p.m. EST.
Mollie Bailey and Lindsay Berreth are on the ground in Rio de Janeiro for the Chronicle and will be reporting with all the news, fantastic photos and behind-the-scenes details, all posted on www.coth.com. Your go-to page for all things Olympic is http://www.chronofhorse.com/2016-Olympics.
We'll have live blogs of competition sessions, Twitter updates, blogs, photo galleries, stories about each day's competition and so much more. Don't miss a thing—we'll have everything you need to know. Also make sure to follow along on the Chronicle's social media outlets: Facebook, Twitter, Instagram and Snapchat (@chronofhorse).