Toronto, Ontario—Nov. 12
U.S. Olympic team silver medalist Kent Farrington won the $75,000 GroupBy Big Ben Challenge to close out the Royal Horse Show, held as part of the 94th Royal Agricultural Winter Fair in Toronto, Ontario.
In front of a sold-out crowd of more than 6,000 people, 21 riders challenged the final international show jumping event of the Royal. A total of seven jumped clear over the huge track set by course designer Bernardo Cabral of Portugal, but none could match the daring performance of Farrington and Creedance, a 9-year-old Dutch Warmblood gelding (Lord Z x Notaris) owned in partnership with RGC Farm.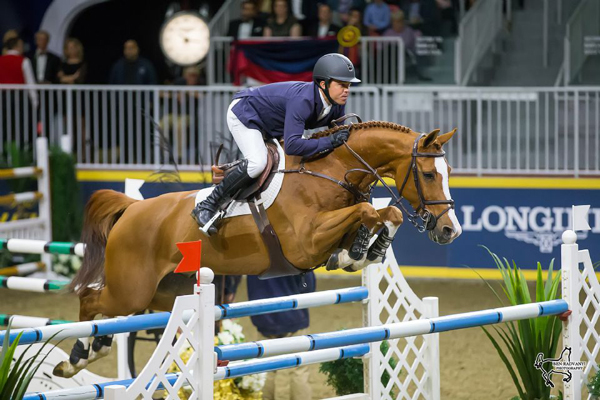 Kent Farrington on Creedance. Photo by Ben Radvanyi Photography
"There were some really nice horses jumping here tonight," said Farrington who was competing at the Royal Horse Show following a five-year absence. "More than anything, more than winning, I'm thrilled with the progress of the horse. I feel like he's on track to become a very good grand prix horse."
Farrington and Creedance posted a blistering jump-off time of 31.86 seconds that could not be matched. Reigning Olympic champions Nick Skelton of Great Britain and Big Star, owned by Oliver Robertson and Gary and Beverley Widdowson, came the closest, stopping the clock in 33.55 seconds.
"There was no way I could beat Kent so I went for second," said Skelton who has been attending The Royal since the late 1970s. "They have a great crowd here that really takes part in and enjoys the show. I like coming here; it's one of my favorite indoor shows."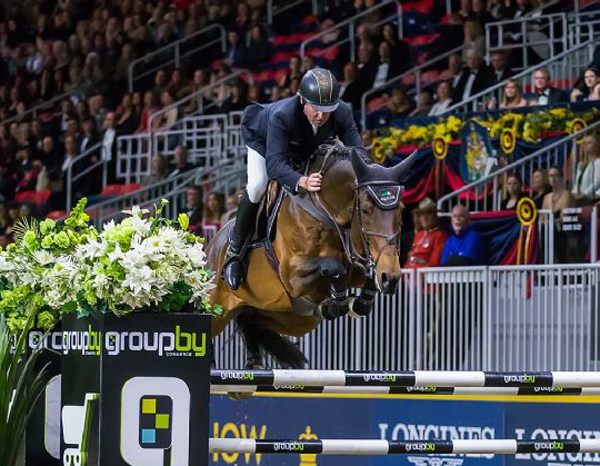 Nick Skelton on Big Star. Photo by Ben Radvanyi Photography
Ian Millar of Perth, Ontario, thrilled the home audience with a clear round in a time of 33.79 seconds riding Dixson while his 2008 Olympic silver medal teammate Mac Cone of King City, Ontario, was fourth in 36.26 seconds riding Gasper van den Doorn for Mark Samuel's Chadburn Holdings, Inc. The 2008 U.S. Olympic team gold medalist Laura Kraut rounded out the top five by posting the fastest four-fault effort in the jump-off with a time of 33.82 seconds riding Confu for St. Bride's Farm.
McLain Ward and HH Azur, who won the $130,270 Longines FEI Toronto World Cup Qualifier earlier in the week, retired on course after a few rails in the first round.
Of the final test set by course designer Cabral, Farrington said, "I thought it was a creative course using three doubles instead of a triple, which we see all the time in indoor jumping.
"This is a really classy horse, and he's learning at each show," continued Farrington who is aiming Creedance at the 2017 Longines FEI World Cup™ Jumping Final to be held March 29-April 2 in Omaha, Nebraska. "He's a little bit special and very, very sensitive, so loud noises and things like that really set him off. I thought maybe these indoor shows would be a little bit of an adventure, but he's really settled down now and he's handling it nicely."
Following five days of top-caliber international competition, three-time U.S. Olympic medalist McLain Ward was presented as the Leading International Rider. Ward's trip to Toronto was highlighted by a dominating win in the $130,270 Longines FEI World Cup™ Jumping Toronto on Wednesday night riding HH Azur for owners Double H Farm and Francois Mathy.
Leading Canadian Rider honors went to 12-time Greenhawk Canadian Show Jumping Champion Millar, 69, who was presented with the Lt. Col. Stuart C. Bate Memorial Trophy in recognition of his consistent performances throughout the Royal Horse Show.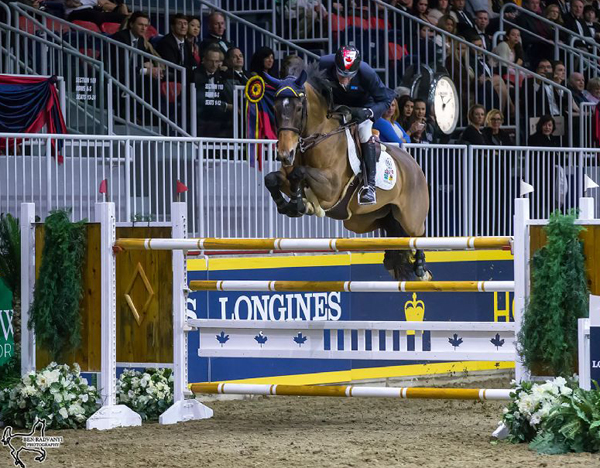 Ian Millar on Dixson. Photo by Ben Radvanyi Photography
The All-Canadian Cup, generously sponsored by Susan Grange and Lothlorien Farm of Cheltenham, Ontario, was awarded to Millar's mount, Dixson, as the Leading Canadian-owned horse. Grange both presented and accepted the award for the 13-year-old Belgian Warmblood gelding she owns with her daughter, Ariel Grange.
The Tiffany & Co. Leading Lady Rider Award, introduced at the 2016 Royal Horse Show, was presented to Leslie Howard of the United States. A 1996 Olympic team silver medalist, Howard was presented with a Tiffany horseshoe pendant of round brilliant diamonds in platinum on a 16-inch chain.
International competitors shared the spotlight with up-and-coming riders on Saturday afternoon as the future stars of show jumping were showcased in the final phase of the Alfred Rogers Uplands Under 25 National Championship.
Daniel Coyle of Ireland, 21, secured the win riding Fortis Fortuna for owners Susan and Ariel Grange of Lothlorien Farm. Coyle also clinched the overall championship title, having also won Phase 1 earlier in the week. Quincy Hayes, 25, of Aurora, Ontario, was named reserve champion with Calgary 56, owned by Darcy Hayes, after placing second in Phase 1 and fifth in Phase 2.
To the delight of horse and dog lovers alike, the $20,000 Canine-Equine Challenge, presented by the Toronto Star, saw top international riders each paired with a "Superdog." After riders navigated a show jumping track, their canine partner took off around a dog agility course. The crowd cheered for its favorites as dogs of all breeds, shapes and sizes raced up, over, and through the obstacles.
In the end, it was Dutch Olympian Harrie Smolders who stopped the clock with the fastest time riding Apollonia 23, a 12-year-old Danish Warmblood mare, for owner Copernicus Stables, LLC.
See full results from the $75,000 GroupBy Big Ben Challenge.