Lima, Peru—July 28
The U.S. dressage team at the Pan American Games has plenty of fans on their home soil, but few are as enthusiastic as Jill Peterson. After all, she bred Nora Batchelder's Faro SQF 11 years ago, and she's ecstatic to see him make his championship team debut on the world stage.
"It's never too late to fulfill a childhood dream," said Peterson. "It's my dream of a lifetime."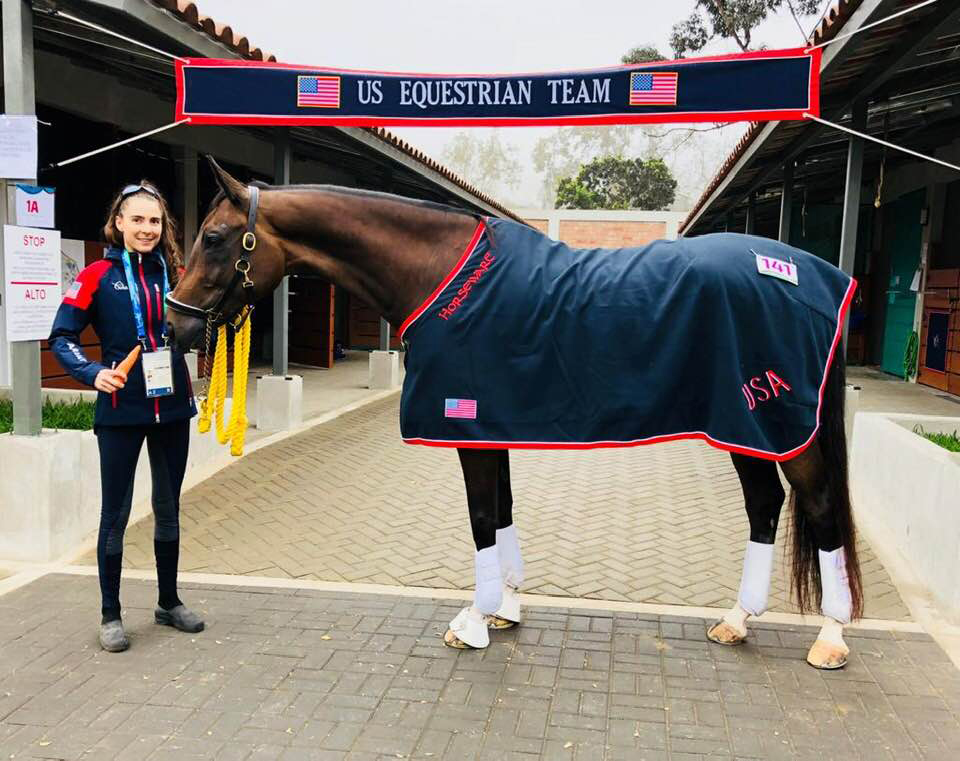 The story begins with Batchelder… well, technically with her father, Verne Batchelder. He imported Faro SQF's mother, Ms Rose, with a foal at her side. The foal went on to become another one of Nora's top horses, Grand Prix mount Bahai, and Peterson eventually bought Ms Rose, who is by Rotspon, after pleading with Verne.
"She was checking all the boxes I wanted checked," said Peterson, whose Star Quarry Hanoverians started in Florida and is now based in Aubrey, Texas. "You call any breeder on the planet, and they'll assure you they have mares that float with incredible conformation. But Verne has documentation of what the Hanoverian inspectors thought of his horse. I bought three broodmares from him sight unseen. My criteria was I wanted mares who had scored 8 or more on their studbook inspection and performance test."
Peterson bred Ms Rose to Fidertanz 2, yielding Faro SQF.
"From the get-go he just had it," she said of Faro SQF. "He sparkled. I'd never had one that talented before, and I was pretty impressed."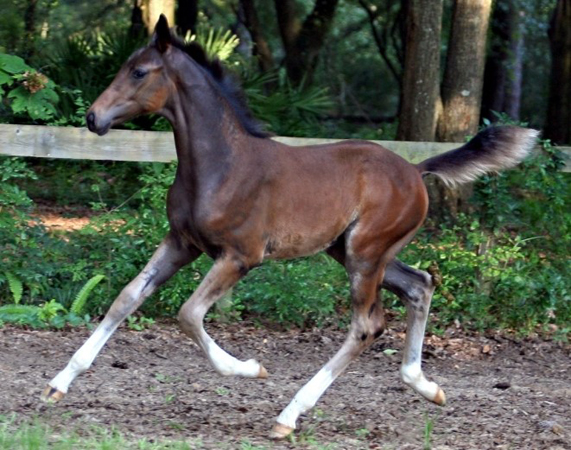 Trainer Maya Sniadecky started the colt, and eventually Peterson sold him to an amateur rider.
"She rode him until he was 8, then she sent him to me to fix the changes and get him sold," recalled Nora. "I rode him and was like, 'I have to keep him.' The owner really wanted to sell him, so I talked to my cousin Andrea [Whitcomb], and she said, 'Let's go in on him together.' I've only had him coming up on three years."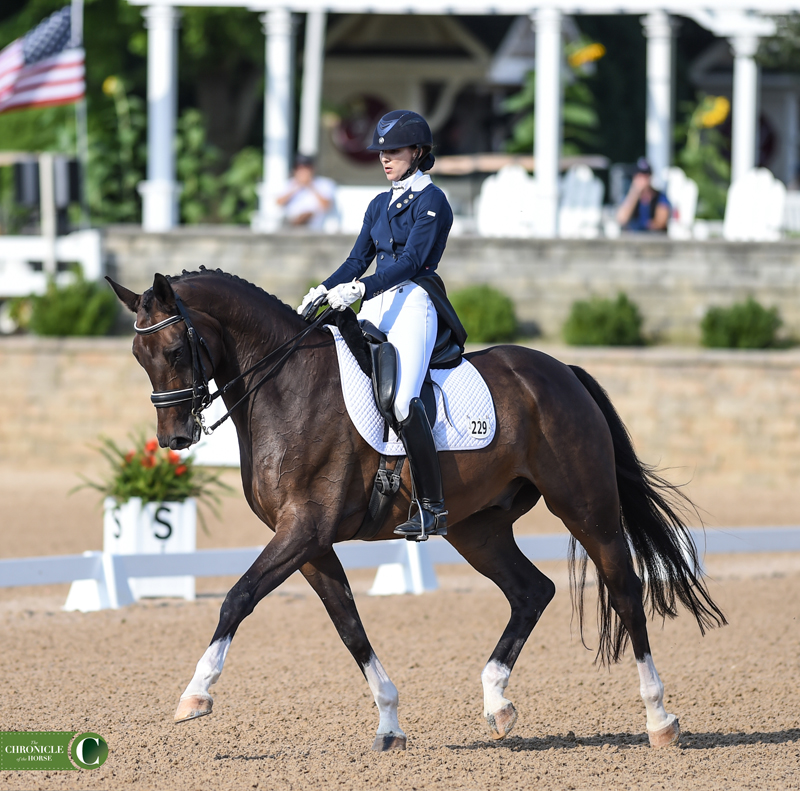 Since pairing up the two have been on the rise, winning the Prix St. Georges open championship at the 2017 U.S. Dressage Finals (Kentucky) and claiming the Intermediaire I freestyle open championship the following year.
Still, a trip to Lima wasn't on Nora's mind until recently.
"It's very exciting and an honor to do it, but I wasn't sure at first that we were capable," said Nora. "I didn't necessarily have that belief that we could do it, but this winter I went to work with Charlotte Bredahl with a couple horses, and she was like, 'Yeah, go for it!' So we signed up for some more CDIs and went for it.
"He's a really quick learner," she continued. "He's a very willing horse, and he has a lot of heart. You explain something to him, and he's like, 'Yeah, I got this.' This year we've been working on more expression and more power, and he's really stepping up to the plate and getting that. We've been working on the Grand Prix movements a lot, and I think that's helped our small tour. So he's just a clever boy and a really willing horse."
For Peterson, his best quality is his brain.
"His greatest asset he has is he just doesn't sweat the small stuff," she said. "There may be other horses with more brilliant movement, but his movement is great, and he just keeps on going no matter what."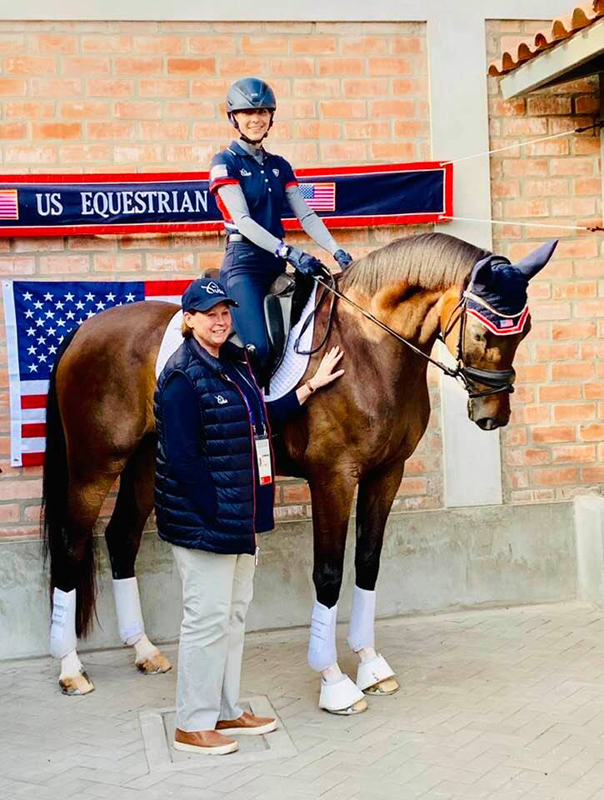 Peterson's worked hard to improve her own breeding program, and she sees programs across the country doing the same thing.
"The quality of overall breeding in this country over the last 25 years has gone straight up," she said. "We're breeding horses of the same quality as Europe—not all of them, but some of them."
Peterson hasn't been able to watch Nora compete the gelding in person, but she obsesses over his videos.
"It has left me with my jaw on the ground," she said. "I brag to everyone on the planet about this. This is making her dreams come true; mine too. It's such a thrill. It's a combination of the right horse and the right rider. She's an absolute breeder's dream, Nora is.
"I'm going to be watching the Games," she continued. "Everyone in my family is tired of hearing about it. 'Oh, he passed the jog today.' 'What does that mean?' 'Oh it's a good thing.' I just can't help it, it's exciting and a real passion. My little baby is representing the United States of America!"
Have questions about the Pan Am Games? We've got answers. Follow along with the Chronicle as we bring you stories, news and photos from the Pan American Games, and make sure you're following us on Instagram and Facebook. 
Check out our July 22 issue of The Chronicle of the Horse magazine, our Pan Am preview issue, for much information about the competitors, and be sure to read the September 2 issue to get full analysis from the Games. What are you missing if you don't subscribe?