Rio de Janeiro—Aug. 17
The French rebounded from a disastrous start to the week to win team show jumping gold at the Rio de Janeiro Olympic Games.
The withdrawal of their top-ranked rider, a colic scare and a rider fall all hit the French team hard.
But on Day 2 of the team show jumping they fought back from fifth place to the top of the podium after three brilliant performances from Philippe Rozier (Rahotep de Toscane), Kevin Staut (Reveur de Hurtebise) and Roger Yves Bost (Sydney Une Prince). Rozier and Staut sustained only a single time fault apiece, and Bost kept a double 0 score to bring their two-day total to 3 faults, good enough for guaranteed gold even without anchor combination Pénélope Leprevost (Flora de Mariposa) jumping in Round 2.
Click here for a photo gallery.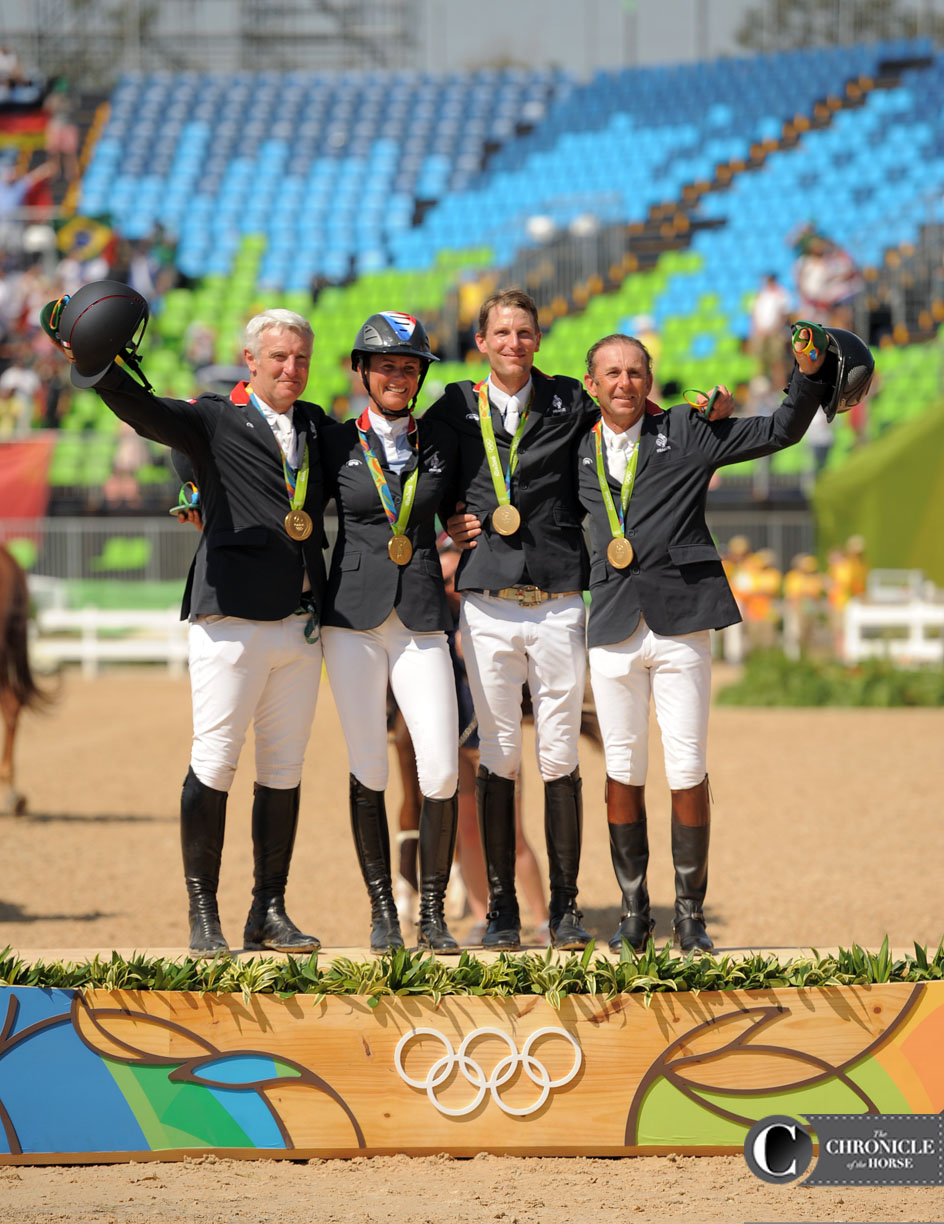 The French team won gold (from left: Roger Yves Bost, Pénélope Leprevost, Kevin Staut and Philippe Rozier). Photo by Lindsay Berreth
"For sure we had really bad luck at the beginning of the week with Simon's horse [sustaining a microfacture in the tip of his hock] and Pénélope's problems," said Staut, Vauville, France. "I think maybe it helps us to fight more and more. It was a tough week, unbelievable, really. In the beginning of this week we imagined to get a medal, for sure not gold. We have great riders and great horses. I'm proud to be French and proud to earn this gold medal."
While many riders are ardent mathematicians, Bost admitted he didn't even check the scores before he headed into the ring on the 10-year-old Sydney Une Prince (Baloubet du Rouet—Girl d'Elbe, Alfa d'Elle). He just focused on warming up, then went in the ring and laid down a great round.
French show jumping has endured a 40-year gold-medal drought, last winning at the 1976 Montreal Olympic Games. Coincidentally, Rozier's father, Marcel Rozier, served on that team. Marcel's at this year's Games as well, as the coach for Morocco's Abdelkebir Ouaddar and Quickley de Kreisker.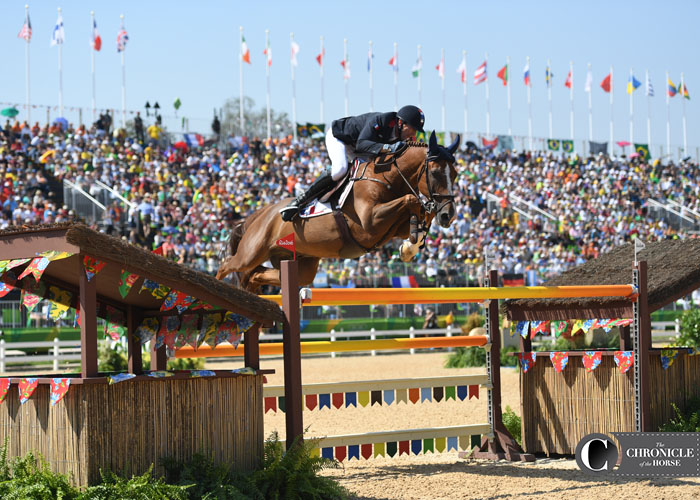 Kevin Staut and Reveur de Hurtebise. Photo by Lindsay Berreth
"Now we have two gold medals in the family which is unbelievable for me," said Philippe.
France wasn't the only team fighting hard for the medal with lousy odds. The U.S. team won silver despite being down a rider today with the withdrawal of Cortes 'C' and Beezie Madden. And the German team took bronze in a jump-off with Canada despite the last-minute substitution of Meredith Michaels-Beerbaum and Fibonacci 17 for Marcus Ehning and Cornado NRW.
The Brazilian team was also down a rider after the yesterday's disqualification of Stephan de Freitas Barcha. The team dropped from a tie for the overnight lead to overall fifth. And the Netherlands' Jur Vrieling opted to withdraw Zirocco Blue after a rough two days.
Individual competition continues on Aug. 19. The top 35 riders, with a maximum of three riders per team, will compete then in a two-round, clean slate competition for the individual medals.
Full results can be found here.
Mollie Bailey and Lindsay Berreth are on the ground in Rio de Janeiro for the Chronicle and will be reporting with all the news, fantastic photos and behind-the-scenes details, all posted on www.coth.com. Your go-to page for all things Olympic is http://www.chronofhorse.com/2016-Olympics.
We'll have live blogs of competition sessions, Twitter updates, blogs, photo galleries, stories about each day's competition and so much more. Don't miss a thing—we'll have everything you need to know. Also make sure to follow along on the Chronicle's social media outlets: Facebook, Twitter, Instagram and Snapchat (@chronofhorse).