Lexington, Ky.—Nov. 2
Emily Moffitt had a little something extra jumping around course with her and Hilfiger Van De Olmenhoeve in the $130,000 CP Open Jumper at the CP National Horse Show on Thursday night. A lime green ribbon was pinned to her jacket lapel, and it flew over fences with her on the way to a win in the class.
"Kelli Cruciotti messaged me on Facebook and told me about a girl that was riding with her that was diagnosed with [lymphoma] and asked if I would ride with the ribbon, and I said of course," Moffitt, 19, said.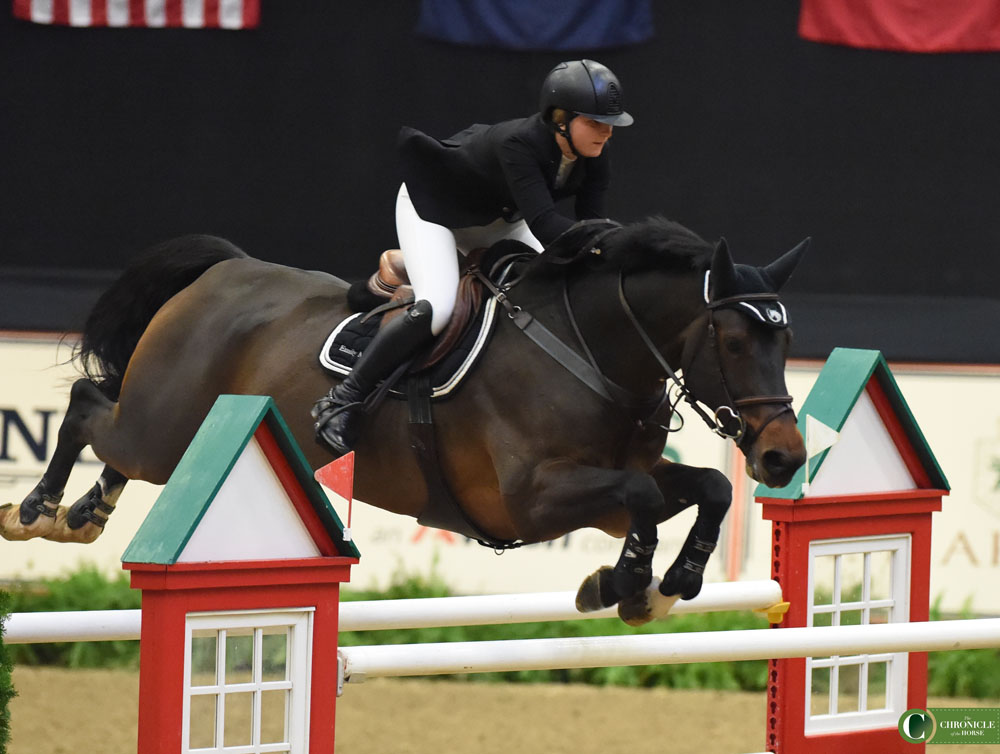 Cruciotti is a young professional out of Elizabeth, Colo., who, together with her mother Cindy Cruciotti, operates Serenity Farms.  "We're wearing them in support of a young girl named Lilian Schaffer that rides with us at our stable who was recently diagnosed with lymphoma," Kelli explained. "I felt like as a community what better way to show we were all thinking of her than to show our support in this way. We adore this family and are praying for them!"
Schaffer, 17, lives in Denver, Colo.,  and has been riding with Kelli for the past year and a half in the children's hunters and equitation divisions. A number of riders in the class including Moffitt pinned the lime green ribbons to their jackets.
"I was so overwhelmed with how many riders and staff wore ribbons when I asked them," Kelli said.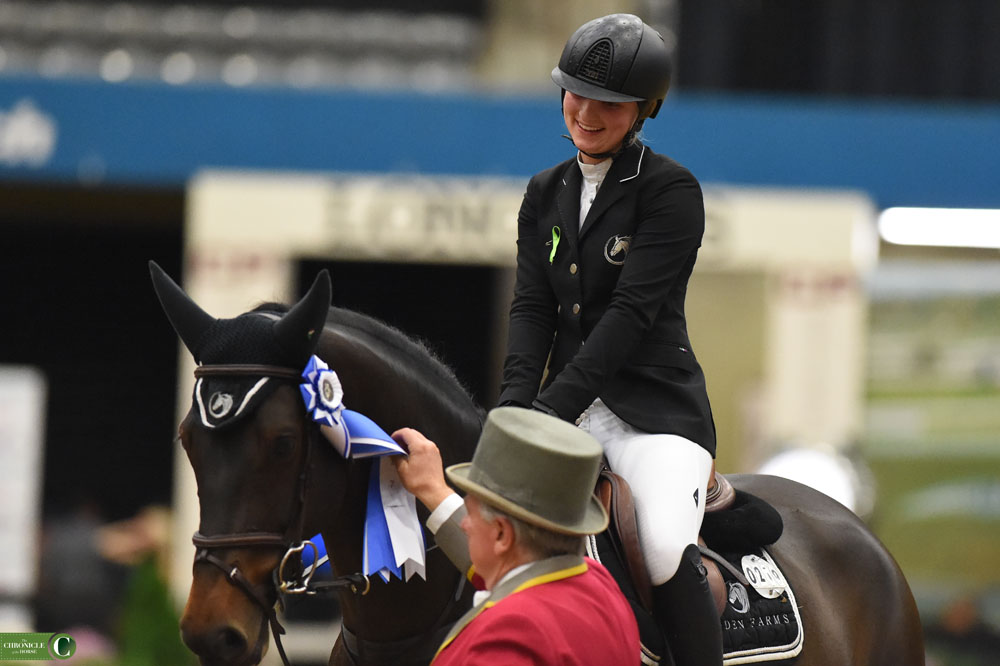 Moffitt's win in the class was no short order—a huge field of 18 horses qualified for the jump-off, and while some elected not to return, it was still a large group with some of the best riders in the country, including second and third place finishers Laura Kraut and Beezie Madden (respectively). Moffitt is from Las Vegas but rides for Great Britain and trains with British rider Ben Maher, and he told her not to step off the gas on the short course.
"Because there were so many riders in the jump-off I was a little skeptical of Ben's decision to just go for it. I was thinking to maybe save him for the big grand prix on Saturday," Moffitt said. "But Ben said go for it, don't pull, hope for the best, so I did and Tommy was with me the whole way, and it just really went my way!"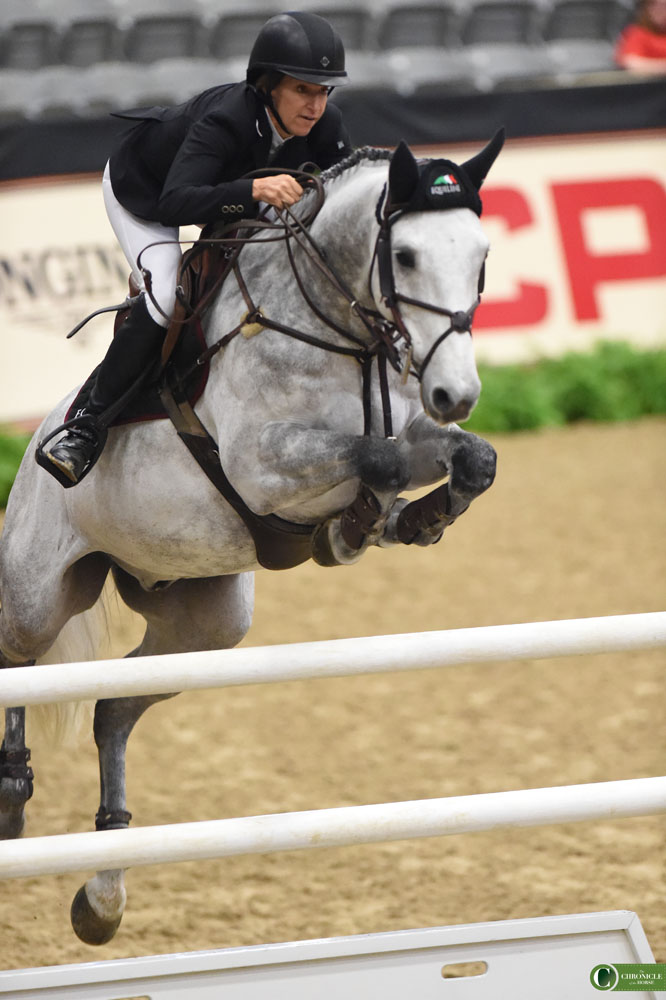 Kraut took second aboard Confu and commented on the Michel Vaillancourt-designed track.
"I mean it rode pretty easy compared to how it walked. I don't think he would have expected as many clear as he got," Kraut said. "I think he thought it was going to be a little more difficult. And really only the last line was sort of a test; the triple combination didn't cause many problems, the skinny didn't come down once I don't think. I'm sure Saturday night will not have that many clear!"
Saturday night's Longines FEI World Cup Jumping class is a qualifier for the 2018 Longines  FEI World Cup Final (France). Check back with the Chronicle for more from the CP National Horse Show!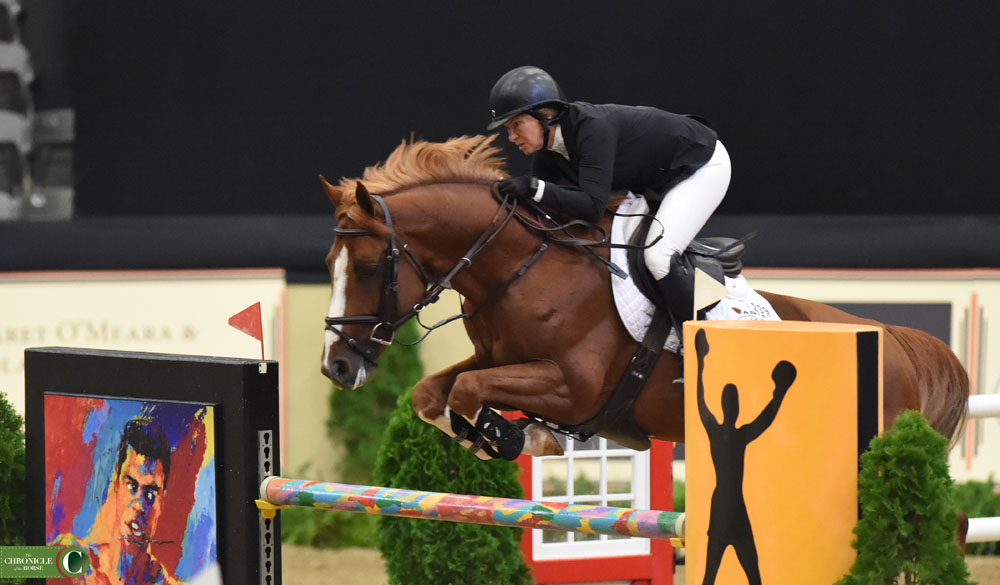 IMPORTANT LINKS:  All the COTH CP National Horse Show coverage  | What You Need To Know  |  live results/order of go  | live streaming  | show website