The U.S. team holds onto second place in the standings with their fourth-placed finish.
The second round of the Samsung Super League Nations Cup at the St. Gallen CSIO, May 29-June 1 in St. Gallen, Switzerland, proved quite influential. The U.S. team held on for fourth but couldn't beat the Dutch.
The team from the Netherlands swiftly grabbed the lead in Round 1 with clean rounds from Vincent Voorn, Piet Raymakers and Gerco Schröder. Dropping Angelique Hoorn's 4 faults, they had a clean slate for Round 2. The Belgian team stalked them in second with 2 time faults, while the U.S. team of Anne Kursinski, Charlie Jayne, Will Simpson and Nicole Shahinian-Simpson lay third, with just 4 faults. Jayne and Simpson had both jumped clear rounds, letting the team drop Kursinski's 13 first-round faults on Champ and leaving them just with Shahinian-Simpson's one rail on SRF Dragonfly.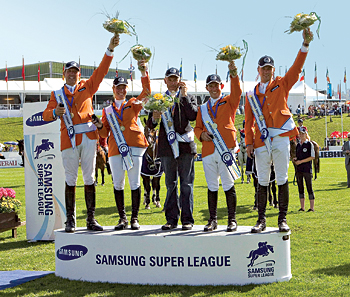 The German and Swiss riders hadn't been able to put a clear first round together, leaving them tied for seventh with 12-fault scores. But that would change in Round 2.
Christina Liebherr, Niklaus Schurtenberger and Pius Schwizer kick-started the Swiss day with clean rounds in Round 2, while Steve Guerdat picked up just 1 time fault. They would finish with just the 12 faults from the first round.
The Germans promptly followed suit, putting zeros on the scoreboard from Christian Ahlmann, Marco Kutscher and Carsten-Otto Nagel, allowing Ludger Beerbaum to sit out Round 2 as the team remained tied with Switzerland with 12 faults.
All the pressure was on the Dutch and American teams to stay ahead.
Jayne and Urbanus had a rail at an oxer, while Kursinski and Champ picked up 4 faults at a plank oxer and added 1 time fault. Things looked dicey when Shahinian-Simpson and Dragonfly finished with 9 faults. It was up to Simpson as the anchor rider.
Simpson had an unexpected challenge on course when a fence steward stepped into his path as Carlsson vom Dach took off at the second fence. The 12-year-old gelding handled the situation with aplomb, jumping to avoid the man standing on the other side. The effort paid off with a clear round, putting the U.S. team total at 13 faults.
The Dutch held onto their lead with a clean round from Voorn—his second of the day—and just 1 time fault from Schröder. The win put them into the top of the league standings, while the U.S. team holds onto second and Great Britain lies third.
Chef d'equipe George Morris was satisfied with the American riders' performances. "It was still not perfect but pretty good," he said. "Especially considering the fact that it was a bit of an unknown group with either new horses—like those of Will, Nicole and Anne—or new and young riders on this level like Charlie Jayne and Kate Levy. I am very happy that the depth of riders and horses has become much wider again. It is very important to have options to be successful in championships."
The Swiss team looks strong in this Olympic year, and Christina Liebherr made her mark at St. Gallen, following up her 4-fault and clean rounds in the Nations Cup with a fantastic win in the $195,310 Longines Grand Prix of Switzerland.
It had been just eight months since Liebherr's horse, L.B. No Mercy, had suffered a severe grab during the 2007 European Championships, taking him out of action for months. But Liebherr has him back in top form just in time for the Olympics, as they recorded the only double-clear of the grand prix.
The internationally quite unknown Italian rider Roberto Cristofoletti and the 10-year-old Dutch Warmblood stallion Eurocommerce Las Vegas finished in second with just 3 time faults over the two rounds. With the fastest 4-fault ride of the second round and a clear first round Germany's Ludger Beerbaum and his hope for the Hong Kong Olympics All Inclusive NRW placed third.
Anne Kurskinki was the top-placed American rider in the class, taking 22nd with Champ, a 9-year-old Holsteiner stallion by Charmonix. They had just the first element of an in-and-out down, but a slow time, which kept them out of Round 2.
Birgit Popp