Kalispell, Mont.—July 22
Time proved to be the deciding factor on today's Adequan/FEI North American Junior and Young Rider Championships CICOY** cross-country course with only six riders jumping double clear.
Area I's Cornelia Dorr had two of those clear rounds on Louis M, who maintained his dressage lead, and Sir Patico MH, who moved into third place.
Area III's Will Zuschlag and RF Southern Command also jumped clear to stay in second place.
Dorr went out first on Sir Patico who was her team horse. She chose him for the team because she knew she would have to ride him first and he needs a little bit more patience.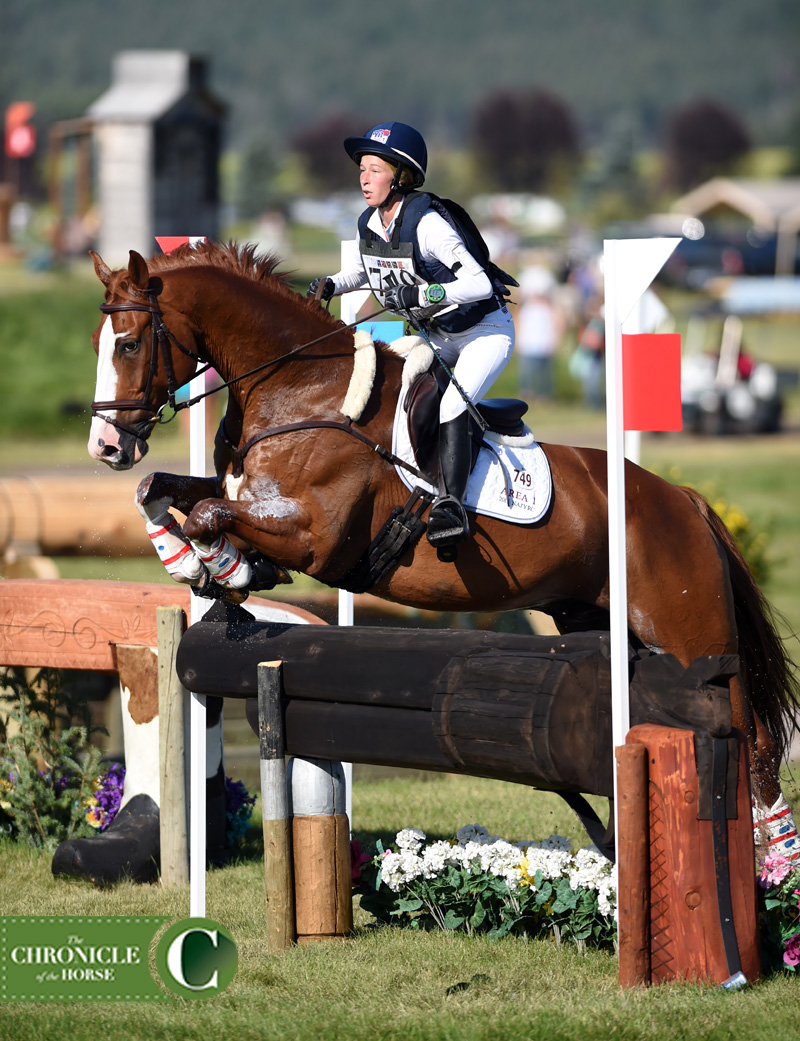 "After riding Louis I have a little bit too high expectations on Hugo," she said. "He's a little bit of a more consistent show jumper too, so it comes down to that.
"He was a little bit feisty in the warmup, and it was fun to feel that excitement that he had," she continued. "I was a little worried he was going to be a bit strong, but he was awesome and all of my half halts went all the way through, and he took everything in stride. Louis was great. He was, as always, my teacher, and it was fun to just gallop around and have fun on him."
Zuschlag has had RF Southern Command for a little more than two years, and they've come a long way.
"The first year and a half I couldn't get his head down—it was terrible. Since then he's come out great," he said.
"We had a really good run. He was a bit strong in the first bit, but it was a great course and everything was pretty doable," he added. "It was fun to get out there with all the big atmosphere. Coming up out of the water to the Stonehenge and listening to everybody screaming and yelling and going off, and coming back to the finish line with all the young riders—they get really excited! It makes you feel good."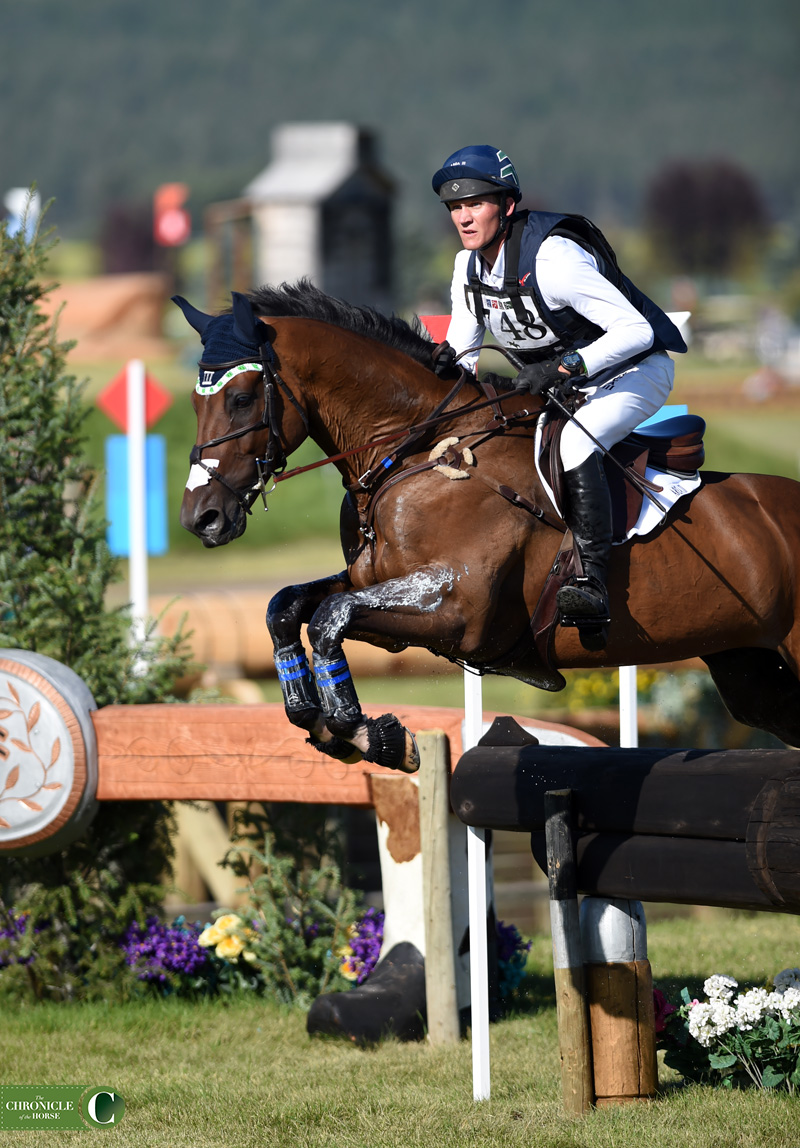 In the team competition, Canada (Emily Thompson on Paddington, Anne-Sophie Levesque on Eskapade, April Simmonds on Impressively Done and Annick Niemuller on FE Black Jack) remained on top on a score of 180.8, while the combined team from Area I and IV are very close behind in second place (182.0).
Niemuller picked up a refusal at 7b on FE Black Jack, but the rest of the team jumped clear.
"It was very different from any style of cross-country I've walked before because I've never ridden an Ian Stark course before," said Thompson, who is still the leading Canadian rider in fifth place. "It was a huge learning experience. It was a big, bold course. You had to just keep riding forward. It was a great horse to learn how to just go."
Levesque is familiar with Rebecca Farm because she lives just over the border in Canada. "I really liked the course. Being from Alberta we have the opportunity to come to Rebecca Farm every year," she said. "It just keeps improving. I really like a few of the new additions. I'm on a really hot horse, so making time wasn't a problem, but getting a half halt was a little bit exciting! I'm really grateful to have come and ridden through my plan exactly as I had planned to."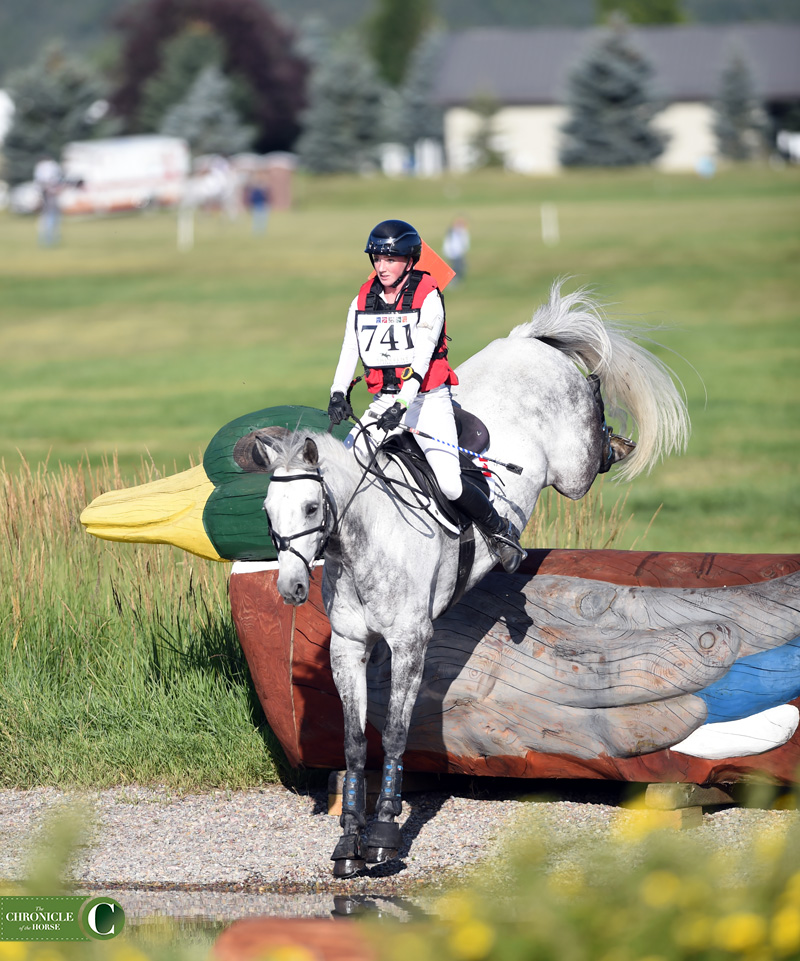 Simmonds has some experience at the advanced level and is making her fourth appearance at NAJYRC.
"Impressively Done was awesome today," she said. "I wish I had gone a little bit faster so we maybe had a little bit more of a lead, but I was so pleased with him today. It was definitely a big, bold course. There were some questions in the beginning that were quite tricky, and if you get through that you're pretty much set for the rest of the course."
Team Chef d'Equipe Penny Rowland said she was very proud of her riders. "They really put it out today," she said. "They did a great job, they supported each other, we got feedback from each of them to help the other riders. The biggest thing now is to make sure the ponies are all happy and don't let the pressure get to them."
For full scores, click here.
Follow along with COTH this weekend at coth.com as we bring you all the news you need to know and tons of gorgeous photos from Rebecca Farm and the NAJYRC! We'll have a full report in the August 7 print edition of the Chronicle.
2017 NAJYRC CICOY** Cross-Country
Lindsay Berreth / Jul 22, 2017 10:34 pm