Lexington, Ky.—Nov. 30
The Adequan/USDF Annual Convention kicked off its open meetings Thursday with new policies, rule proposals, and plenty of member commentary coming from those in attendance at the Hyatt Regency hotel.
One topic garnering a significant amount of time and debate was the issue of the methods some riders are allegedly using to avoid having a low score reported to the USDF. In the membership committee meeting, it was brought up that some riders will deliberately not come to the awards ceremony because the penalty for not showing up is elimination from the class, thereby not counting their score and not bringing down their average, which counts toward qualifying for certain competitions.
"We know that at least three regionals competitors were quite open about saying that's why they weren't coming to the awards, and I hate to see this trend," said Joyce Hardesty, chair of the Regional Championship Committee, who led discussion during the membership meeting. "On one hand, as a former competitor I can understand how protective you are of your score and your standing, but on the other hand I feel that its disrespectful to the program and the competition."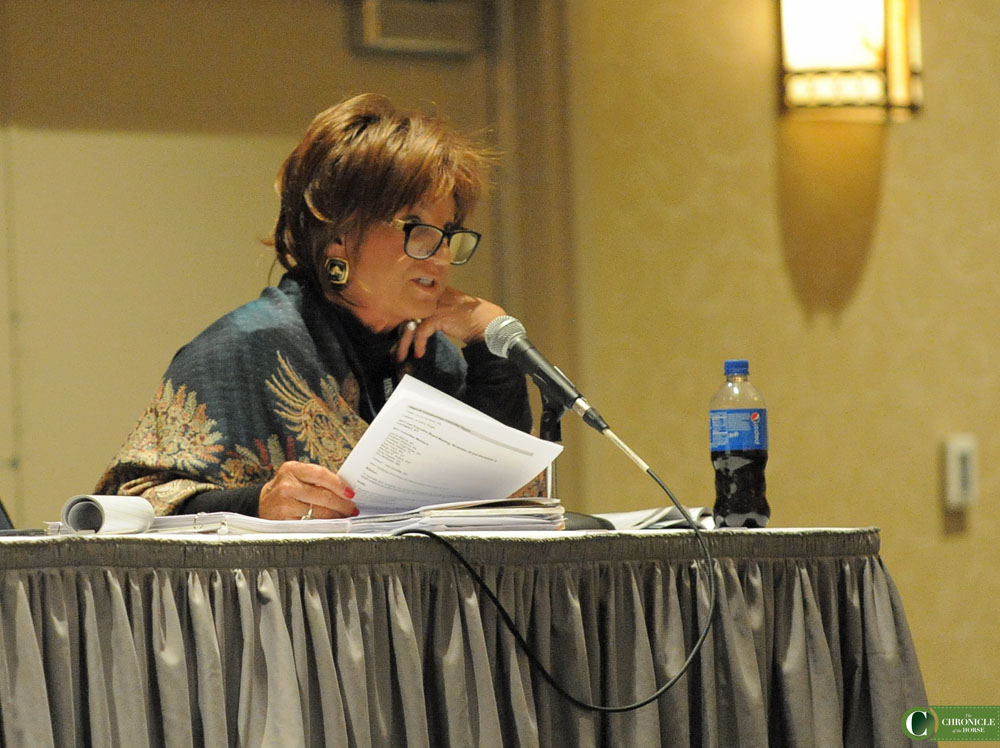 It was brought up that the committee had also heard of an instance where show management allowed a rider to scratch after scores for the class had been posted to avoid a bad score.
"We discussed it in the closed session as well, and we don't have any statistics on how widespread it is, but the trend does seem to be growing," Hardesty said.
One suggestion to address the issue was to assign and report a score of zero to riders who didn't show up for the award ceremony. Panelist Roberta Williams thought that was overly punitive to well-meaning competitors who may have simply forgotten to show up to an awards ceremony.
"I think we need to be careful that we don't make rules while trying to catch the bad guys and the ones who are being not good sports that are really hurting the good sports who make an honest mistake even more," Williams said.
Another suggestion was to revert back to an older rule that reported a rider's score regardless of whether they showed up to the award ceremony or not, but concern was expressed that this then removed the incentive show organizers had to get riders to show up for the presentations.
"The problem is figuring out who is dumping scores and who is just late or well meaning—how do you distinguish between the two?" Hardesty said. Hardesty said the committee will continue to monitor the problem and discuss possible rule changes to address it.
Discussions of the new Safe Sport Policy initiative spearheaded by the U.S. Equestrian Federation came up during the rule change forum. The Safe Sport Policy is run through the U.S. Center for Safe Sport and is meant to be a resource for any athlete, regardless of sport, to report issues like sexual harassment or abuse. Currently, judges and technical delegates are required to undergo a background check and take Safe Sport Training online courses every two years to keep their licenses. Proposed rule GR 908 would require any person signing an entry blank as trainer or coach to undergo a background check and complete the online training as well.
Janine Malone led the discussion on this topic and expressed support for the spirit of the rule.
"I know in dressageland there has been a lot of opposition to Safe Sport, the judges and TDs that say, 'Why do we have to do that? Dressage judges don't know anything about that; it doesn't happen in dressage,' and if any of you read the news lately you know abuse can happen anywhere. There has been a lot of press about people taking advantage of students or people they have influence over, so everybody is coming to realize that safe sport is an important concept."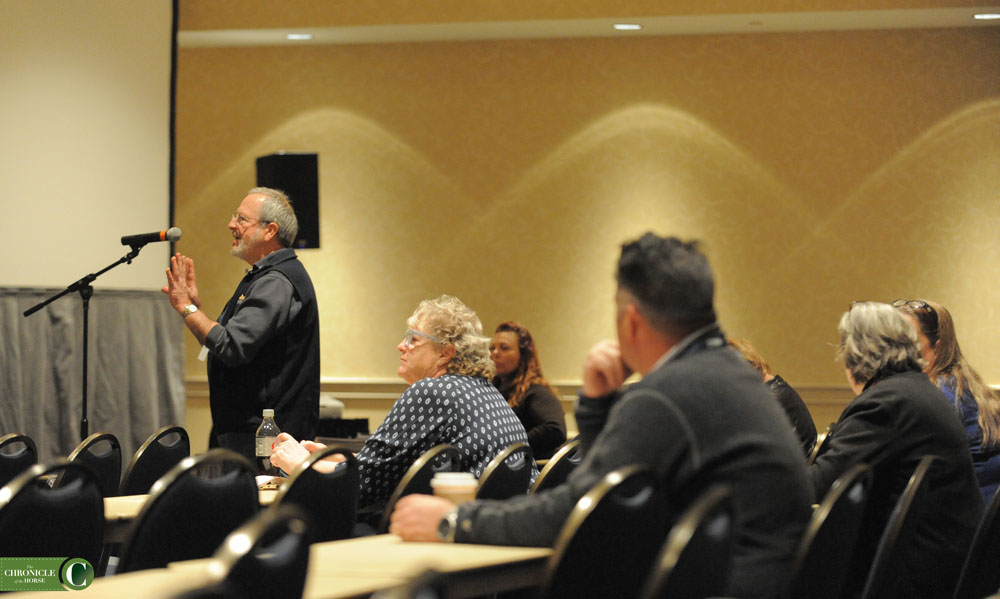 Malone did express concerns over how the rule would be implemented practically.
"Having every person that signs this entry blank have to undergo this would pretty much prevent from any new people from coming in and deciding they're going to show. Deciding to enter your first licensed show last minute would become impractical," Malone said. "I think everybody is in favor of moving more toward incorporating safe sport and criminal background checks, but to mandate it and have all this happen at once is not practical; it would need to be phased in."
USDF does require trainers certified through their trainer certification program to complete Safe Sport Training.
Another proposed rule discussed Thursday involved the reporting of cruelty. Proposed rule GR 839.6 would make it a violation for both technical delegates and competitors at horse shows to fail to report a known abuse.
"USEF has regularly increased penalties and mandates regarding cruelty and abuse of horses and this is yet another move in that respect that would significantly impact anybody at a dressage competition," Malone said. "A lot of people approve of it in principle but disapprove of the rule change because they think it would be very hard to monitor."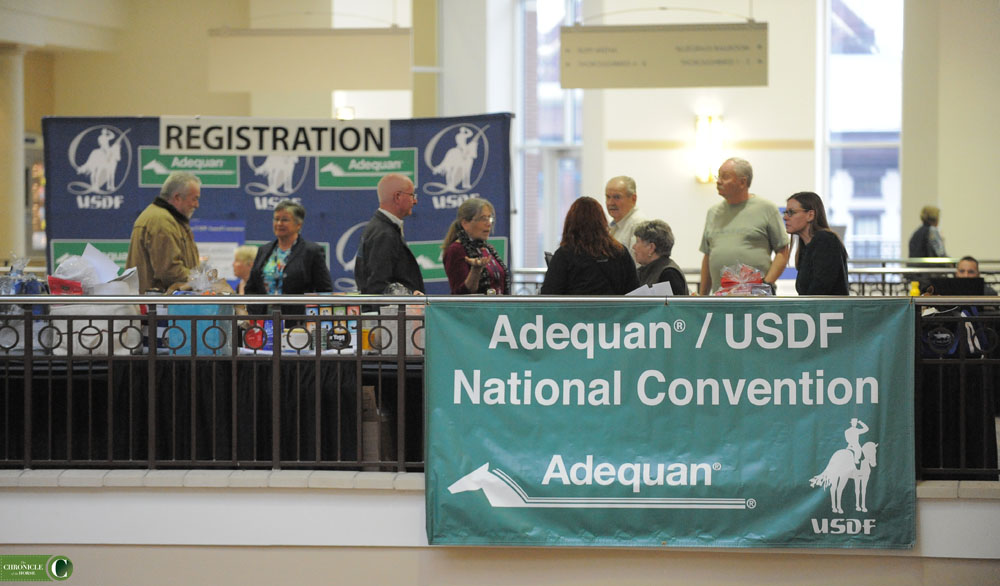 Other goings-on at Thursday's convention include:
A couple of proposed rules regarding helmets seemed to garner little support—one rule would require riders to have helmets no more than four years old per the manufacturer's date, but concerns were raised regarding how the rule would be enforced and what information the four-year limit is based on.
Another rule was proposed that would require shows to retain the helmet of a rider involved in a fall on horse show grounds for the purposes of studying the helmet and use toward concussion research. While a good idea in theory, Lisa Gorretta voiced the forseen issues. "Technical delegates are not allowed to steal helmets," Gorretta said, garnering laughs from convention attendees. "I think this would be a liability for shows and for the TDs."
It was brought up in the membership committee whether unmounted horses should be allowed in the ring for award ceremonies. The question generated significant debate with some attendees taking the microphone to voice concerns over tailoring a national mandate to specific show circumstances. The committee's general consensus was it was a genuine safety concern. "We want to come up with a system for those horses who cannot be ridden into the award ceremony to still be accommodated for photos but still have this person standing on the ground be safe," Hardesty said.
Stay tuned for more from the Adequan/USDF Annual Convention on www.coth.com all weekend and make sure to read the Dec. 18 issue of The Chronicle of the Horse for more in-depth coverage.