It began innocently enough. Flipping through the media catalog of photos from the Gucci Paris Masters show, I came across one that showed a horse wearing quite an unusual piece of equipment. Katharina Offel's mount Quebracho Semilly had straps hooking around his hind legs and attaching back to the saddle…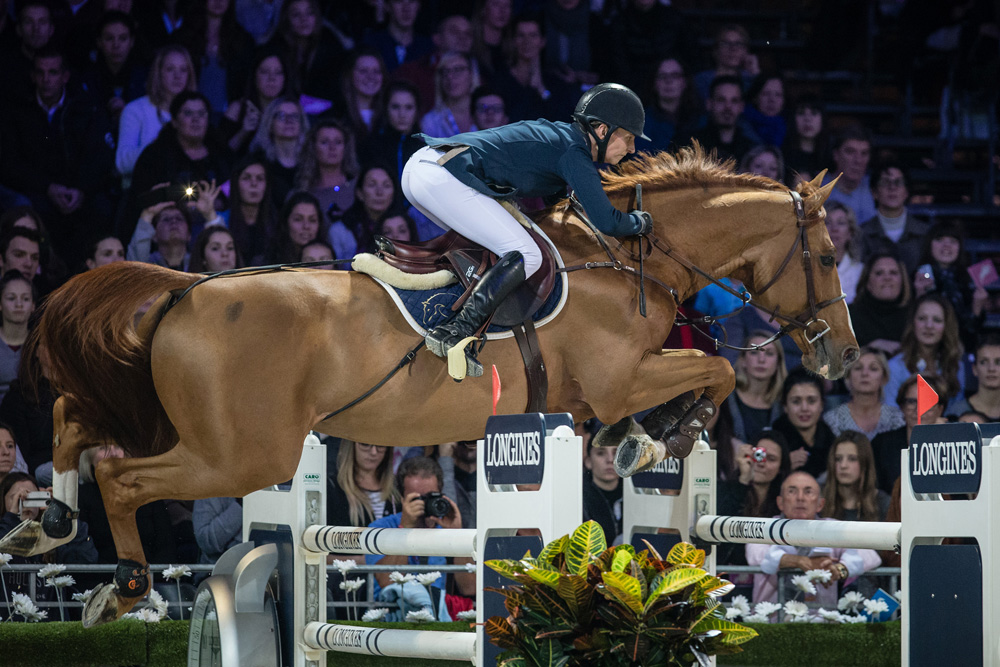 Intrigued, I Googled and found Katharina's website quite easily and there was a Contact Us form. I fired off a quick query, explaining who I was and asking about the contraption. I didn't expect a reply, really.
But I got one! Here's Katharina's explanation (somewhat edited to replace a term I don't feel comfortable using in a missive to the general public): "The strap Quebracho wears is special made for stallions. It is elastic and washable. Quebracho has very big [testicles] and when jumping they are quite disturbing to him and make him feel uncomfortable. His former rider Nina Fagerström rode him with this strap, so when I took over the ride from Cassio Rivetti I decided to try to do like Nina and started to ride him with this. It makes him feel a lot more comfortable and undisturbed so I find it very helpful."
In essence, it's an equine jock strap. OK then! Ask and ye shall receive, right?!
I got brave and Googled some terms I'm sure will make my search history much more interesting and came up with a few bits of evidence that this is more common of a problem than one might think. In fact, there are multiple threads about it on the Chronicle's own discussion forums, such as this one from 2009 and this one from 2010.
I also found this item for sale, which seems to indicate that this an issue for trotting racehorses as well.
My father has a saying that "It's a sad day when you don't learn something new." With that in mind, I'll consider myself a bit more educated in ways I never expected.
Every now and then we feature a blog from a member of the Chronicle staff. We're just like you—juggling riding and competing with work and family. Associate Editor Molly Sorge has evented herself and groomed at Rolex Kentucky and Burghley CCI****s as well as spending a few years grooming on the A-rated hunter/jumper circuit before settling in at the Chronicle.