Washington, D.C.—Oct. 29
Grace Debney almost couldn't believe when she found herself standing alone at the end of the WIHS Pony Equitation Final. The 13-year-old from Camden, Mass. has contested the class three times but the closest she came to winning was a third-place finish last year.
"I usually don't do this well at indoors; I usually have much less luck," Debney joked. She rode John Skinner's Denmark to the top of a field of 25 riders from across the pony divisions. The win was bittersweet, as it was the last Debney will have on Denmark, and possibly the last of the pony's career, as he might be retiring soon.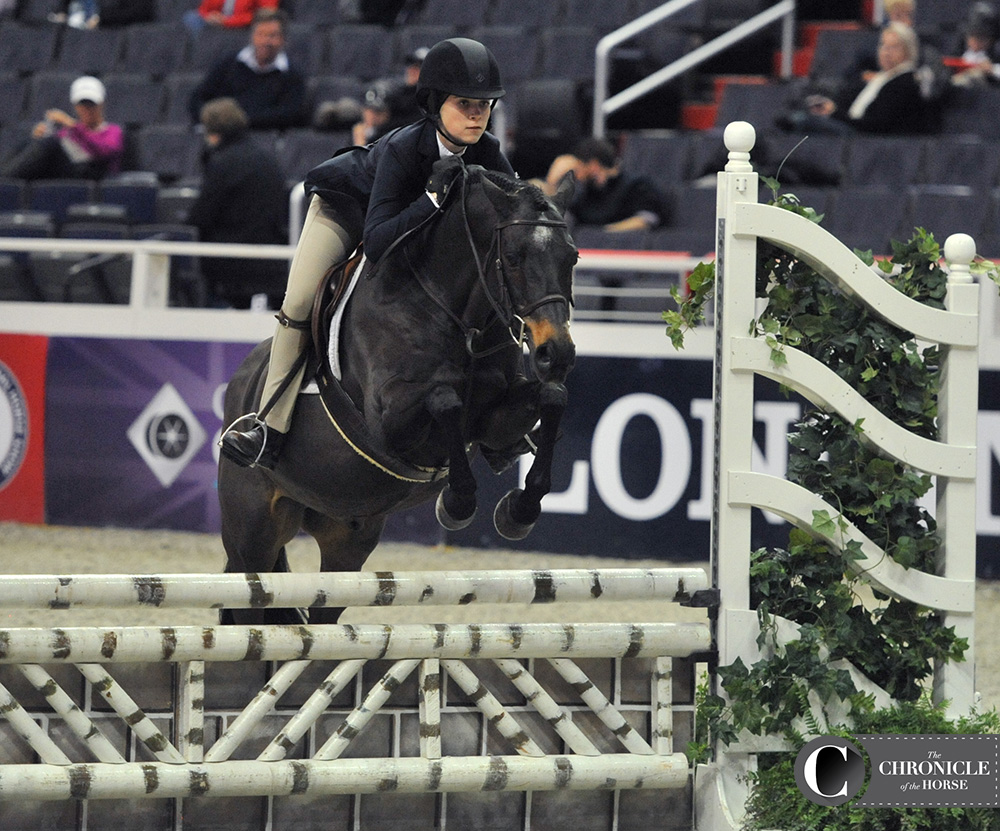 "He's perfect," Debney said of the 23-year-old gelding. "I can make a mistake, and he'll get mad at me, but he'll keep going. He's a winner. He wants to win everything, and when he doesn't he'll get a little sulky."
Debney was fresh off a win in the WCHR Pony Challenge with Storyteller at Capital Challenge, but she acknowledged her WIHS win humbly, already looking forward to new goals in the junior hunter divisions.
"It's really great to win," Debney said. "It felt great to even qualify, and to get here and do so well when I came close last year was awesome. It's a little sad to say goodbye to Denmark, but it's time for me to move on to horses. I want to be successful for my first year in the junior hunters, just get experience in it. I don't have to win everything, then move on to try to win."
Lignelli and IParty Preserve Winning Streak
Alexa Lignelli came into the WIHS with a winning streak weighing on her ten-year-old shoulders. This season she was champion at Devon (Pa.), the Pennsylvania National, and Capital Challenge, but Lignelli handled the pressure like a seasoned professional and rode iParty to win the small pony hunter championship.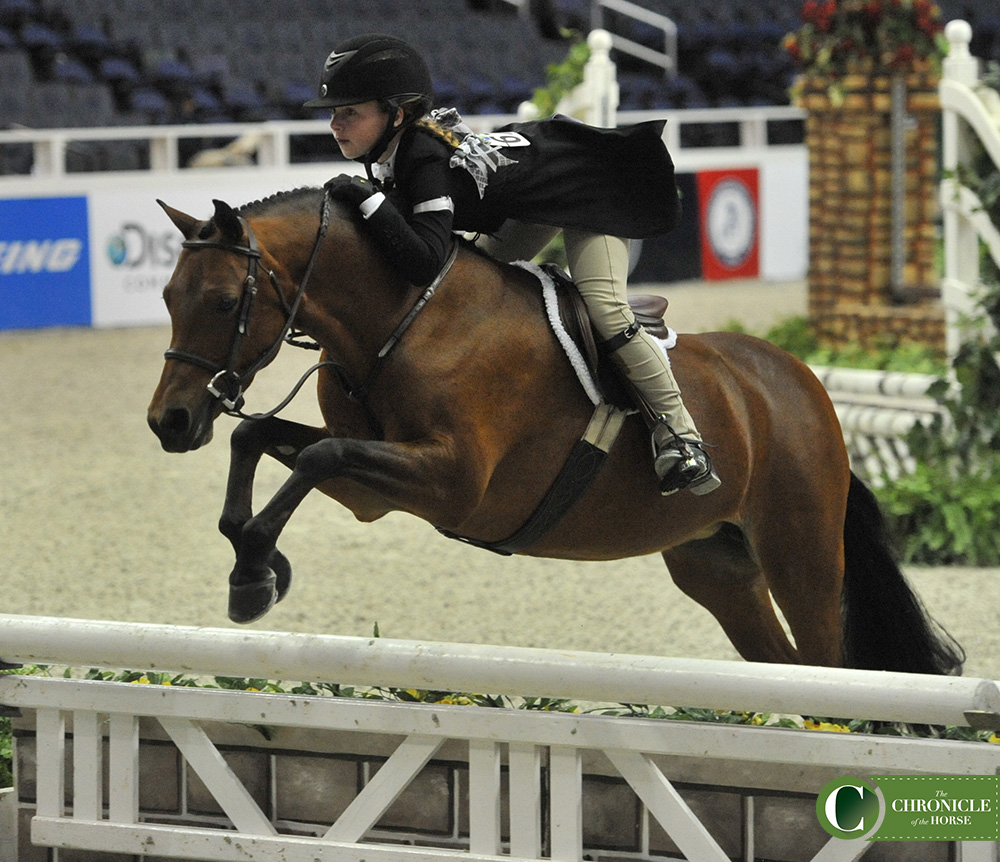 "She's an adult in a little tiny body," Lignelli's trainer, Bill Schaub said. "She's very astute and very smart, but she can be hard on herself. She has a good spirit, so she doesn't let anything get her down for long, and she's a great competitor."
Lignelli has been to the WIHS three times. She owns "Rosie" (Dragoncroft Pintado—Loafers Lodge Isis) and has been riding her for two years, but the two had a rocky start to their week despite their long partnership.
"Rosie has been a little sassy at this show," Lignelli said of the 10-year-old half-Welsh mare. "She spooked the first day and was sassy in the handy, so I'm glad we ended on a better note. The most challenging thing about her is that you have to be on a pace to find all the jumps. If you're slow you'll never find the jumps. It was hard to learn how to do that on her, but we worked on it in many lessons."
Lignelli is aiming to start competing in the medium pony divisions but the New York native said she doesn't have concrete goals right now, instead she's willing to see what the future brings.
First Time's A Charm For Newhaven's Magnum

Raina Swani and Newhaven's Magnum narrowly missed their first big championship win when they finished second overall in the medium pony division at the USEF Pony Finals (Ky.).  After months of hard work, the duo took on the Washington International and walked away with a red cooler for the medium pony hunter championship.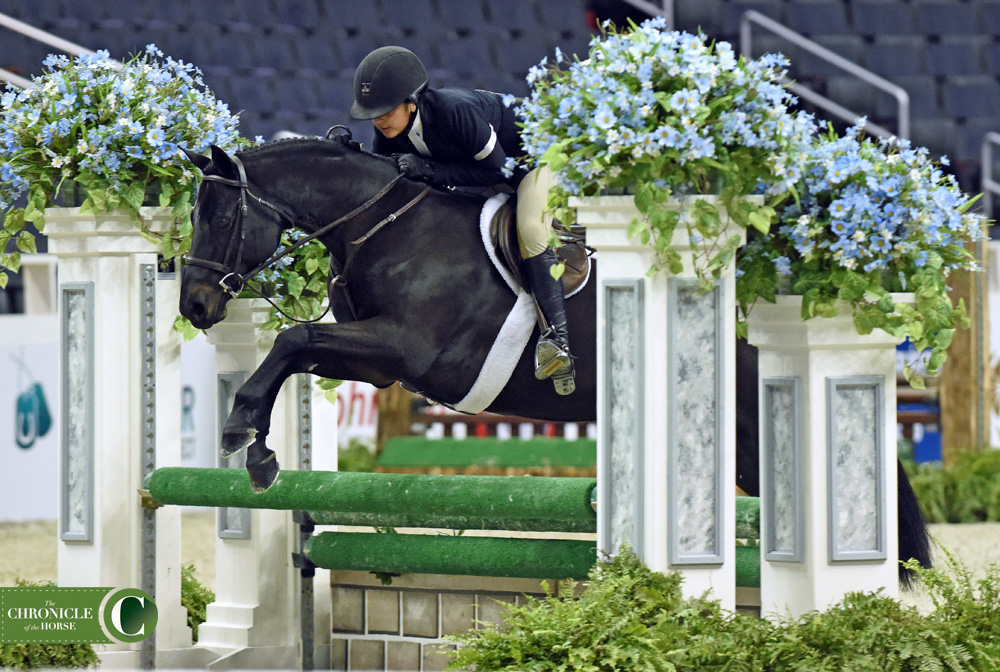 "Magnum is great; he's really snuggly; he's just the best pony," Swani, 11, said. She trains with David Belford and Chris Payne, who run New Hope farm in Ohio, and has ridden Magnum for 1½ years. This year was her second attempt at indoors but Magnum's first, and Swani said the 12-year old was unfazed by the atmosphere of the Capital One Arena.
"He always tries his hardest," she assured. "The one difficult thing about him is that he can get a little strung out, so sometimes you have to work extra to compress him. He's really adjustable, but if he's fresh he can have a big stride."
Wasserman Overcomes Rocky Start With Benetton
Stella Wasserman described her early relationship with Benetton as "a rollercoaster." But the two have progressed far enough to win both the large pony hunter championship and grand champion pony hunter at Wasserman's second WIHS.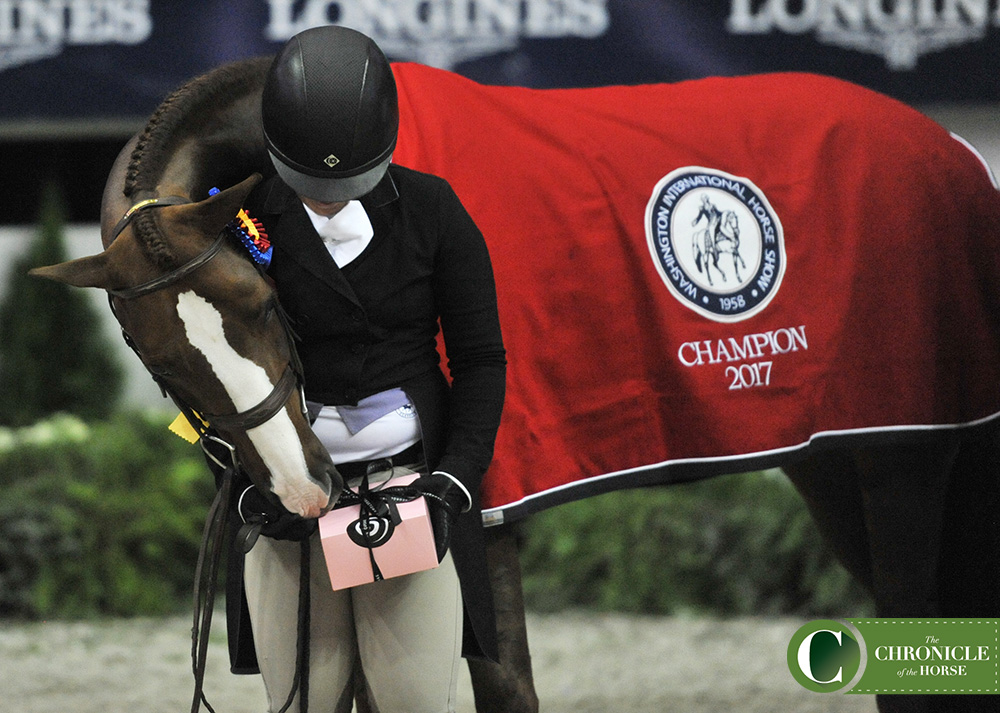 "I've never been grand before," Wasserman said after detangling herself from the ribbons, coolers, and cupcake boxes bestowed on her.
"It took me a while to figure Benny out. He picks and chooses his rider, at first we didn't really click, then I started to learn how he likes to go and what he likes," she contineud. "He likes when you sit and keep the rein contact but have a soft feel. He has a big personality, there's no pony like him."
Wasserman leases Benetton from Pretty Penny Farm and trains with Archie Cox. She only comes to show on the east coast three or four times a year and likes Washington especially because of the atmosphere afforded by the stadium and the lights.
"It's so different from any other show," Wasserman said, grinning. Washington seems to like her back; Wasserman was champion in the small junior hunter, 15 and under, division with Boss, whom John French also rode to victory this week. Wasserman is looking to progress in the  junior hunter division and start developing her skills in the jumper and equitation rings.
IMPORTANT LINKS:  All the COTH Washington International  coverage  |  What You Need To Know  |  live results/order of go  |  live streaming  |  show website