New York City—Sept. 23
When Jimmy Torano drove Day Dream into Gladstone, N.J., for the horse inspection for the Rolex Central Park Horse Show, he wasn't even sure he'd have a chance to compete the 8-year-old gelding here.
"He came out of the American Gold Cup [N.Y] pretty well, which is why I called [International Equestrian Group and RCPHS founder] Mark [Bellissimo] and Michael Stone to see if there was an extra spot," said Torano, who owns the horse with his wife Danielle Torano and Isalou Inc. "I brought him and jogged him even though I wasn't in, which was what they told me to do. Someone dropped out, and I came in. He's a very brave horse. I wasn't worried about the venue or lights."
But despite being the last man entered, Jimmy and Day Dream jumped two clear rounds to win the $216,000 Rolex U.S. Open Grand Prix CSI*** over New Zealand's Sharn Wordley (Barnetta) and Ireland's Conor Swail (Cita). Ten pairs went into the jump-off out of the 34 starters but only the top two were clear there, and tonight's classes were watched by a sold-out crowd in New York City.
"I didn't think I was going to come in and win the class," Jimmy said. "They have a top group of competitors here. I can't say enough about the event though. Riding under the lights is unbelievable, and it's a great event; the footing is spectacular. I can't say enough about this event. If we had more stands and bleachers here, we'd fill them. I saw a little girl and her mother outside who were dying to come in, so I cheated and gave them two wristbands. Sorry, Mark."
Watch Jimmy's winning round:
Wordley also finished second in last year's RCPHS feature grand prix class with Barnetta, but he wasn't feeling much disappointment at playing bridesmaid again.
"I'm not happy. I'm ecstatic," he said. "Barnetta is very consistent—he's not the fastest, but he does clear rounds. My strategy was to go clear in the jump-off and then hope everyone else has a rail down. With 10 in the jump-off, I wasn't sure that plan would work, but [our time] held up."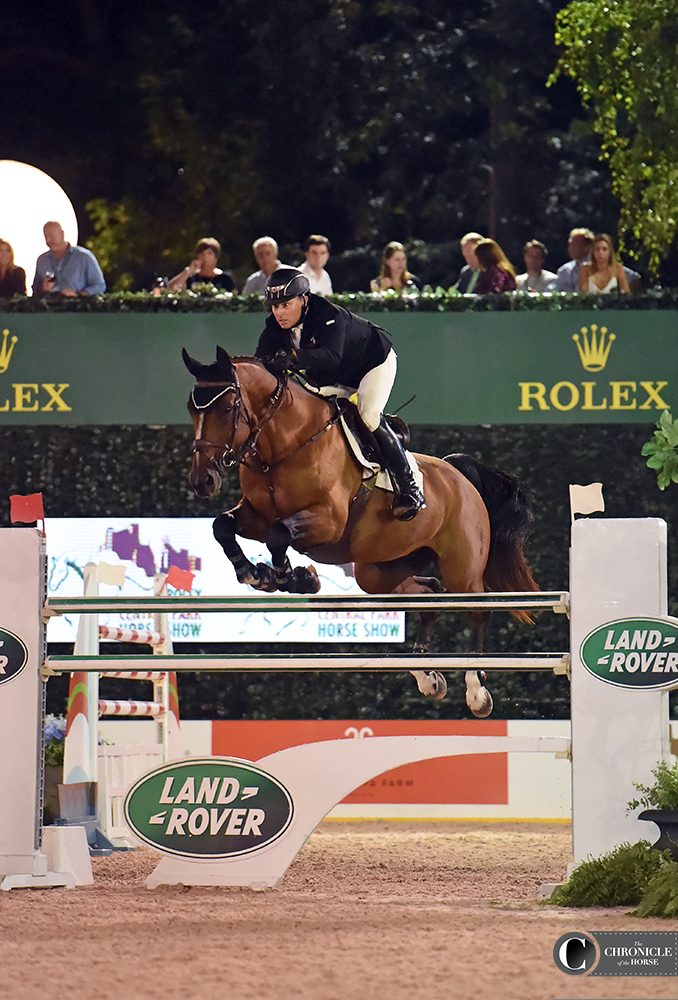 Sharn Wordley and Barnetta. Photo by Lisa Slade.
As for Swail, he was also thrilled for his clear round over Guilherme Jorge's first track, though he survived a dodgy moment at the last fence, a tall panel heading into the fence.
"It was a little scary there," he said. "She was on the right lead, and I just wanted to keep her out and get her nice and straight. She thought we were supposed to go past it. Thankfully we got together just in time to jump the last."
The pair had one rail down in the jump-off, but they were the fastest of the six jump-off 4-faulters.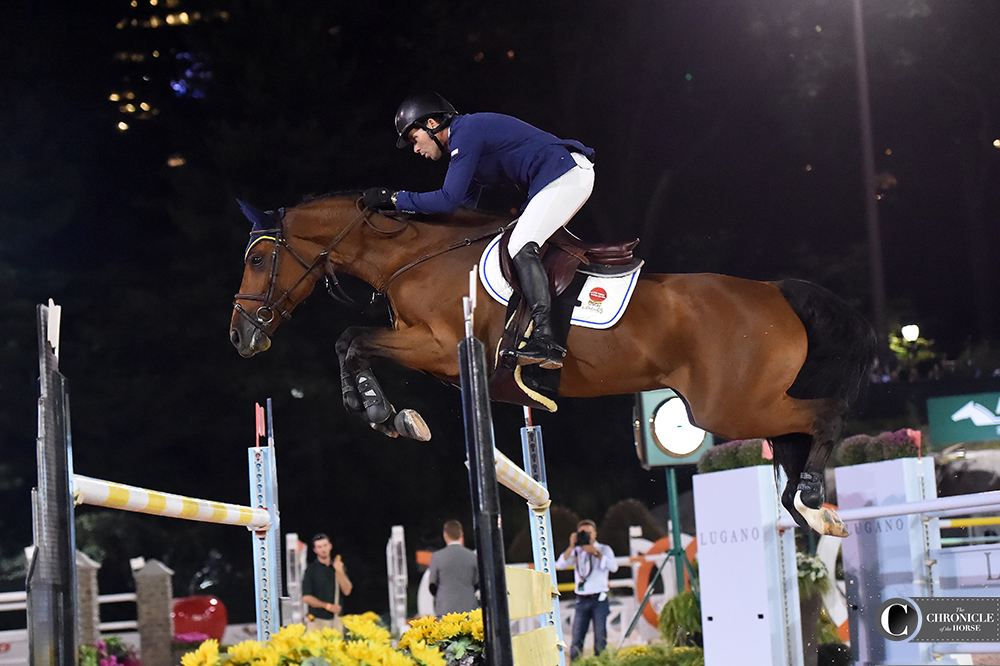 Conor Swail and Cita. Photo by Lisa Slade.
"She's so careful that I never think she's going to knock anything down," said Swail. "I felt I needed to be very fast because I had a couple of top guys behind me with fast horses, so I cut in very tight, and I probably needed to square up my turn slightly better to that fence. I took a risk, and it didn't pay off. But congrats to Jimmy. He went around on a young horse and did a super job."
Other top pairs in the jump-off, including speed demons McLain Ward on HH Carlos Z and Kent Farrington on Creedance, pulled single rails.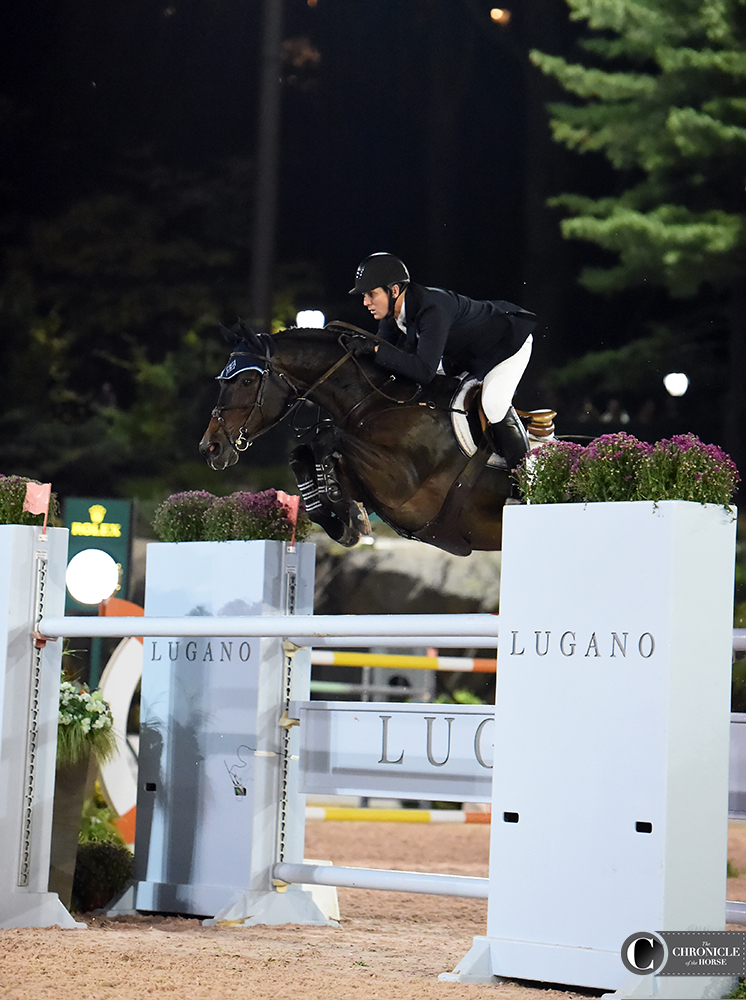 McLain Ward and HH Carlos Z finished fourth. Photo by Lisa Slade.
"Mark and Michael gave us one spot, and I gave it to wife Danielle [Torano] because I think her horse was further along, but I still really wanted to come ride," said Jimmy. "It was one of those things that was just meant to be."
See full results on the Rolex Central Park Horse Show website, or check out a gallery of photos from the evening.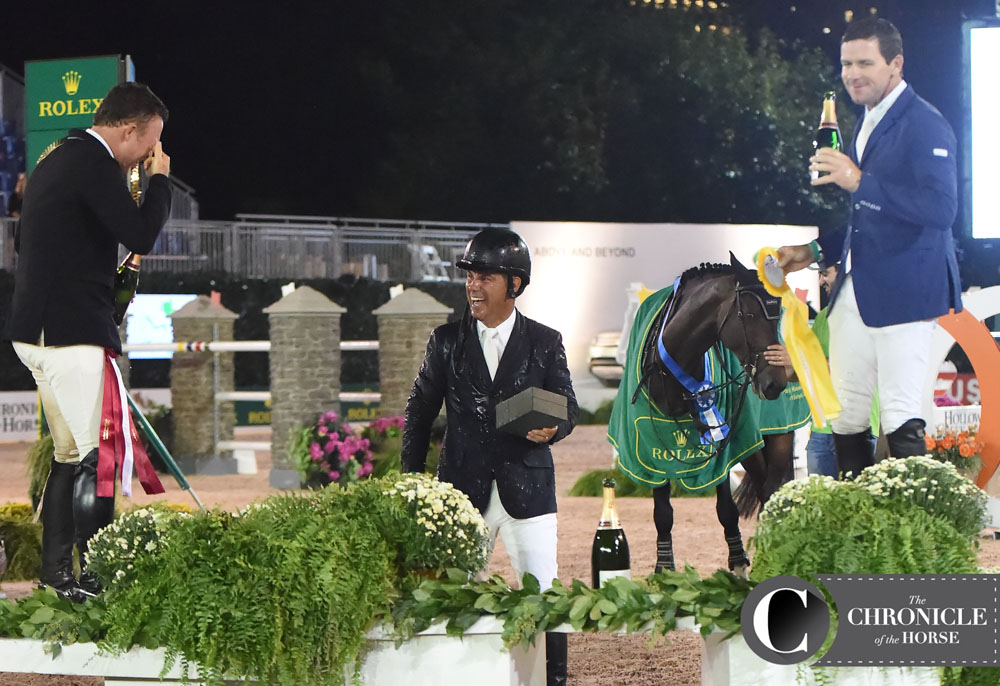 A champagne party on the podium. Photo by Ann Glavan.