So cross-country day and the rest of the eventing for the 2016 Olympics is in the history books. The form books however are in ripped piles of paper on the floor!
The course set by Pierre Michelet certainly threw up some big questions! You can see the COTH reports for the full rundown but USA and my home team GBR well… We can't win them all.
Another crack of dawn start—I'm now well acquainted with 5 a.m. I always thought there was only one 5 o'clock; who knew!???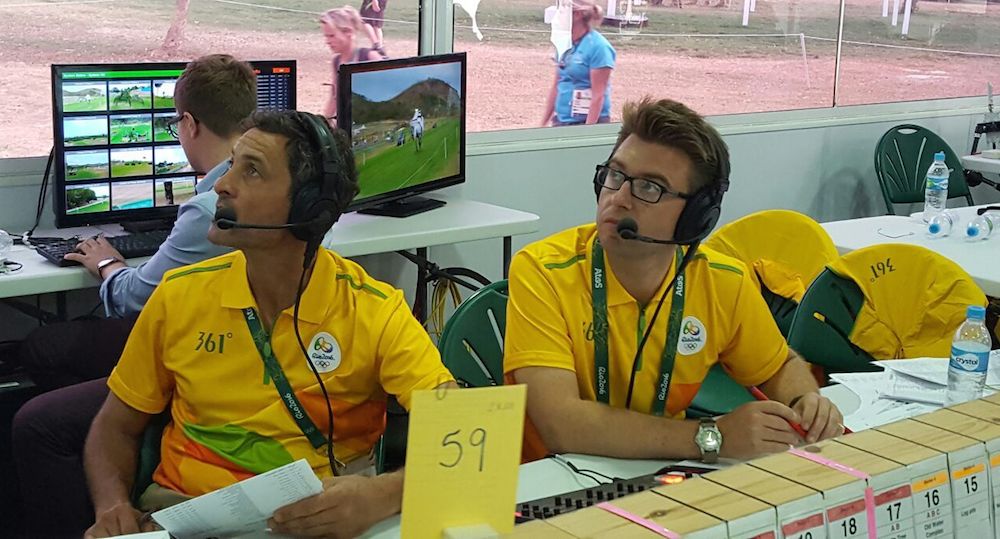 That's me, on the right, with my co-commentator on cross-country day, Marcelo Tosi.
My team of commentators really gave it their best shot, considering I was the only person in a team of four who had actually commentated on cross-country before, let alone at a championships. However Marcelo Tosi, one of our Brazilian voices, had ridden in three Games including the last two, so he knows a thing or two.
The whole team dug in and coped admirably but nothing prepares you for the pace at which information comes at you; either on the bank of TV screens that are tracking the riders (bearing in mind there can be three horses on course at once) and the fact we are flanked but the Ground Jury and Technical Delegate.
In front of us were the plotters guiding us through the very technical "wooden blocks" on top of a board showing the course. You can see how this process was run initially in the old days by crusty old colonels, in the English Shires, as this runs with military precision, like Churchill or Eisenhower bent over a mock battleground shuffling tanks and regiments.
Sadly the days of probably a bottle of whisky for fortitude on the table and gentlemen with moustaches that you can hang your coat on are long past. Now it's Hawk Eye tracking camera technology (as used at the tennis) to analyze fences and errors. They can spin back on any horse, see the incident from several angles, run in slow motion and generally do lots of clever tricks to let the Ground Jury make a well informed decision.
The dressage riders trotted up (OK! jogged in U.S. speak) after the cross-country completion and I have to say most looked in fine fettle (though I confess to only really paying attention to the Brits). The jumpers are even roaming around now in their track suits—some more sporty than others!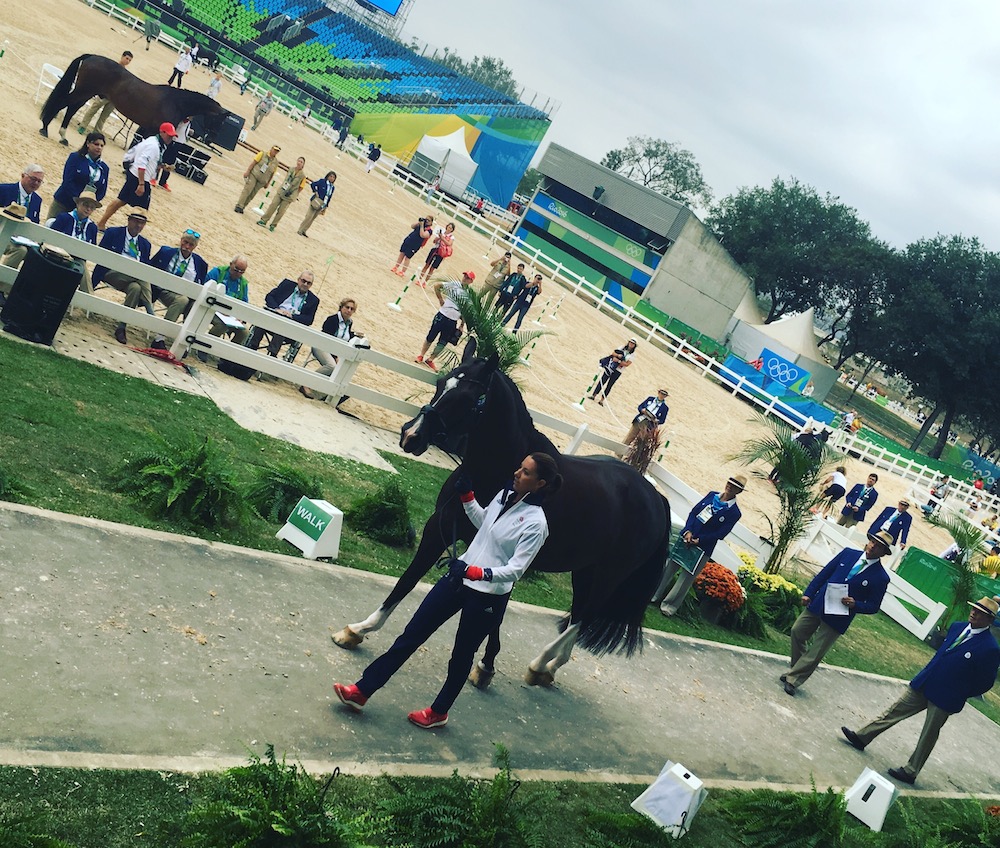 That's Charlotte Dujadrin and Valegro at the trot-up!
The whole equestrian world has made it to the Rio party now and the place has a friendly feel, as all the disciplines meet but in a few days it's goodbye.
Steven Wilde got his start in commentating in 2001 and has gone on to announce and commentate at some of the world's biggest venues, in all the Olympic disciplines. His voice has been heard at Hickstead, Blenheim and Barbury Horse Trials, and the 2012 London Olympic Games. He grew up in the sport of show jumping, as his mother was an international rider, and he's been successful at at organizing shows as well.
Read more about Steven in his introductory blog and read all his blog entries.