Long Beach, Calif.—Sept. 30
Kent Farrington left the Rolex Central Park Horse Show disappointed. He and Creedance missed out on a big win when that horse pulled a rail in the jump-off of the $216,000 Rolex U.S. Open Grand Prix.
"I haven't been happy with the control," said Farrington. "He's a small horse so he has to be fighting in the ring. It's a fine balance between too much control and him running away with me."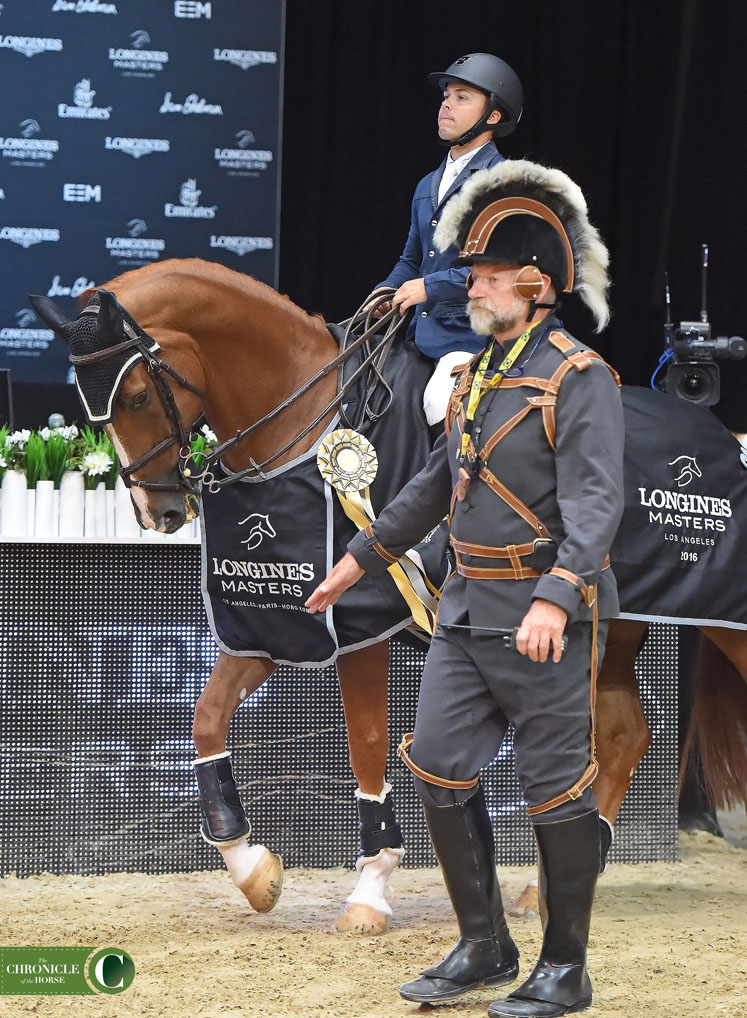 Ringmaster extraordinaire, Pedro Cebulka, escorted the winners into the ring. Photo by Mollie Bailey.
So a week later, on the other side of the country, Farrington swapped bits from a short-shanked pelham with a converter to a slightly longer shanked one with two reins, and that made all the difference. Today he outran three other riders in the jump-off of the $55,000 Champagne Baron de Rothschild Trophy to earn the top check. He outran Jane Richard Philips (Pablo de Virton), Steve Guerdat (Bianca) and Emanuele Gaudiano (Caspar 232) who finished second through fourth respectively.
Farrington has been developing Creedance, a 9-year-old Dutch Warmblood gelding (Lord Z—Camantha, Notaris), over the last two years, and it's paid off most recently with wins at St Moritz CSI***** (Switzerland) and Brussels CSI***** (Belgium).
"He's always been careful and always been a winner, basically—he was just out of control," said Farrington. "It's just taken some time to put it all together. He's finding his way and really stepped up to be a top horse for me. I'm excited about the future."
When asked how he felt about his No. 2 spot on the Longines FEI World Ranking list Farrington didn't feel too eager to push Christian Ahlmann out of the top spot.
"I'd like one time in my career to be No. 1, I think that'd be great, and that'll happen all by itself," said Farrington, Wellington, Fla. "I've always said I try to focus on what's right for my horses and I try to win the big classes. My own mentality for the sport is I'd rather win six big grand prix in a year and be No. 4 in the world than to be second 20 times and be No. 1. I like to win. I take risks to win and I've never really been about chasing points to be on a ranking; it doesn't have that much meaning to me."
Farrington joked that when McLain Ward sat on top the world rankings for a month this spring he asked his friend if Nike called offering a big endorsement contract.
"When that didn't happen I lost interest," he quipped.
The "Circle Of Death" Doesn't Stop Nassar
Before the $95,000 Longines Speed Challenge even started, there was no doubt where the biggest problems would be.
Course designer Uliano Vezzani set a special challenge: six fences and a few course decorations that formed a circle in the middle of the ring. Riders had to traverse the 11-meter in diameter "circle of death" twice, and each time they had an option of two fences to take out of the circle. One track, set on a slight bend, allowing for a tighter inside turn to the next fence and the other path rode straight, but forced riders to take a longer route to the next fence.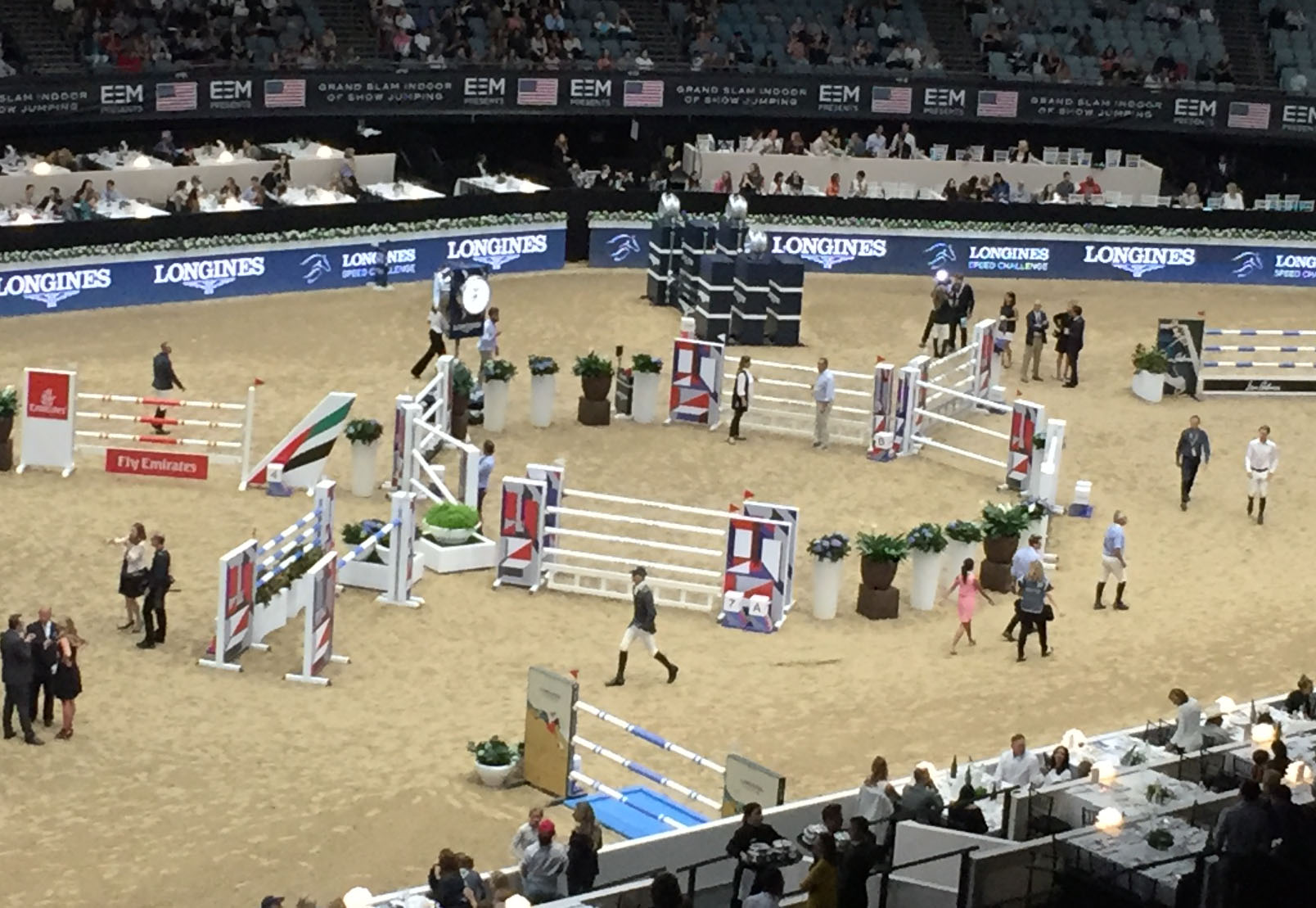 Course designer Uliano Vezzani set a unique "circle of death" for the Longines Speed Challenge. Photo by Mollie Bailey.
Most combinations went for the shorter route, and it backfired for some with refusals, and it Philip Houston's case, a fall from Loewenherz. Those who stopped in the middle of the circle had the unenviable task of jumping out of the tight space with nary any room to work up a good canter.
"It was difficult," said Nayel Nassar, who won the class on Lordan. "I think the horses got really confused. I think you really had to draw a straight line to where you were coming out, and I think you had to be really aggressive coming out. My biggest fear was that the 2 [strides] would get too long, especially that second double. But if you really rode straight and were really confident that they have to jump out of this little circle you got out of it."
Nassar, San Diego, set the pace nine horses into the 30-horse class, and riders went for broke trying to catch his speedy time. As the leading rider he had to watch his competitors try to beat him from a special chair set on stage next to the ring, where an announcer would occasionally inquire how nervous he was feeling. And when the last horse landed well over his time Nassar finally broke into a giant smile.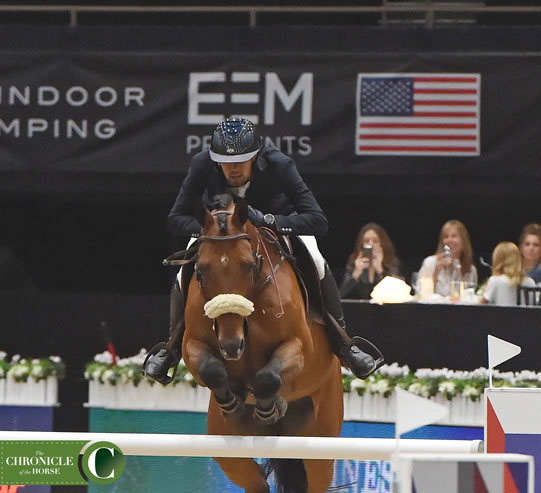 Nayel Nassar and Lordan got back in the groove with a big win in the Longines Speed Challenge. Photo by Mollie Bailey.
Nassar just got an invitation to the Longines Masters of Los Angeles three days before the competition, but he didn't hesitate. Last year he couldn't compete because Lordan was out with an injured stifle and he didn't have another mount ready to step up. But after taking his time rehabbing the 12-year-old Hanoverian (Lordanos—Lamona, Landor) the horse is fresh and feeling ready for Sunday.
Nassar decided to compete the horse, who topped the Zoetis $1 Million Grand Prix (N.Y.) at HITS Saugerties in 2013, in the speed class as a warm up for Sunday—and he certainly wasn't planning to take home a new Longines watch for his trouble.
"He doesn't get to jump 1.45 meters very often so I thought it would be nice for his brain to do a smaller class for once, and put the pieces together as the week goes on," said Nassar. "To win this class wasn't the point at all!"
Check out more photos from the class here.
For more news and analysis from the Longines Masters of Los Angeles, check out the Oct. 17 issue of The Chronicle of the Horse.