Harrisburg, Pa.—Oct. 20
Caroline Ingalls remembers when showing at the Pennsylvania National Horse Show felt a lot more stressful than it does this year. The 31-year-old first came to Harrisburg as a junior to compete in the USEF Hunter Seat Medal Final, but didn't return again until 2021 when she rode Concerto to the amateur-owner hunter, 18-35, reserve championship.
"During the Medal you come, and you have one round to do, and you're one of 200-something riders," she said. "It was always such a big mental challenge as a junior. It's fun to come back and do the hunters and have a few more classes to do and have a chance at getting good ribbons. It's been really fun to do that as an adult."
Today she bettered last year's performance. With three blue ribbons and a second she and "Bolo" earned the amateur-owner, 18-35, and grand amateur-owner hunter titles. Martha Ingram and Quimby took reserve in the amateur-owner hunter, 18-35, division.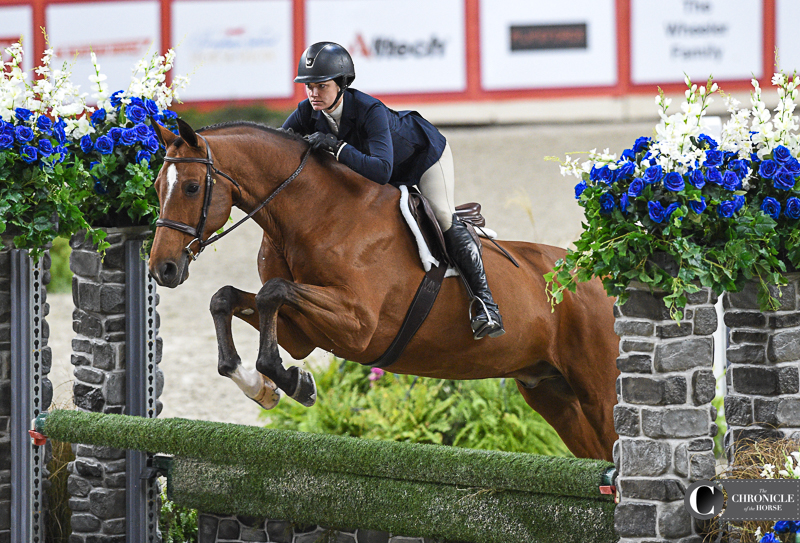 "This is our first show back East this season, so I really didn't know what to expect coming in, what kind of horse I was going to have," said Ingalls, of Rancho Santa Fe, California. "He just came in yesterday and just nailed it. We were having a great connection, and he felt really, really good. He loves coming to indoors. He just kind of rises to the occasion every time he comes. It's kind of like the scarier the ring, the better he does."
Ingalls purchased the 11-year-old Westphalian (Cathanos—Chevelle La Feme) as a 4½-year-old with the goal of making him an equitation horse. They dabbled in the hunters to get him more ringtime and found that's where the gelding shined.
"He feels like a sportscar sometimes, and sometimes he's a little too sensitive," she said. "Just great with his lead changes. He's always looking where to go next. I just always feel completely at one and in sync with him, and he's like an extension of myself sometimes. He gives me so much confidence going into a big scene. I've just completely turned into a much better rider having him in my life."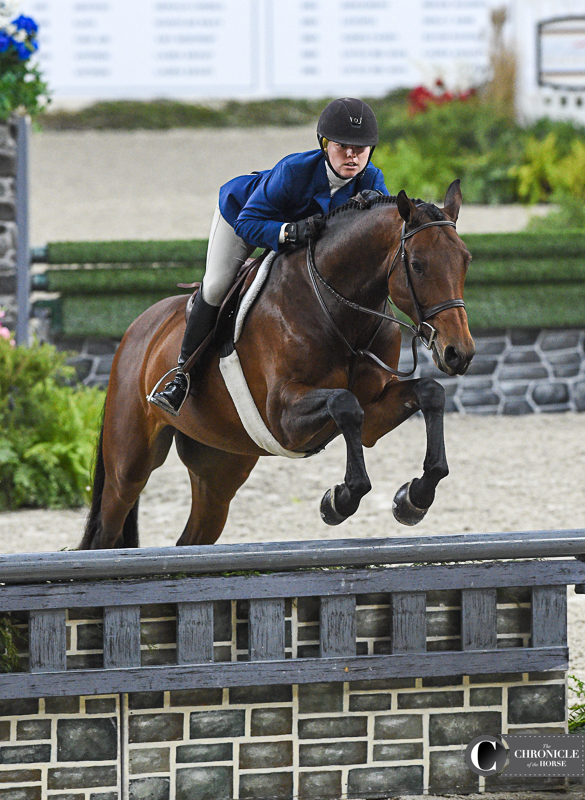 Jamee Crawford took the grand 3'3″ amateur-owner hunter title with Churchill, who is deaf. (You can read their story here.)
The Perfect Fit
With a busy "real-world" job as a thoracic and cardiovascular surgeon, Brad Wolf doesn't get to ride as much as he'd like.
"Work is hard," he said. "That's why I do the 3'3", because I really don't get many chances to ride except when I come to the shows. I ride a little bit at home. I have practice horse, and I ride with Dave Pellegrini a little bit back in Memphis [Tennessee], then I meet Tom [Wright] at the shows, and that's really when I get most of my riding, so it's hard. I said I'll just stick with the 3'3″s, and it's been good for me. It's been a great division for that because you can kind of make some mistakes when you're a little rusty, and you don't really get yourself hurt. If I made a mistake at 3'6" it could be treacherous."
When he does get to show, Wolf relies on Sebastian, who he describes as "one of my favorite horses that I've had for me."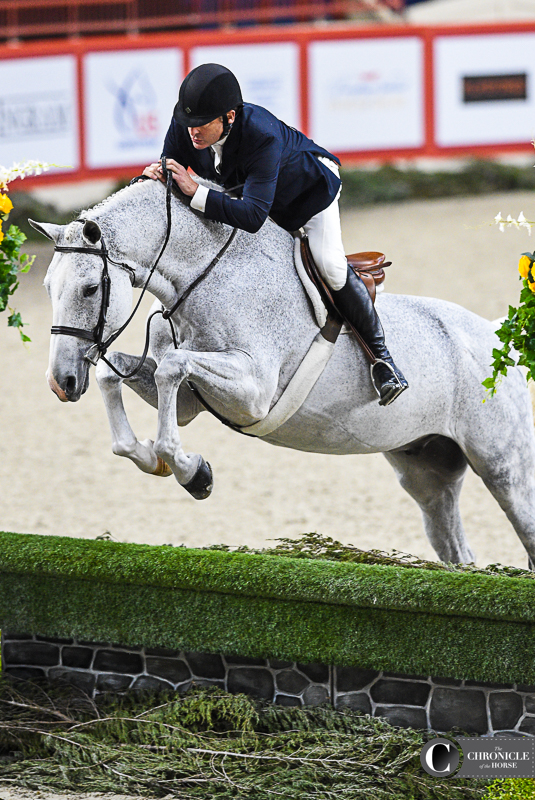 Wright first spotted the 12-year-old Holsteiner (Cancara—Luna XVII) about four or five years ago and told his trainer Tiffany Morrissey to call if he was ever for sale. When she made that call in 2020, the pair were quick to come try the gelding.
"I saw him and tried him, and we bought him like that day," said Wolf. "I loved him. He's just my perfect ride. So easy to find the jumps and so sweet. And he's a good mover, which is always nice.
"He's just the easiest," Wolf added. "He's sweet. He never does anything wrong. He's almost like a Mercedes or Cadillac. You really don't have to do anything. You just sit there and he does it for you. I can't say enough good things about him."
Sebastian lives with Wright in Wellington, Florida, and Nashville, Tennessee, and while Wolf comes up to ride at home as his schedule allows, he lets Wright's team keep the gelding in top condition. At Harrisburg, all the pieces came together to win the 3'3″ amateur-owner hunter, 36 and over, championship over Chris Brown and Newport.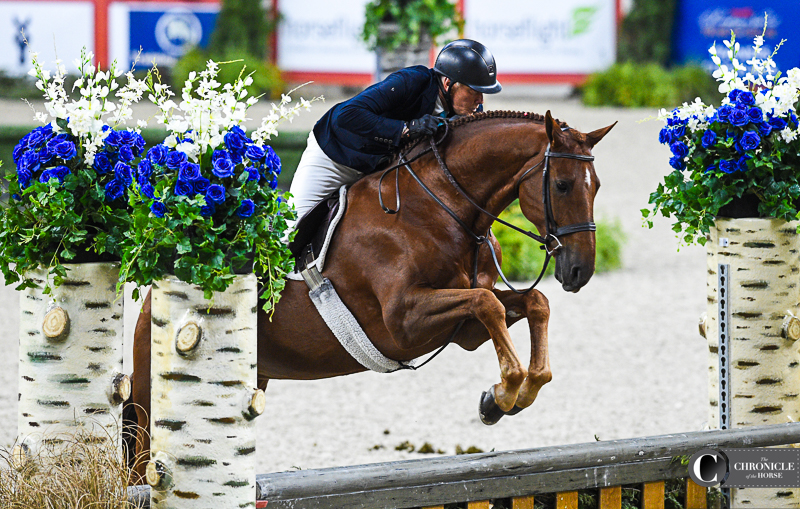 "I squeaked it out," he said. "It's been really good. I started out great. I got a second in the first jumping class, and then the handy I was having my best handy ever and then I had a little bobble heading into the two stride, messed that up. He won the under saddle which was awesome. And I thought he was great today in this class, but I was a little tight into the outside line, and he had a little rub, but the points were kind of spread out, so I ended up champion. I was really happy with him all week. He was great. Any bobble was all me."
Putting It All Together
Katie Robinson has a lot of new things happening in her life. At the beginning of the season she started riding with top hunter rider John French, and then during Week 6 of the Winter Equestrian Festival (Florida), she purchased a new horse: MTM Plus One. While it's been an adjustment, they've ended their season on a high note with the amateur-owner hunter, 36 and over, championship, over Irene Neuwirth and Juan Carlos.
"He was so good," she said of "Jordan." "John did him for me in the 3'6″ [greens], and he was a little shell-shocked, but obviously John knows what he's doing so he got him perfect for me, so I was able to slip on and have a great show. It was really fun. He's a lot of fun."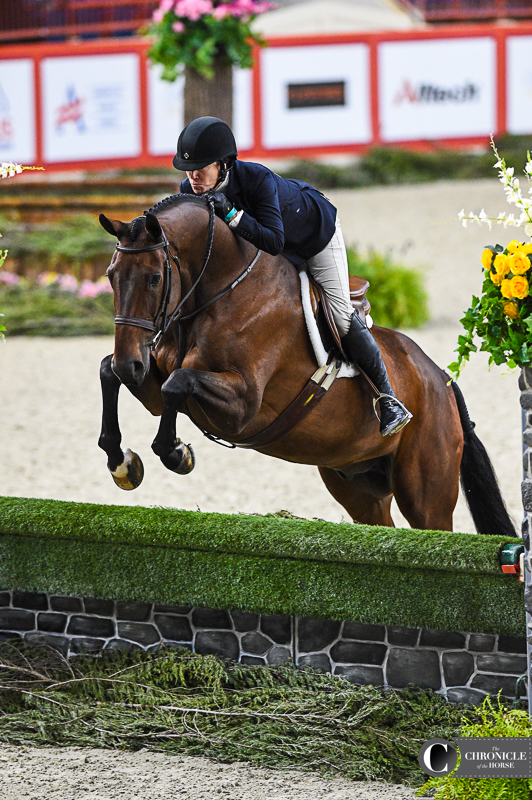 It is the 9-year-old Westphalian (Captain Jack—Cantonia) gelding's first indoor season, and while they had good rounds at Capital Challenge (Maryland), small mistakes kept them out of the top placings.
"He's kind of silly and very sweet," she said. "He's young, so this is his first indoors, first season doing 3'6", and he's just a really good boy. He never tries to do anything wrong. He tries his hardest. And he's just a little bit shocked I think the first few days when he was here, a little bit out of his element, but he's a really, really good boy."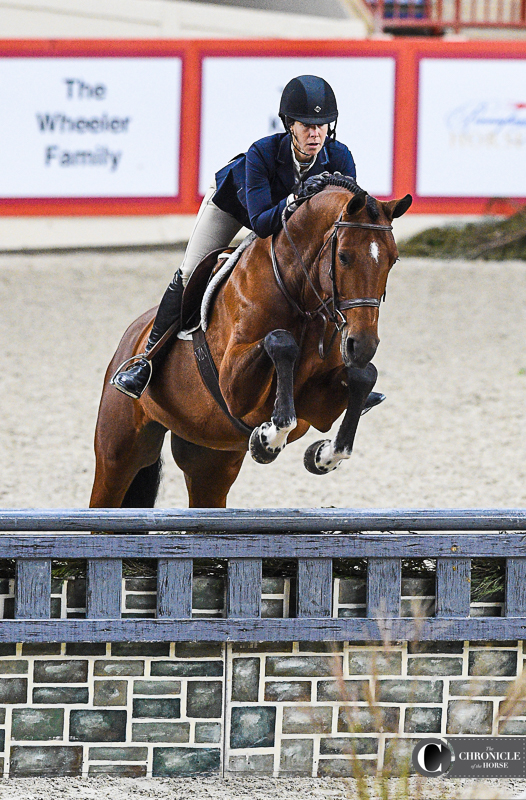 Robinson, Wellington, Florida, described French as being a calming presence, especially when Jordan has his green moments.
"I just love watching him ride, and I try to copy him as much as I can, but it's kind of impossible," she said. "He's so calm. Even when [Jordan's] spooking or being silly it was never a big deal."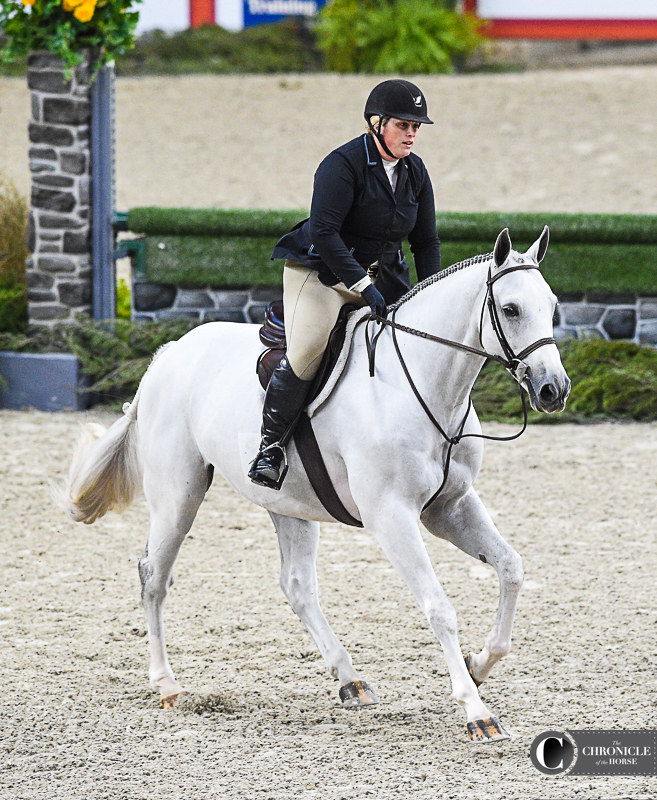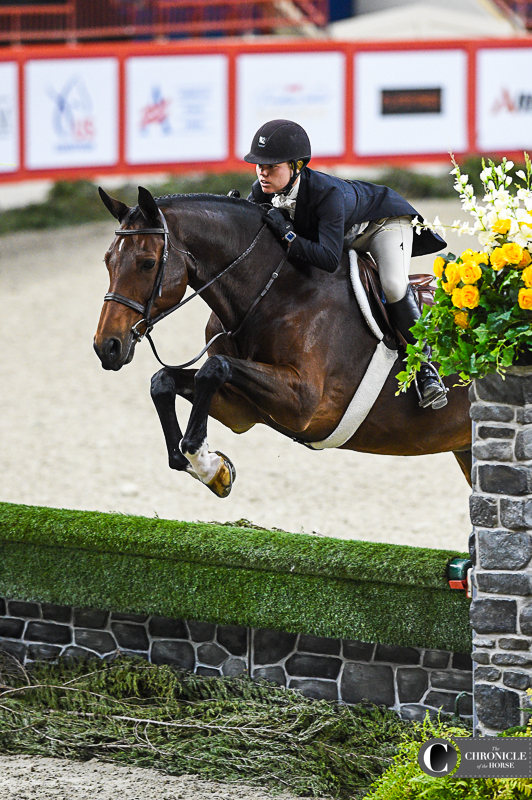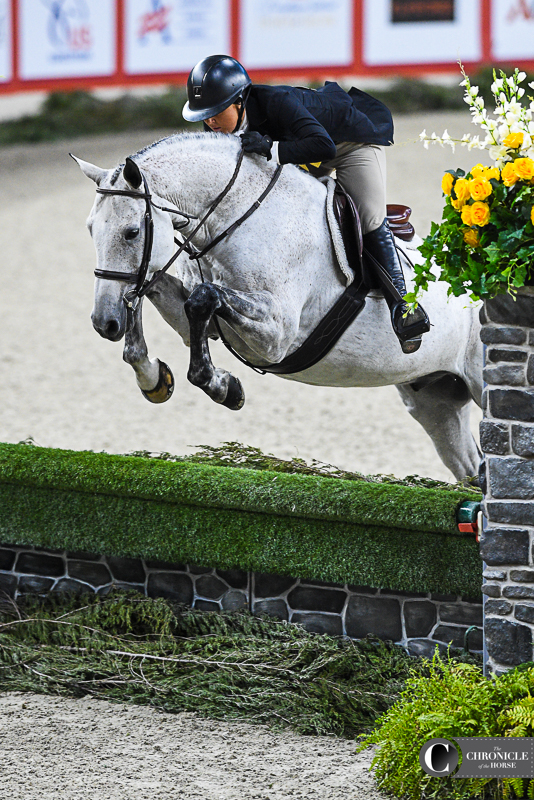 Find results here. Want more Pennsylvania National? The Chronicle will be on the scene through grand prix night bringing you photos and stories. Plus see more analysis from the Pennsylvania National in the Nov. 7 issue of The Chronicle of the Horse magazine.