Harrisburg, Pa.—Oct. 20
Where other riders might murmur a reassuring word when their horse starts to get a little tense in the corner or look at the scary flowers in the ring, Jamee Crawford can't rely on verbal aids. Her 8-year-old amateur-owner hunter Churchill  is completely deaf, and riding him has forced Crawford to rely on different methods to keep him calm.
"It's a little bit that you don't know what you have sometimes with him, but if you're calm no matter what he does, then he stays calm," she said. "It's just no matter what—spinning and whatever he wants to do, you still have to pet him and keep going. And as a rider, that's forced me too to really take a breath in the ring especially.
"Everybody's always like, 'Oh he doesn't have to have ear plugs; it's got to be great,' but it's actually opposite because all of his other senses are heightened because of it,' " she added.
On Thursday, their partnership was on display as the pair won the 3'3″ amateur-owner hunter, 18-35, championship and took the grand 3'3″ amateur-owner title Thursday at the Pennsylvania National Horse Show.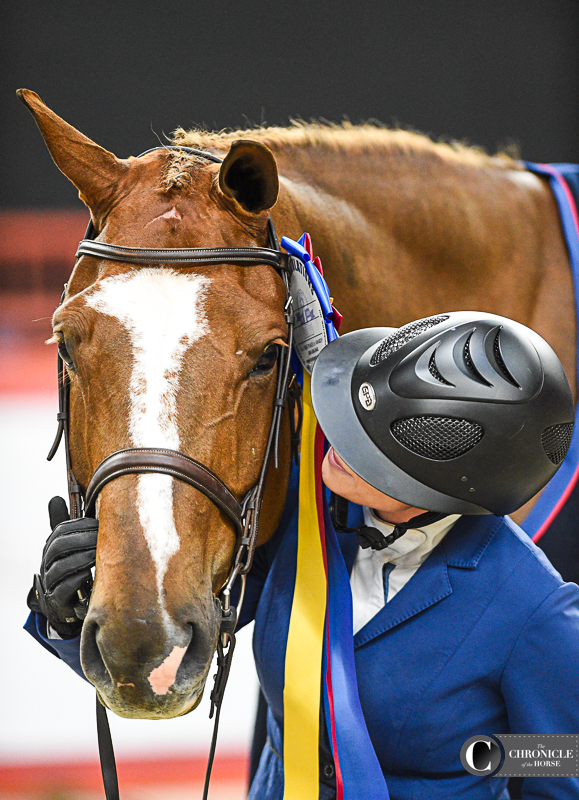 Crawford purchased the Canadian Sport Horse gelding (Bustique—Margaux De Quidames) during the Winter Equestrian Festival (Florida) this year from Brandon Gibson of Select Sport Horses.
"The people we bought him from, Select Sport Horse, they did a wonderful job," she said. "I think also bringing him up, because I could imagine him being very challenging to break and all of those things. They really did a great job. I think we took it to the next level, but the foundation they gave him was really solid and reassuring, and that made our life a lot easier too."
"Floppy" was born deaf, and Crawford said that's part of what drew her to him.
"You look at him, and you know that something's different. I guess for me it was a personal challenge where I looked at something that was maybe a flaw and saw it as something really special about him," she said. "And he's really, really been everything and more with regards to what I was drawn to. That flaw is what makes him stand out, and that's what also makes him rely on me a lot as a rider. That's something that I think as horsemen we really strive to feel with our horses, and that's something with him that's really, really exaggerated—more than any other animal I've been around."
To help keep Floppy comfortable, Crawford relies on a whole team. Her other 3'3″ amateur-owner hunter Coldplay is his best friend, and Brady Martino acts as his emotional-support person. Trainer Peter Pletcher has helped her bring the polish to their performances.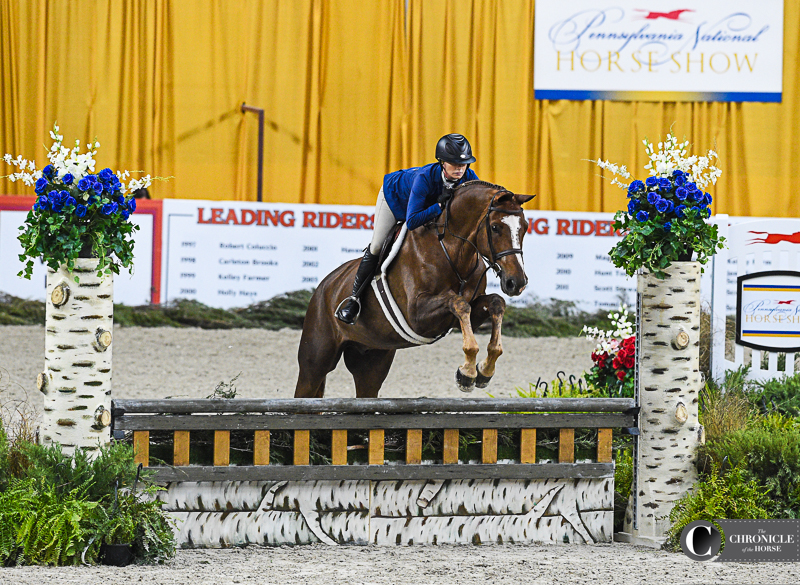 "I've always enjoyed developing them and bringing them along, and I try to come back here as much as I can," she said of the Pennsylvania National. "I love it back here, and Harrisburg is what we all strive for as hunter riders. I try to come whenever I have something at the time that could perform, but it's not always possible."
Crawford, 35, grew up in a horsey family. While her mother rode English, her dad did ranch riding in El Paso, Texas, so she dabbled in both as a junior. Even now, while she is based in Wellington, Florida, her show horses spend time on the ranch and are exposed to a bit of everything.
"Our young stallions, they're required to hang with everything—goats, everything—and that's where [Pletcher] is the master of that, too. He's a horseman. So that side of that we really try to instill even in our show horses—to still be horses at the end of the day."
Crawford has been riding with Pletcher since she was a child and still meets up with him at horse shows. She keeps her horses at home and balances her riding with caring for her three children. As a junior, she always rode young horses and developed them before selling, and it's a practice she's held onto as an adult.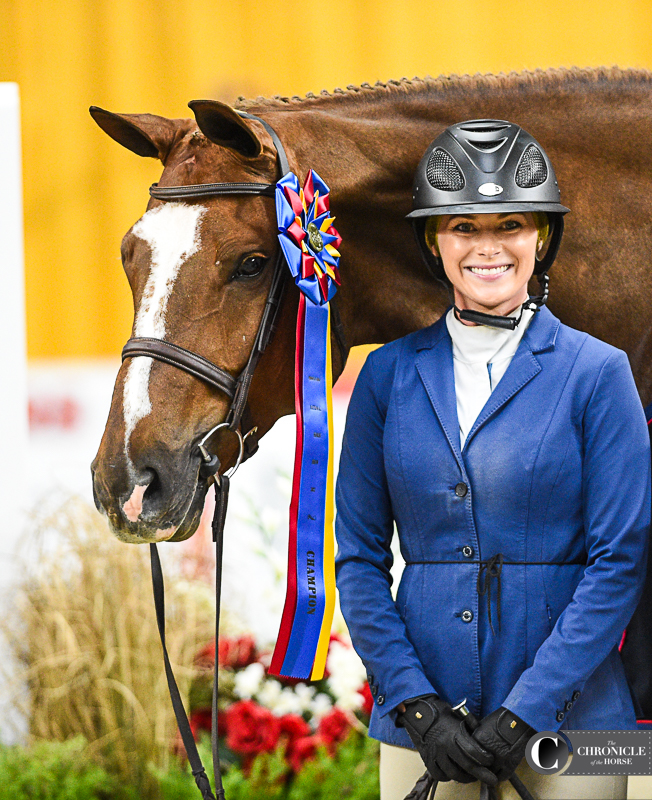 "Once they're ready to kind of graduate on, then we eventually sell them," she said. "And then there's the few that that stay forever, like Floppy. He's special. There are exceptions, but for the most part that's kind of what it's turned into."
Find results here. Want more Pennsylvania National? The Chronicle will be on the scene through grand prix night bringing you photos and stories. Plus see more analysis from the Pennsylvania National in the Nov. 7 issue of The Chronicle of the Horse magazine.