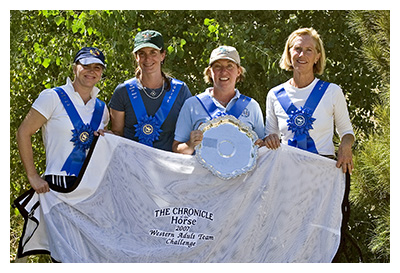 She attends the ATC and helps her Area VI teams to two blues in California.
Sue Church could have just as easily spent the weekend foxhunting with Santa Fe Hunt or riding at her
teammate Linda Paine's Kingsway Farm in Temecula, Calif.
But leaving the Twin Rivers Horse Trials, Sept. 28-30, in Paso Robles, Calif., with two blue neck sashes strapped respectively around the withers of Canadian Spy and 5 O'Clock Somewhere surely provided a bit more fun.
While Church was a quarter of the victorious training and novice teams in The Chronicle of the Horse/USEA Western Adult Team Challenge, both wins were truly team efforts.
Paine, who joined Church on the novice team, bred two of the horses competing on the Area VI B team and led the way with fourth place individually. With Church sixth and teammate Alexandra Eastman fifth, the Area VI B team clinched the win.
Paine bred Five O'Clock Somewhere, more affectionately known as "Chunky," at Kingsway Farm, as well as her own 11-year-old, Thoroughbred mare, Swiss Detail.
Church became reacquainted with Chunky before Twin Rivers after a short time apart.
"We bred him, and Sue rode him for a while," Paine said.
Church added, "He got sold, but there wasn't a love connection. So Linda called me and asked if I'd like to ride him this year, and we found our connection. He's very happy back at his original home."
Swiss Detail finished on her dressage score to prove she's just as avid an eventer as she is a foxhunter.
Paine's husband, Terrel E. Paine, is the Master of Foxhounds and huntsman for the Santa Fe Hunt. Whether "Swissy" is in the field, in the ring, or on course, "she takes good care of me," Linda assured.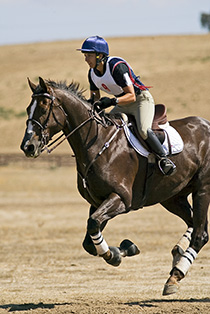 McKinlaigh's Making The Move
McKinlaigh has proven himself time and again at some of the biggest international events. But after winning the CIC*** at Twin Rivers, Gina Miles said he really "earned his boots back.
"He went through a phase when he wasn't being very careful with his boots on, so I took them off," Miles said of his show jumping performances. "When he finally started jumping clean again, he got them back."
The three-star show jumping course took its toll. Multiple rollbacks and narrow turns to tall and wide oxers kept rails falling. But not for Miles and "Mac." The 17.2-hand, Irish gelding left at least six inches between his hooves and each fence.
"I can't even make him touch a rail anymore. He just knows what he's supposed to do," Miles said.
The duo earned their blue after winning the dressage and jumping clear but with time penalties cross-country. One added time fault on show jumping kept them comfortably ahead of second-placed Andrea Baxter with Estrella.
After a safe return from the Pan American Games (Brazil) in August, Mac enjoyed time off after claiming individual bronze and team gold medals. Twin Rivers was his first competition back.
"I had no intention of going fast here. He's already had a great year and went fast in Brazil," Miles said.
She hopes a thorough agenda of training at dressage shows and sessions with Sandy Phillips during the fall and winter can boost McKinlaigh's dressage to the next level.
"I put him back in the double bridle a week ago and he was like, 'What? Collection? You want me to sit again?' " she said laughing.
Miles is focused on the 2008 Olympic Games in Hong Kong next summer. "We've been talking with Mark [Phillips] about preparation options and what to do in the spring," Miles said. "But everything feels good now, and we just want to keep him on target."
One of their other teammates, Lorie Fee riding Dino III, joined the Kingsway Stables pair from Mill Creek in Topanga, Calif., where she works and rides.
Her 6-year-old gelding came from an auction with no papers. "We don't really know what breed he is," Fee said.
Advanced eventer Robyn Fisher, who is a trainer a Mill Creek, bought Dino at the auction.
"They originally wanted too much for him so he got taken back to the trailer," Fee remembered. "After thinking about it, Robyn chased after the trailer and told them she wanted him."
When Dino arrived at Mill Creek, Fee began training him as a school horse.
"My last horse had just been put down," she said, "so I started training him and had so much fun. I thought he shouldn't be in the school," she added with a laugh.
When the original fourth member of Church's novice team dropped out, a door opened for Eastman and Oxford Mills.
Eastman had double duty at Twin Rivers as she was also the competition veterinarian. She admitted that her biggest fear was letting her teammates down, which, considering her 20-year hiatus from riding, seemed like a rational concern. But the opposite happened—Eastman finished on her dressage score of 39.5.
Eastman had only been back in the saddle two months before the event. But it seemed like riding a bike. She never forgot the riding she did in college. Veterinary school eventually took over, though, as did establishing a surgical facility, Steinbeck Equine, in Salinas, Calif.
Eastman got the ride on "Carlos," a Holsteiner gelding, from Peter Kauhanen a few months ago after he went to college. Even in that short time, they built a solid bond and she noted Carlos' honesty has never faltered.

Like A Second Childhood
While Eastman had to cut her celebration with the novice ATC team short to return to her duties as event veterinarian, so did Church. She and Paine had to hit the road to Reno, Nev., with 14 horses for a hunt.
But before Church left, she had to bid farewell to her other teammates on the winning Area VI A training team. Then she and her 6-year-old Thoroughbred Canadian Spy, who finished fourth individually, were off to the hunt.
Cindi Moravec's Do It Exact was also in a hurry to get back to the stable for treats after the training team's celebration. He disguised his true age rather well.
Moravec has owned the 21-year-old ex-race horse for five years. He competed up to preliminary and was to be sold as a lesson horse thereafter for a hunter/ jumper barn. But then Moravec took over.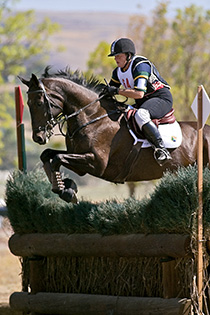 Gillespie's Perseverance Pays Off
It takes a bold personality to handle a horse like Renegade Reno. And Kate Gillespie proved she has that key attribute during the Twin Rivers Horse Trials.
After winning the CIC* on her dressage score, Gillespie admitted that her 8-year-old Dutch Warmblood-Thoroughbred has been a work in progress, to say the least.
Before she bought the "backyard pony" from Grand Junction, Colo., his sale advertisement boasted a résumé full of bucking, biting, rearing and kicking. But he was spunky, and that was Gillespie's style.
"He bucked me off time and time again," she said with a smile. "I bought him four years ago, and several surgeries and injuries later here we are."
Those injuries and surgeries weren't Reno's, yet despite the difficulties Gillespie endured she never lost hope. And after this win, she said she never will.
"He's pretty feisty, but that's what makes the good ones," she stated. "The ones that are on the verge of brilliance and madness are the best as far as I'm concerned."
The 17-hand gelding truly enjoys cross-country.
"He loves to run," Gillespie said, "and to him fences are merely small
hurdles in the way of more galloping."
Gillespie has also tackled her own hurdles. Seven years ago, she ventured from her home in South Africa to visit friends in the United States. When she was offered a job at a barn in Colorado, "I went home, picked up my dogs and moved," she said. "I left my horse, family, and everything in South Africa. I just wanted to ride, and that's what I came here to do."
Now she runs Steffen and Shannon Peters' barn in San Diego, Calif., which affords her ample time in the saddle and first-rate dressage direction with Shannon. She also trains with grand prix show jumper Mandy Porter and cross-country with Hawley Bennett and Jennifer Wooten.
"That's my secret right there," she revealed. "You have to have a professional at each phase."
Porter would have been pleased to see Gillespie's show jumping round with Reno. The pair cleared a tough course that only three of 33 entrants managed to master.
"It was my first clear this year!" she said beaming. "I firmly believe that this horse can go to the top. Just watch. I've got something to prove now."
"It's been like a second childhood for him and for me, and we're both having a great time out here. It's all about having fun and getting to finish," she said. "And we both love cross-country. He blazed around at preliminary speed yesterday, and today he just flew over those stadium fences."
Veteran ATCer Carol Bearden, and her horse, Catch Of The Day, did the same. So well, in fact, they finished first individually.
Now, her name can be engraved on the ATC trophy to join her husband, Chris Bearden, from his team's victory in 1991.
She got the ride on Catch Of The Day, an 11-year-old Thoroughbred, from her friend Jennie Barker.
"She rode him up through novice until six years ago," Bearden said. "He had a few different riders after that until he came to our barn three years ago. She decided to keep him under one ride and gave me his reins. We've been having a blast ever since."
Joy Simon, the youngest team member, brought her 10-year-old Irish Thoroughbred, Willoughby Bay, home from college at Washington & Lee University (Va.) three years ago. While he jumped clean around the Twin Rivers courses, she said he wouldn't be where he is today without the help of trainer Erin Kellerhouse.
"Erin's been able to give him a very good foundation in jumping and help him figure out how to be the best he can be," Simon said. "She really helped us gain confidence."
Though she's ridden for most of her life, Simon only took the leap from western to eventing three years ago after graduating from college. She's now in law school.
"There's no comparison to eventing," she said. "You have to know your horse. You can't just show up."
And of course, "I couldn't have done it without my dad. He's the consummate show groom, sponsor, everything," she added.

They're All Honest
It was a close race in the preliminary ATC. But the Area VI A team members will have their names on the trophy this year.
The squad included Dawn Robbins with Arizona Blue, Whitney Tucker and Maseratti, Ruth Bley aboard Vinny Can Go, and Max Gerdes riding Lucky Teddy.
Bley and Gerdes both got their horses from the racetrack.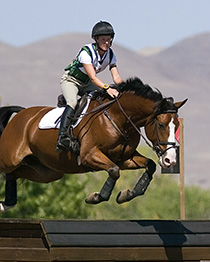 Mesher Takes Over In The Two-Star
Leigh Mesher made good on her ambition to run a two-star this fall with Mar De Amor. Her 7-year-old, Selle Francais gelding snatched the victory in his first CIC** outing, at Twin Rivers.
"This is the best I've ever done at a two star!" Mesher noted. "I was a little bit nervous [for cross-country] because the skinnies are still a little bit tough for him to zone in on. But he came out of the gate and was right on."
Mesher and "De Niro" finished 6 seconds over the optimum time, but their 50.5 penalties was good enough to take over the lead.
Mesher, of Redmond, Wash., was less nervous about their show jumping round. Her ex-show jumping phenomenon did just what most expected and left every rail in its cups.
"Now I've got my fingers crossed for Galway," Mesher said.
She and Mar De Amor will tackle the CCI** this November in Temecula, Calif.
Bley has had Vinny Can Go, a 12-year-old, for five years and described him simply as, "wild! But he tries hard and is honest and we always have fun together."
Likewise, Gerdes has had "Teddy" for seven years. Though he's taken his time learning the ropes of eventing, the 13-year-old is incredibly honest. "It's like riding with health insurance underneath you," Gerdes quipped.
Arizona Blue took Robbins to second place individually. They caught a single rail in the show jumping and finished 0.3 faults behind eventual winner, Anni Grandia and Devlin.
It was hard to guess, however, that Robbins' 12-year-old American Paint-Thoroughbred had behavior problems in his younger years. He lived on a ranch in Texas until he was 6. When Robbins bought him, she took him to Katherine Zins, who trained the rearing out of him and taught him how to jump.
"Now, he's a hard working Texan, and he loves to run," said Robbins, who trains with Debbie Rosen. "He's got more of a Quarter Horse movement so we've been working really hard and trying to get him a little more limber. But he's coming along well."
Maseratti, said Tucker, has a similar work ethic, loves his job, and is a quick learner. Twin Rivers marked his third preliminary start. The pair placed fourth individually.
Tucker trains with Erin Kellerhouse, whose cousin bred the 7-year-old. They send a handful of horse to Tucker's farm in Temecula where she starts them.
"Most of the time we sell them once we break them," Tucker said. "But the good ones we end up buying into the barn. I could tell he would be game to do anything just by how willing and brave he was."

Joshua A. Walker