Whether you're watching this year's USHJA International Hunter Derby Championship from the Kentucky Horse Park, or your desk at the office, you'll want to have someone to cheer for. It's easy to pick out the obvious choices whose names are on top of the money-won standings, and we we're excited to see perennial favorites like Mindful and Jersey Boy compete. But there are lots of reasons to cheer for someone, and with 89 entries set to jog on Thursday, there's bound to be a derby finalist who will suit your personal style.
I've put together a few you won't want to miss, and my coworkers at the Chronicle have weighed in with their favorites as well. Who are you rooting for and why? Tell us in the comments!
For a full rundown of the entries, check out the USHJA International Hunter Derby Championships Preview Issue of the Chronicle, which has our annual roster with photos and fun facts about the horses and riders vying for this year's title. And reporters Kimberly Loushin and Ann Glavan are on the scene in Kentucky—they'll be bringing you updates and photos from the horses and riders in the show ring and behind the scenes.
Horses jog mid-day Thursday, Aug. 13, and the classic round kicks off at 8:15 a.m., Friday Aug. 14. The top horses will return for a handy round starting at 6:30 p.m. You can watch the live stream of the classic and handy rounds at eqsports.net. You have to create a log-in, but the stream is free.

If you're a parent and a rider…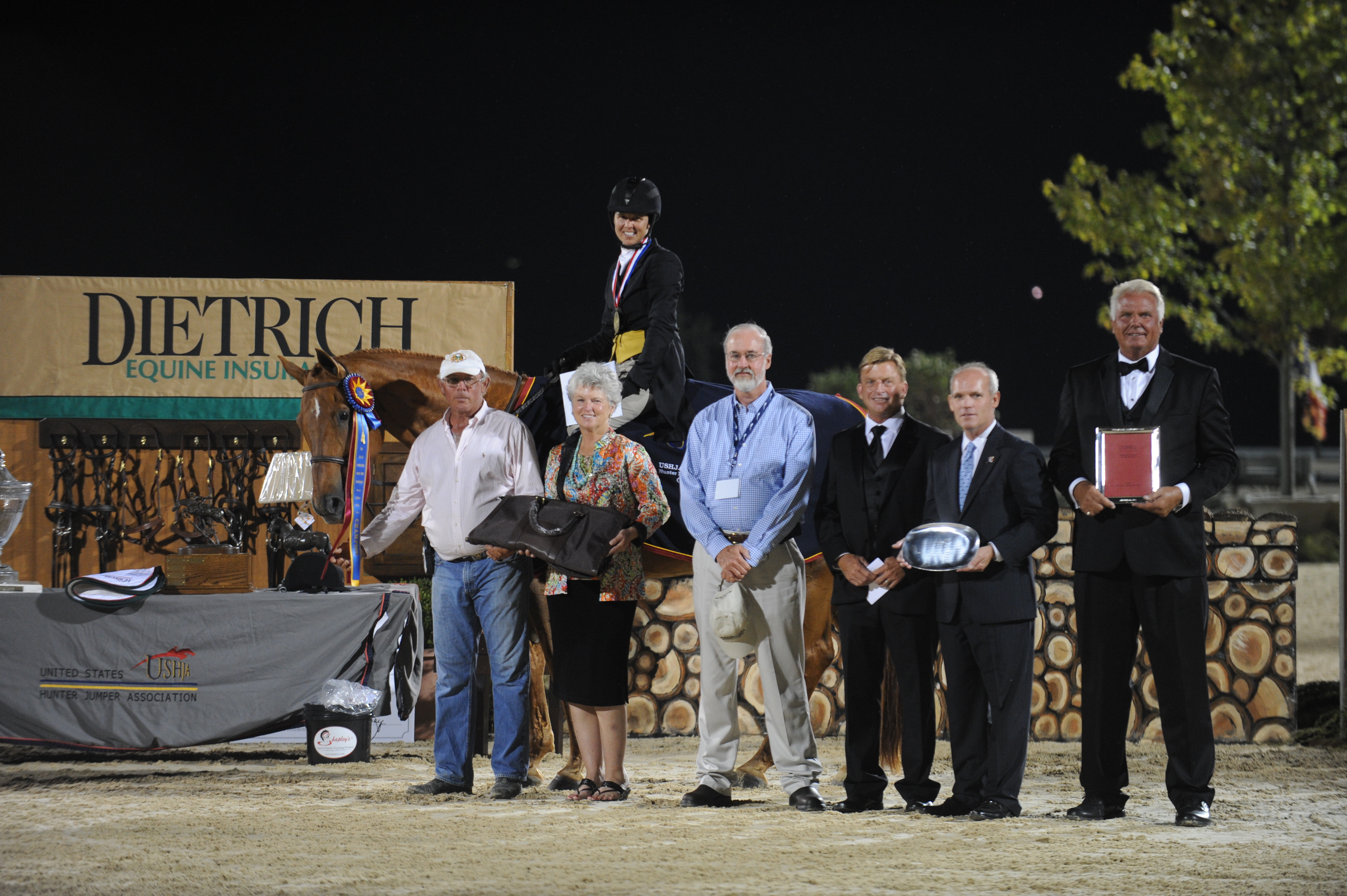 Liza Boyd and Brunello. Taylor Joyce photo.
I'm not sure how equestrian parents manage to find time to get on their horses, let alone wake up in time to hack in the ring after several late night feedings and keep applesauce from being spilled on their shadbellies, but Liza Boyd shows us it's possible. She won Derby Championships with Brunello just months after her second child was born, and they're back again this year. While Brunello's had a light season—he's just shown once so far this year since last year's win—no one knows better than that rider how to make a horse peak at the right time.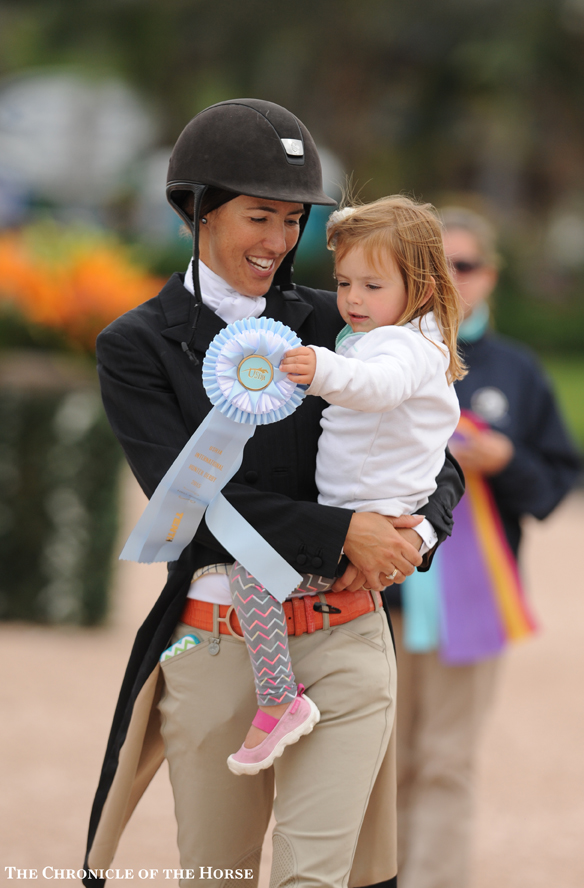 Kim Buzby and Paige Buzby. Mollie Bailey photo.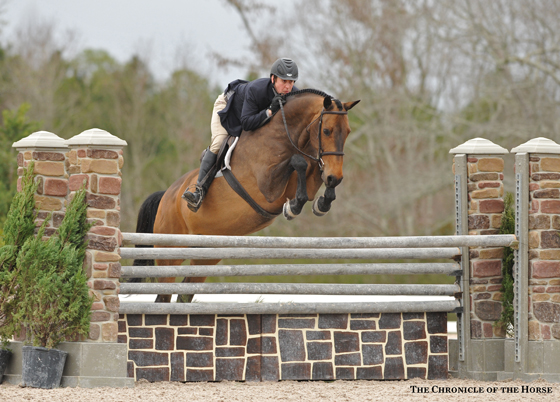 Dan Urban and Cousteaux. Mollie Bailey photo.
And don't forget Kim Buzby, a soft rider who has a lovely partnership with the U.S.-bred championships veteran Fielding. Her 3-year-old daughter, Paige, is already a barn rat, and she has another child on the way. Dan Urban is another one who's riding exhausted; he and his wife have a 2-year-old son, Dylan, and another one the way, and he'll be riding Cousteaux in Kentucky.
If you like a good love story…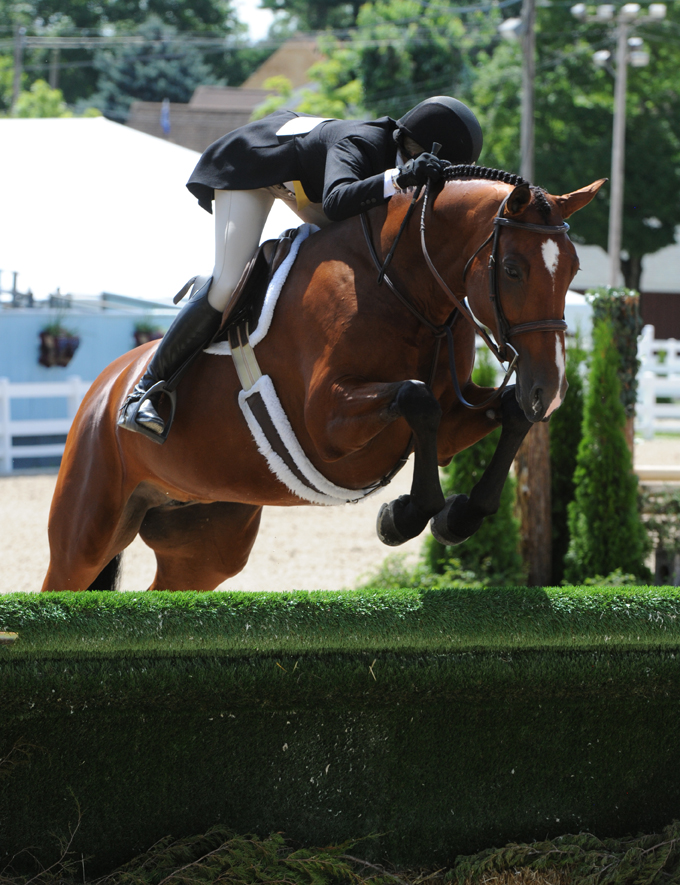 Jennifer Bauersachs and For Love. Cathrin Cammett photo.
Jennifer Bauersachs has quite an impressive resume as a hunter rider, but a big part of her business is sales and training, and she doesn't usually have a horse of her own to campaign in the derbies long term. Her husband Rolf watched her get a bit blue when the derbies rolled around, knowing that Jen wished she could build her partnership for those classes with a special horse. So he bought her a horse of her own, the first one she's had since she's been a junior, and named her—appropriately—For Love.
When I asked Jen if she was heading to Kentucky for Championships a few weeks ago she sounded truly sad that she couldn't go. Sure she had a talented mare, but she had client obligations elsewhere and couldn't make it work. We commiserated for a bit, and 10 minutes after we hung up she texted me back to say she'd changed her mind. She'd pulled some strings, and arranged to have a friend come to Kentucky for Derby Championships to lend her a hand while most of her clients are up north. When her husband heard how much she wanted to go, he agreed to help make it happen too, as his Christmas present to her. Now that's love.
If you know horses aren't the be-all and end-all…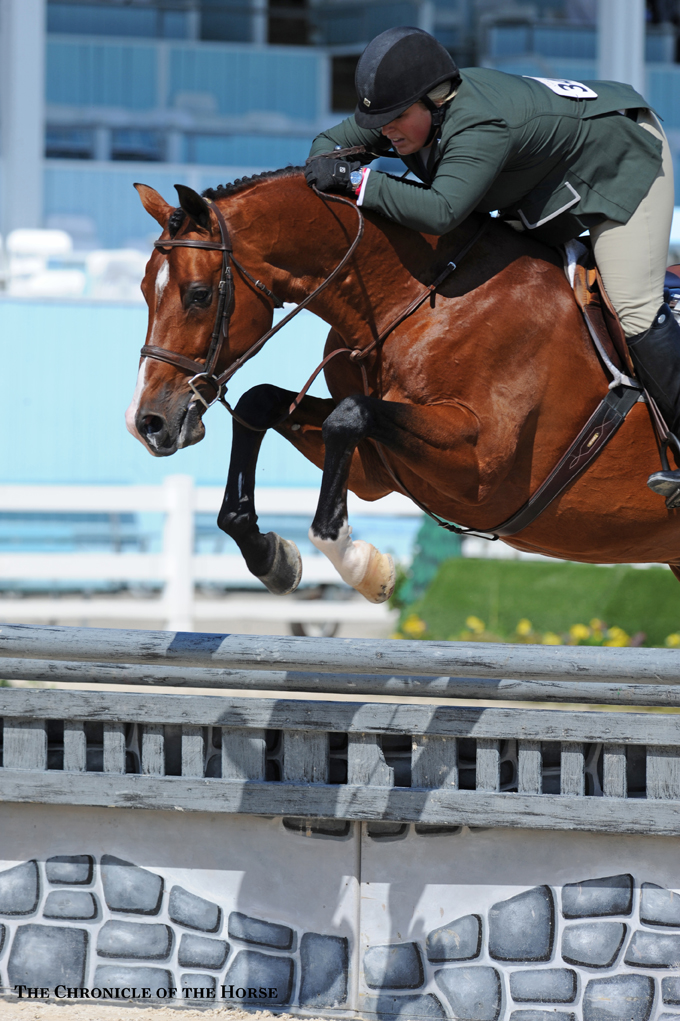 Callie Seaman and Skorekeeper. Molly Sorge photo
Horses are an all-consuming, financially demanding pursuit, and when you're at a horse show, it's easy to forget about the rest of the world. But that's not the case for amateur Callie Seaman. She did two four-month volunteer stints after high school, one in Africa and one in Mexico, and she's been back to Africa every year since to work on education, medicine and conservation projects. This year she upped the ante and planned and chaperoned a trip for high schoolers to do work in Haitian prisons.
Callie doesn't brag about her impressive community service record; it only came up when I asked why she didn't show in the WEF derby. I can't think of a better reason to cheer her and Skorekeeper on this weekend.
If you like a horse that gallops…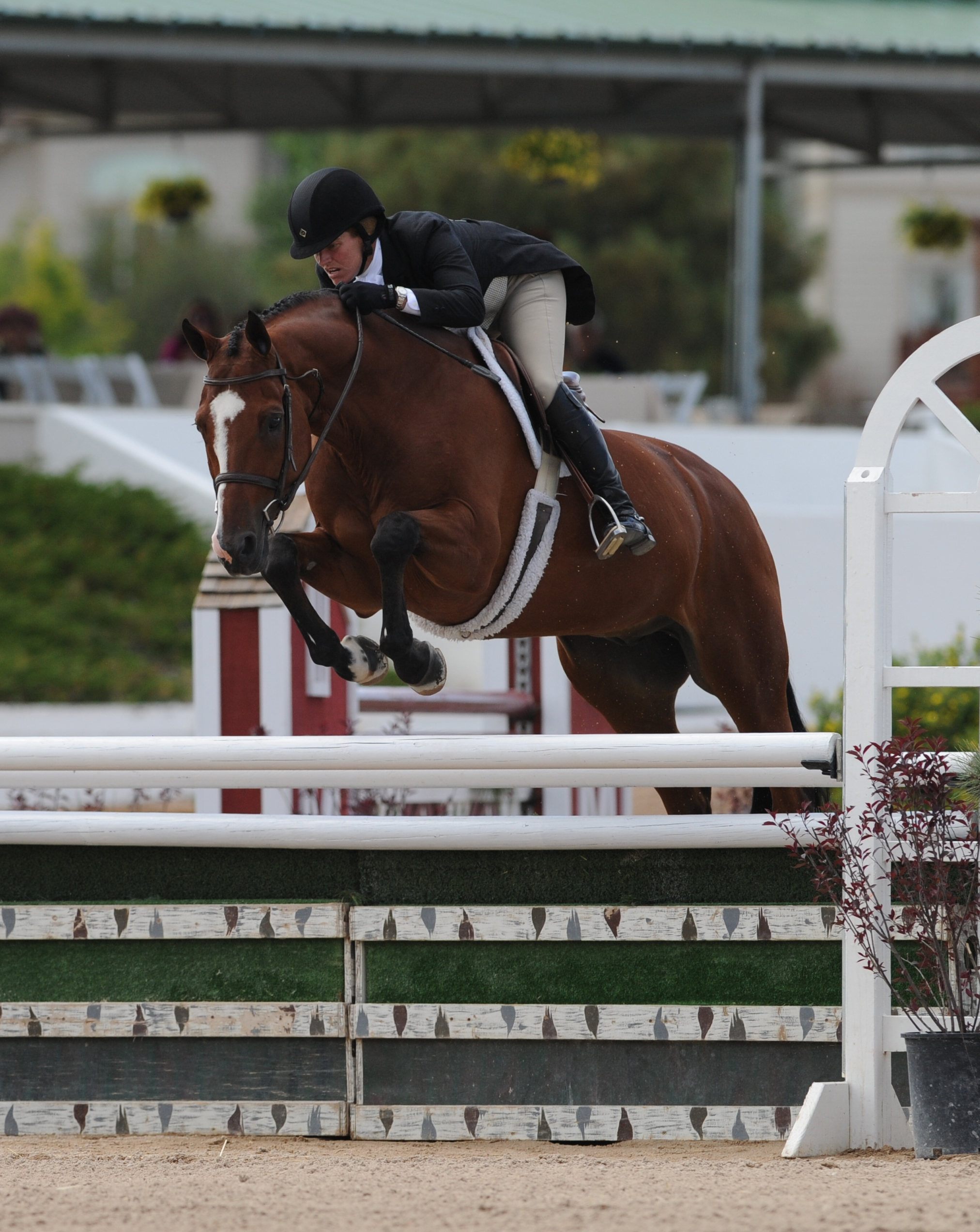 Kelley Farmer and Taken. Mollie Bailey photo.
OK, OK. Kelley Farmer and Taken aren't exactly a novel selection. But if you miss the days when hunters really galloped, these are the ones to watch. Kelley rides the hair off everything she sits on, and Taken, in particular loves her penchant for looping the reins and digging in her heels. He pricks his ears and bounds around the course like a rubber ball.
Kelley's conscious that this diminutive guy has been there and done that over the years, and that he's come back from injury, so she doesn't always take the high options. He's gone from being her top contender to her pet, but don't count them out: Taken just won a class at Equifest II (Ill.).
Kelley spends her time criss-crossing the country to attend derbies, and even though she's won 56 of these suckers, she hasn't won championships yet. Surely this could be her year.
If you appreciate a junior with some serious skills…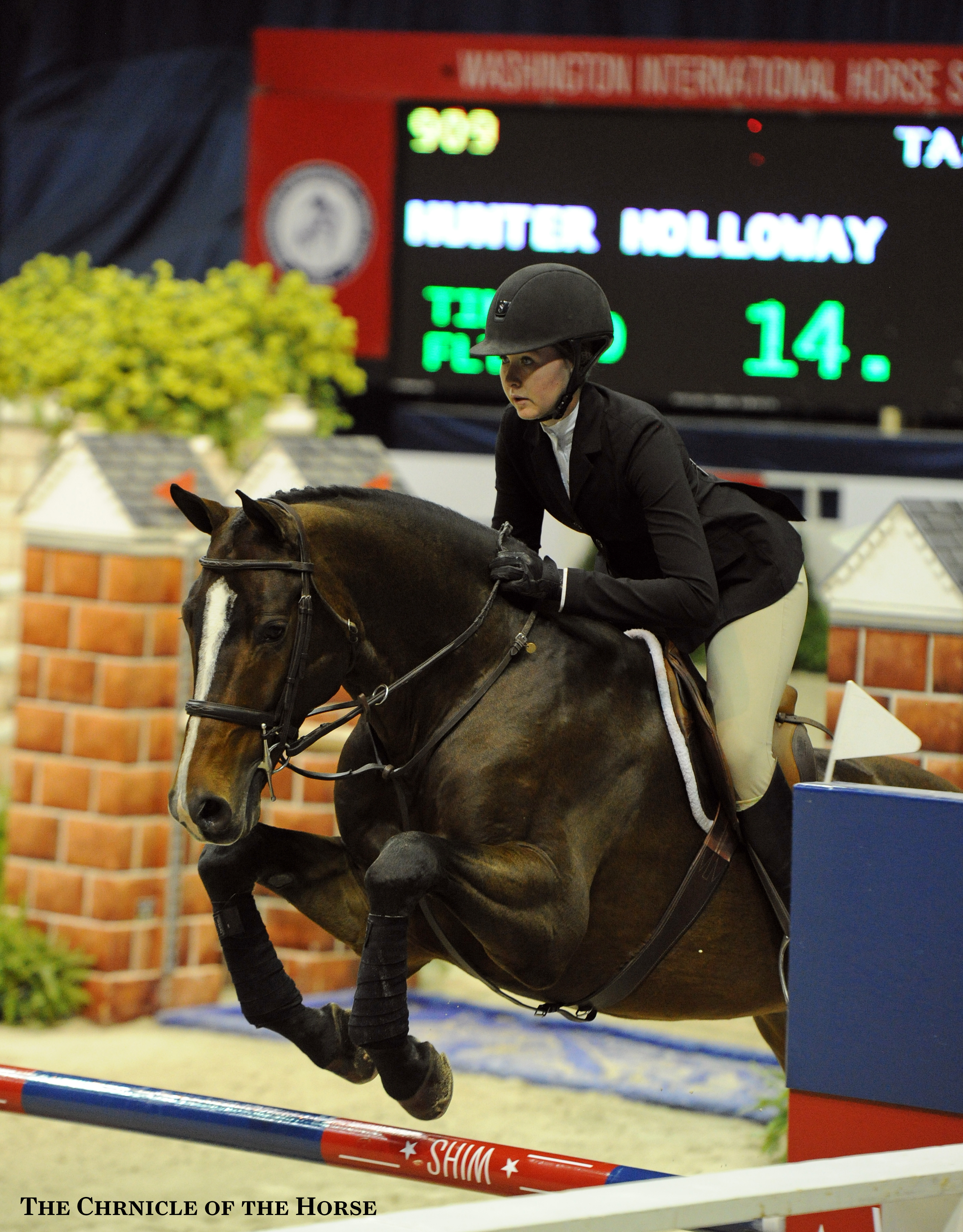 Hunter Holloway and Any Given Sunday. Mollie Bailey photo.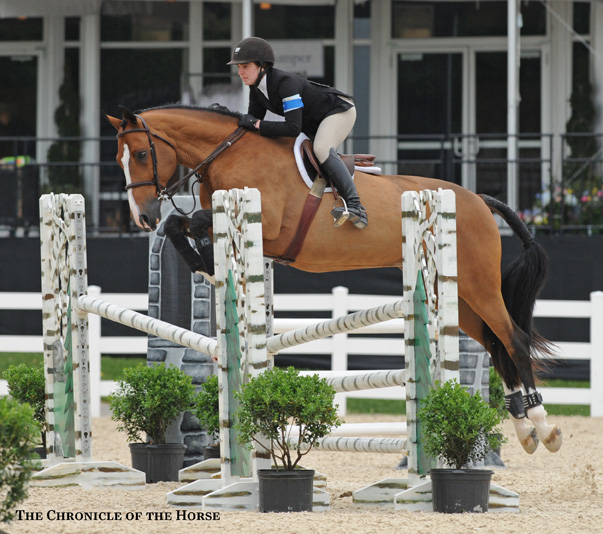 Kelli Cruciotti and Monterrey. Mollie Bailey photo.
We have a handful of fantastic juniors in this year's line-up, and two stand out for me: Hunter Holloway and Kelli Cruciotti. They're both children of professionals; they both live in areas that aren't especially horsey (Topeka, Kansas, and Elizabeth, Colo., anyone?) and they both have worked extremely hard to get where they are.
Kelli is as cool a customer as they come, and she's proven herself in all three rings. She's already finished second at ASPCA Maclay Finals (Ky.) and won several hunter derbies on Monterrey, whom she's taking to Kentucky this year, and topped the $100,000 Sapphire Grand Prix of Devon against multiple Olympians and World Games veterans. And as the daughter of a professional, Kelli stays busy working in the barn too.
It's hard to say what would faze Hunter. She's the kind of junior so mature that when her mother, Brandie, went on maternity leave, Hunter, then 15, took over the rides and training on most of her top horses. Jumpers and hunters appreciate this young woman's natural style, and she finished second at both the Maclay Finals and Washington International Horse Show (D.C.) on Any Given Sunday, and she's just as comfortable with or without tack.

(She's one-upping her mom, Brandie, who once showed Derby Championships veteran Burberry bridleless. You're welcome.)
If you appreciate a rider with a sense of humor…


Will Roberts.
Will Roberts is your man. He doesn't take himself too seriously and always looks like he's having a good time, and he's coming to Derby Championships with Viceroy and State Hill.
While other riders clammed up when I asked for their most embarrassing moments, Will outdid them all, pointing me toward a video of himself on a fresh mount from Harrisburg, who stopped and sent Roberts into the jump.
"I wandered around for a while, trying to find another exit and figure out how embarrassed I was," said Roberts, who dug through a jump looking for a stick that went AWOL in the process. "It's pretty popular on YouTube; I think I have more views than Caitlyn Jenner right now."
Obviously he wouldn't have told me about said video if he didn't want me to share it with everyone, so enjoy. USEF Network drives the point home with a slow-mo replay.
If you're looking for a future derby star…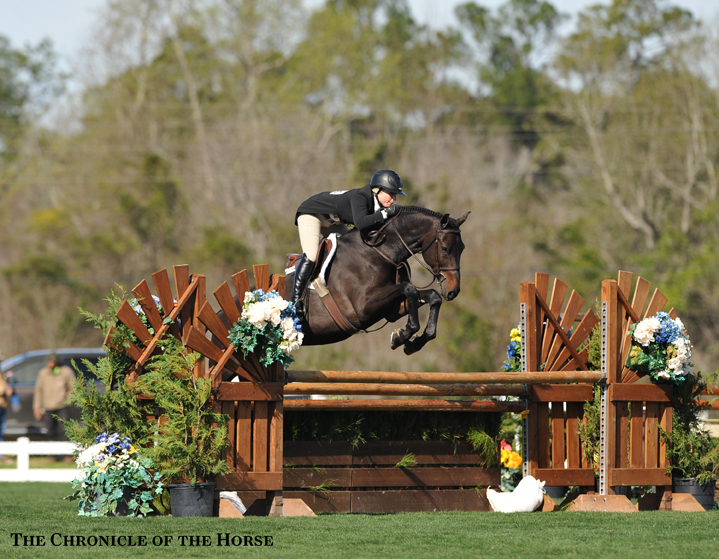 Courtney Calcagnini and Bowie. Mollie Bailey photo.
Courtney Calcagnini always seems to have at least one special horse, and her entry this year, Bowie, is no exception. He made a beautiful effort at every fence when I saw him go in March down at the Gulf Coast Winter Series (Miss.). He's just made the transition to hunter tack at the start of this season, so he may not be ready to win the whole event in Kentucky. But if his form over fences and results in the ring are any indication (he already has multiple top-three finishes), he's absolutely one to watch for the future.
See for yourself:
Other Chronicle staff weighed in with their picks.
Molly Sorge, Associate Editor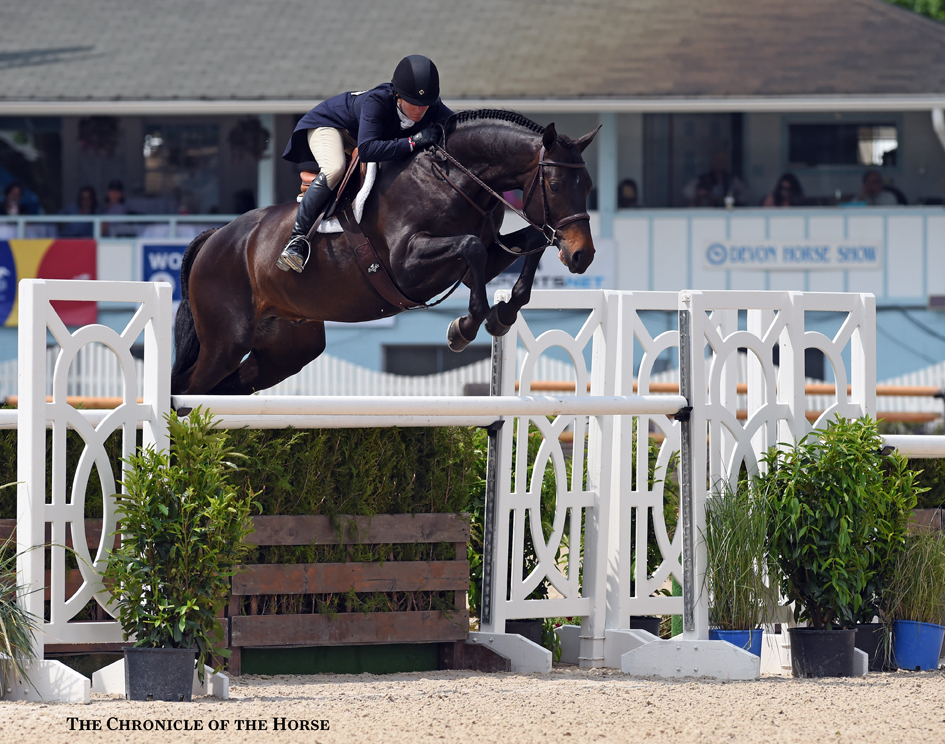 Sandy Ferrell and El Primero. Molly Sorge photo.
I remember thinking to myself, "Who IS this horse?" when I first saw El Primero cantering around the first year green division at Devon (Pa.). And then I saw him jump in the derby there, where the bigger fences added to his airtime. Apparently, I wasn't the only one, as USHJA President Bill Moroney mentioned him in the Chronicle's Hunter Derby Preview Issue, describing him as "amazingly fancy."
El Primero flew to the United States from Stal Hendrix in the Netherlands in November and has only been showing in the hunters since January, but his jump is seriously unreal. I watched him effortlessly jump like a skyhook over an oxer at Devon, prompting someone watching to chuckle and say, "Hang on, girl!" It's fun to watch this horse go.
"Sexy" is only 6 this year, and definitely lacking the experience of many of the horses in the field, but he's got all the skills he'd need to impress the judges enough to get a pretty good ribbon.
For sure, I'd love to see Sandy Ferrell have some time in the spotlight. She's one of the nicest people in the business and I always love watching her ride. She's soft, sympathetic and encouraging to her horses. Sandy's gotten some nice rides this year thanks to a collaboration with Louise Serio and I think it's great to see two professionals working together like that. I'll be glued to my live feed to see how El Primero responds to the electric atmosphere of derby championships—if he jumps any higher, Sandy might need a parachute over her shadbelly.
From Sara Lieser, Managing Editor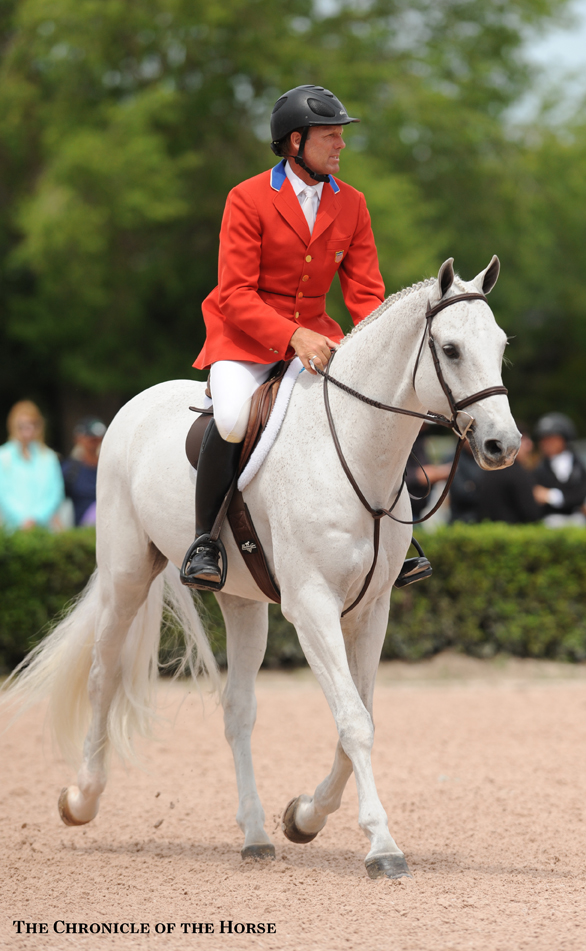 Peter Wylde and Candor 15. Mollie Bailey photo.
I'll be crossing my fingers for Peter Wylde this year. I think it's so cool that he returned to the United States after riding in the Olympic Games and building up such a successful jumper business in Europe, and he decided to try his hand in the hunters. A good horseman is a good horseman no matter what discipline he favors, and I love that not only does Peter compete in hunters and jumpers, but he also dabbles in dressage and named eventer Michael Jung as the horseman he admires most. I think we all should take a page out of Peter's book, get out of our silos, and see what we can learn from top horsemen of every type. He's bringing three horses this year: Montenegro, Candor 15 and Levland.
From Lauren Foley, Editorial Production manager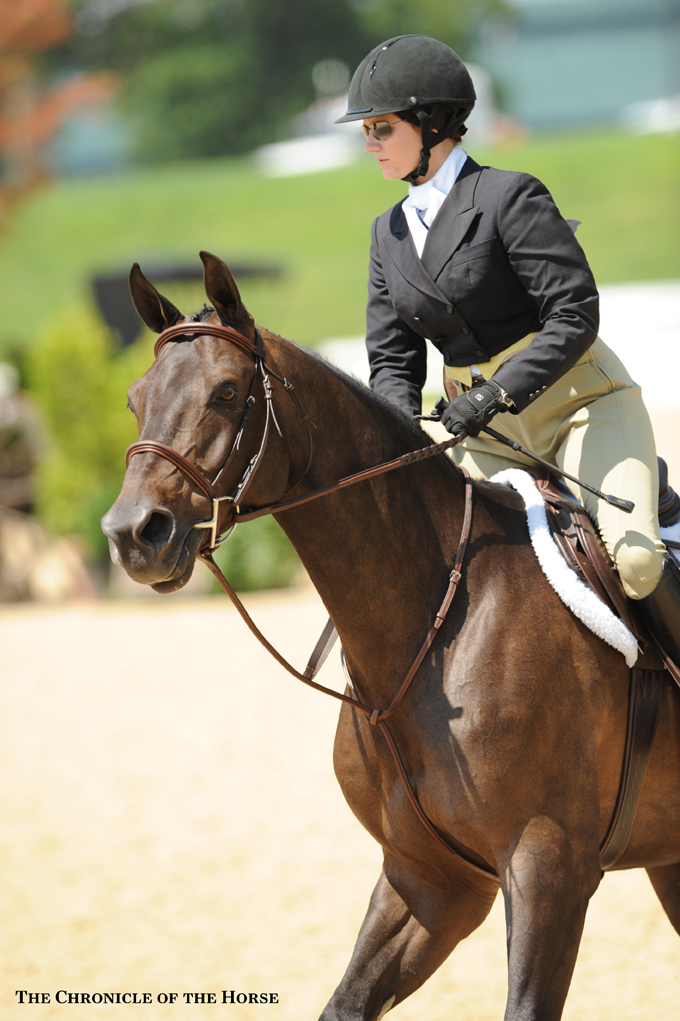 Eleanor Hellman and Nigel. Mollie Bailey photo.
I'll be rooting for Nigel and Eleanor Hellman. I was endeared to Nigel while reading his derby bio and learning that he is truly a family horse: Eleanor's mother Sabrina rides and shows him, as does Eleanor's sister Olivia. The sweetest part is that Eleanor says Nigel enjoys doing the modified adults with mom Sabrina the most. I shared my first horse with my mother and now that I'm expecting a daughter in less than a month, I look forward to introducing her to horses and riding one day. I joke that my current horse will be in her mid-20s by the time my daughter is ready for the children's hunters, so she'll finally be a suitable family mount herself. Nigel is only 11 years old and already easy going enough to do triple duty in the show ring with the Hellman family.
From Lindsay Berreth, Editorial Staff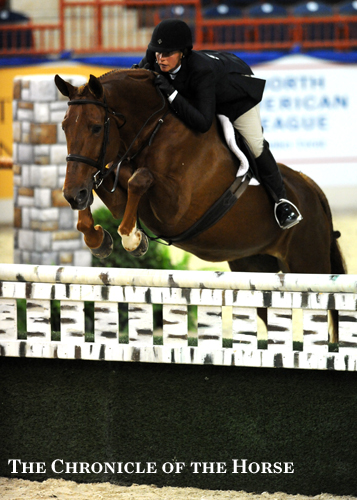 Jen Alfano and Miss Lucy. Lindsay Berreth photo.
I first saw Miss Lucy and Jen Alfano in person at the Pennsylvania National Horse Show in 2013 and she impressed me then—a lofty, big chestnut mare with a gorgeous jump.
After recovering from colic surgery and a keratoma, she's back in the ring again after two years out of the spotlight and she's been winning. As an owner of a horse with an seemingly endless string of bad luck and injuries, I'm rooting for Jen and "Lucy" to take home the big win. Nothing hurts more than knowing your partner is in distress and nothing feels better than knowing they're back to their usual self.
Lucy's been second to her stablemate Jersey Boy a lot over the years, so it's time for her to shine!
From Kimberly Loushin, Editorial Staff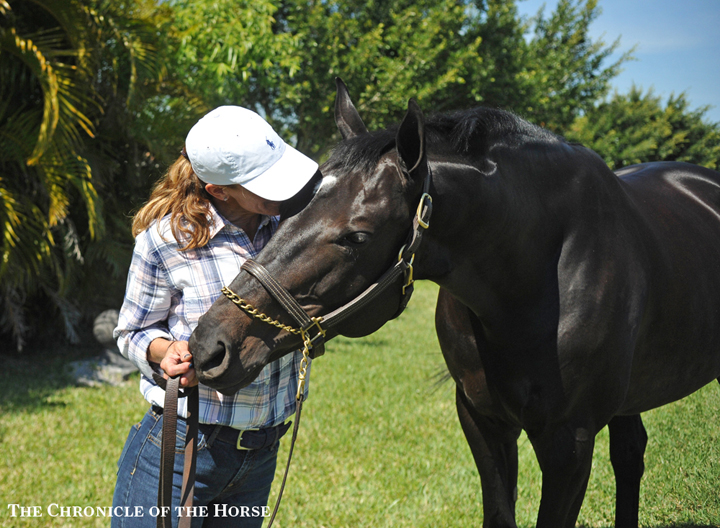 Kelley Farmer and Mindful. Kimberly Loushin photo.
Those who know me won't be surprised to hear that I'll be pulling for my horse crush Mindful this year. I've been following him since Kelley Farmer got the ride last year and have interviewed her about him more than any other horse. I even got to spend some time with him and his adorable friend Mini in Wellington, Fla., this winter. If "Grappa's'"ever in the ring, you'll be sure to find me with the live stream up and with a few messages from my co-workers reminding me to watch my "buddy."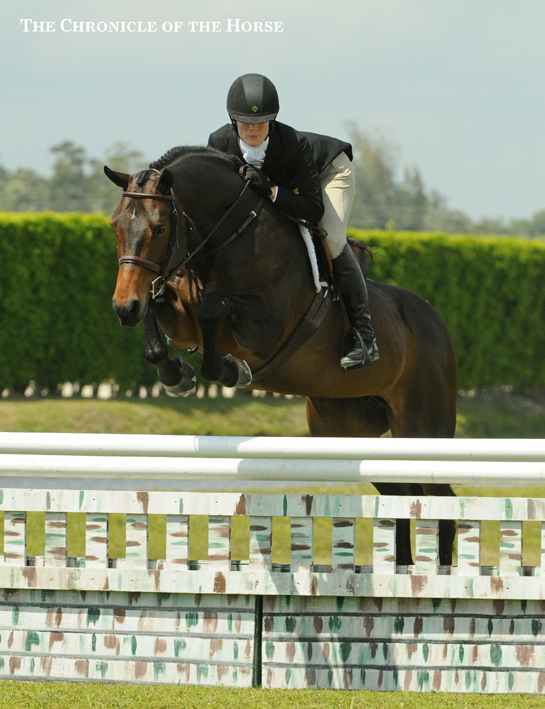 Sloane Coles and Autumn Rhythm. Mollie Bailey photo.
Derby rookies Sloane Coles and Autumn Rhythm are also on my list. You'll be sure to see Sloane's stock tie perfectly done up—she's been foxhunting in Virginia since she was a child. Bet she'd help you out if you ever asked. She's super sweet and always a blast to talk to.
Who are you rooting for? Chime in with your picks, and don't forget to check out our USHJA International Hunter Derby Preview Issue for a full roster of the competitors. Check coth.com during the competition, and check out our Aug. 31 issue for a full analysis of the competition.