Rio de Janeiro—Aug. 16
Today's Nations Cup narrowed down the field of teams heading into the second round tomorrow.
We caught up with a few more riders after their rounds to see what they thought and ended up learning some fun things!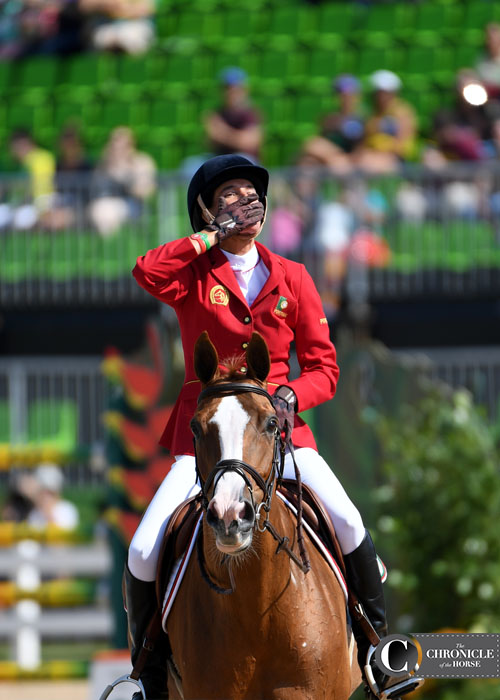 Luciana Diniz and Fit For Fun 13. Photo by Lindsay Berreth.
•Luciana Diniz, riding for Portugal as an individual, was first in the ring this morning on Fit For Fun 13 and laid down a clear trip after having two down on Sunday.
She kissed the sky, pumped her fists and patted her mare as she left the ring.
Diniz said yesterday she was too confident, so she had to fight for today.
"I rode as I planned, and it was just perfect. She had a lot of energy today. We are starting our Olympics today, that's what I think," she said. "I put myself in the Olympic spirit, and it's a fighting spirit, not a beautiful relaxed spirit, like I usually have when I ride. I try to ride beautiful and relaxed, and here you have to do more than that. So, that's the way I changed my energy today, to Olympic energy."
Diniz is in a tie for 30th place.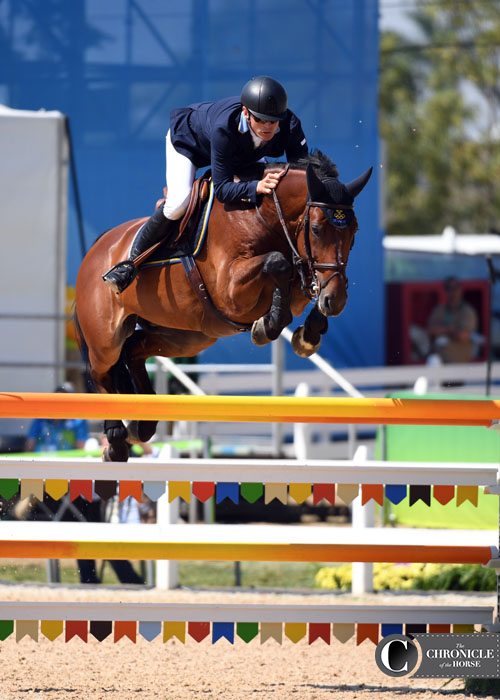 Peder Fredericson and All In. Photo by Lindsay Berreth.
•Swedish rider Peder Fredericson is on a score of 0 right now and tied for first with 10 other riders after two great rounds with All In.
A former three-day eventer, Fredericson went to the 1992 Olympics in Barcelona, Spain, but when he got a sponsorship with clothing company H&M in 2002, he decided to switch to show jumping because they were looking for a show jumper to join Malin Bayard.
"I have a brother who does show jumping and my wife does show jumping, so it was something I thought was interesting to get into. And it would be nice because then I could travel around with them," he said. "And it's not so different. It's just that I don't have to do dressage and I am happy about that! I do miss the cross-country sometimes!"
Fredericson is also a graphic designer, and he's created the FEI pictograms that represent each discipline.
He got All In as a 7-year-old from Ludo Phillippaerts.
"He's a nice horse. I don't think I'll even go to an Olympics with a horse this good ever again. I'm very happy for that. We take one round at a time, and we'll see how it goes," he said.
•Alvaro Doda de Miranda had some of the biggest cheers of the day aboard Cornetto K. He jumped clear to leave Brazil in a tie for first, but they're down one rider after Stephan de Freitas Barcha was eliminated for excessive use of spurs.
Doda currently stands in a multi-way tie for first.
"Of course you have the pressure when you ride here, but yesterday it's a very good feeling because it's positive feeling. You want so hard to give to the crowd a clear round, and it helps to give you an extra push. I was especially proud of my horse that he jumped brilliant," he said.
"Doda's" grandfather was in the Brazilian infantry, and his house is about 50 meters from where the Olympic arena now stands.
Doda's father grew up in that house and got his son involved with horses.
When I was 6 or7 years old we always went to a place 300 kilometers from Sao Paulo to ride horses, and I loved to wake up at 6 a.m. when it was not that warm with my father and ride around," he remembered. "Then I wanted to go every weekend to the same place. It was a long way to drive, and my father said we had to be a member in a horse club, but everything started here. That gives me a lot of motivation here."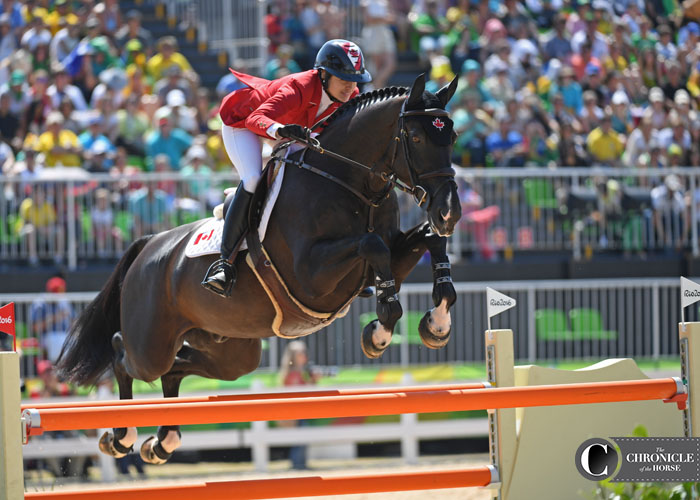 Tiffany Foster and Tripple X III. Photo by Lindsay Berreth.
•Tiffany Foster logged a 4-fault round for aboard Tripple X III, helping Canada advance to tomorrow's team final. She let us in on how she funded her earliest pony days: as an actress.
"When I was a little girl we didn't have any money so my mom made me do commercials to pay for my riding lessons," said the 32-year-old. "Toy commercials, Hasbro, Polly Pocket, Puppy Surprise, lots of toys."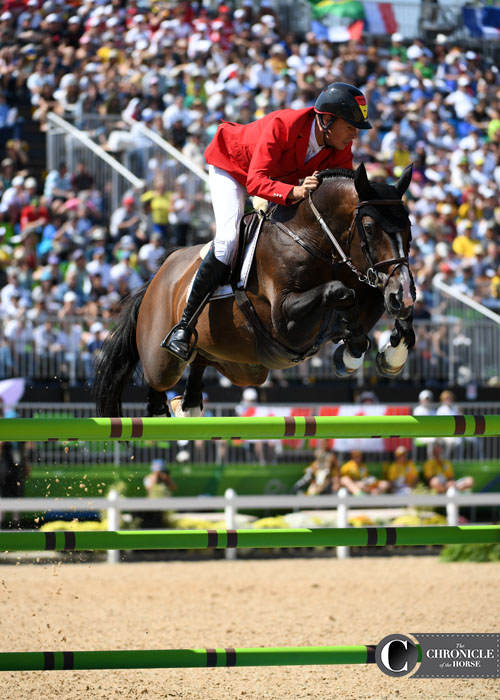 Christian Ahlmann and Taloubet Z. Photo by Lindsay Berreth.
•FEI World Cup Finals winner Taloubet Z didn't start out as a superstar. When Christian Alhmann first started riding him seven years ago he not only wouldn't jump water, he wouldn't go anywhere near a fence that was near water. Alhmann took his time and soon "Talou" became a solid water jumper.
Then came the ditches. "He didn't want to jump the double of ditches in Aachen [Germany] the first year he was there," said Alhmann, who's jumped two clear rounds to sit in a tie for individual first. "He didn't even get close to them. So we started jumping 20 cm., putting them up a little each time, and little bit little he felt safe."
Alhmann describes Talou as the calmest breeding stallion in the world.
"You can take him to bed if you want. He's very mellow and quiet. If you saw him walking around you wouldn't think he would have so much blood in the ring. When you see him in the stable he's always half-sleeping," he said.
For full results, click here.
Mollie Bailey and Lindsay Berreth are on the ground in Rio de Janeiro for the Chronicle and will be reporting with all the news, fantastic photos and behind-the-scenes details, all posted on www.coth.com. Your go-to page for all things Olympic is http://www.chronofhorse.com/2016-Olympics.
We'll have live blogs of competition sessions, Twitter updates, blogs, photo galleries, stories about each day's competition and so much more. Don't miss a thing—we'll have everything you need to know. Also make sure to follow along on the Chronicle's social media outlets: Facebook, Twitter, Instagram and Snapchat (@chronofhorse).