Lima, Peru—July 30
When most people start looking for their first international dressage horse they look for horses with plenty of experience in the sport, but not Eric Chaman. He followed his heart, and that led him to an unlikely partner in Catalina.
Chaman, who lives in Lima, Peru, grew up riding Peruvian Pasos and Lusitanos at his parents' breeding farm, but he didn't start competing in dressage until three years ago. He was riding at the Club Hípico Peruano when Catalina caught his eye. Never mind that the Würtemberger of unrecorded breeding was jumping with her owner. Once Chaman sat on her he knew she was the one for him. He tried a few more expensive horses, but the gray mare had captured his heart.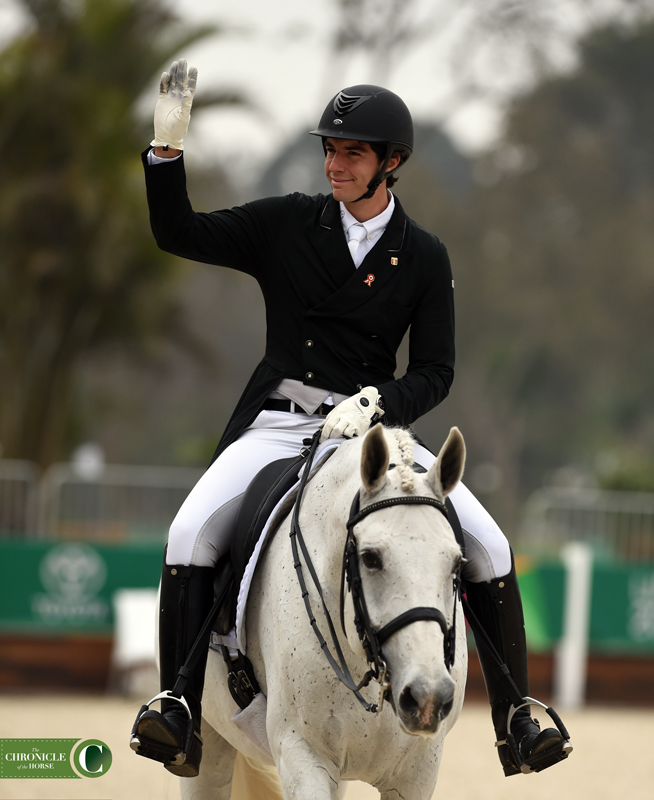 "I loved when I first rode her, especially the calm head she had," said Chaman, 24. "I saw some potential in her to be a great dressage horse, and I just knew she was incomparable with other horses. She's like any mare: Some days she's lovely, other days a little bit grumpy, but she always puts 100 percent effort in each training session we have. I'm very happy to have her and have this amazing bond with her.
"I started working, beginning with lower levels, second level, third level then fourth and started escalating to the international level," he continued.
Within months the two made their international Prix St. Georges debut at Peru's first CDI in November of 2018.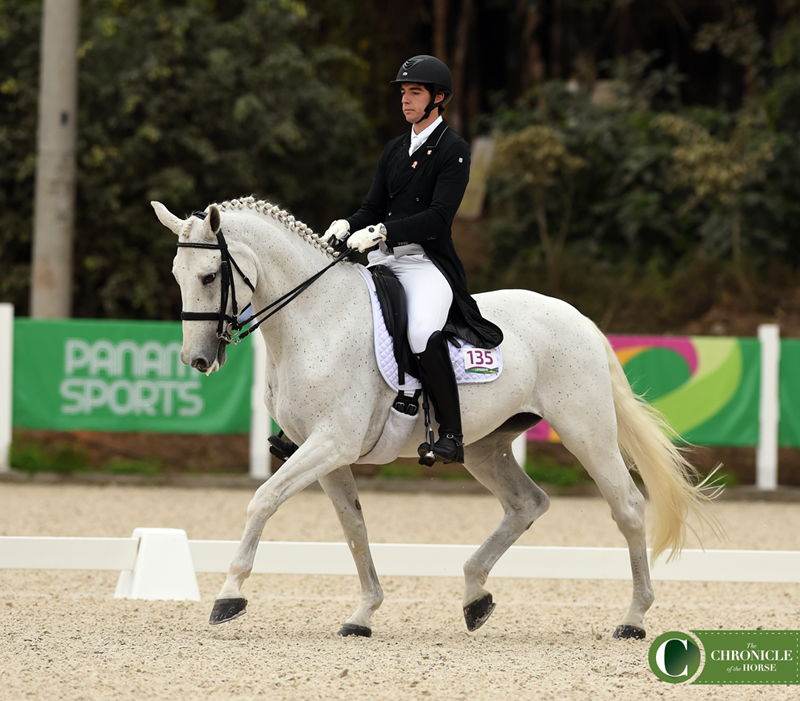 "I got the first score for qualifying for the Pan Am Games," he said. "We had our second CDI in December, and I got the second score which I needed for qualifying for the Pan Ams."
Not that making the team was easy. There was plenty of competition to represent Peru at their home Games in Lima.
"I didn't expect I'd be able to come to the Pan American Games, but since I got the marks I was high enough to get on the team," said Chaman, who studies industrial engineering at the University of Applied Sciences of Peru.
The pair didn't qualify for the freestyle (they had an error during their Intermediaire I test yesterday), but that didn't dull Chaman's enthusiasm.
"It's my first time representing my country at an event of this magnitude," he said. "I'm happy to do it and have my flag on my shoulder and also on my heart. I think this is just the beginning for me in my career as a dressage rider."
Have questions about the Pan Am Games? We've got answers. Follow along with the Chronicle as we bring you stories, news and photos from the Pan American Games. Check in at coth.com and make sure you're following us on Instagram and Facebook. 
You can find full results by clicking on equestrian on the official Pan Am website.
Check out our July 22 issue of The Chronicle of the Horse magazine, our Pan Am preview issue, for more information about the competitors, and be sure to read the Sept. 2 issue to get full analysis from the Games. What are you missing if you don't subscribe?