Devon, Pa.—May 31
With Jimmy Torano wrapping her arm around his and taking her hand, Cassandra Kahle walked into the Dixon Oval beaming Tuesday morning. She hadn't set foot on any show grounds since suffering a traumatic brain injury in a January fall at HITS Ocala (Florida)—but she made her return at Devon to watch Redfield Farm's horses like Corragio step into center ring.
"It's good [to be back]," Kahle said. "I love it. Back in the right atmosphere and getting to watch. This is my favorite show."
Kahle introduced Corragio, a 10-year-old Dutch Warmblood stallion (Conthargos—Conie), to the hunter ring in 2020 after Emil Spadone imported him. And from there, she guided him every step of the way up the ranks to compete in the 3'6" green hunters. But when the brain injury left her relearning how to walk and talk, friends in the industry stepped in to help in any way they could. One of those friends was Hunt Tosh, who took over the reins on the blingy chestnut stallion.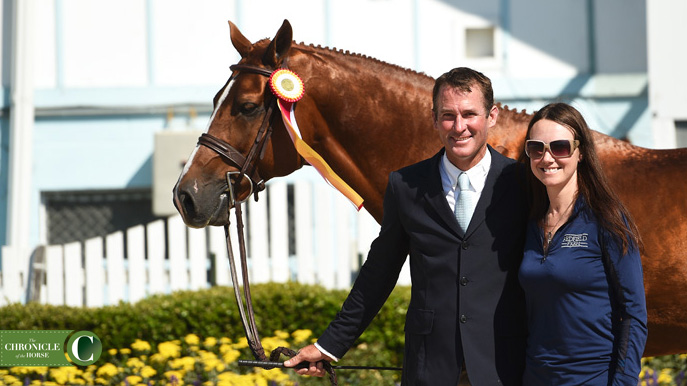 "He's been in the country for a couple of years," Kahle said. "Hunt started riding him in Florida this year, and this is his first year doing 3'6", obviously. He's pretty special and does a great job, so it's always fun to watch."
"She's being very humble," Torano interjected. "She won everything on him before she let him [Hunt] take over the reins. Don't let her fool you."
Tosh hadn't ridden Corragio since the end of the HITS Ocala circuit. But a first and second yesterday in the 3'6" greens—paired with a third Tuesday in the stake class—earned the team a reserve championship tricolor.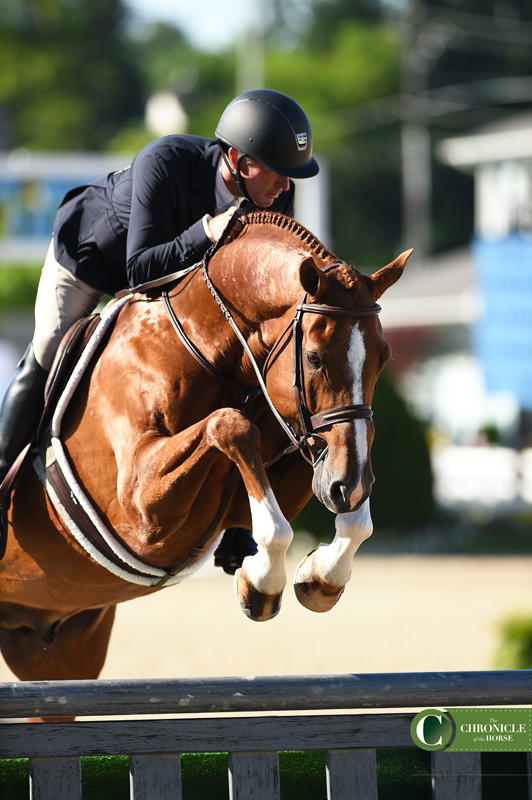 "Obviously, Cassie had the winter she had; I was lucky enough to able to ride, which it's such a great honor to be able to ride her horse," he said. "So to have her here today is even more special. I haven't seen Cassie in person since this winter, so to be able to do it, show in front of her, it was amazing."
Tosh had to settle for sending her pictures when the stallion did his last derby in Florida, he said—having her there in person was a vast improvement.
"I was excited she was able to watch. He went beautiful," he said. "Emil Spadone does an amazing job. He went in the ring yesterday—I haven't ridden him since Florida—and that's why I called Emil about a week ago and I'm like, 'Do we need to do anything?' and he was like, 'Just show up. He'll be ready.' But he was right, and I did win the first class in the ring."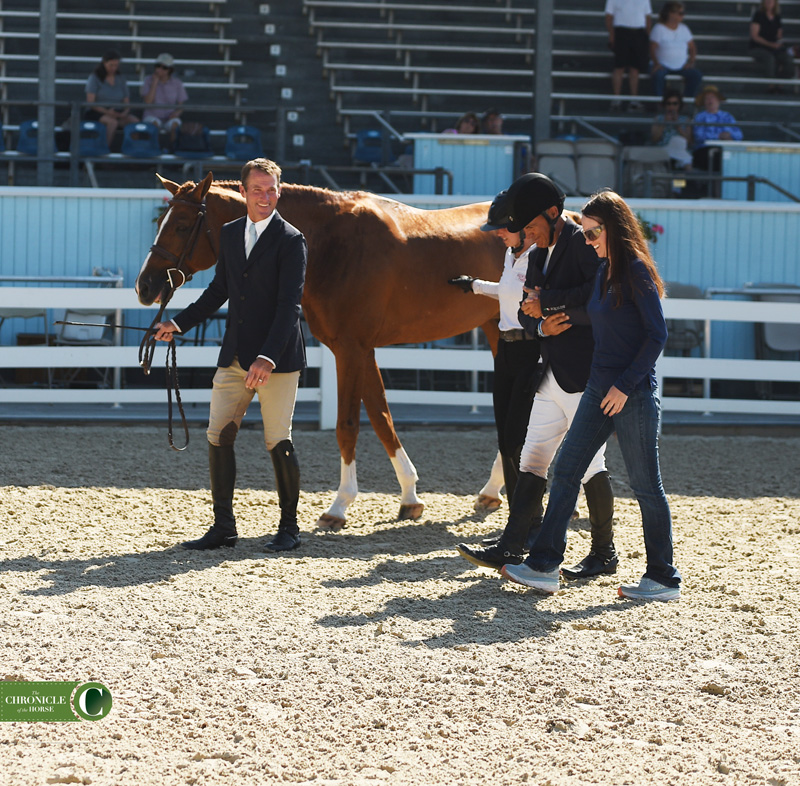 With Torano, Tosh and Erin Carey walking into the ring with her, Kahle posed in front of the committee stand with a tricolor on her charge's browband. And, she hopes, she will be the one riding for future awards presentations.
"[I'm planning to] keep up with therapy and hopefully keep going in the right direction," she said. "I'm counting down the days until I can get back in the saddle, but we'll see."
Important Links: Devon Horse Show website / Order of go and results / The complete schedule of classes and exhibitions / Livestreaming / All of the Chronicle's coverage
The Chronicle will be on site all week bringing you beautiful photos, daily reports and more. Don't forget to pick up copies of The Chronicle of the Horse magazine. Junior Weekend coverage will be found in the June 13 & 20 issue, and coverage of Senior Week will be in the June 27 issue.