Professional hunter/jumper rider Cassandra Kahle has been hospitalized after a serious fall on Saturday, Jan. 29, during HITS Ocala January Festival II (Florida).
Kahle fell from Redfield Farms' Heviola at an oxer during the jump-off for the $5,000 HITS Post Time 1.40-m Classic.
"It was a freak thing," Redfield Farms trainer Emil Spadone said. "I would say, 10 out of 10 times, she would have jumped off and dusted off her pants and been right at it again, but just the way it happened, they both fell. It wasn't anybody's fault; it was kind of a miscommunication.
"From the side I saw both distances: I saw the flyer and the more waiting one. Cassie went to fit in the more waiting one—the turn after would have suited the waiting distance better—and the horse picked up on the stronger distance and left," leading to the fall, he continued. "The horse is totally fine, but unfortunately she hit her head. She landed on her side and got a good bang to her head. We have every positive expectation for a full recovery."
Kahle, who rides for Redfield Farms in Ocala, Florida, and Califon, New Jersey, was transported by ambulance from the showgrounds to Ocala Regional Medical Center (Florida), where Spadone described her condition as "stable and improving." She hasn't fully woken up, but she has opened her eyes briefly when asked, and she has movement in her arms and legs, he said.
"The doctors say we shouldn't worry she's still a bit asleep, that that's the body's way of healing itself, plus she's sedated," Spadone said. "Doctors are telling us not to worry, that it could be three or four days before she fully wakes up. We know how tough she is and how strong she is. We have only positive views on everything that goes forward.
"All the neurologists are telling us it's very recoverable," he added. "There are two scenarios: One scenario takes a bit more time than the other, but they're both very recoverable."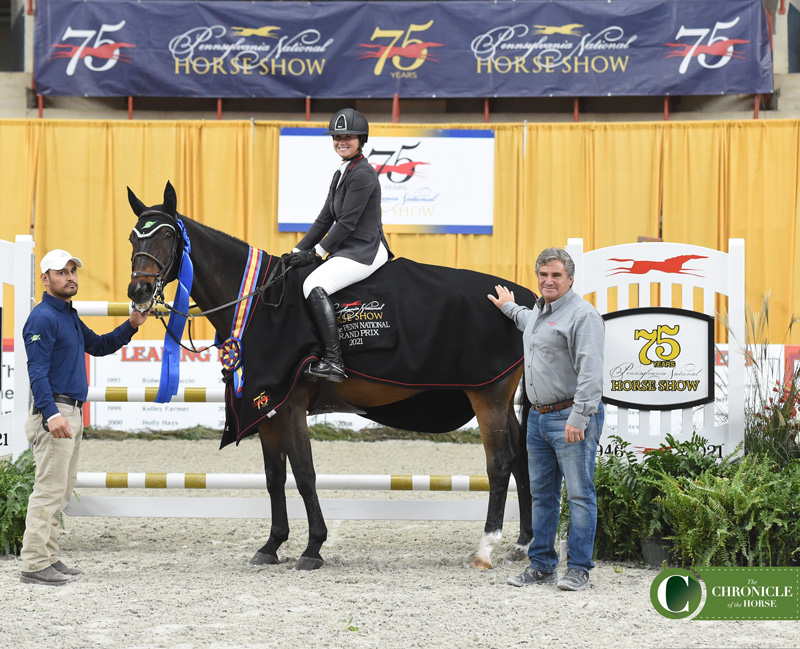 Kahle will be transferred to either Shands Gainesville Hospital (Florida) or Tampa General Hospital (Florida) today, he said.
Her mother, Natasha Brash, her father, Rob Kahle, and her brother, Colton Kahle, have flown in to be with her. They released the following statement to the Chronicle:
"We just wanted to thank the entire equine community for all the prayers and messages that have come in since Cassandra's accident. We have a truly amazing community of people. Also to the Redfield team and Emil for all they do for Cassandra all the time, but especially right now in these times. This is an amazing family and team. Thank you from us to all of you for your support and love. We are choosing to believe with all our hearts and spirits that she will pull through and be better and stronger."
Kahle is a decorated rider in both the hunter and jumper rings. Most recently she won the $100,000 Forrester Farm Equipment Grand Prix de Penn National (Pennsylvania), and she's also won the 2019 $30,000 WCHR Professional Challenge at Capital Challenge (Maryland). She and Heviola were an experienced team, most recently placing sixth at the Duke Children's Benefit Grand Prix (North Carolina).