Wellington, Fla.—March 12
Last week, Richie Moloney helped the Irish team claim victory in the FEI Wellington Nations Cup, but he was a bit disappointed with his performance in the $216,000 Lugano Diamonds Grand Prix the next day with Carrabis Z.
That's why the top check in the $380,000 Douglas Elliman Grand Prix CSI 5* felt extra sweet for Moloney. "He was very unlucky last week in the grand prix. We had one down and it was probably my fault, so it was nice to come back tonight and do him justice because he deserved to be clear last week," Moloney said. "This is his third big grand prix win in the last six months. He is a great horse for me, and he has really stepped up in the last 12 months."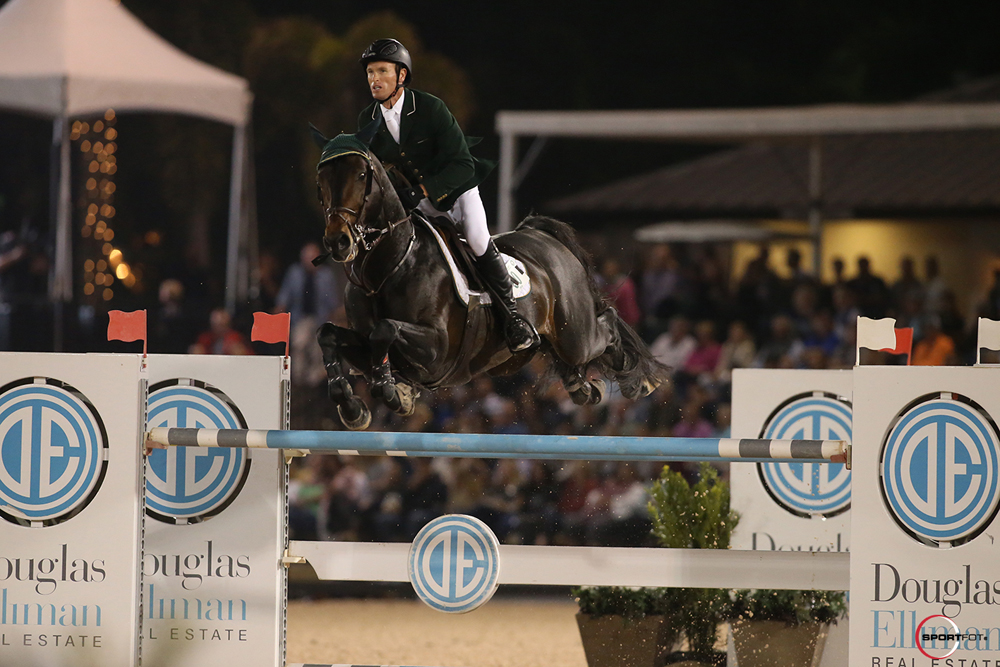 Richie Moloney and Carrabis Z jumped to the top of the $380,000 Douglas Elliman Grand Prix CSI 5* at WEF 9. Photo by Sportfot
Moloney and Equinimity LLC's Carrabis Z topped a field of 42 starters and an eight-horse jump-off, with Sharn Wordley of New Zealand and Casper in second, and Lillie Keenan aboard Super Sox third.
Keenan and Chansonette Farm's Super Sox set the pace over the short course with a time of 47.11 seconds. Wordley and the Sky Group's Casper were next to go with a faster time of 46.69 seconds. Moloney and Carrabis Z then crossed the finish line in the winning time of 45.04 seconds.
Kent Farrington and RCG Farms' Uceko, and Todd Minikus and Two Swans Farm's Babalou 41 were both faster, but had 4 faults along the way. Farrington and Uceko finished fourth with a score of 4 in 42.65 seconds. Minikus and Babalou placed fifth with 4 faults in 42.67 seconds.
Moloney and Carrabis Z, a 13-year-old Zangersheide stallion (Canabis Z x Grannusso), have been a team since 2012 and have many great wins together. "My horse jumped great tonight. He was a little looky into the double in the first round. It was a tough enough line. When I did the jump-off, he was jumping better than the first round. He was more relaxed and really jumping. It is a great win. I was happy enough being clear in the first round, and I could not be happier," Moloney said.
"When I jumped, the plan was just to try and beat who was ahead of me," Moloney said of the jump-off. "I knew there were one or two after me that would probably be faster. I was lucky enough tonight we got the win in the end. My horse deserves it."
Moloney thanked the sponsors of the night's class, Douglas Elliman, and also praised his owners at Equinimity LLC, including Diana and Jenji Mercer, who were there to celebrate his win.
"The Mercer family are great owners and great people to work for," he acknowledged. "I appreciate them very much, and it is nice to give them this win here tonight. I have been there five years, and you could not find better people to work for."
For Sharn Wordley, the night's second place finish was fantastic with his mount Casper, a 10-year-old Oldenburg gelding (Contender x Baloubet du Rouet).
"I have had him since end of circuit last year and this was his first five-star," Wordley detailed. "I was really happy with him—he was double clear in the WEF [Challenge Cup] on Thursday and he got better as the week went through. He learned a lot here, and he is jumping fantastic. I am really excited about him."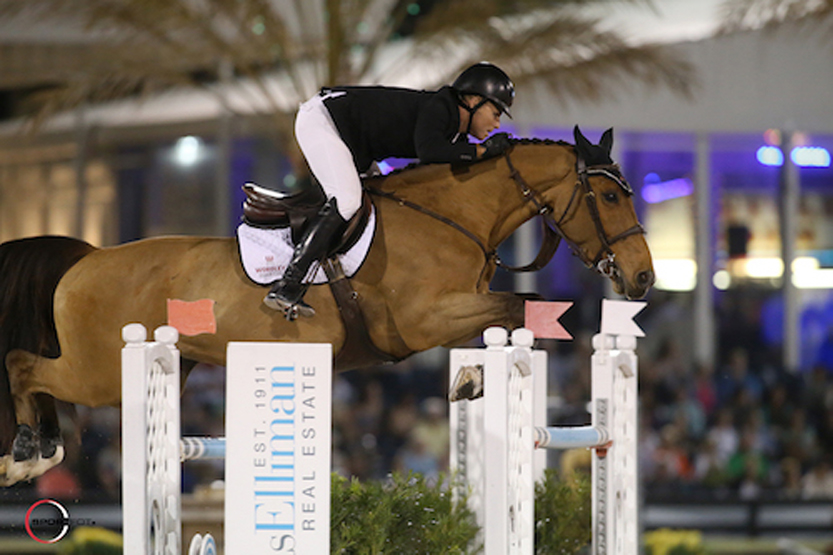 Sharn Wordley on Casper. Photo by Sportfot
Wordley spoke of his strategy for the jump-off, stating, "Because it was his first really big class under the lights, my strategy was just to go clear and medium fast because I was hoping the end result was people would try to go a little faster and have some rails down. Then I would get results without actually having to use my horse up too much. I got lucky and he got second, which is pretty exciting in a five-star."
Wordley also spoke of the night's course, noting, "Alan Wade is one of my favorite course builders, and I think one of the best ones in the world. I have jumped quite a few of his courses recently, and I really enjoy them. Tonight's course really used all facets of show jumping. The horse had to be really rideable and careful. There were a lot of tight lines with big verticals. It really tested the rider as well. If you had a hole in any one part of it, you were not going to do so well. He seems to get just the right amount of riders in the jump-off to make it interesting. It was a fair course and tough, like any five-star ever is."
Lillie Keenan was excited to get a third place finish in the night's class with her mount Super Sox, a 10-year-old Hanoverian gelding by Salito x Silvio I. Keenan,19, is currently in her freshman year at Harvard University (Mass.) and splitting time between Boston and Wellington throughout the winter. She attended classes Monday through Wednesday, and flew to Florida on Thursday to compete in the WEF Challenge Cup, which is the grand prix qualifier. Keenan also switched trainers this season and began riding with Ireland's Cian O'Connor as she moves up to competing at the higher level. Saturday night was Keenan's first five-star with Super Sox and a great finish.
"I have had him for almost two years now and I have to say, he is a special horse, but the program I have behind me makes all the difference," Keenan stated. "The background team is on a level unlike any other I have ever seen. I was only jumping that horse over the summer in two-star and three-star grand prix, really trying to work on my rideability, my flatwork, and my position and effectiveness. Two months ago Cian told me, 'When we get to Wellington, you are going to jump a five-star and you are going to jump double-clear'. I do not know if he has a crystal ball, but he certainly knows how to plan and aim for a class, so it is really exciting for me. It is my first five-star on the horse, it is the first time I have ever jumped clear in a five-star, and it is the best result I have ever had in Wellington in a night class, so it is a night of firsts."
Keenan spoke of her plan going first in the jump-off, explaining, "My strategy was to keep the jumps up and be quick, but not take too many risks. I would say, looking back, hindsight is 20/20. There are a few places I could have gone quite a bit quicker, but I was overwhelmed with excitement just jumping clear in the first round. I am thrilled with my horse, so I really just wanted to stick to my plan, jump as many jumps as I could clear, and trust my horse."
Final Results: $380,000 Douglas Elliman Grand Prix CSI 5*
1. CARRABIS Z, 2003 Zangersheide stallion by Canabis Z x Grannusso, RICHIE MOLONEY (IRL), Equinimity LLC: 0/0/45.04
2. CASPER, 2006 Oldenburg gelding by Contender x Baloubet du Rouet, SHARN WORDLEY (NZL), Sky Group: 0/0/46.69
3. SUPER SOX, 2006 Hanoverian gelding by Salito x Silvio I, LILLIE KEENAN (USA), Chansonette Farm LLC: 0/0/47.11
4. UCEKO, 2001 KWPN gelding by Celano x Koriander, KENT FARRINGTON (USA), RCG Farm: 0/4/42.65
5. BABALOU 41, 2005 Oldenburg mare by Balou du Rouet x Silvio I, TODD MINIKUS (USA), Two Swans Farm: 0/4/42.67
6. S F ARIANTHA, 2005 KWPN mare by Corland x Emilion, HARDIN TOWELL (USA), Jennifer Gates LLC: 0/4/45.90
7. LILLI, 2004 Brandenburg mare by Lefevre x Diamir, GEORGINA BLOOMBERG (USA), Gotham Enterprizes LLC: 0/4/49.33
8. CALVIN KLEIN, 2004 Swedish Warmblood gelding by Cardento x Feliciano, JONATHON MILLAR (CAN), Millar Brooke Farm Ltd: 0/8/47.47
9. ATLANTIS, 2003 Zangersheide gelding by Andiamo x Royal Bravour L, SAMUEL PAROT (CHI), Samuel Parot: 4/80.40
10. FINE LADY 5, 2003 Hanoverian mare by Forsyth x Drosselklang II, ERIC LAMAZE (CAN), Artisan Farms LLC: 4/81.74
11. ROYCE, 2004 Oldenburg stallion by Café au Lait x Grandilot, MARGIE ENGLE (USA), Elm Rock LLC: 4/81.82
12. HH AZUR, 2006 Belgian Sport Horse mare Thunder van de Zuuthoeve x Sir Lui, MCLAIN WARD (USA), Double H Farm & Francois Mathy: 4/81.93