Wellington, Fla. – March 4
Riders passed around pens to autograph team hats. A group of fans found their way into the press tent and rambunctiously cheered and waved their flags during the press conference. Conor Swail held up his phone, tilted it back…and took a selfie.
No one celebrates a Nations Cup victory quite like Ireland.
In a down-to-the-wire victory, Team Ireland – consisting of Conor Swail, Shane Sweetnam, Richie Moloney and Cian O'Connor – captured the $150,000 FEI CSIO**** Nations Cup in Wellington with a four-fault team total over two rounds, clinching the title with a clear effort by team anchor O'Connor aboard Ronnoco Jump Ltd. and Jean-Claude Jobin's Sam du Challois. The United States, with the all-girl squad Georgina Bloomberg, Audrey Coulter, Laura Kraut and Beezie Madden, settled for the silver medal with eight faults after a surprising retirement on course by Madden and veteran partner Simon. Colombia finished third.
"This was a great night for the Irish," Sweetnam said. "We felt we had a chance and were definitely hungry for it. This is my ninth year in a row doing this class, and I had never won. I was second five times, so this was a very special night for me."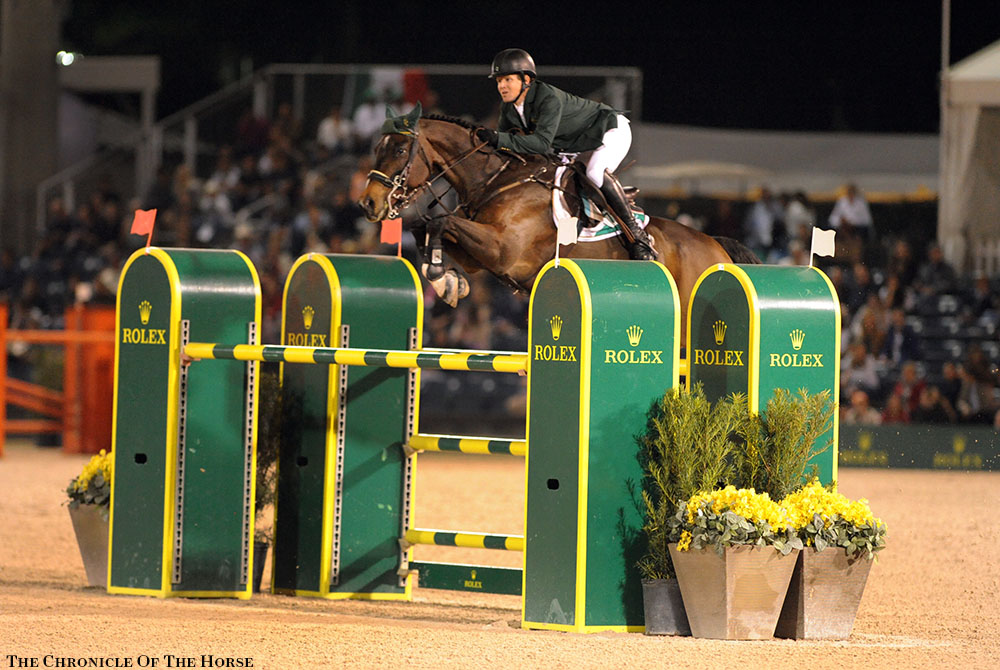 Shane Sweetnam and Buckle Up
Neck And Neck
It was a race between the Americans and the Irish from the get-go, as the first two riders from each team –Bloomberg and Coulter from the U.S. and Swail and Sweetnam from Ireland – jumped clear rounds to open the first round. Then Kraut, riding in her 63rd Nations Cup, continued the momentum for Team USA, producing another clear effort aboard the 9-year-old Zeremonie. With the United States guaranteed on a zero score for the first round, Madden and Simon did not have to jump, but all four Irish riders did. After the third-slotted Moloney picked up 12 faults aboard Fiach Byrne's Carrabis Z, O'Connor kept his team on equal terms with the U.S. with a clear first-round effort of his own. That left the teams tied heading into Round 2.
"We felt good coming in, and we felt really good after the first round," United States Chef d'Equipe Robert Ridland said. "Georgina started us right off with a clean and we got two double cleans after that. It was fabulous."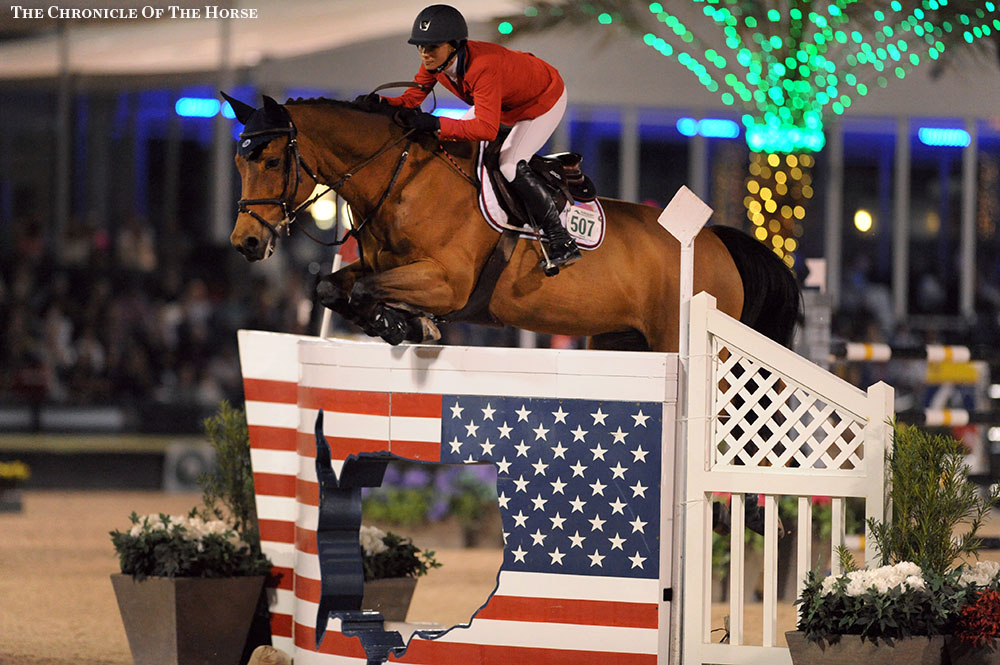 Georgina Bloomberg and Lilli jumped a clear round for the United States in Round 1.
Six of the seven teams returned for the second round, as the French were eliminated following a 29-fault total in the first round. The United States and Ireland, however, both continued to leave the jumps up. Bloomberg, riding her Pan American Games (Toronto) partner Lilli, had an eight-fault score to open the round, but Coulter, aboard Copernicus Stables' Capital Colnardo, and Kraut backed their teammate up by producing their second clear rounds of the evening.
"This was [Zeremonie's] first time ever doing anything like this," Kraut said. "She has hardly jumped at night and she has never done two rounds, so it was an experiment to use her this week. I think Robert just wanted to see, because he has always liked her. I'm really happy with how she performed."
"This was the first time that I had the chance to do the second round, and to jump double clear was really special," said the 23-year-old Coulter, the youngest U.S. teammate. "I was a little nervous in the first round, and he was really careful and sticky, and then the next round I took a breath and he jumped even better."
The Irish remained in a tie after three riders. Swail and Sweetnam both received four-fault scores, but Moloney rebounded from his 12-fault first round score to produce a faultless round.
"My first round wasn't very good," Moloney said. "I have to thank my lads. They did a great job in the first round and the second round. My horse was a bit more relaxed the second round and a little more rideable after going around once, and I'm glad to have jumped a clear round."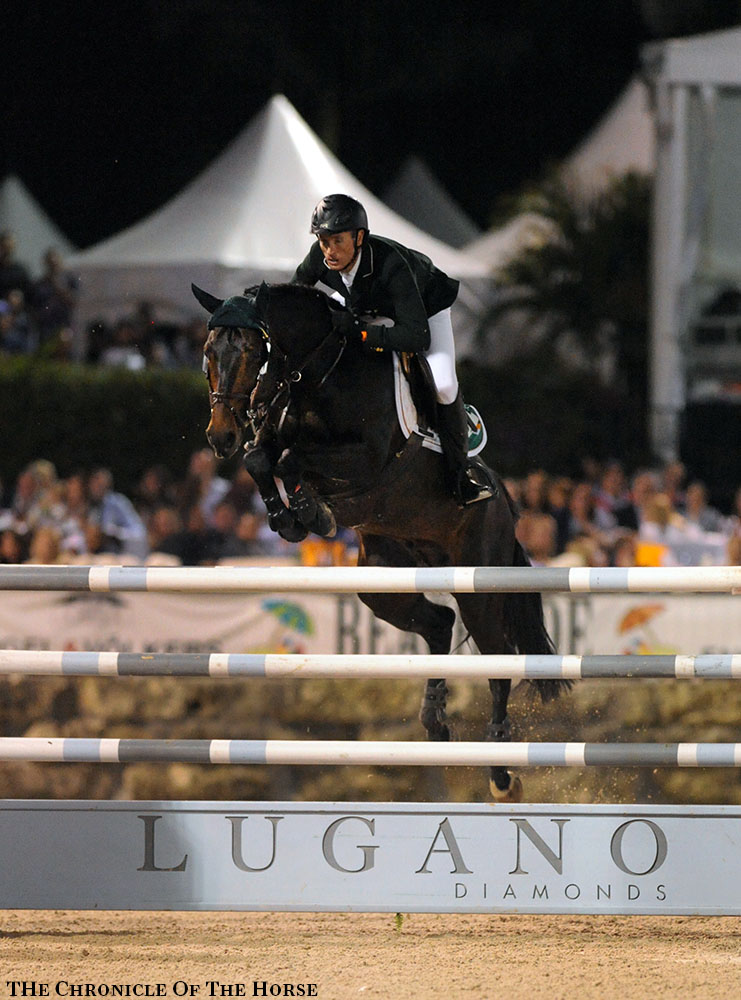 Richie Moloney and Carrabis Z clear the final fence of the second round, keeping Ireland in contention.
Not Over 'Til It's Over
Heading into the final leg, the United States was seemingly in control with only Olympic veteran Madden and her 2013 World Cup Final Champion Simon, one of the most reliable pairs in show jumping, left to jump. With Swail and Sweetnam each on four faults, the Irish were guaranteed to end with faults; the United States could seal a win on a clear round and a zero-fault total upon the drop of Bloomberg's eight faults. But Madden and Simon silenced the crowd when the gelding left the ground awkwardly at the third fence on course, the Hermes oxer, and nearly crashed through it. Madden pulled her mount up and immediately retired.
"Simon started out jumping beautifully in the warm-up, and then my last few jumps did not feel that great," Madden said. "It is hard to say there was anything really wrong with him, but clearly when I jumped the first fence, it wasn't like he normally does, and he really doesn't ever do what he did at the third jump. Then when I landed, I put my leg on him and he almost broke to the trot, and he never does that. You could not really see that there was anything wrong with him – maybe it was something to do with his muscle – but we will see."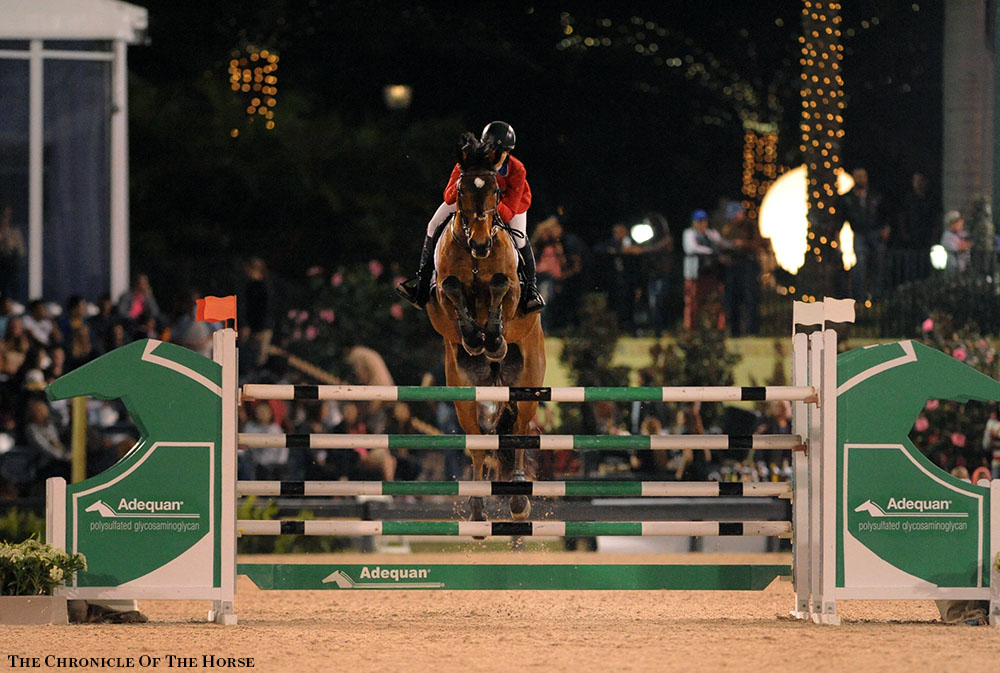 Beezie Madden and Simon cleared the first two fences on course, but they would retire after fence three.
That opened the door for Ireland, and O'Connor and Sam du Challois won the class with a final clear round. O'Connor pumped his first repeatedly as he galloped past the finish timers and halfway across the arena. A boisterous Irish crowd erupted.
"I didn't really think about [the pressure] too much," O'Connor said. "I just rode each fence individually, and I tried to stay out a little bit more to the last fence, because the first time I got a little bit close to it, but I got a really good stride to the last fence the second time, which made for a very comfortable and confident jump. It did not feel hard for the horse; it felt easy."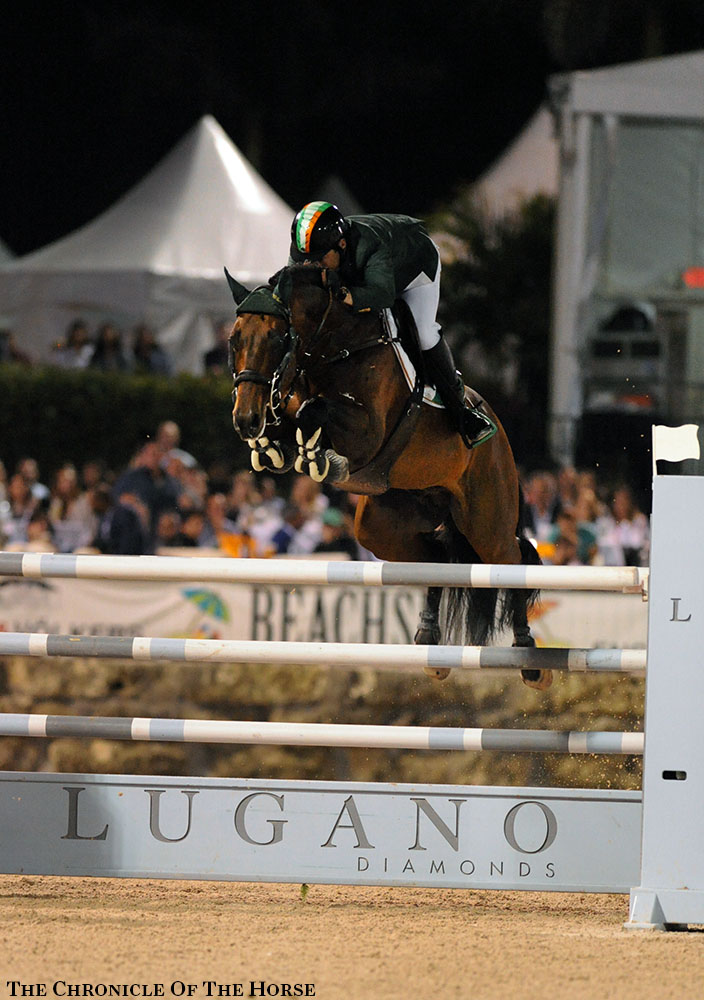 Cian O'Connor and Sam du Challois produced the only double-clear effort for Team Ireland, sealing a victory.
Team Ireland won their second Wellington Nations Cup in the class's 15-year history, a meaningful win for a nation that bases numerous top riders at the Winter Equestrian Festival annually.
"We have at least 12 strong riders here, so we're always thinking about this week, and as the circuit progresses, we definitely aim horses for this week," Sweetnam said. "Every year we're in the hunt for this class, and it's very important to our owners that we do show well here, and we have to keep them."
"It's always an honor to jump the Nations Cups," said Irish Chef d'Equipe Robert Splaine. "I've been coming here many times, and it's a great pleasure to at last have won a Nations Cup here. It's fantastic to be on the podium. Wellington is home to many Irish, and we really appreciate the hospitality. The USA gave us a good run for our money. We felt it was slipping a little bit in the second round, but we fought back, and we pulled it off."
For the U.S., there are positives to be taken away, though a big concern remains in the health of Olympic contender Simon.
"It's a tough way to end," Ridland said. "We are guessing Simon is going to be fine, but that's show jumping. It's sport. We really had control of the class, but it's not over until it's over. We had a wonderful team tonight, and we knew we had a good chance, and it showed.
"This is our home Nations' Cup, and darn those Irish, they spoiled our party," he continued. "We are a little down because of the way it ended. We assume Simon is going to be fine tomorrow. We can't say we are overjoyed, but we have to be very pleased with a really incredible effort out there. We left everything on the field, and our hats are off to [Team Ireland]."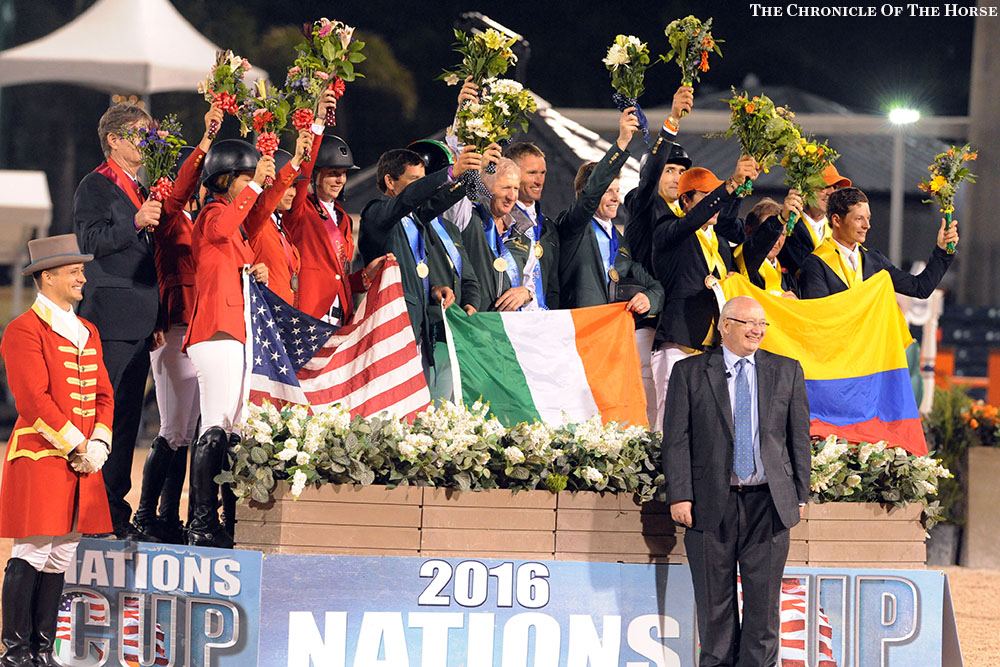 A full podium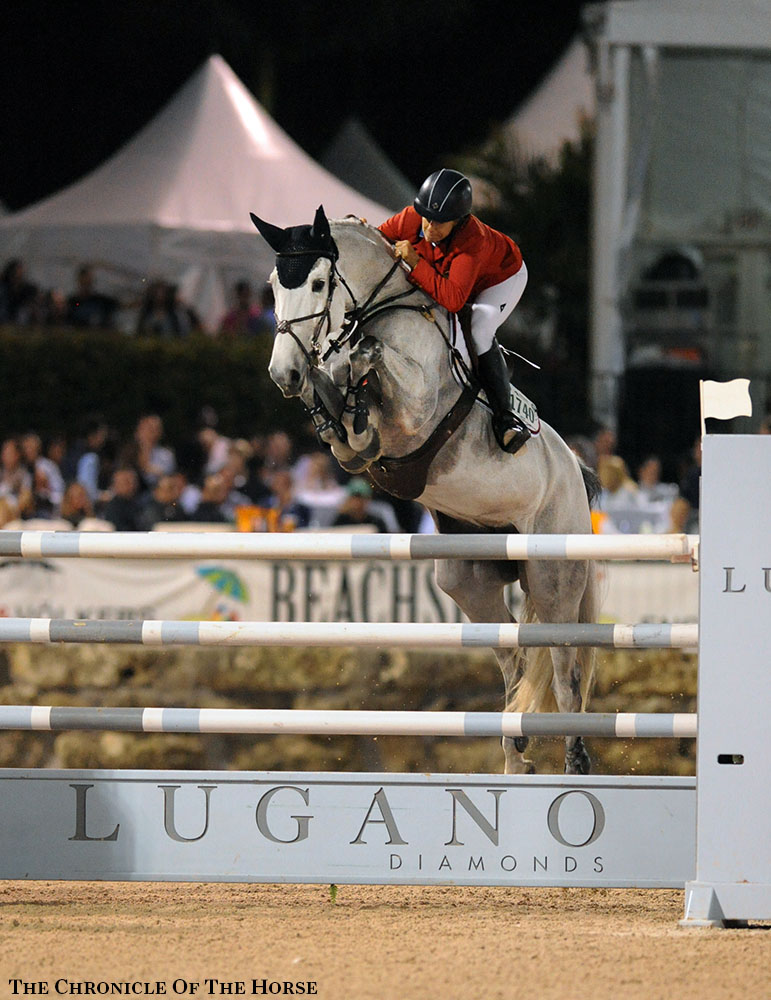 Laura Kraut and Zeremonie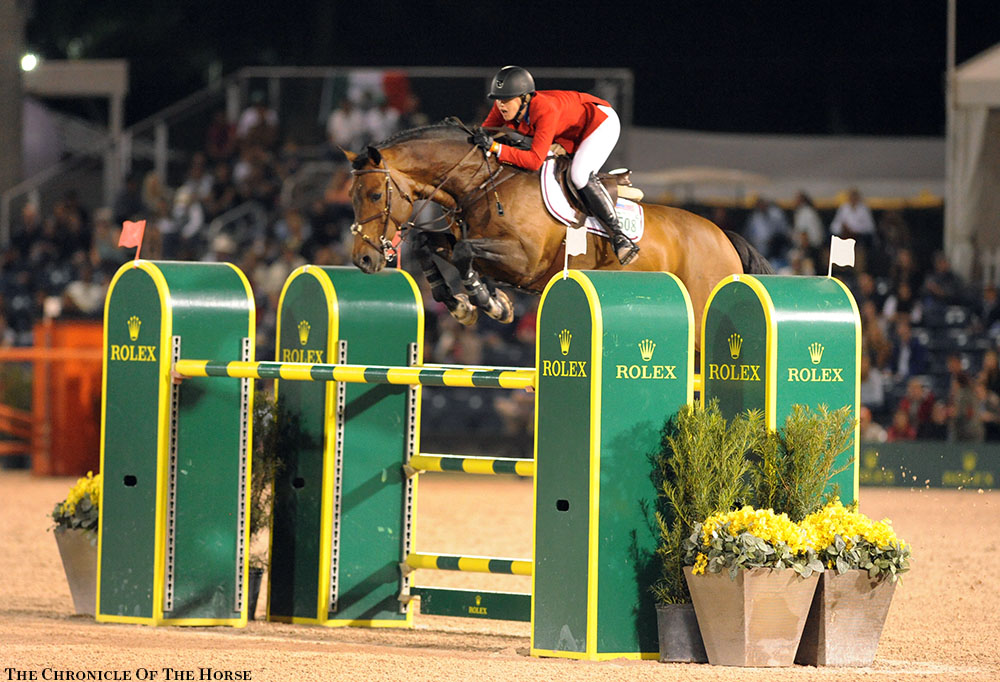 Audrey Coulter and Capital Colnardo