When Graeme "Butch" Thomas agreed to a three-week trans-Pacific passage with two mares, he didn't realize he was heading from his native New Zealand to his new forever home—California. It was 1971, and he was busy walking them each day on the ship's deck and keeping an eye on one who was growing suspiciously fatter by the day.
"A Mexican on board said to me, 'It's going to have a little burro,' " Butch recalled. "I told him he was crazy and that I'd just been feeding the mare too much. Well sure enough, she was seven months in foal."
According to Butch, the mare was carrying a foal that would later become an international show jumper known as Lucky Voyager.
The surprise bundle of joy was just the beginning.
In the decades ahead, propelled by serendipitous job offers and a resolute marriage, Butch and Lu Thomas would become the West Coast's power couple, dominating both the hunter and jumper rings. More than 45 years later, they'd receive the 2015 USHJA Lifetime Achievement Award for what Butch says they've always preached: simple horsemanship.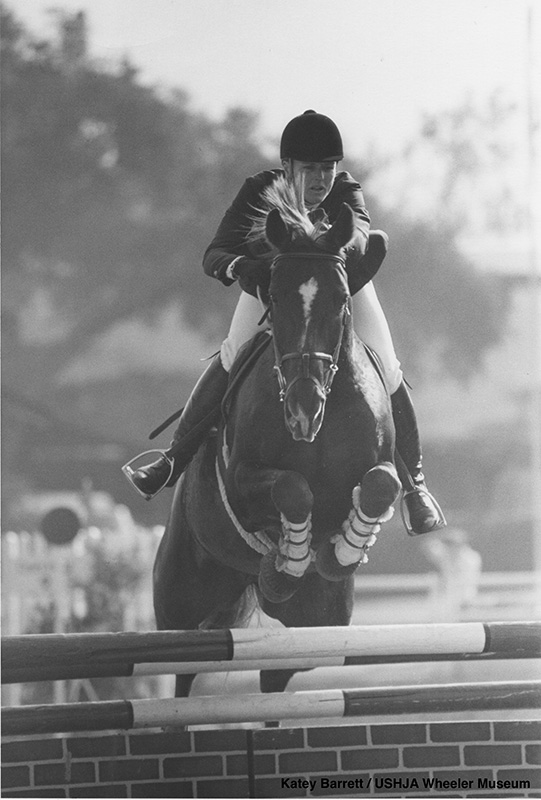 "Well, that's just recognition from people that you've been around all your life really, I think," Butch said of the award with a laugh. "We really haven't changed at all. We just do the same stuff we did in 1971: We explain to horses. If you know how to explain what you want them to do, they will do it. If you don't know how to explain, I don't care how much you ride them or kick them or pull them, they'll never do it.
"But if you know how to explain it to them," he added, "they'll do anything."
Across The Sea
Butch and Lu both grew up with horses—Lu in her hometown of Woodside, California, and Butch in Waihi, New Zealand, where his father worked as a trainer. Lu's father was a pilot for Pan American Airlines, and his primary route was between San Francisco and Auckland.
On one particular trip in the early 1960s, he mentioned to a local rider how horse-crazy his daughter was. The Kiwi happened to be good friends with the New Zealand Olympic coach at the time, Coleman Bolger. He encouraged Lu's father to send his daughter for a clinic with the famous trainer.
So in 1963, Lu, 16, headed to New Zealand for two weeks. Butch, then nearly 15, happened to be riding in the same clinic, and they became fast friends. They stayed in touch, and a six-month visit to Lu came next in 1965, when they rode Lu's horses, and Butch became part of her California family. But the thought of moving to the United States hadn't crossed his mind, and they relied on letters and Christmas cards to maintain their connection after Butch returned home.
"We stayed in touch through the 1960s," Butch said. "A few years later, [Lu] ended up working to find broodmares for clients of Tommy and Pat Blakiston in California. They wanted to import new bloodlines, so Lu asked me to bring two mares over."
Just a couple weeks after that 1971 trans-Pacific voyage, Butch, then around 20, received a job offer from a contact in Washington state who was seeking a trainer. He didn't have his saddle or boots, nor was he looking for a U.S.-based job. But he hopped on a plane to check it out.
"We drove all the way through the forest until we got to a place called Woodbrook Stables. It was the greatest old place. I went in and gave a few kids some lessons that day and had a great time," Butch said. "Before that I'd never given a lesson in my life; I'd only watched my father give them."
He may not have given many lessons, but by 1971, Butch had an impressive record in New Zealand.
"Afterwards, I finally called Lu and said, 'We've got to get married; we got a job up here!' " he said with a laugh. "I was supposed to go home, but instead we got married. Now we've been married for over 50 years. We've always gotten along really well. We still do today; it's a little bit strange. She's my best friend."
Passing On Wisdom And Kindness
Now at 76 and 77, Butch and Lu have given thousands of lessons from their Willow Tree Farm in California to some of the top names in show jumping. But they also made their own marks in the ring.
Butch ventured to the 1985 FEI World Cup Final in Berlin. It was Lu's turn to go in 1996, heading to Geneva aboard Native Code (Pocketful In Vail—Native Intrigue), whom the couple originally purchased as a yearling destined for the racetrack. She earned the American Grand Prix Association Rookie of the Year title in 1988 after winning back-to-back AGA classes in the $25,000 Michelob Grandprix of Rancho Murieta (California) and the $30,000 Michelob Grandprix of Reno (Nevada) with her mare, Jane Eyre. She also won countless championships at major venues like the Pennsylvania National Horse Show. For decades, the couple racked up top ribbons in almost every major grand prix on the West Coast.
"It was incredible when we started out," Butch said. "But we didn't know what we're doing. We just enjoyed doing what we were doing. We've had a huge array of people that are now running their own business that started with us."
They taught Gail Greenough in her early college days, before she became the first woman and youngest person to win a World Championship, in 1986. Carleton Brooks, a former student and assistant trainer for the Thomases, received the 2021 USHJA Lifetime Achievement Award for his own contributions to the sport. Three-time FEI World Cup Finals veteran Mandy Porter has trained with them, as have CSI5* winner Karl Cook and New Zealand Olympic veteran Peter Breakwell, among others.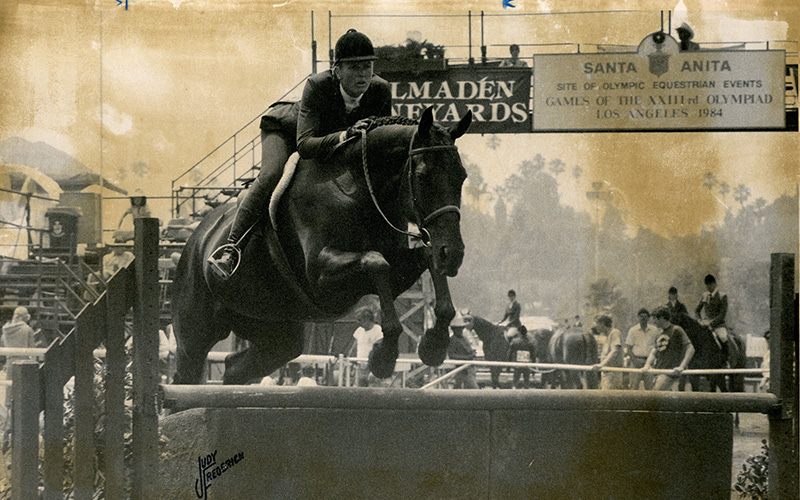 Greenough and her parents met Butch and Lu while competing in Greenough's native Canada in her late teens. Soon, she packed up and headed from Alberta to California to live and train with them for what she calls two "transformational" years.
"That was my first foray away from home by myself, and that was the late 1970s," Greenough said. "They were a surrogate family for me at that time, and they couldn't have been kinder and made me feel safer. And those couple years really catapulted me in my career. I came with bravery and instincts, but they really refined the technical parts of my riding."
Porter echoed Greenough's sentiments. She rode with the Thomases for much of the mid-1980s and into the early 1990s and worked for them after she graduated from college.
"They're really like family and very special people," Porter said. "Butch has so much of a natural feel for horses. He really just told us to go out there and ride. You have to have the grit first, then you can fine-tune it, and that's what Butch did. If you don't have grit, you won't make it far in the business."
"It can really be crazy in this business, but with Butch and Lu there was so much trust and confidence," said Greenough. "And we had so much fun; it was important for them that we always had fun. And at the end of the day, I think what counts is that they're just great human beings. Not only are they great coaches and super for the sport, but they're wonderful people."
It Runs In The Family
The Thomases' most recognizable student, though, is their son, Guy, 45, who represented New Zealand at the 2010 Alltech FEI World Equestrian Games (Kentucky), the 2004 Athens Olympics and 2008 Las Vegas FEI World Cup Final, making mom, dad and son all World Cup veterans.
Guy's partner for the 2004 Olympics was Madison, a mare his father discovered as a 4-year-old in New Zealand.
"Her mother was a Thoroughbred, and her father, [Fernsidge Sirroco], was a full Clydesdale," Butch recalled with a laugh. Ever the visionary, he brought her home for Guy.
Guy and Willow Tree Farm-bred Peterbilt (Lio Calyon— Jeribros, Concorde) competed at the 2010 WEG and won the $150,000 Triple Crown of Showjumping (California) that same year. Now, Peterbilt stands at Willow Tree Farm as part of the family's breeding program. He's joined by World Cup Finals veteran Jonkheer Z (Jetset D— Ulderina Van Westleven, Skippy II), who was imported from Europe by Butch on behalf of former client Karl Cook.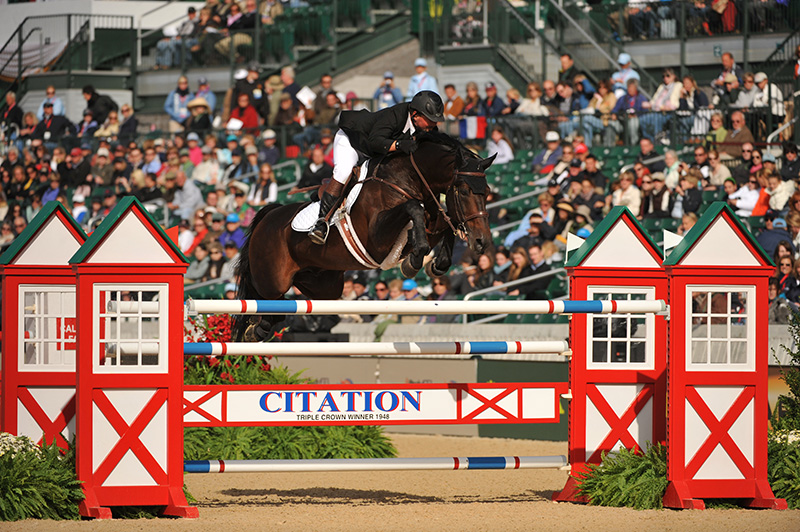 The Thomases have a successful race horse breeding program too, with 10 broodmares now. In 2012 they sold the most expensive colt at an annual yearling sale in California to trainer Bob Baffert. And 2017 filly-turned-broodmare Reiwa has career earnings of $165,000.
Butch is somewhat of an agricultural Renaissance man. He's bred New Zealand Heading Dogs, sheep (so the dogs keep their skills sharp), Wagyu beef cattle, Angus cattle and even deer. ("Mostly for the velvet," he says.)
"I'm not a high-tech person," Butch said. "I'm a farmer."
"I've worked cattle; I've worked horses, but deer are like trying to herd confetti," Guy said with a laugh. "But [Dad] figured out how to do it."
Guy inherited the same love for all animals. He was a keen rodeo bull breeder for years, though his last bull died in 2022. But according to Guy, the bull qualified for the Professional Bull Riding World Finals as a 4-year-old and managed to unseat the reigning world champion rider.
"I've always tried to follow my father's thinking and see how he can place people with horses, and I'm unfortunately still not even close," he said. "The man is part animal. He has an unbelievable horse sense about him. He and [Lu], they were both ridiculously talented at riding and at what they do now. They have such an innate instinct about them with the kids in our barn and the horses, and it's kind of shocking."
Lu has been quietly battling multiple types of cancer on and off for over 20 years. A bout of COVID infection and pneumonia hasn't helped either.
"Thank God she's tougher than my father and I put together, but she won't tell you that," said Guy. "My father's her rock, but she's tougher than both of us. She's very reserved and very quiet about her accomplishments. She could ride a horse better than anyone."
But, he says, Lu hasn't lost her desire to demand the best from her riders. "We're out here at Thermal [California] now, and she was standing by the warm-up ring chewing out all our asses, making us step into line and do things correctly," he said with a laugh.
Guy said people who don't know his parents might also think his father is gruff or hard to please. "But that's so far from the truth. He and my mom can see things in people and in horse and rider combinations that 98% of our industry today cannot see, and they can get the best out of them," he said.
"It's a testament to my parents as a duo, as a married couple–their bond and their work together that make them both amazing."
---
This article appeared in the February 2023 issue of The Chronicle of the Horse. You can subscribe and get online access to a digital version and then enjoy a year of The Chronicle of the Horse and our lifestyle publication, Untacked. If you're just following COTH online, you're missing so much great unique content. Each print issue of the Chronicle is full of in-depth competition news, fascinating features, probing looks at issues within the sports of hunter/jumper, eventing and dressage, and stunning photography.
What are you missing if you don't subscribe?