Buckeye the mule impressed us back in August when he scored consistently in the high 60 and low 70 percents at recognized dressage shows, so when we saw he was out and about with his rider, Sammi Majors, showing off his versatility, we had to get the story.
Buckeye and Majors returned home from the North Carolina State Fair Mule and Donkey Show on Oct. 25 with an armful of blue ribbons.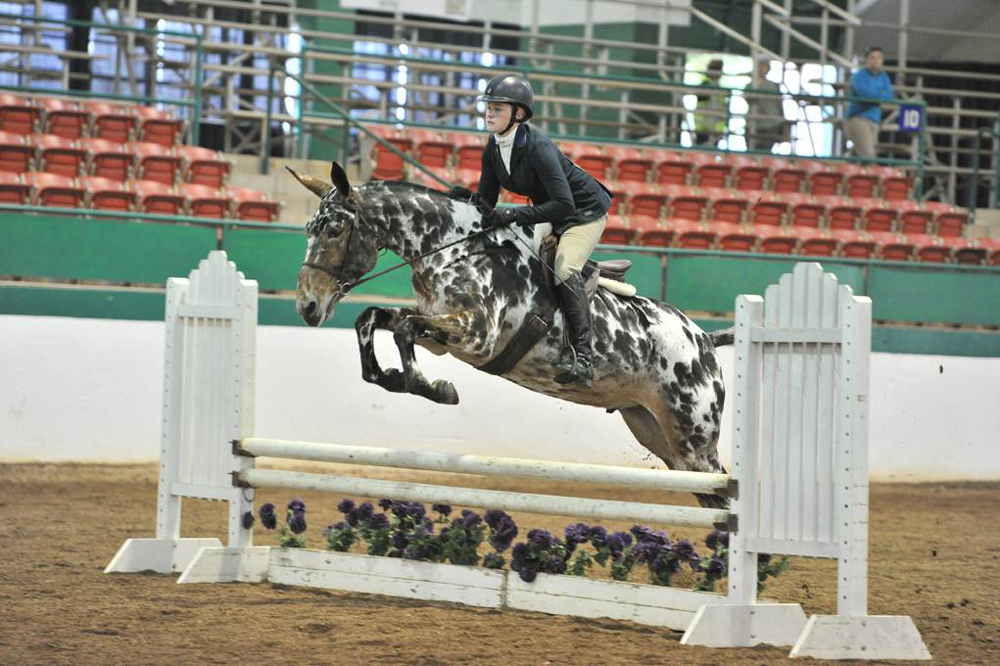 Buckeye and Sammi Majors in the Hunter Hack class at the North Carolina State Fair Mule and Donkey Show. Photo by Shane Shiflett
Majors, who rides the mule for his owner Christina Gregory, decided to teach him to jump this fall in preparation for the show, and he took to it immediately.
"He loves jumping. For a long time we would work on dressage stuff and school him over cavalletti, and he always loved it. We'd be doing a 20-meter circle, and if we went anywhere near the cavalletti he would try to pull me to it," said Majors. "As soon as we started jumping he took an immediate liking to it. That's all he seems to want to do now is jump, jump, jump!"
Buckeye started life driving his former Amish family to town, so he had no problem acclimating back to a cart for the show's pleasure driving classes. Majors had only driven miniature horses as a child, so it took some adjustment driving a larger animal.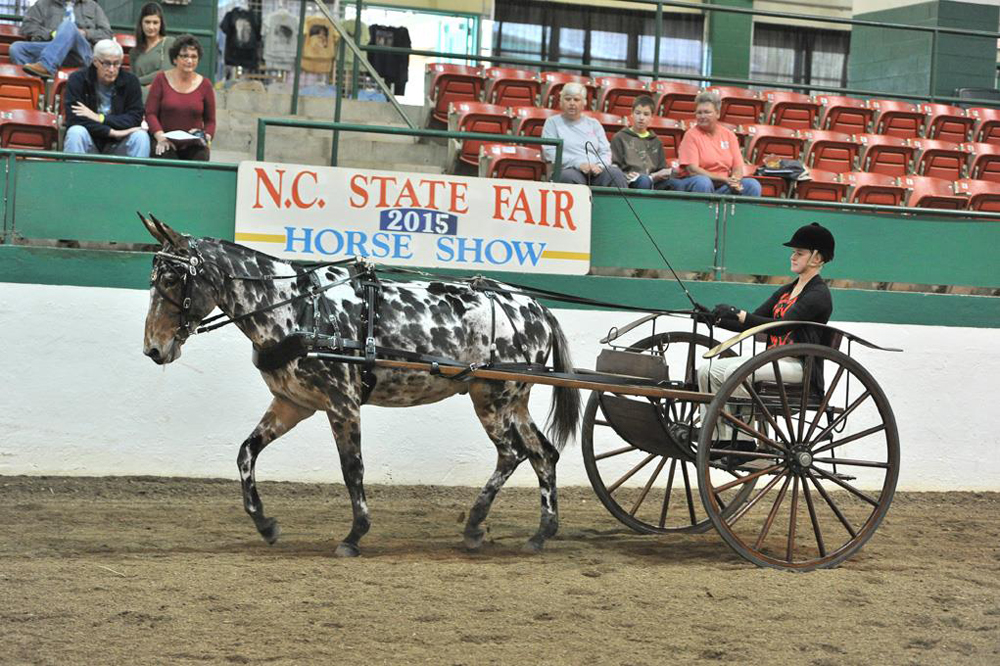 Buckeye felt right at home in harness. Photo by Shane Shiflett
Majors and her mother Jennifer, who had experience with showing mules several years ago, also taught Buckeye how to coon jump, where a handler leads a mule over an increasingly raised single fence.
Because of her experience, Jennifer competed Buckeye in the coon jumping class and won.
"He's not doing quite as well with that as he did jumping under saddle," said Sammi. "I'm not sure if he just doesn't know what to think about it. At home we would school him and get him up to maybe 2'3″ or 2'6″, and he would kind of balk and say, 'No, I'm not doing it anymore.' At the show he cleared 2'9″ and balked at 3′. That was definitely better than he's done at home. Hopefully with more schooling and time he'll figure out the whole coon jumping thing."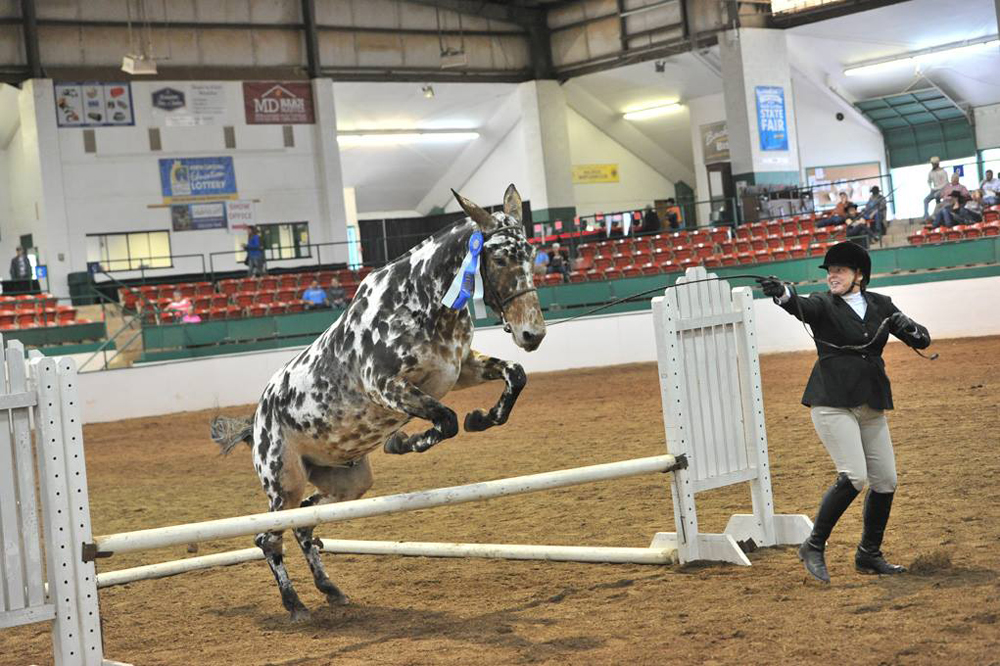 Buckeye and Jennifer Majors celebrate their win in the Coon Jumping class. Photo by Shane Shiflett
In all, Buckeye won the Most Colorful Mule class, the Hunter Hack class, Coon Jumping, Pleasure Driving-Single Mule, reserve champion Pleasure Driving, the Turnout Class, and Reinsmanship.
Earlier in the fall, Buckeye also tried his hand as an Intercollegiate Dressage Association mount at the North Carolina State University home show, where Sammi is a team member.
He competed in the intro division and won a class. "He was in the intro division, so all the intro riders were able to sit on him and get a feel for him on [Friday.] He did really well. They were all amazed. They were shocked to find out that when they did sit on him, he rode basically just like a regular horse," said Sammi. "Saturday for the actual show, one of our NC State riders drew him. She was nervous about it, but she had a great warm up on him and a really good test.
"Overall, everybody was just in love with him, kind of like when we go to other shows and they just thought it was really cool that he was out there doing dressage It was pretty neat," she said.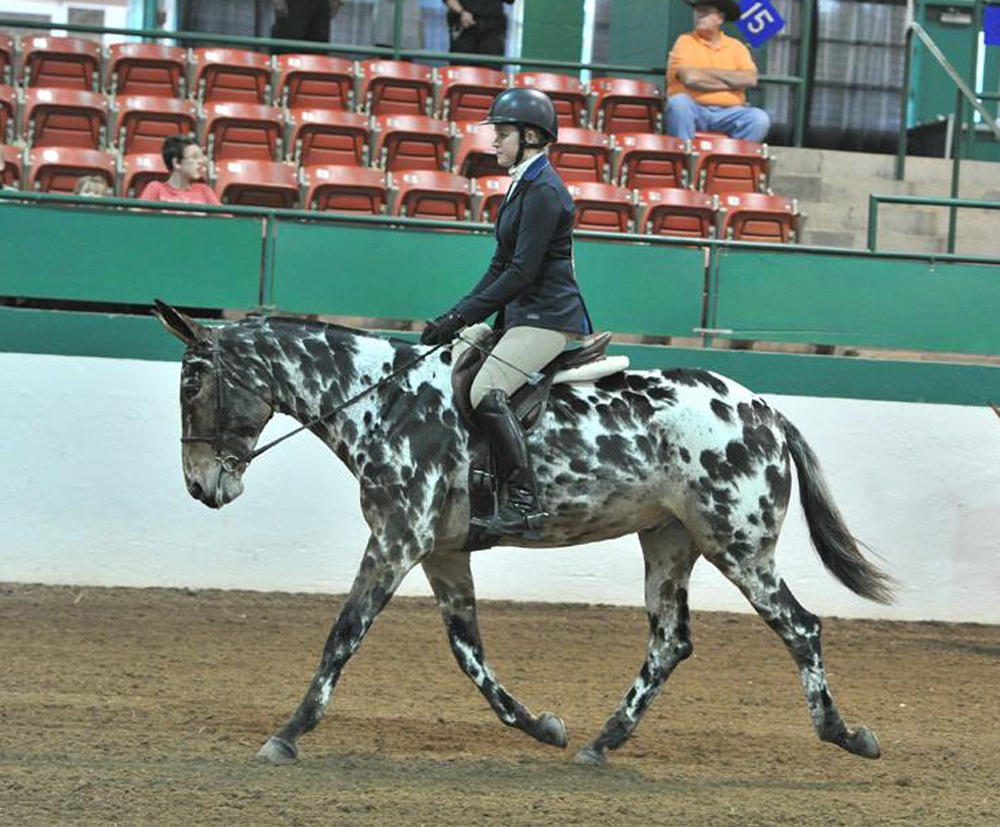 Buckeye and Sammi Majors in their element on the flat. Photo by Shane Shiflett
While Sammi loves dressage, she's enjoyed letting Buckeye have a change of wallpaper this fall. "We're loving it. It's good for him to be able to do other things and not get bored with constantly doing dressage," she said. "That's one thing with mules for sure, you've got to do a lot of different things with them. It's keeping them occupied and of course, everything is the same basics as dressage. It all relates together and works together."