Samantha Majors is used to drawing a crowd as she walks Buckeye to the warm-up arena from the stables at a dressage show, and it's not just because he's an Appaloosa—her mount is also a mule.
"Whether you're hacking or getting ready to show, people will do a double-take," said Majors. "Then you get the people who want to give you the silly comments, 'Oh, nice warmblood you have there.' Sometimes it can take a bit of time to get where you need to go because everybody wants to stop and look at him and take pictures."
But Buckeye not only stands out to passersby, he's also making an impression in the ring.
At two of his recent shows, at Tryon Summer Dressage 1 (N.C.) and Raleigh Summer Dressage I (N.C.), Buckeye won three introductory-level classes, including his Intro Test C class on a 71.00 percent. Then he moved up to training level, where he scored a 67.69 percent in an open class.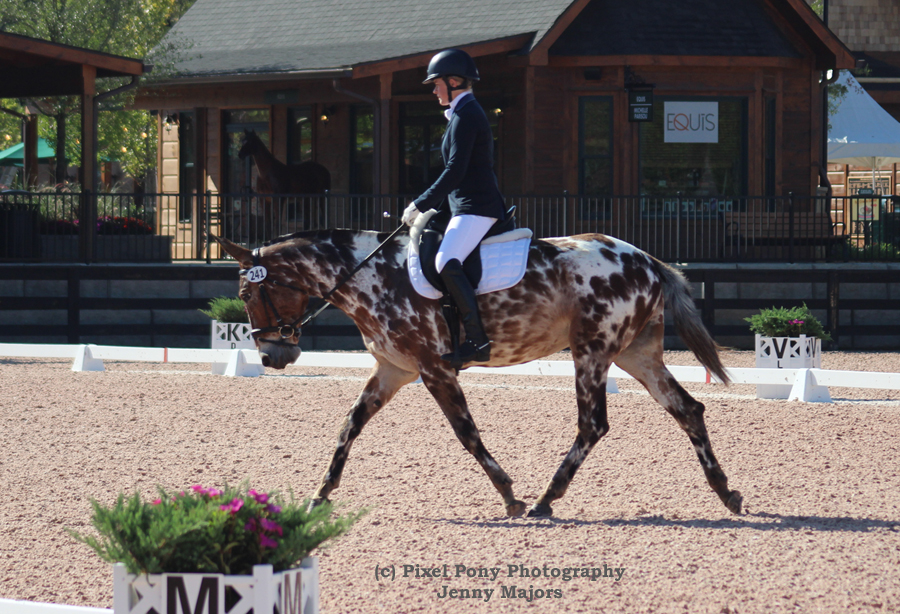 (Buckeye competing at the Tryon International Equestrian Center. Photo by Pixel Pony Photography.)
"The judge was really pleased with what an overall nice mover he was, for not being a fancy warmblood," said Majors. "She was happy to see that he was well balanced and using himself correctly. She said she'd never really seen a mule have such a nice canter on him, which for me, still needs a lot of improvement, but it is fairly balanced. He was behaving very well in that [training level] test, so she really got to see his shining moments."
Majors rides Buckeye for his owner, Christina Gregory. A client of Majors' family's business, Full Stride Sport Horses in Cleveland, N.C., Gregory was determined to buy Buckeye last November at the Dixie Horse Auction in North Carolina.
Majors' parents, David and Jennifer, had a pair of Appaloosa mules when she was growing up, so the family was excited to see Buckeye, or Mr. Spotty as he was then known, in the auction catalog.
"I jokingly showed it to her and said, 'Look Christina, this is what you need! It's gonna be your next dressage superstar.' She saw the picture and fell in love with him herself," Samantha said.
When Gregory won the mule in the auction, she asked the Majors family to train him in dressage. They also renamed him Buckeye after his former owner, Buckeye Acre Farms, located in Ohio.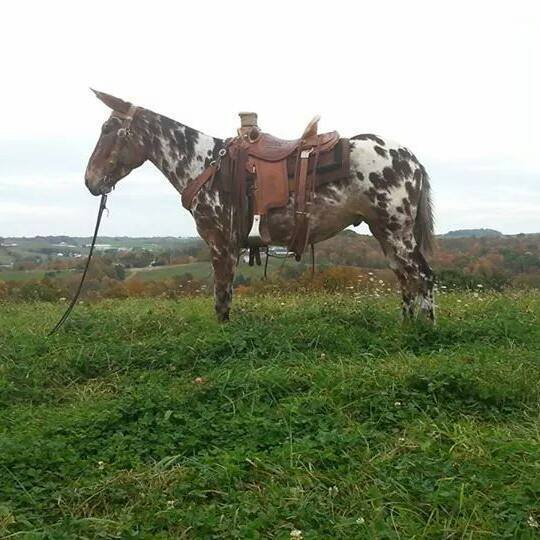 The 8-year-old mule was a little green under saddle since he'd mostly been used as a driving horse, but with some initial training from Jennifer, he came along nicely while Samantha, a senior at North Carolina State University, was away at school.
When the 22-year-old came home from school this summer, she took Buckeye on as her project and has found him to be a fun challenge.
"He likes to get on the forehand and kind of heavy in the bridle," she said. "It's something he likes to do from the driving. He likes to hang on the bit. Getting him to really balance himself and push from behind and be soft in the bridle and uphill has been the biggest struggle. It's slowly getting better. It takes a bit more time than it does for other regular horses, but it's getting there."
Samantha described Buckeye as very smart, but he can also have his "mule days."
"He'll definitely teach you about patience," she said with a laugh. "We joke that some days he has horse days and some days he has mule days. He'll come out of the barn, and it's like he's forgotten everything he's learned, and he's just a mule. He wants to blow through the bridle and not listen to your outside aids, especially. You might have to spend 30 to 45 minutes of your ride getting him back and listening and doing what he should be doing. He wants to see what he can get away with if he's having a lazy day.
"He's taught me a lot," she continued. "He keeps you humble! He's taught me that you have to be very creative in your training methods to get what you want to achieve because what you use one day may not work the next day."
Daily work with Buckeye often means changing gears if he feels like he's getting drilled, so no endless transitions on a 20-meter circle.
"Mules are very, very smart animals," she said. "They often get the tag that they're stubborn, which can be true, but often they're extremely smart, and smarter than whoever is riding or training them.
"The main difference with training a mule is that you can't drill a certain exercise time and time again," she added. "You have to mix it up, you have to do one exercise once or twice, and if you haven't gotten the message through, you have to figure out another exercise that will achieve the same goal and then do that once or twice."
At shows, Buckeye enjoys watching other horses go by and usually saves his braying for feeding time at home.
"He's a very social mule, even at home. He loves to visit with all the horses," said Samantha. "He's happy to stand in the cross-ties and get groomed for an hour. His favorite thing is to have the inside of his ears scratched. That makes his day."
You can follow Buckeye on his Facebook page or watch him in action: