Mill Spring, N.C.—Oct. 24
When Tessa P. Brown watched her competitors in the Washington International Horse Show Equitation Finals, she couldn't stop drooling over one horse: Dominic Gibbs' Cent 15. She crossed her fingers that she'd make it into the work-off and get to swap horses with Gibbs so she could throw a leg over him.
"I was like, 'I want to ride Dominic's horse; I want to ride Cent 15. He seems like so much fun,' " said Brown, 15. "When the lineup happened the way it did and I drew him for my horse, I was just so happy. I kind of went in there as another chance of a lifetime on an amazing horse."
Aboard Cent 15, Brown put in a spectacular final round over the track, earning the highest marks of the weekend from judges Jimmy Torano, Nicole Shahinian-Simpson, Robin Rost-Brown and Erynn Ballard: a 91 and 92. Her three-round total topped the leaderboard and she took the blue ribbon back to Jamaica, Vermont.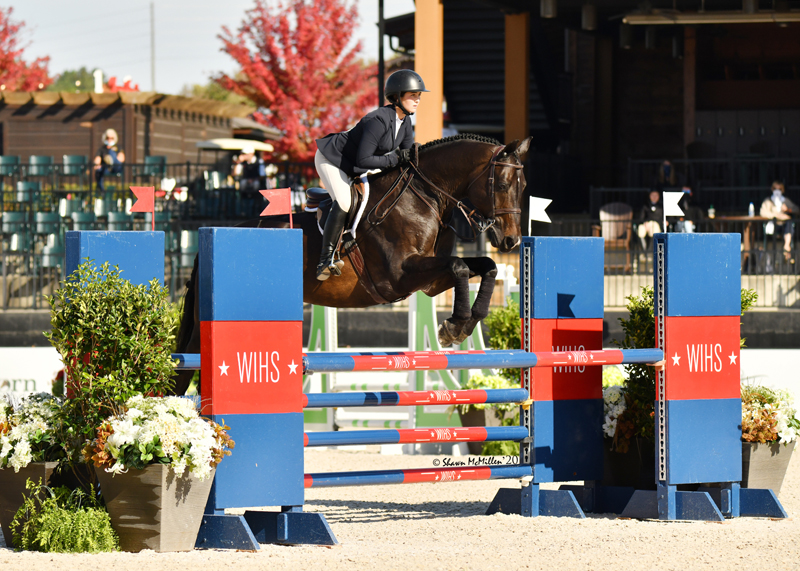 Brown lay seventh after yesterday's hunter phase, and after a strong jumper round on her own Davide this morning she lay third heading into the final work-off where the top 10 riders swap horses. She edged out Sophee Steckbeck, Clarksburg, New Jersey, by half a point for the win, and Ellie Ferrigno galloped up the standings to take third.
Brown is blogging for The Chronicle of the Horse throughout Washington International Horse Show Equitation Finals. Read about her weekend in her own words. 
The signature equitation class of the Washington International Horse Show moved from its usual home in the Capital One Arena in downtown Washington, District of Columbia, to the Tryon International Equestrian Center this year, and today the riders took a trip around the Tryon Stadium grand prix ring.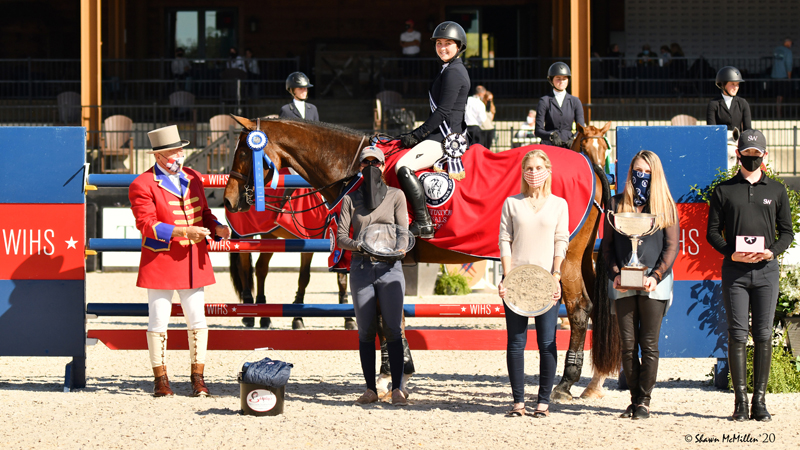 Brown rides with Kyla Makhloghi and the team at Rosemont Farm.
"Going into yesterday I just rode for [Davide]," she said. "I rode with confidence; I rode for the Rosemont team [and] everything they have helped me accomplish. I went in confident and rode my track. I think that has a lot to say about taking the pressure off a little bit when you focus on the basics and you focus on your horse because that's what riding is. You are riding a horse, and you have a connection. That is something to be very excited about in my mind, and I love that I am here doing it on the horse of a lifetime, Davide."
Brown paired up with Davide, a 12-year-old warmblood of unrecorded breeding, in 2017.
"He gives me so much confidence, and I feel like as the years go along we grow with each other," she said. "I am able to read what he wants; he is able to read what I want, and when we come to finals like this I think it gives us a lot of reassurance stepping into the ring. Since 2017, the first time I sat on him, I have forever fallen in love, and I respect him so much. He tries so hard, and I am most proud of him for coming, going the way he did, listening to me and I listened to him, and I think that is how success comes along."
Makhloghi was beaming with pride at her student, whom she's been teaching since she was 8.
"The reason today was able to go as it did is because Tess and I have prepared like every day, every practice, every class, every show matters," she said. "So, when it comes down to a pressure situation, it feels familiar because that's how we train. It's easy to get bogged down in scores, points and qualifying, but at the end of the day sustained success is only possible through sustained practice and today is a testament to that."
For her part Steckbeck was thrilled to finish as a runner-up.
"I've done [the WIHS Equitation Finals] two years prior to this, and I've gone to the finals. This is the first year that I've been up in the rankings, and I am very happy with the results. Over the years, you have the hunter phase and the jumper phase, and having that diverse equitation so you can do both phases—it's a very cool final to do."

Results
1. Tessa Brown
2. Sophee Steckbeck
3. Ellie Ferrigno
4. Dominic Gibbs
5. Eliza Kimball
6. Hannah Hoch
7. Natalie Jayne
8. Zayna Rizvi
9. Austin Krawitt
10. Skyler Fields