When Great Britain's dressage team filled the chairs of a Sunday press conference after earning silver at the Blue Hors FEI Dressage World Championship in Herning, Denmark, one member was notably absent: Gareth Hughes. Teammate Richard Davison revealed that Hughes had tested positive for COVID-19 on Aug. 6.
Despite his diagnosis, the 51-year-old rider competed Classic Briolinca on Saturday, earning a 75.97% that helped boost his team to silver, and he participated in the medal ceremony Sunday, maskless.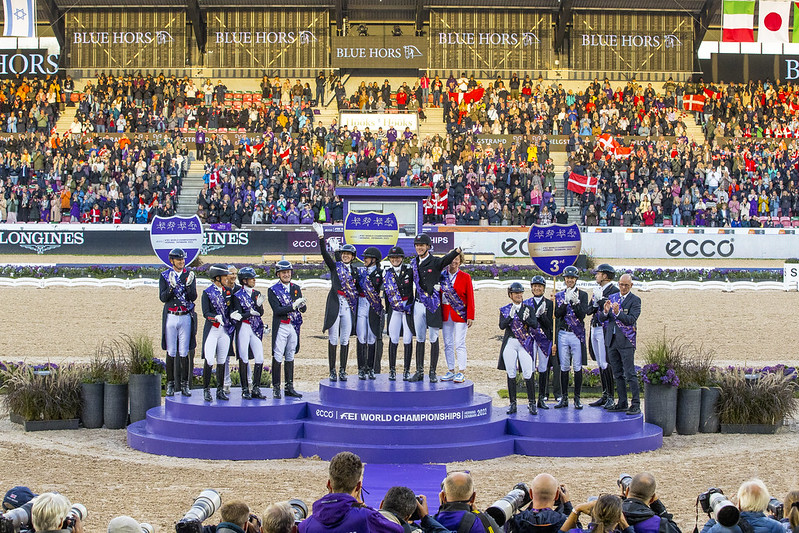 The revelation of Hughes' COVID status—which previously was unknown to the FEI and many athletes outside the British team—caused a stir in the press conference and a flurry of questions fielded by Winnie Murphy, British Equestrian's head of communications, about Hughes' decision to not withdraw.
Hughes' score helped lift Great Britain to its second-placed team finish over Germany. Had he not ridden, the team's other three riders would have finished a close fourth place, and Sweden would have earned bronze.
Following his ride on Saturday, Aug. 6, Hughes wore a mask in the mixed zone, a busy area athletes pass through immediately after their performances to field questions from reporters and media representatives, Murphy said, and the team consulted with medial colleagues from the Commonwealth Games on how to handle the medal ceremony, in which he participated unmasked.
He did not act against protocol, Murphy said. An Fédération Équestre Internationale spokesperson confirmed Monday that while the organization does have recommended best practices that indicate athletes that test positive should leave the venue, there are no rules to that regard, so Hughes was allowed to continue competing.
"The FEI Policy for Enhanced Competition Safety during the Covid-19 Pandemic is still in effect and is in place to supplement the applicable legislation and policies from domestic governments and health authorities," FEI Communications Director Olivia Robinson wrote in an email. "With its sport specific considerations, the FEI Policy is part of the 'Recommended Best Practices for FEI Event Organisers' and not a set of regulations. As the athlete Gareth Hughes is not in breach of any FEI rules he can continue competing at the Blue Hors FEI Dressage World Championship 2022."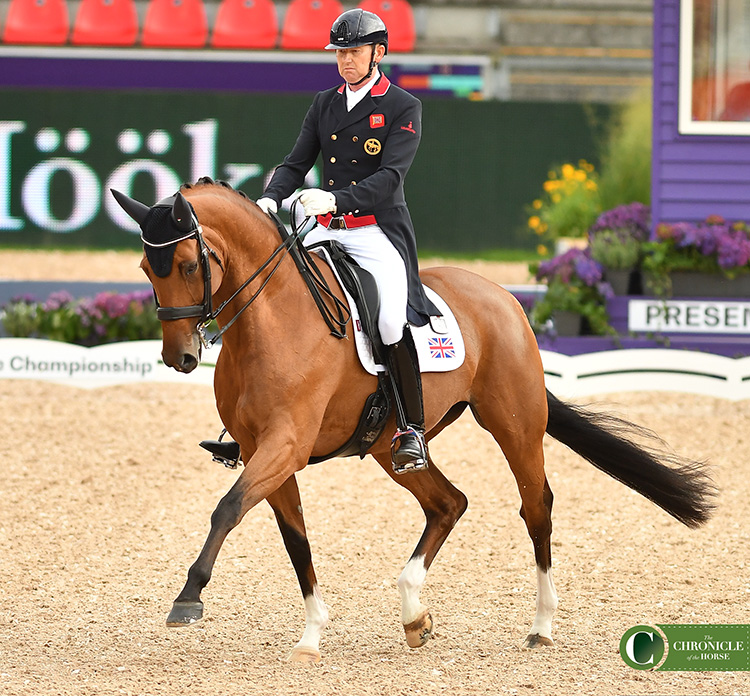 However, after Sunday's revelation, FEI Medical Committee Chair Dr. Mark Hart met with representatives from the British team Monday, Aug. 8, to discuss the situation. As a result, Hughes will be "required to follow special protocols while on site/competing today and for the remainder of the Championships," Robinson wrote.
Hughes rode again Monday in the Grand Prix Special, earning a 77.28%, and again was masked in the mixed zone after his ride.
"I didn't test positive until we got here; we are allowed to ride, within the rules," Hughes said. "I've now tested negative, which is great. We're doing this as a precaution because it's out in the press, but I've done two negative tests now so that's really good, but I'm still going to keep away; [I'm] doing everything to right to make everyone feel safe.
"You know, I'm a long way away from everybody in the arena, and you know we abided by the rules; we did everything right," he added.
As to forgoing a mask during Sunday's medals ceremony he said, "That was, yes, a decision that was made," and he noted he tried to stay away from other people during the ceremony.
At Sunday's press conference, Murphy said the team followed all local laws and protocols.
"We checked everything and the protocols, and the law in Denmark where we are and at home is that if you test positive for COVID there is no need to isolate; you just manage it. These days we all just have to manage it like a cold, a sickness," she said. "There were probably hundreds of people coming through the turnstiles today with COVID. Anywhere we are gathering there is likely to be COVID around."
And after several questions on the issue, Murphy changed the topic: "Can we focus on our wonderful medalists?"