Aug. 7—Herning, Denmark
Cathrine Laudrup-Dufour and Vamos Amigos came into the Blue Hors FEI Dressage World Championship as heavy favorites, and they delivered tonight, anchoring Denmark to team gold. Charlotte "Lottie" Fry put in lovely test aboard Glamourdale to help Great Britain take silver, and Germany claimed third.
"I don't think we really understand it yet," said Danish rider Nanna Merrald Rasmussen. "It's crazy. I was so nervous—I was shaking like hell when Cathrine was riding. I think we all thought [the test] was unbelievable. We saw Lottie riding on the phone in the stable. Me and [teammate] Carina [Cassøe Krüth] were like, 'It was amazing.' She did a super job. We knew Cathrine had also to do her best."
Laudrup-Dufour was thrilled with her fantastic ride on Vamos Amigos, a 10-year-old Westphalian.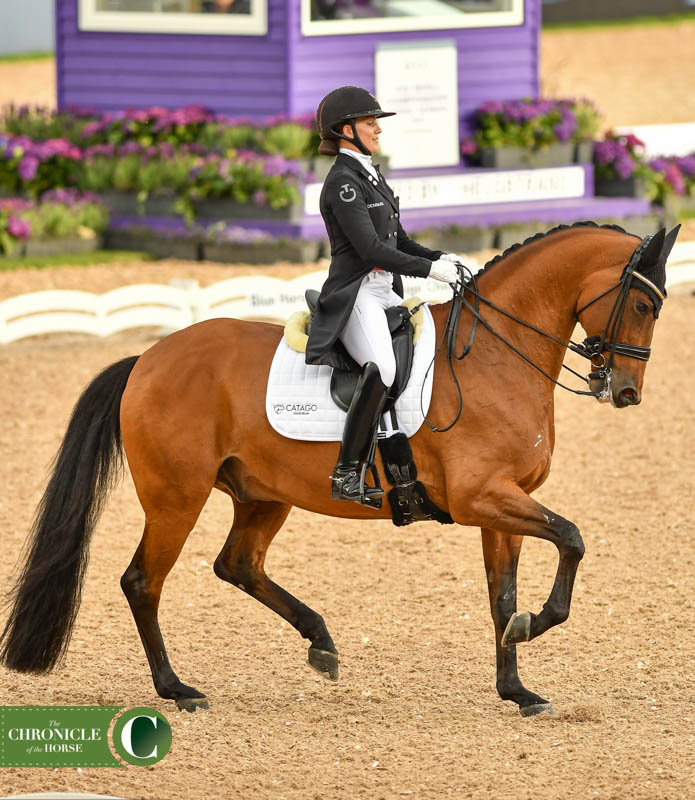 "He felt really good in the test today," she said. "The piaffe-passage is really super with him, and the extended trot is just hold on and hope for the best. He really coped with the atmosphere. He's only done a few indoor shows and [CHIO Aachen (Germany) this year], which for sure matured him a lot. Overall I'm just so proud he could cope with the pressure."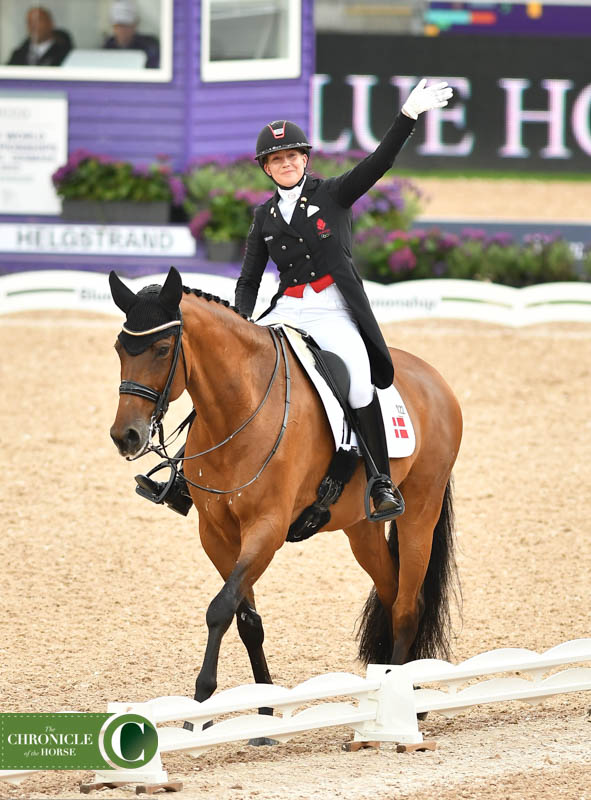 Danish Chef d'Equipe Anne Mette Binder said that to prepare for the championship the team—Laudrup-Dufour, Daniel Bachmann Andersen on Marshall-Bell, Rasmussen on Blue Hors Zack and Krüth on Heiline's Danciera—joined together for boot camp after Aachen for two days of test riding and meeting with a sports psychologist.
"We had hoped to make a good impression and have a good result in Herning for the Danish audience and for everyone who's traveled here to enjoy the championships in Herning," she said. "The riders succeeded in following the plan from the beginning, doing the best they can with their horses and grooms and teams. We prepared for years for this."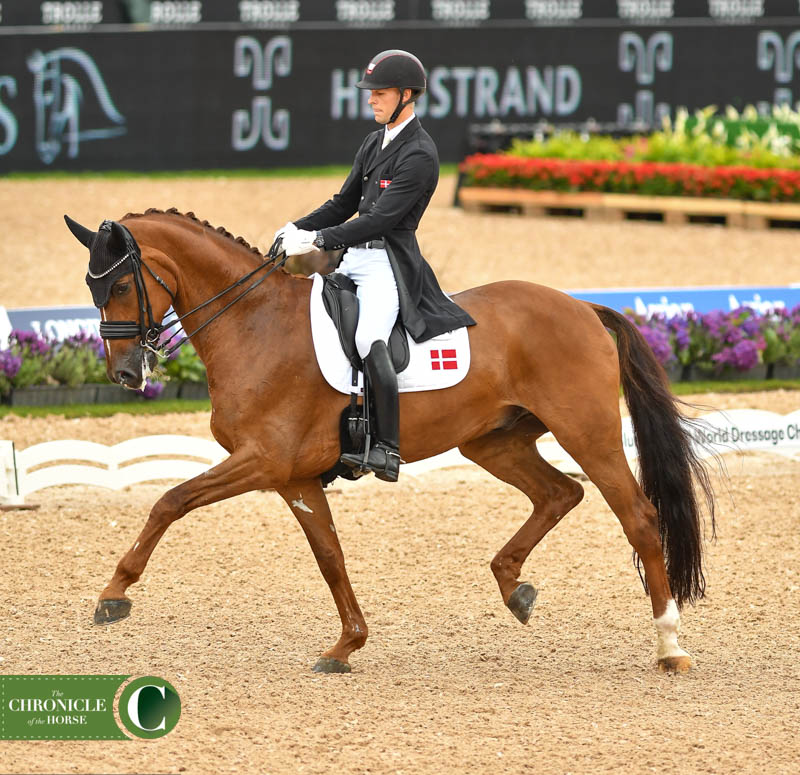 The British squad of Fry, Charlotte Dujardin on Imhotep, Gareth Hughes on Classic Briolinca, and Richard Davison on Bubblingh was thrilled to take silver, finishing just over 1 percentage point behind Denmark.
Fry scored a personal best and the second highest score of the competition with an 80.83%. She cited the canter work as a personal favorite part of her test, and the crowd got into her performance too.
"To be honest when you're in there [the crowd is] not something you notice," she said. "After my test some people said to me, 'Did that not distract you, the crowd getting really excited about it?' I had no idea! The feeling he gave me was really exciting."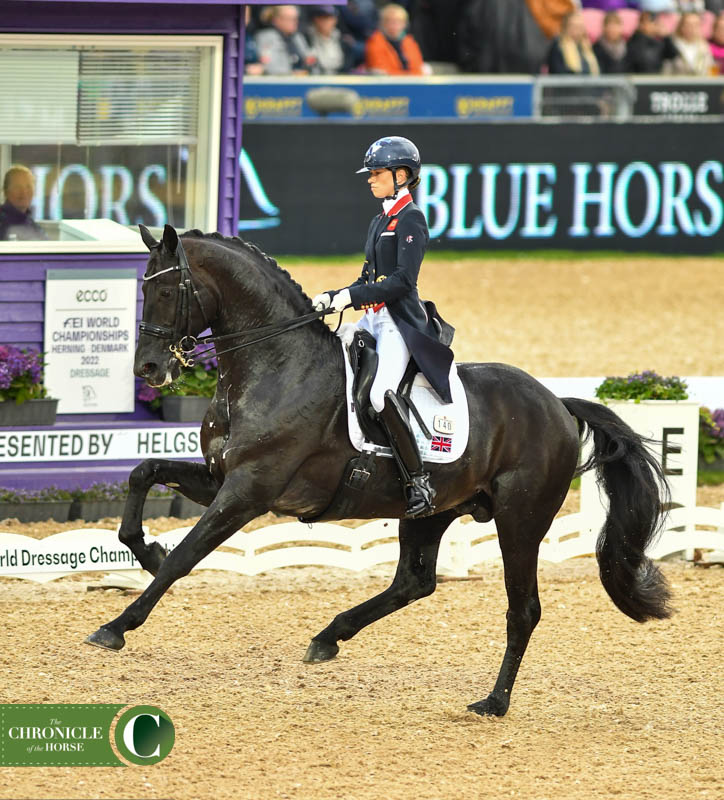 Dujardin was thrilled with Imhotep's test, especially as it was only his fourth time showing at Grand Prix.
"For 9 years old with such little experience I'm so happy with him," she said. "To be honest I had no idea how he'd be in there. He's so much fun to ride. He gives me a smile from one ear to the other, and I love every moment of riding him. [The 2024 Paris Olympic Games] is definitely going to be very exciting."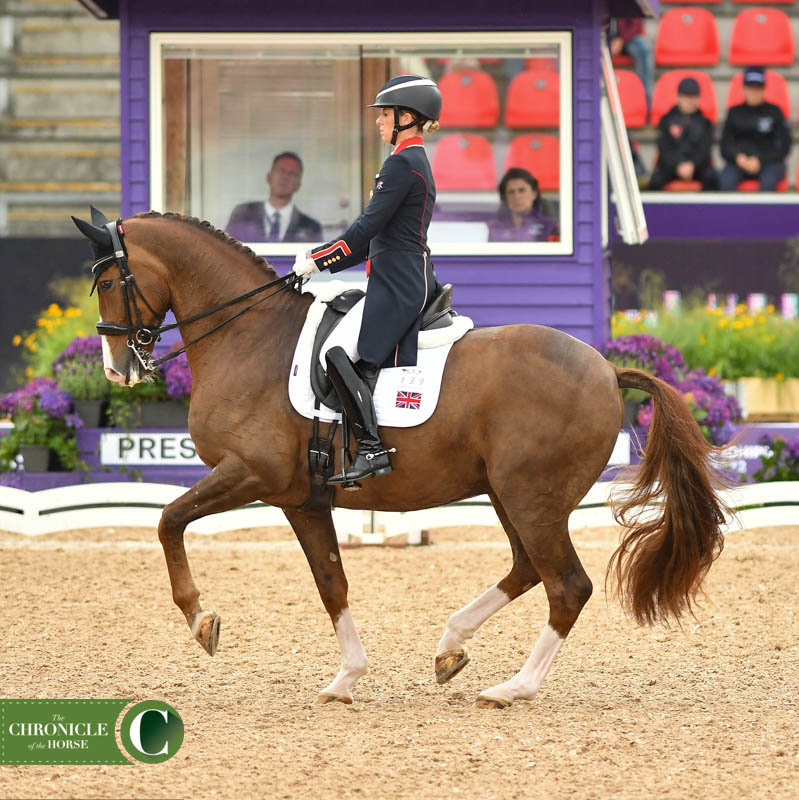 Perhaps the biggest surprise came when Davison revealed the reason that Hughes missed the press conference: He had tested positive for COVID the day before. When journalists questioned Hughes' and Great Britain's decision to go allow him to ride (and join the other teams on a crowded medal podium filled with celebratory hugs and kisses the next day), Winnie Murphy of British Equestrian said the decision wasn't made lightly.
"We checked everything and the protocols, and the law in Denmark where we are and at home is that if you test positive for COVID there is no need to isolate, you just manage it," said Murphy.
"There were probably hundreds of people coming through the turnstiles today with COVID. Anywhere we are gathering there is likely to be COVID around," she added.
German team stalwart Isabell Werth said she and her teammates were pleased with bronze.
"We are really satisfied," she said. "I think all of us, we did a good job. It's not that we came and said, 'OK we're the favorites.' We always said that the Danish team is the favorite, and we also said we don't know exactly what [would happen] with the English team. I always know that when Charlotte's coming around that she will fight to the end, and she will do something special. It was really great for me to see the last combinations and then at the end to see that the one ride changed the ranking. This is sport, and a really open championship, and it was really exciting to see."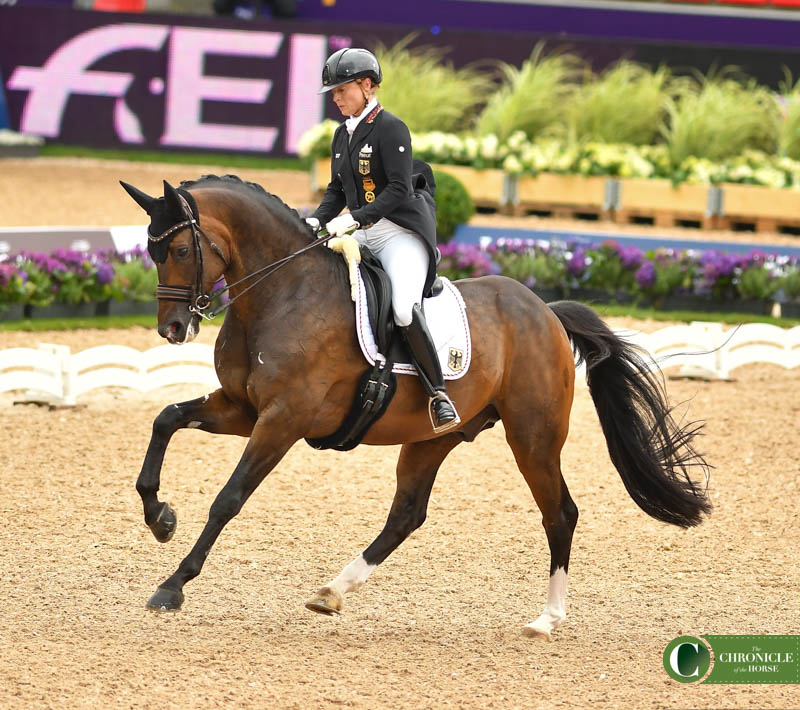 USA Finishes Sixth
While the U.S. team hoped for a spot on the podium, they breathed a sigh of relief when they finished in sixth place, as the top six teams qualify for the next Olympic Games. (Sweden and the Netherlands, who finished fourth and fifth respectively, have also punched their tickets to Paris.)
Steffen Peters rode first today for the Stars and Stripes, putting in a solid test on Suppenkasper to score a 74.76%.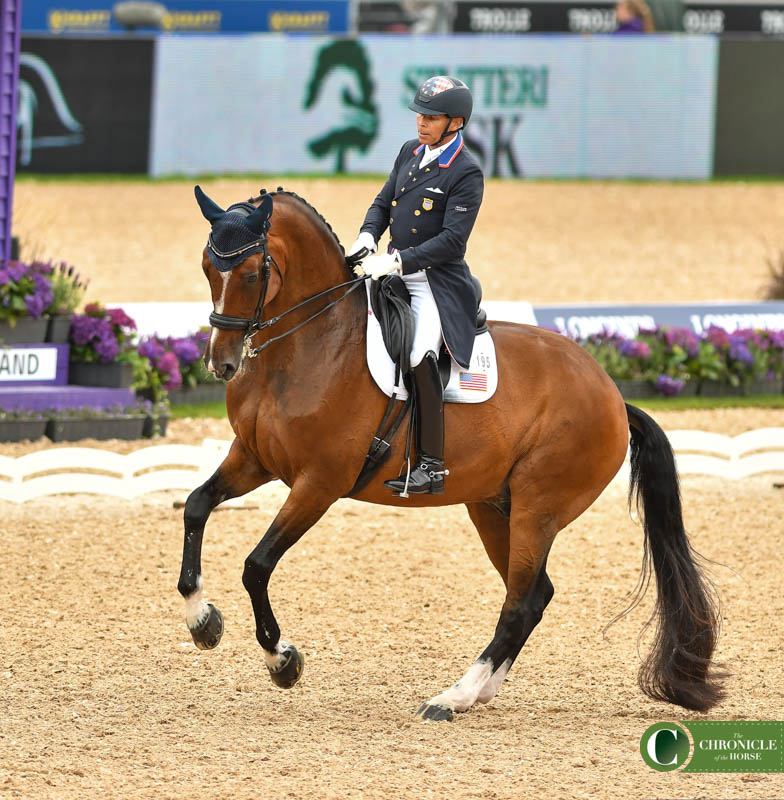 "I went in there putting the team placing aside, going in there doing my very best," he said. "My job is to ride in there. That's what I did. 'Mopsie' was pretty excited today, especially in the extended canter—that arena was getting extremely small; he had lots of energy. He got a tiny bit low in the neck. I couldn't get him quite as up as I like to have him but overall a clean test, and I'm proud of it."
Peters said he was thrilled with Mopsie's progression over the last four years they've been together.
"Four years ago we didn't really have a halt; we didn't have a rein back," he said. "We didn't have an extended walk, collected walk. He'd do the collected things really well, but when it comes to relaxation, that was very challenging for both of us. Looking back to four years, he's made huge, huge steps forward."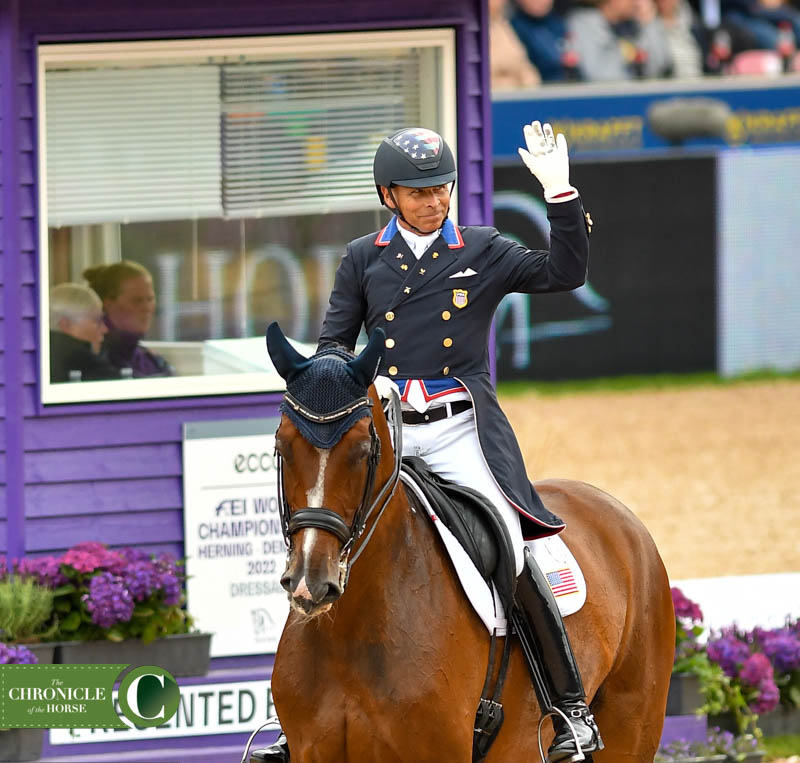 Adrienne Lyle had the pressure on when she went into the ring with Salvino, knowing that she had to put in a solid test to secure a sixth-place finish. She scored a 74.39% on Salvino after running into trouble in the canter zigzag.
"My horse had some really good stuff today," she said. "He got his legs completely tangled up in the zigzag, so I just walked and carried on because I didn't want him to get worried about it. That stuff happens; they're horses. Other than that he had some really good stuff, and we're really excited to move on to the Special.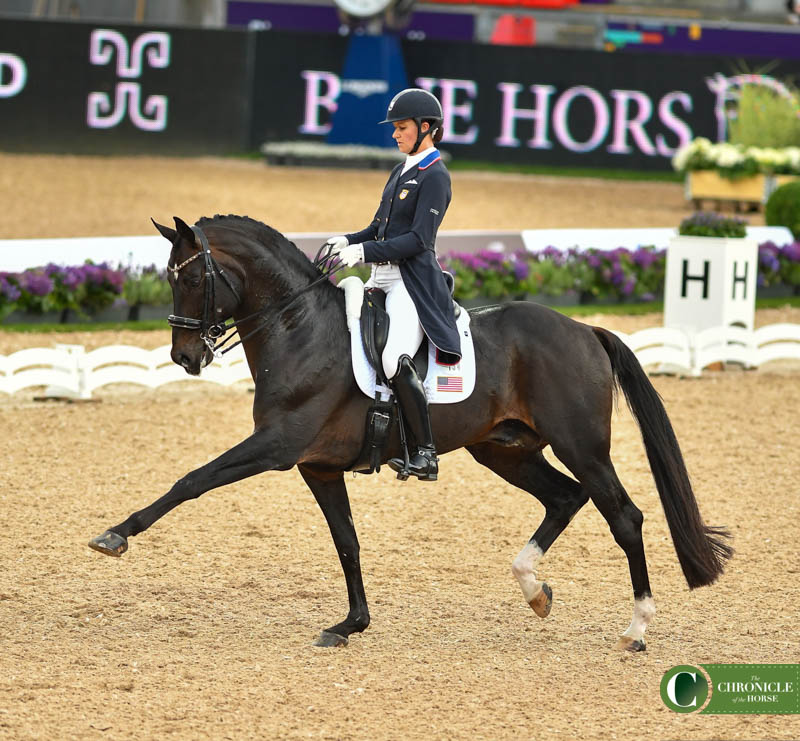 "His piaffe-passage is always stellar," she continued. "He's always very honest in giving in the ring. The Special is the test that he shines in; he can really show off his range of motion and his scope a bit more."
The top 30 horses in the Grand Prix will move on to tomorrow's clean slate Grand Prix Special, which will determine the first set of individual medals.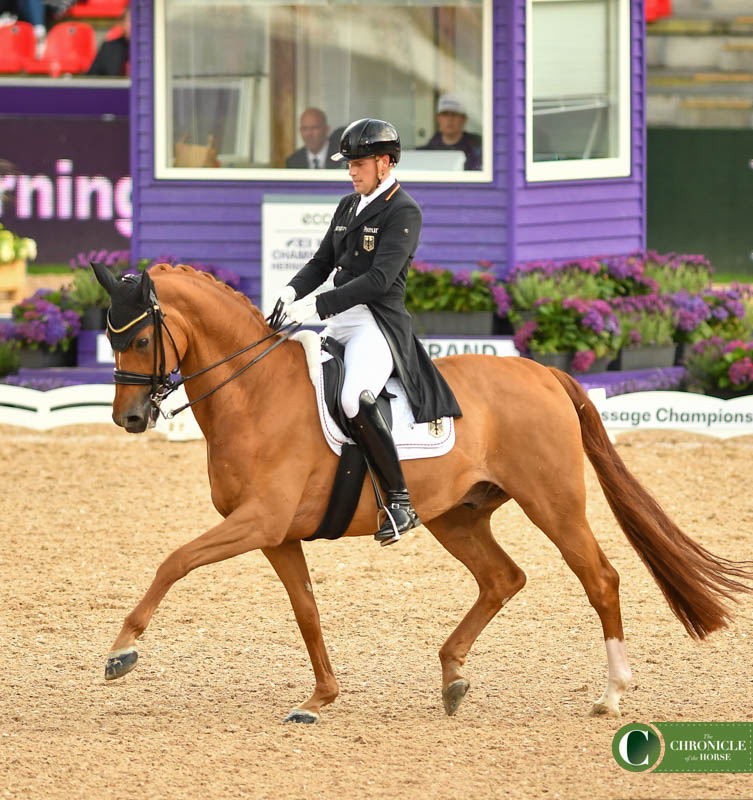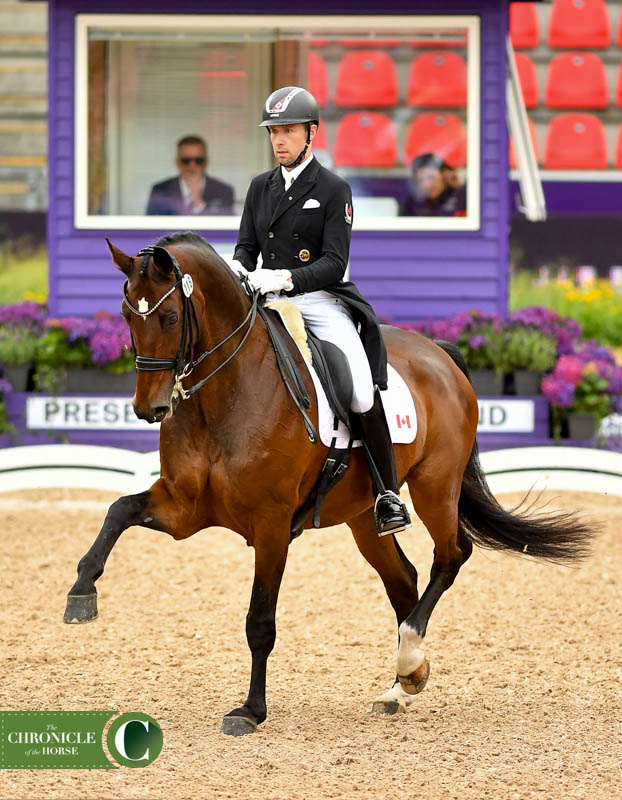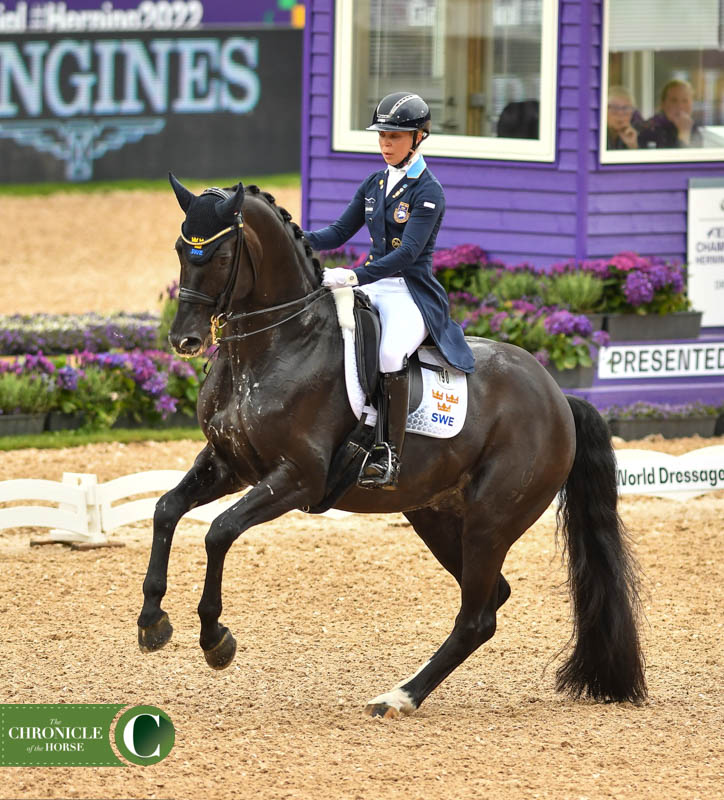 Find full individual results here and team results here. Want more from the ECCO FEI World Championships? Click here. Check out the Sept. 5 issue of The Chronicle of the Horse magazine for analysis from the competition.