Wellington, Fla.—Feb. 6
Another year, another horse, another check. For the second year in a row, Boyd Martin rode home victorious in the $75,000 Asheville Regional Airport Wellington Eventing Showcase Saturday afternoon in Wellington (Fla.).
Martin won last year's inaugural event with former mount Trading Aces in what would be his last ride on the gelding, but he defended his title with the 12-year-old Thoroughbred gelding Blackfoot Mystery (Out of Place—True Mystery, Proud True), whom he acquired just last July for the Blackfoot Mystery Syndicate and is a promising candidate for the Rio Olympic Games this summer.
The winning duo finished on a penalty score of 30.6 after executing faultless show jumping and cross country rounds. Colleen Rutledge and Covert Rights (31.0) finished second, while Daniel Jocelyn was third with Devil Munchkin (32.3).
"This year had a much more competitive field," Martin said. "It was the highest standard, and the course was a little tougher. It was harder to win this year than last year, but I knew this horse had a great chance."
The podium was crammed as members of the Blackfoot Mystery Syndicate squeezed in around Martin for their winning photograph and to take hold a piece of the large check before them, which spelled out a $22,500 winner's purse.
"This is the first time a few of the supporters have come to see him," Martin said. "There aren't many better ways to impress owners than by bringing them to Wellington and sitting them in this beautiful marquee and having the horse win. I was very pleased on all levels, just because when these people buy the horses, they have to believe what you tell them, and at the moment, it looks very promising. I think this horse has a great future."
Martin himself also collected a $10,000 bonus for defending his title, and an additional $2,500 was awarded to Blackfoot Mystery's groom, Sergio Reyes, as a part of a special $10,000 groom's prize. A final check in the amount of $10,000 was given to the Blackfoot Mystery Syndicate to donate to the charity of their choice. It was also announced that the event's winning purse would be increased next year to $100,000.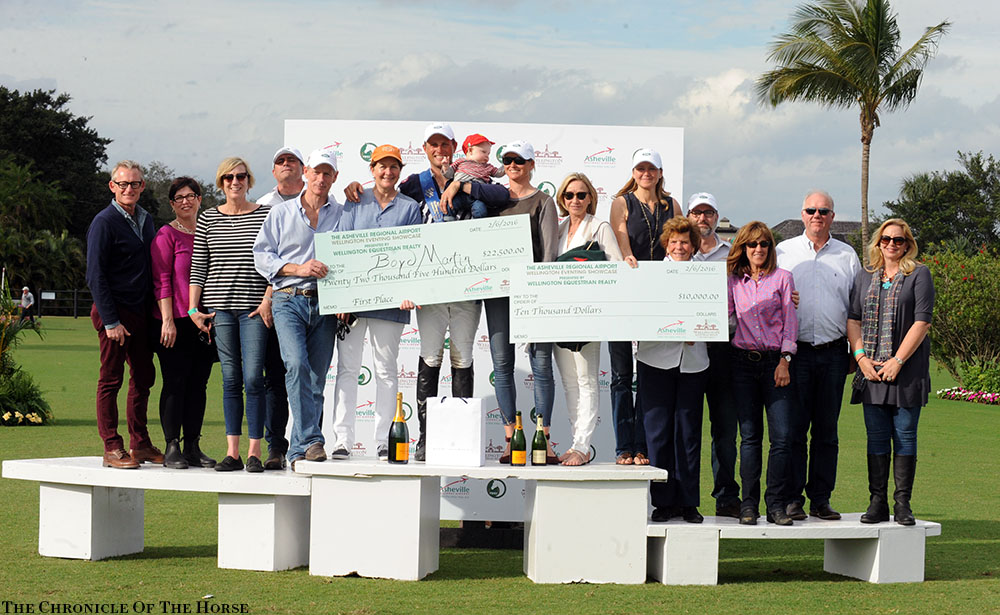 The Blackfoot Mystery Syndicate
The Palm Beach International Equestrian Center's Stadium grounds were brimming with fans, who came out in droves to catch a glimpse of a discipline not normally found in Wellington. The derby field, typically filled with light and airy brightly colored poles and standards for jumper derbies, was doubled in size and filled with corners, tables, coffins and brush fences, while the main sand arena, normally surrounded by short white fencing and dressage letters for the Adequan Global Dressage Festival, served as the landing ground of the Asheville Regional Airport runway: a drop fence riders encountered after galloping through the interior of the VIP tent, passing by just feet away from dining spectators.
That element, while unfamiliar to most of the competitors, did not pose problems for any horse and rider on the Mark Phillips-designed course, and the cross-country phase on a whole proved little trouble for most, as there were only two eliminations. Tim Price and Classico Z were excused after three refusals, while Hannah Burnett took a fall aboard Cooley Dream at fence 19.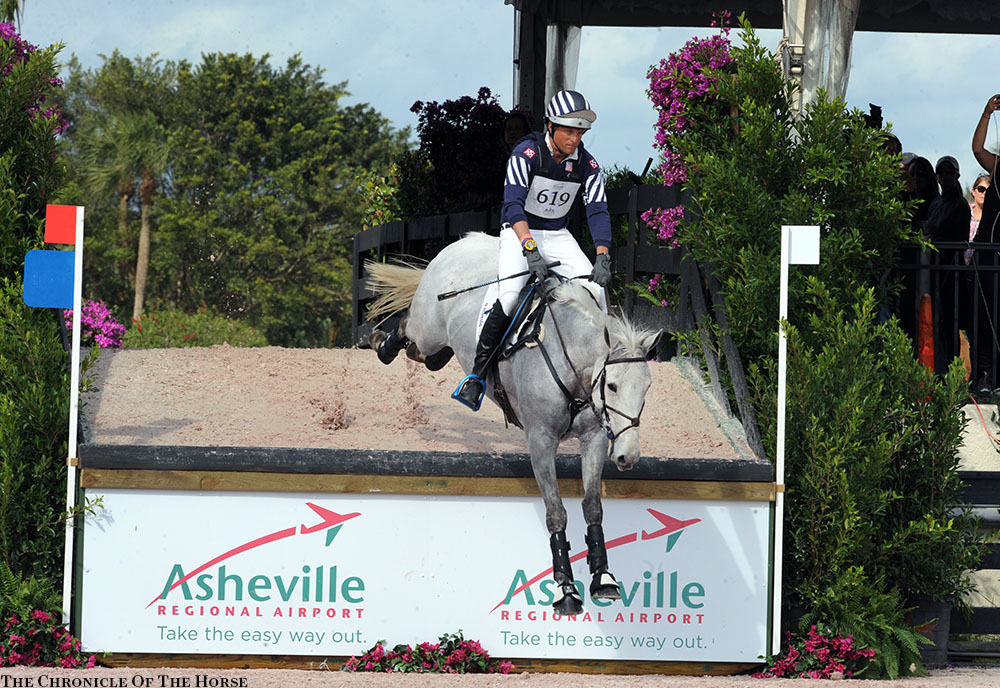 "The Asheville Regional Airport Runway"—The drop jump from the VIP tent
Show jumping would prove the deciding factor, as the top four finishers all posted clean show jumping rounds. Of the 35 competitors, only eight jumped cleanly over the Richard Jeffrey-designed course. The remaining combinations each had at least one rail, with the majority of the faults coming throughout a triple combination mid-course that came off a sharp corner.
The door opened for Martin when Allison Springer and Arthur and Buck Davidson and Ballynoecastle RM, the only two combinations ahead of Martin after dressage on Friday, each had a costly rail, with Davidson's coming at the final fence. Springer and Arthur would finish ninth, while Davidson and "Reggie" checked in fifth. Martin was the only rider to maintain a top-three position throughout the entirety of the competition.
"When we got [Blackfoot Mystery], his [weakness] was show jumping," Martin said, "but I've been working very closely with an English show jumping trainer named Richard Picken, and he's gone well beyond the call of duty. He's been studying the horse's videos and has taken trips up to Pennsylvania and Aiken. He's probably turned away plenty of business to try and help me.
"We changed [Blackfoot Mystery's] canter up a bit and tweaked a few little things, and today I think we started to see more improvement in the show jumping," he continued. "I think we're looking good if we can keep the horse on this path. He's got a wonderful jump; it's more about trying to get him in the right balance. He's careful, but we have to try to keep him in that blend of confidence and carefulness."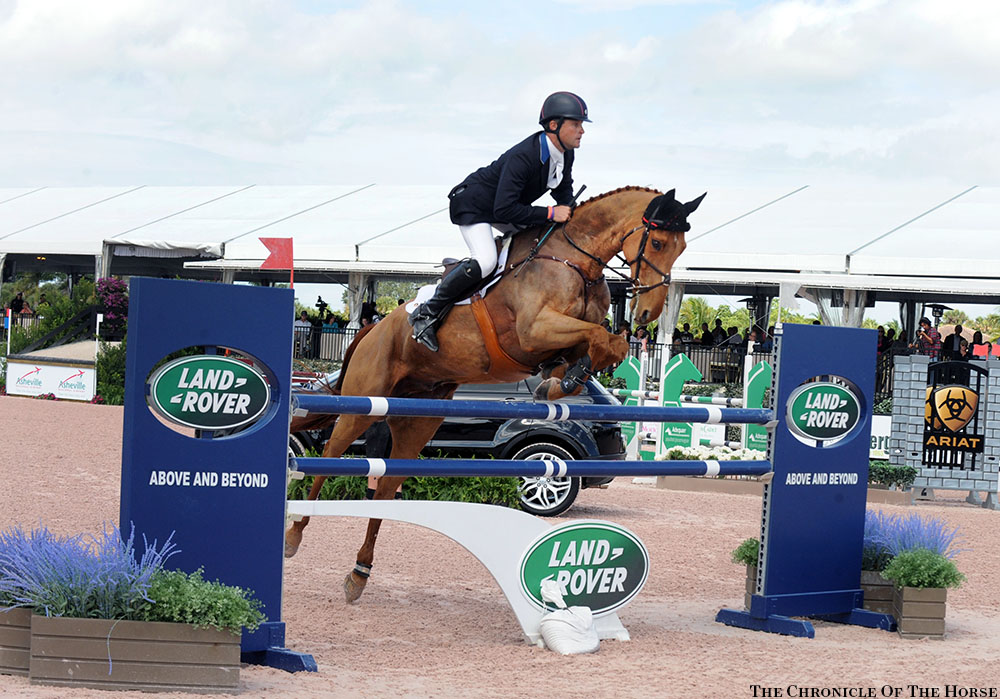 Boyd Martin and Blackfoot Mystery tackle show jumping
From here, Martin's target with Blackfoot Mystery is the Rolex Kentucky CCI**** in April, though he already has plans to return for next year's showcase.
"It's his first run of the year, and we had to go flat-out today, because the time was quite tough and if you wanted to win, you had to go for it," he said. "My goal would be to do Rolex, so I'll probably tone it down in a couple weeks and do an event in Georgia and maybe just run him a little bit slow and easy and chill a bit. Then I'll build him up to Kentucky, and I think he has a good shot at Rolex.
"I'll be coming back to this event for the next 30 years I think!"