It may not have been the Dutton Ranch (a.k.a. the Yellowstone), and it certainly wasn't Montana, but there were some cameo appearances in a Western reining contest meant to entertain the crowd at the Grand-Prix Eventing Festival at Bruce's Field in Aiken, South Carolina, in early March.
Phillip Dutton and Boyd Martin were game to participate in "Cowboy Up!" Well, "roped in" was how Martin put it.
The Olympians donned black hats, and they each performed a reining pattern for the first time aboard Guns And Tutus, a chestnut Quarter Horse. They rode in the same arena where, combined, they'd ridden five show jumping rounds the day before.
Dutton was up first, and to the surprise of many Western riding aficionados, committed the cardinal sin of tucking his pants into his boots. It wasn't the only criticism Martin leveled at his good friend.
"Lucky for me, Phillip went first and put on a pathetic display, and I knew after watching Phillip's ride that I could completely outclass him, even with my inexperience in the reining world," Martin quipped.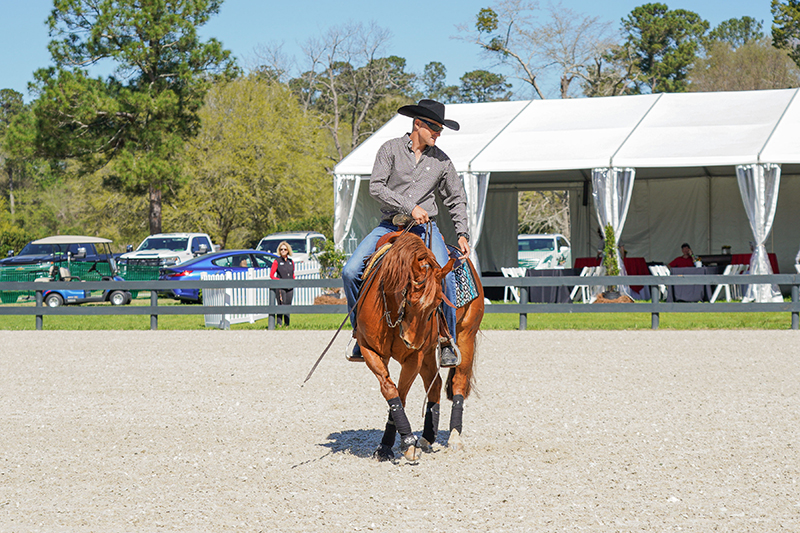 "Boyd was fortunate to follow me, and he was able to pick up on what I didn't do very well," Dutton replied.
Martin, who had never ridden Western, admitted there was a bias in determining the winner, given his wife, Grand Prix dressage rider Silva Martin, was the judge.
"I don't like people who make excuses, but when you have his wife judging the competition—and Boyd also had a much bigger belt buckle—I'm sure that sort of contributed to the whole look as well," Dutton said.
As John Dutton, the lead character in the hit TV series "Yellowstone" said: "Let me tell you what fair means. Fair means that one side got what they wanted in a way the other side can't complain about. There's no such thing as fair."
And "Yellowstone" is where Dutton may have the leg up, starting with his surname. "It's amazing how many people bring up Yellowstone to me with my name," said Dutton, adding that he's open to the possibility of a casting call. "I haven't been approached, so we'll see."
The riders received a 10-minute briefing about the reining pattern, which Martin said consisted of a halt, a spin each way, small circle, large circle, gallop and flying lead change, small and large circle, and then a fast gallop on a straight line to a sliding halt.
"I have to say, it wasn't my best performance, but, again, not to try and make excuses, but it wasn't explained to me what I had to do very well," Dutton said. "I was trying to do the spin at the canter, but it turns out you just do it at the walk."
Martin, whose social media anointed him "CowBoyd," said he was most taken with how sensitive and alert the horse was to his weight shift and hands.
View this post on Instagram
"I was so impressed how a subtle movement from the rider could change the direction of the horse and how agile the horse was," said Martin.
Still, he has no plans to shift alliances and enter reining competitively or seek out a role on "Yellowstone."
"I had a very quick realization that you should stick to what you know," said Martin. "It was a real honor and privilege riding this beautifully trained reining horse, but I'm definitely going to stick to eventing."
Growing up in Australia, Dutton said he did a bit of Western riding, but not in a saddle with a horn. Dutton said he had to stay in the center of the horse and feel what's underneath him (same as in eventing). He was impressed with how the horse was trained to carry out the pattern without the aid of a connection (not the same as in eventing).
"It's all on a loose rein and different stirrup length, but he was a cute little horse," Dutton said.
"I've been to spectate it [reining] at the World Equestrian Games, and I've been a big fan of Yellowstone, and it was a fantastic experience actually hopping on one of the horses and feeling what they do," said Martin.
Both riders said learning about other disciplines was valuable, and they'd dabble in reining again, but Dutton said he'd be much more prepared the next time.
"Finally, Boyd found something that he could beat me at," said Dutton.
You can imagine him saying this while leaning against a fence at the Yellowstone, with pant legs over his boots.
---
This article appears in the March 27-April 17, 2023, issue of The Chronicle of the Horse. You can subscribe and get online access to a digital version and then enjoy a year of The Chronicle of the Horse and our lifestyle publication, Untacked. If you're just following COTH online, you're missing so much great unique content. Each print issue of the Chronicle is full of in-depth competition news, fascinating features, probing looks at issues within the sports of hunter/jumper, eventing and dressage, and stunning photography.